The Zionist Organiztion of America (ZOA)
The Zionist Organization of America (ZOA) has been around for almost as long as Zionism itself. I grew up with the ZOA; my father was an active member as were both my grandfathers; Moe Katz and Rabbi Isaac Klein.
It seemed like the ZOA monthly publication was always on the coffee table or in the kitchen, always being read by someone. I recall my father attending ZOA dinners.
The ZOA has always been in the forefront for the struggle for Israel, always there to stand with the people of Israel.
What I like about this organization is they say it like it is, they do not try to sugar coat the truth, they just say it. There is no place for falsehoods in this struggle, you must be bold enough to make a stand.
Active On Campus
Over the past few years I have become involved with their campus program, traveling around the country and teaching Krav Maga and Zionism to college students. During the course of this time I have become acquainted with their campus staff and have found them to be idealists of the highest caliber, devoted to their mission above and beyond the call of duty.
Israel Trips
The ZOA Campus division organizes leadership training trips to Israel , I had the privilege of training one such group this year. The goal is to prepare them to stand up for Israel on campus, to present the truth in an honest and convincing way.
I am proud to be associated with this fine group of people.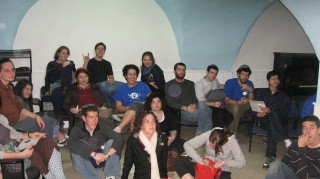 Some of the members of the ZOA/Betar student delegation to Israel. ZOA