Krav Maga Visitors
International group, Krav Maga in Maaleh Adumim, August 30, 2010. Richard (London, England) David (NY, USA), Daria (Italy), Zack (USA), Baruch, (Israel-Maryland), Daniel (Santa Barbara, USA),Laizer (in back, Israel - Detroit), Sophia (Italy), Yishai, (Israel-USA), Meir (Baltimore - Israel), Front row: Maria, (Italy), David (California, USA), Allen (Italy)
Letitia from New Zealand defends against a knife attack by LeAnn from South Africa
Yishai, Eliezer, Laizer, Yishai, Hugo (Norway), David, Daniel, Reena, Swiss guy, Elizabeth (Stuttgart, Germany)
Heribert and Rico from Cologne, Germany. They have a family coffee business, Schamong Kaffee, here I am showing my approval of their special blend.
Stone Wilters from Alabama and Alex Von Eckarstberg from Ohio came to Israel to train for a month. Here they are with Itay Gil. "Moshe, Thanks again for being such an awesome mentor and friend to us."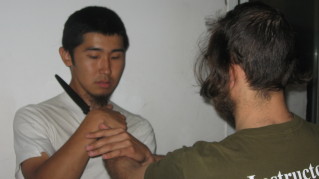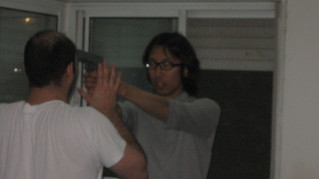 Takuya and Moto from Japan training in Israeli Krav Maga
Takuya wrote " I respect Israeli martial arts Krav Maga same as Japanese martial arts."
We hold Japanese martial arts in great respect and always acknowledge that the roots of today's' martial arts are from Japan.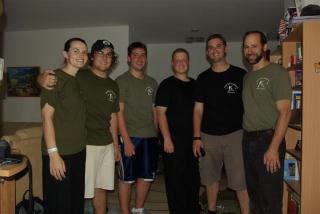 Louise, Fred (South Africa), Leo (USA), Constantinos (Australia/Greece), Ray (South Africa) and Moshe (Israel) after a training session, heading out for some humus.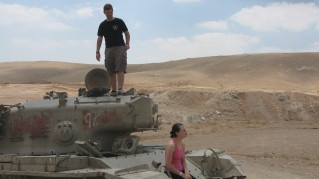 Ray and Louise from South Africa checking out an abandoned tank in the Judean desert.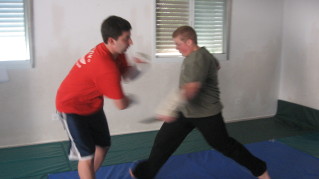 Constantinos Angelakis, from Australia/Greece, attacks Leo with a knife.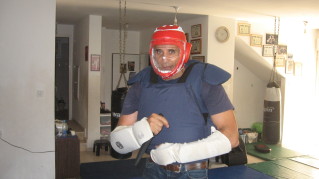 Staff Sergeant Jim Ross from Ohio prepares to stab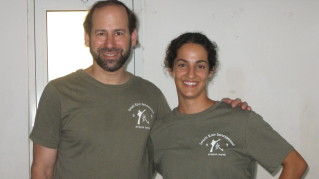 Naomi Stewart from Australia came to pick up some practical self defense skills. She is a natural.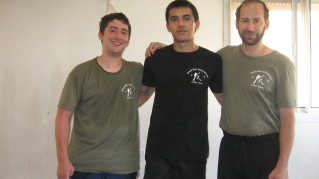 Leo Nayfeld, Richard Maus, and myself. Leo came in from Cincinnati, USA, Richard come from Gold Coast, Australia. They both worked hard to gain the maximum.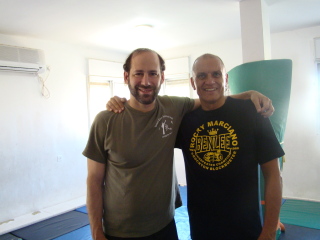 Fred Heins flew in from Tilburg, Netherlands for two weeks of training, eight hours per day.
Marius flew in from Romania for an intensive week of training. Working out five hours a day his skills improved dramatically.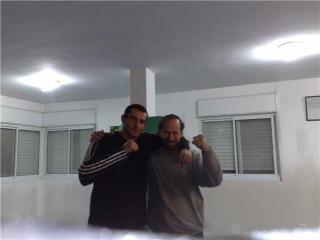 Brian and his son Kyle came to train with us. They reside in Orlando, Fl, and train at F.I.S.T. It was an honor to have them with us.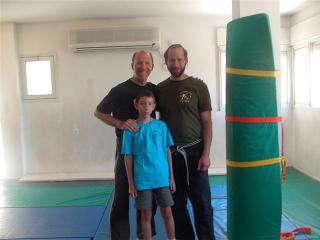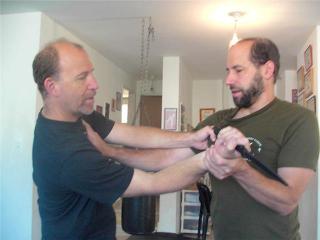 We have also had visitors recently from Edmonton, Canada and Peoria, Illinois.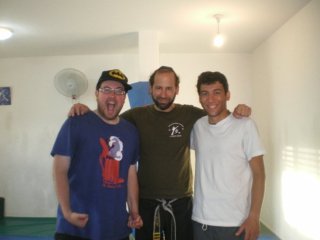 With Seth Glick and Jonathan Livergant of Edmonton, Canada
Come to Israel and learn Krav Maga one on one, or as part of a group.
Krav Maga Personal Training in Israel