Moshe Katz Fifth dan
Fifth Dan
I still remember my first day. I walked up the steep stairs to the second floor dojo, Oyama Kyokushin Karate. I looked around, I watched the students. I made a quick evaluation; most were younger than me, stronger than me and quicker than me. Certainly all were more experienced than me. Could I ever fit in?
I joined.
My new teacher, Sensei Romero, said words I will never forget, "Our students pay their dojo dues before they pay their rent." I knew I had come to the right place.
I was up every morning at 5 am, walked to the train station, and was walking up those dojo stairs by 6:45 am, every morning, I trained hard and kept track of my attendance. Most evenings, after a long day of work in the brokerage business, I was back in my gi at the dojo.
I recall the words of my sensei, "Of every 1,000 students who put on a white belt, only 6 will one day wear a black belt." Later I discovered that he was overly optimistic, most teachers put the number at 2 out of 1,000.
After two years of training I moved back to Israel. Over the years I have had the good fortune to train with some of the best in the field. I have trained with many martial arts leaders of this generation.
To this day I still recall my first rank. One of the sempais came over and taped a blue stripe on my white belt. At that moment I knew nothing would hold me back.
When I returned to Israel I checked out a few schools, dojos, but was not impressed. I told a friend I was looking for the real deal. He handed me a flyer, it read, "Itay Gil, Freestyle Kickboxing", this has led to a journey and a friendship lasting to this very day. For nearly two decades, many hours each week, I sweated it out at the Jerusalem gym, a far cry from a Country Club.
A few years back I was promoted by two jujitsu organizations to fifth dan. My own teacher, Itay Gil, promoted me to 4th dan in Free Style Kickboxing, and in Krav Maga. Today he no longer awards belt ranks.
In November 2010, I was awarded a fifth dan by two of the most prestigious martial arts organizations in the world. The promotions took place within a few days of each other; this was totally unexpected.
IKI instructor John Liptak of Florida, along with Professor Joe Cayer and Frank Dux, apparently had been discussing the matter with Dr. Lawrence Day of the Black Dragon Society. Dr. Day, not a young man, made a special visit to the school of IKI instructor Calvin Longton where I was giving a seminar. Dr. Day awarded me a membership in the Black Dragon Society, itself a great honor. In addition, I was inducted into the "Masters Council", an even greater honor. Dr Day and Prof. Cayer awarded me at this time a Fifth dan from the Black Dragon Fighting Society International.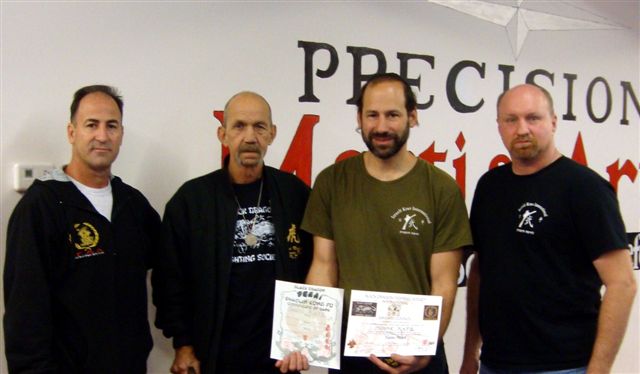 Receiving fifth dan from Dr. Lawrance Day.
Prof. Joe Cayer, Dr. Day, Moshe Katz and IKI Instructor John Liptak.
A few days later, in Christiansburg, Virginia I received a fifth dan in Israeli Martial Art from from the World Martial Arts Group Academy of Black Belts.
Both of these organizations are diverse international associations representing many different arts and disciplines.
As head instructor of IKI, having the recognized rank of fifth dan is a major step forward for all of us.
And I still think back to my very first stripe and I train with the same motivation.
Nach vielen Jahren Training und Unterricht wurde Moshe Katz im November 2010 von zwei Organisationen mit dem 5. Dan Schwarzgurt ausgezeichnet.