The Simmons Voice
Krav Maga teaches life-saving self-defense techniques
Carisa Weaver
Issue date: 3/5/09 Section: Sports & Health
A group of Simmons women learned some of the same life-saving defense tactics the Israeli Army uses, on Feb. 23 in the Linda K. Pareskey Conference Center at Krav Maga: A Women's Self-Defense Workshop.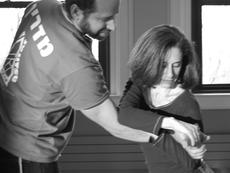 "Krav Maga" literally means close combat and is the official self-defense system used by the Israel Defense Forces, Israeli National and Military Police, and other anti-terror/special forces units in Israel, according to the Krav Maga USA Web site.
Krav Maga is a system of self defense that is designed specifically for street combat situations in which the victim tries to escape but also inflict varying amounts of harm on their attacker to reduce the threat. The Krav system teaches people to use their natural body movements in order to escape from a dangerous situation.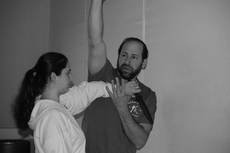 The women in attendance learned how to defend themselves against common attacks assailants use, including body restraints or knife and gun situations.
While the atmosphere was light, the techniques learned were important and potentially life-saving.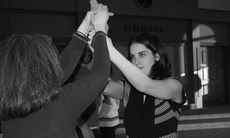 The session was led by instructor Moshe Katz, a fourth-degree black belt in Krav Maga. Katz started his martial arts training in a number of more intricate disciplines and said he "avoided Krav for many years because it was almost too easy." He then realized there was a need for "basic skills that everyone could learn and use to protect themselves."
Junior Juliana Ross, an intern with the Grinspoon Fellowship, an Israel advocacy organization, brought the Krav Maga workshop to Simmons.
Ross said she "wanted to share this fun and empowering workshop with the community here."
The workshop was also co-sponsored by the Simmons Hillel, the Israel Campus Roundtable, Multicultural Affairs, Residence Life, Student Government Association, and Health Education.
Many of the attendees felt they left with a sense of how to use the knowledge they gained in real-life situations. The women asked questions about specific attacks they were worried about. Some asked about being caught against a wall or if an assailant grabbed their hair.
Katz answered all of their questions by teaching different techniques they could use. In the end, though, Katz said that Krav Maga is "a powerful defense system because you don't have to remember everything." Learning just a few moves will help a person in numerous situations because the body movements are basically the same in each situation.
Krav Maga has to be simple because it is the primary defense system taught to the entire Israeli Army, the only mandatory coed army in the world. The Israeli troops are given three weeks to learn every tactic they need to know to protect themselves during close combat situations. Krav's practical application in street fighting is what makes it such a powerful form of self-defense, and the successful application of Krav Maga does not require a lot of strength.