Airline Self Defense
Airline self defense begins before you board the plane. In Israel we believe that security is everybody's responsibility. In New York I have seen the signs, "If you see something - say something". That is our philosophy too; thus instead of having a handful of security guards you have an entire airport filled with 'amateur' security guards keeping their eyes and ears open.
Anything suspicious should be reported. It is better to be safe than sorry. Worst comes to worst you can apologize later. Remember, the X ray machine does not pick up everything. Personal Safety expert Arthur Cohen showed me a variety of non-metal weapons and other devices that can easily be smuggled through. It would be a mistake to completely rely on machines; we must still be alert.
Knowing karate or kung fu is not enough when it comes to airline self defense. This type of fighting is part of a category known as Fighting in Confined Quarters; in other words, your repertoire of techniques is not only severely limited by the small confines of the plane, but, you actually have to modify many techniques to make them work in this unique environment. Most martial arts schools do not teach these techniques. In Krav Maga we train for these types of situations.
There are various situations you might encounter
Being personally threatened
Being attacked or threatened either while seated or while walking in the aisle. If you are seated and the terrorist has targeted you for being his hostage, he might come from behind and put a knife to your throat. As scary as this is the good news is they are effective defenses. There are various defenses, all basically involve pining his knife arm to your body, rotating towards the knife and slipping under his arm. There are no short cuts; you will have to come to a seminar to learn this.
Check out this clip, training at Itay's in Jerusalem.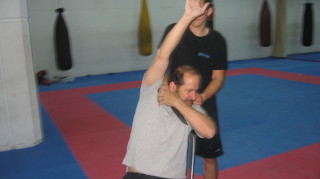 Training to defend against knife threat while seated.
You might also be threatened while standing. This threat can come from either the front or the back. Again, there are many defenses against such attacks. Our defenses take into account such factors as the position of the knife, whether or not his grabbing your shirt or arm, or if he is at a distance. A sample of defenses can be found in "The Citizens Guide to Stopping Suicide Attackers" by Itay Gil. (Paladin Press)
Gun defense for seated passenger in plane, train or bus.
Another passenger or flight attendant is being threatened
Held at knife point or being choked. There are two options; either approaching from the front or back. Either way you must be discreet and careful. If you are coming from behind you can either choke the person or use a belt to do the same. Make sure you can complete control of the terrorist as you don't want them running amok with a blade.
Krav Maga, and all police work, incorporates team work. Try to make contact with other passengers who can help. You have the advantage of much greater numbers, if you can mobilize them.
Knife Defense