Krav Maga Blog
Both in Israel and abroad we live with great challenges; in our personal lives, in our national existence, and in our view of history and international relations. I see krav maga, and martial arts in general, as part of how we view the world and our lives, and how we cope.
My Krav Maga Blog is a mini journal of my thoughts on how krav maga action and philosophy relate to our daily lives.
Oct 08, 2017
Does it Change the Meaning?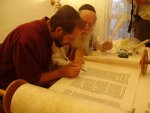 Does it Change the Meaning?