Krav Maga Seminars
---
Moshe Katz offers Krav Maga seminars in Israel and around the world.
At least twice each year Moshe travels to the USA and Canada. Seminars in Europe, Asia, or Africa are available at any time, by invitation.
To arrange a seminar contact the IKI Office or Moshe Katz directly.

Over the past 10 years Moshe has conducted seminars at more than 400 martial arts academies, colleges, universities, and military bases around the world.
---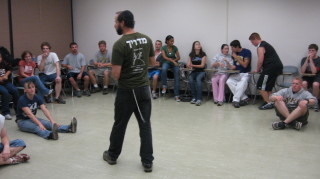 Seminars can be conducted in English, Italian or Spanish.
Seminars can be tailored to the needs of the of the group. There are many topics to chose from. International seminars usually range from two days to five days.

To Arrange a Krav Maga seminar please contact Moshe Katz at
Please note: Flight and travel expenses need to be paid in advance.This includes the flight and taxi.
---
Testimonials for Moshe Katz Krav Maga instructor

---
Seminar Deposit $350

---
Cost
---
For seminar fees and details please contact the IKI office. (Contact form below).

For locations outside the USA/Canada (i.e. the North America trip). Expenses are: Seminar fee. Round trip airfare, taxi to and from airport in Israel, airport pickup and drop off abroad. Food and hotel.

For flights leaving Israel Moshe flies El Al Israel Airlines. (unless someplace like Kazakhstan where El Al does not yet fly.) Connecting flights can be with any airline other than Arab airlines. (for obvious reasons)
Cancellation Policy for USA, Canada, Mexico, Puerto Rico: Once a flight has been booked there can be no cancellation. Cancelling a seminar incurs the full cost of the seminar, hotel and food expenses. i.e. If a seminar is booked within the USA, Canada, or Mexico, which is part of a tour, cancelling an event has a domino effect. If event B is cancelled I still must be there to catch the flight to event C.  Thus cancellation incurs ALL costs incurred as a result of the cancellation of the seminar.
Flights within USA, Canada, Puerto Rico, Mexico:
When on tour within North America there can be as many as 20 flights or more.
Policy regarding booking flights:
1. Never take the initiative to book the flight on your own.  These flights must be booked together, me and the host, in order to find the best flight that suits our needs.
For your sake I try to choose the least expensive flight.
For my sake I try to choose a flight without three connections.
For your sake I try not to choose a flight that involves you waking up at 3 am and driving 2 hours.
For my sake I try to choose a flight where I can get a decent night sleep. Thus we must speak and chose the best flight together.
2. No seminar is considered booked until the flight is booked and paid for. Without a booked flight I have no guarantee the host will not change his mind at the last minute.
3. Flights must be booked and paid for well advance, when I ask for them to be booked. If you do not have the money to book a flight a few months in advance, you should not be hosting a seminar. Understand that this is a domino effect; I only book flight number 3 on a tour after flight number 2 is booked. For example if I am flying New York - Chicago - Los Angeles, I will only booked Chicago - Los Angeles after I have booked New York - Chicago because if Chicago cancels then my Chicago - Los Angeles flight is lost!
4. Travel Protection: In the past I never insisted on "Travel protection", it is another $15- $20 but I figured why waste the money. These days with cancellations due to weather, storms, and hosts with cold feet I feel it is necessary. So be prepared to pay another few dollars. Better this way than losing the entire cost of the flight, which has happened to me too many times.
---
International Seminars
---
Holland - March 2015
Mexico - January 2015
Germany - November 2015

Australia - October 2014
Brazil - May 2015

Canada (Toronto) - August 2015
USA, Michigan - January 2015
Puerto Rico - October 2014
USA - January, February 2015
Canada - February 2014
Slovakia - March 2013, August 2013
France - March 2013
Netherlands - March 2015
South Africa - July 2014
Norway -April 20 - 22, 2013 - Oslo, Norway, Contact Morten Wang (Norway) morten.wang@tele2.no or Moshe Katz (Israel) to reserve a spot
Russia - April 2013

Argentina - May/June 2012
Italy - December 2012 (Rome)
Italy - June - August 2012 (Genova, Stazzano, Piacenza)

Learn how to plan a successful event. If you are making an effort to have an event, and inviting a speaker, you should do everything possible to make it successful.
Planning a Krav Maga Seminar; Goals and Expenses

Planning a Successful Krav Maga seminar

How to have a successful Krav Seminar
---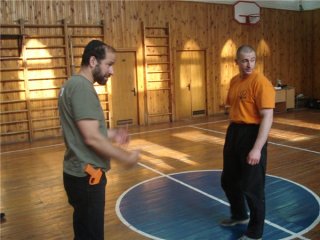 Moshe Katz teaching seminar near Kiev, Ukraine.

---
Tour and Train, Israel
Accelerate your progress, the fastest way to improve your Krav Maga and achieve rank or instructor status is to come to Israel. 
More details about Krav Maga Tour and Train Israel.

---
November 10 - 21, 2013
June 9 - 19, 2014

---
Moshe, I just wanted to let you know that I cannot thank you enough for your visit. It was therapeutic for me in a number of ways. It was GREAT seeing so many students in there, all learning and getting excited about Krav Maga. We love what you bring to your seminars. Your passion for teaching people to learn to defend themselves matches ours, and I see good things coming from that! 
          This world is getting scarier every day, and I feel great about myself knowing that I teach people how to defend their lives. I'm excited about continuously learning from you. You are an awesome mentor in many ways. 
         Thank you so much. 
Carrie Banton
---
---