Krav Maga Seminars
---
Moshe Katz offers Krav Maga seminars in Israel and around the world.
At least twice each year Moshe travels to the USA and Canada. Seminars in Europe, Asia, or Africa are available at any time, by invitation.
To arrange a seminar contact the IKI Office or Moshe Katz directly.

Over the past 10 years Moshe has conducted seminars at more than 400 martial arts academies, colleges, universities, and military bases around the world.
---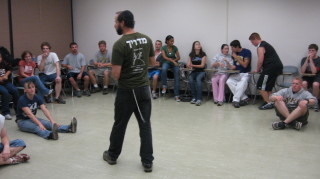 Seminars can be conducted in English, Italian or Spanish.
Seminars can be tailored to the needs of the of the group. There are many topics to chose from. International seminars usually range from two days to five days.

To Arrange a Krav Maga seminar please contact Moshe Katz at
Please note: Flight and travel expenses need to be paid in advance.This includes the flight and taxi.
---
Testimonials for Moshe Katz Krav Maga instructor

---
Cost
---
For seminar fees and details please contact the IKI office. (Contact form below).

For locations outside the USA/Canada (i.e. the North America trip). Expenses are: Seminar fee. Round trip airfare, taxi to and from airport in Israel, airport pickup and drop off abroad. Food and hotel.

For flights leaving Israel Moshe flies El Al Israel Airlines. (unless someplace like Kazakhstan where El Al does not yet fly.) Connecting flights can be with any airline other than Arab airlines. (for obvious reasons)
---
International Seminars
---
Holland - May 2014
Mexico - August 2014
Germany - October 2014

Australia - October 2014
Brazil - November 2014

Canada (Toronto) - August 2013
USA, Michigan - August 2013
Puerto Rico - October 2013
Germany - October 2014
USA - January, February 2014
Canada - February 2014
Mexico -January 2014
Slovakia - March 2013, August 2013
France - March 2013
Netherlands - March 2015
South Africa - July 2014
Norway -April 20 - 22, 2013 - Oslo, Norway, Contact Morten Wang (Norway) morten.wang@tele2.no or Moshe Katz (Israel) to reserve a spot
Russia - April 2013

Argentina - May/June 2012
Italy - December 2012 (Rome)
Italy - June - August 2012 (Genova, Stazzano, Piacenza)

Learn how to plan a successful event. If you are making an effort to have an event, and inviting a speaker, you should do everything possible to make it successful.
Planning a Krav Maga Seminar; Goals and Expenses

Planning a Successful Krav Maga seminar

How to have a successful Krav Seminar
---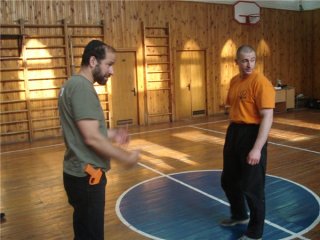 Moshe Katz teaching seminar near Kiev, Ukraine.

---
South Africa, 2012

---
Tour and Train, Israel
Accelerate your progress, the fastest way to improve your Krav Maga and achieve rank or instructor status is to come to Israel. 
More details about Krav Maga Tour and Train Israel.

---
November 10 - 21, 2013
June 9 - 19, 2014

---
---