Certification – So You Want to Be an IKI Krav Maga Instructor?
Requirements
Please note: IKI does not offer "rank recognition" .
There are associations that, for a fee, will award you a new rank from their organization equal to the rank you already possess. IKI does not do this. If you are a 10th dan black belt in some other style you will still join IKI with no rank. If your previous training has value then it will help you progress rapidly with IKI. Please do not waste our time by making such a request.
For instructor ranks: The person must have several years in our system or prove that his previous training prepared him to absorb the IKI techniques rapidly.
Our instructor grading system is as follows: Apprentice Instructor, Assistant Instructor, Associate Instructor, Full instructor. (no rank skipping)
We issue the Apprentice Instructor certification which entitles the instructor to use IKI student rank certificates and IKI gear and to promote his/her affiliation to IKI. With the rank of Apprentice Instructor (formally known as Phase One), one can teach IKI Krav Maga.
To qualify for Apprentice Instructor , one should have a solid command of IKI gun and knife disarms, these are very different from other styles of Krav Maga. One cannot call themselves an IKI instructor while teaching gun and knife disarms that we consider dangerous.
To qualify for Apprentice Instructor we will teach the instructor the basics through DVDs, clips and in person seminars/Tour and Train.
How long can you expect this process to take? For those with previous black belts or certifications see
Apprentice Instructor How Long?
IKI Krav Maga Curriculum Requirement
Assistant instructors have at least 1 yr-2 yr of practice in IKI and agree to host a seminar so that their students can feel a part of IKI. If hosting a seminar is not possible we shall explore other options.
Apprentice Instructor certification means affiliates are trusted to accurately teach IKI techniques at their school.
Unless they have had a minimum of 3/4 years training in Israel self defense one can not be promoted to Instructor level in Krav Maga.
IMPORTANT READING FOR KRAV MAGA INSTRUCTORS WISHING TO JOIN IKI Becoming an IKI instructor – Making the Transition
Instructor certification program IKI
Read more about Ranks in Krav Maga
Rules from the Board of Directors
According to our board of directors here are the rules...no black belts until 4 years minimum training with 3 seminars over a 3 year period.
Exceptions: If one can prove through certificates that they have been trained in Krav Maga from an authentic Krav Maga teacher you can consider that training as time in grade for your promotions.
"Interested instructors will be glad to wait. Guys just looking for the next credential can take a hike. Don't allow someone to offer money to buy rank. Maintain integrity in your organization and you will build a strong foundation for years to come."
Rules for Instructors
The IKI Logo is for the benefit of all IKI instructors but there are some rules we need to make clear.
You May
Print banners and business card with IKI logo
Print stationary with the IKI logo.
Print invoices with IKI logo.
Use the IKI logo for your website
Use the IKI logo for advertisement.
Use the IKI on your school/signs, billboards.
You may use the IKI logo on student attendance certificates when Moshe Katz is invited to do a seminar.
You May NOT
Print T shirts or other merchandise using the IKI logo unless you have arranged this with IKI Administration – Head office. (for a fee)
Print diplomas or any rank certificates using the IKI logo unless you have arranged this with IKI Administration – Head office.(for a fee)
Issue any rank without the approval of Moshe Katz. (each instructor level is entitled to promote up to a certain level).
Memberships Rights and Limitations
The video clips you receive may be shown to students but cannot be transferred in any format to any other individuals. Membership is individual. In other words, if you are president of an association and you join IKI this does not mean that automatically all your students and staff are members of IKI or that there current ranks are automatically recognized by IKI; they are not. IKI is unique and students must test for IKI ranks.
IKI Membership - Frequently Asked Questions
Before joining, you need to ask Are You Right for IKI
Membership/On-Line Training
IKI represents authentic Krav Maga direct from Israel at an affordable price.
Your membership entitles you to on going on-line training, personal advice via e mail, use of the IKI logos, and listing in the IKI directory, as well as other privileges (use of IKI diplomas, selling merchandise, endorsement of seminars, letters of reference)
On line training involves receiving training clips via your e mail. With these short clips, along with the DVD's you will learn the latest techniques from Israel. Any questions you may have about the techniques will be answered quickly. When you are ready you can send us clips of yourself for comment and review or for rank testing.
First year membership in IKI is $350. (plus shipping and handling)
Yearly Renewals
Second Year Renewal is $200
Third Year Renewal $160
Yearly renewal, from the Fourth year and on, is $150. plus shipping (certificate)
Instructor Level Exam
Instructor levels exam is $150. (plus shipping)
Instructor Test (Apprentice, Assistant etc.)
IKI T shirt $16 - send me an e mail to indicate size and color, from size 6 to XXXL
The instructor must also buy the DVD's and practice and teach Krav Maga.
Head Instructor Moshe Katz can test the students when visiting for $35 per student.
The instructor gets the instructional fee for teaching your IKI Krav Maga.
Belt Tests Krav Maga
STUDENT RANK $35, (Yellow, Orange, Green, Blue)
Brown Belt Krav Maga Test $50
IKI Krav Maga Black belt First dan
IKI Krav Maga Black Belt First dan $275
Kick Boxing Ranks
IKI/Mountain Spirit Warrior Israel also offers testing and ranking in Kickboxing. Moshe holds the rank of 4th dan in Kickboxing from Itay Gil and a 3rd dan in Kickboxing from the World Black Belt Bureau. Belt ranks from Yellow through Blue are $35, Brown is $50 and black belt is $130.
Procedure:
Submit a tape/DVD or yourself performing and teaching all the techniques of Kickboxing and a variety of training drills.
Yellow, Orange, Green, Blue Belts, $35 each.
Brown Belt test $50
Kick Boxing Black Belt, Testing fee: $150
IKI Combatives DVD, $26 plus shipping
Learn the IKI way of practical kicking, punching and blocking, many drills included
IKI Members pay only $20
T Shirts
School T-Shirts
Have an IKI Krav Maga T shirt with your school name and phone number on the back. No extra charge. Discount for volume.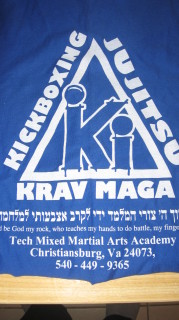 INSTRUCTOR T SHIRTS
Available in English and Hebrew, no extra charge.
See Merchandise page for details.
T shirts in Bulk, Ten shirt pack, $130 (plus shipping) Please send e mail detailing sizes and colors.
Krav Maga DVD's
Jerusalem Krav Maga - CD/DVD $10
Overview of training in Jerusalem
Krav Maga Basics DVD - $10
Kubutan Krav Maga Self Defense, $20
Krav Maga Diplomas
Our authentic Krav Maga diplomas were designed by Itay Gil and Moshe Katz with logo by Arie Katz. They reflect the spirit of Israel; ancient and modern.
For IKI Instructors only
Rank Certificates, signed, $10 each
How do be an effective Martial Arts Instructor
Belt Ranks
For those wishing to "move up the ranks" via the colored belt system. You can be tested by one of our instructors in person or by sending in a video of yourself. (contact info below)
Belt Requirements
Krav Maga Yellow Belt . Krav Maga Orange Belt
To get started with your training, achieve certification, or any questions at all. Please Contact Moshe
Jujitsu vs. Krav Maga Christians Krav Maga . Fighting in Confined Quarters . Krav Maga Seminars USA
Here are some ideas that may help with your training