IKI Krav Maga Instructors New Zealand

---
Bryan Ward, Auckland

---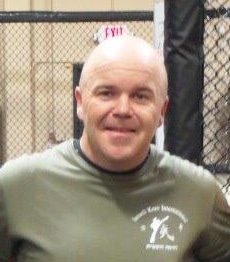 Bryan passed his test for Phase One instructor on June 24, 2011
Bryan Ward - Background information
Bryan studied and trained the martial art of Aikido for 20 years before discovering Krav Maga.
In Aikido he has graded to a 2nd Dan in Kyu Shin Do Aikido (Sensei Ray Eder 5th Dan) and was lucky enough to be the first New Zealander to be presented a dan grade by the late Sensei Haydn Foster (7th Dan).
In 2010 after four years of Krav Maga training Bryan obtained Advanced Civilian Instructor rank in Tactical Krav Maga in 2010. In 2011 Bryan and three other instructors formed Israeli Krav NZ which affiliated itself directly with Sensei Moshe Katz and IKI.
Bryan is the only current serving law enforcement officer who is also a krav maga instructor in New Zealand and has also previously been a baton instructor and taser instructor for the police. He has served 14 years in the police and in 2009 was awarded a Queens Service Medal for his service to the police and the community.Bryan has attended Krav Maga seminars by Itay Gil, Carl Halley,and recently was lucky enough to train with Jake Bonacci (strength coach) at Xtreme Couture MMA in Las Vegas.
www..israelikravnz.com
---
Paulina Ing

---
Paulina became a Krav Maga instructor in 2010 and describes Krav Maga as her first dedicated combat training despite doing some boxing since she was 13.
She enjoys Krav and it's simplicity and ease of learning . One technique can answer many problems and Sensei Moshe Katz's teaching highlights this.
"I've gone overseas by myself and can honestly say that with Krav I have been able to enjoy myself that bit more knowing that I didn't need to worry about 'what if' because if something did happen I was confident that I could do something".
Paulina's goals are to share Krav Maga with anyone that needs it.
"The beauty of Krav I believe is that it can be adapted to anyone whether they be short, tall, big or small. Everyone can do it."
Paulina has taught a number of self-defence classes/courses for women only with the goal to empower women to protect themselves and lead a life free from fear.
In 2011 she also became an internationally certified Personal Trainer, as well as working full time in Law Enforcement..
---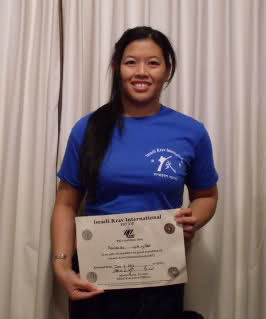 Paulina passed her test for Phase One Instructor in IKI Krav Maga on June 24, 2011
---
David Dumolo

---
David Dumolo came to Israel for an intensive two week training program. Working hard every day he learned, grasped and understood the IKI way. His inquisitive mind and hard work served him well.
www.imbcacademy.com