Cultural Combat Mindset
By Moshe Katz
CEO
Israeli Krav International
---
September 15, 2016, Destin, Florida
---
My Krav Maga is a product of my culture, a product of my life journey, my experiences and education, it is a product of the reality of terrorism, war, hatred. 
Our Krav Maga is not pretty and it is not fancy. Each move has the imprint of the reality of pain and suffering. When we train in Active Shooter defense I hear the screams of young children in a park in Israel, I see the carnage of a synagogue in Jerusalem that was attacked by Arab terrorists. These images fuel and guide our training.
Today I was working with some American students and a student from South Africa. While some students do not always understand exactly what I am trying to get across the student from South Africa understood at once.
Many students try to secure the weapon or the limps of the attacker. They feel that it is a safer approach. When they see me demonstrating a technique slowly they feel I should try to secure a better grip on the attacker, or on his weapon. I try to explain that the entire episode must be over in a split second. This is not a wrestling match where we are jockeying for position. This is not Olympic Judo where I want to control my opponent and wait for the judge to award me a point. This is the reality of death. 
The South African student needed no explanation. I have been to his home town and I understood. Where he is from if he wandered accidentally into the wrong neighborhood he would be lucky to come out unharmed. If he were attacked he would not try to control or lock the "opponent", no, he would do our quick defense and disengage.
I am often challenged on this point, the need to train for immediate disengagement. Now of course we teach our APC approach; Ability, Purpose, Circumstances to determine how to end each situation. However in many situations we must disengage as quickly as possible, we cannot stay and fight, we are not looking for a lock or a submission or victory. Too many students simply cannot understand the difference between real self defense and sports martial arts. They have not lived that life, and they just do not get it. While I am engaging my "opponent" his friends are surrounding me and outnumbering me... 
For us in Israel it is a way of life. We understand what it is to be in the wrong area. We understand that you can be ripped apart limb by limb by an angry mob and strung up on a lamppost. The fellow from South Africa understood this at once: Strike and get out.
A culture of violence, a culture where you are always on guard trains you to do what you need to do and get out as fast as possible. There are neighborhoods that even the police do not wish to enter so why are you looking for a joint lock submission? Even for law enforcement the first goal is personal safety; control comes after that.
At too many seminars I am asked questions that show a complete naivete as to the reality of fear and violence. Many students are truly looking for precise movements, control, and other elements that are simply not realistic. 
That is why our Tour and Train program incorporates the cultural element of Krav Maga, the touring makes the training that much more powerful and realistic. The cultural training brings in the reality of the violence we face and the solutions we come up with. Every second counts and you do not want to delay by even one second; it could be the difference between life and death.
---
Israel: A Nation of Warriors


By Moshe Katz
The story of warrior spirit and a fighting nation
---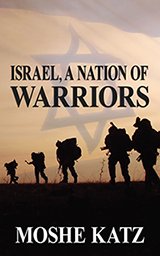 ---
16.99 Paperback
$9.99 on Kindle
This is required reading for all IKI instructors!
---