KRAV MAGA SEMINARS
---
I just wanted to thank you for tonight's training session. I truly enjoyed your methods, as well as your stories and jokes. Your techniques are very "real life" effective. Like your bumper sticker will say, "Perfect techniques for the imperfect person".   I feel honored to have met you and hope that one day our paths will cross again. You are one of the good ones! 

Thanks again, -  Michelle (The Italian)
---
Over the past 18 years Moshe has been one of the leading international Krav Maga instructors and seminar presenters, having conducted more than 1,000 seminars at martial arts academies, collages, universities and military bases in North America, Central America, South America, Europe, Asia, Africa, Australia and New Zealand.

He was inducted into the martial arts hall of fame and named Krav Maga instructor of the year for Europe (2010) and the United States (2014). 
There is no substitute for experience. 
Moshe travels regularly to the USA, Canada, Mexico, South Africa and Europe. Seminars in Asia, South and Central America, and Africa occur on a regular basis, and are available at any time, by invitation.

To arrange a seminar contact the IKI Office or Moshe Katz directly. 
---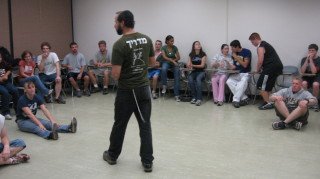 ---
Seminars can be conducted in English, Italian, Spanish, Portuguese or German, and of course Hebrew. 
Seminars can be tailored to the needs of the group. There are many topics to choose from.
International seminars usually range from two day to five days. 
To arrange a Krav Maga seminar please contact Moshe Katz at  
Please Note: Flight and travel expenses need to be paid in advance This includes the flight and taxi. 
---
Testimonials for Moshe Katz Krav Maga instructor
---
Seminar Deposit $350 (Plus PayPal fee)  
Non refundable. 
---
Balance Seminar Payment $400 (Plus PayPal fee)  
This plus deposit is full payment for seminar.
---
Full Seminar Payment $750 (per day) (Plus PayPal fee)  
---
In the event of cancellation, the seminar deposit is non-refundable.

---
cost
---
Seminars are $750 (US Dollars) per day, plus expenses, unless other arrangements have made been with the IKI Office. 
Length of seminar: Seminars can be a full-day seminar or 3,4,5 hours. The fee is per day regardless of the length of the seminar. For a full day seminar an extra hotel night is required, otherwise the travel time takes up part of the day.
Seminars cannot exceed 8 hours per day.
For Locations Outside the USA/Canada

Expenses are: Seminar fee. Round trip airfare, taxi to and from airport in Israel, airport pickup and drop off abroad, Food and hotel. Coffee during seminar.
For flights to and from airport in Israel, Moshe flies El Al Israel Airlines.  (Unless someplace like Kazakhstan or Albania where El Al does not yet fly). Connecting flights can be with any airline other than Arab airlines (for obvious reasons.)
All flight expenses must be incurred by hosts including unexpected cost as may arise from time to time. 

---
Cancellation Policy for USA, Canada, Mexico, Puerto Rico
---
Once a flight has been booked there can be no cancellation. Cancelling a seminar incurs the Full cost of the seminar, hotel, and food expenses. i.e. If a seminar is booked within the USA, Canada or Mexico, Which is part of a tour, cancelling a seminar has a domino effect. If event B is cancelled, I still must be at location B in order the catch my flight to location C.  Thus a cancellation incurs ALL costs incurred as a result of the cancellation of the seminar. 
Note: I do not want any cancellations. As such I make the policy as to let potential hosts know that they will lose out by canceling. It pays not to cancel. I have had too many cases in the past where after booking a seminar, planning on the seminar and counting on it, I suddenly receive an e mail "So terribly sorry but I have to cancel. I hope this causes you no inconvenience".
I have designed my policy to avoid such experiences from ever happening again.    
---
Cancellation Policy for all other seminars:  
In the event of a cancellation  flight money is forfeited and 50% of the seminar fee must be paid.  
---
Flights
---
For  flights leaving and arriving in Israel Moshe flies  El Al Israel Airlines.(unless someplace like Kazakhstan where El Al does not fly). Connecting flights can be with any airline other than Arab airlines (for obvious reasons). 
Procedure: Once we set a date for a seminar I will look into flights. We agree on flight details and cost. Two options for payment. 
1. My agent at El Al contacts you directly and you pay him via credit card.
2. I send you an invoice for the flight and I book it here in Israel. 
This way if there are problems, as there have been many times in the past (volcanic ash, contaminated petrol, storms, war) I have one individual whom I can contact rather than go on a wild goose chase trying to contact an airline. Trust me, I know what I am talking about. With other airlines I have found myself stranded in a foreign country trying to explain myself in Spanish in the middle of the night, or in German while panicking that I will not make my connection. I have been stuck at the airport without internet, without a working international phone, surrounded by Chinese speakers, Russian speakers, trying to reach someone. Trust me, I book my own flights.
There can be no compromise when it comes to my safety.  
---
Flights within USA, Canada, Puerto Rico, Mexico.
When on tour within North America there can be as may as 20 flights or more.
---
Policy regarding booking flights

1. Never take the initiative to book the flight on your own. These flights must be booked together, me and the host, in order to find the best flight that suits our mutual needs. 
For your sake I try to choose the least expensive flight.
For my sake I try to choose a flight without three connections.
For your sake I try not to choose a flight that involves you waking up at 3 am and driving 2 hours to the airport.
For my sake I try to choose a flight where I can get a decent night sleep. Thus we must speak and choose the best flight together.
2. No seminar is considered booked until the flight is booked and paid for. Without a booked flight I have no guarantee the host will not change his mind at the last minute.
3. Flights must be booked and paid for well in advance - When I ask for them to be booked.
If you do not have the money to book a flight a few months in advance, perhaps you should not be hosting a seminar.  Understand that this is a domino effect; I only book flight number 3 on a tour after flight number 2 is booked (and paid for). For example, If I am flying New York - Chicago - Los Angeles. I will only book Chicago - Los Angeles after I have booked New York - Chicago because if Chicago cancels then my Chicago - Los Angeles flight is lost!  (with no refund)  

4. Travel Visa - Moshe Katz holds two passports so a Travel Visa is rarely required. However in case where a Travel Visa is required that must be paid for by the host in advance. 

---
Accommodations 
---
Hotel, food, coffee, will be paid and arranged by the host. 
Hotels should be Best Western quality for better, not "Super 8", not "America's Best", and not road-side motels.
All hotels should be clean, smoke free, safe, and include a quality breakfast and wifi. 
Motels are not an option. 
---
Free Time
---
If there is free time please understand that these trips are very tiring. Moshe is quite happy relaxing in the hotel before the seminar. He does not need to be entertained round the clock.
Please understand that he is coming to teach Krav Maga, not as a tourist. It is more important  to be well rested and prepared for the seminar than to see the historic sights of the town.
Many instructors use seminars as an opportunity to stay out late, drink and party. That is not the case with Moshe, he wants to be well rested for the seminar.
---
Seminar Topics
---
The basic standard format is to begin...at the beginning. We start with the basics, the foundations, and progress from there. 
Seminars can be tailored to the needs of the group; Young, Old, Police, Military, Office workers, security guards, Airlines etc. 
---
I recently attended a weekend seminar of Krav Maga with Moshe Katz in Durban (South Africa).   I've never done Krav Maga before and all I really knew about it was that in involved hand-to hand combat techniques and potentially very complicated techniques at that.   
I loved every single minute of the seminar and found the techniques surprisingly simple, yet devastatingly effective if applied correctly. Moshe has a brilliant way of breaking each technique down into small steps and then telling little stories about the technique and how you need to position yourself and your hands & body to help you remember.
Christine & I will continue to practice the techniques we learnt, as we plan on implementing some of them in our beginner and advanced women's self-defense seminars.
I can't wait for Moshe to come to Durban again for the next seminar! 
Ann du Plessis
Fight Like A Girl
www.fightlikeagirl.co.za

---
 International seminars  
---
Upcoming Seminars
Italy - April 2023
Germany - April 2024, Königsbach - Stein
USA - August, September 2023
South Africa - March 2024

Mexico - February 2024

Norway - October 2023
India - 2023
Brazil - 2023
Netherlands, Apeldoorn - March 2023
Australia - 2022
New Zealand - July 2019 

Austria - Vienna, October 2022
Puerto Rico - September 2022
Germany, Freiberg, - May 2020 

Ukraine, Kiev, October 2018
Switzerland November 2017
Costa Rica - September 2023
Panama - February 2018
Poland - December 2023

Canada - February 2018

Argentina - June 2017
Chile - June 2016

Albania -  December 2015
Slovakia -  2013

France - March 2013
Russia - April 2013
Kazakhstan -
---
If you wish to attend or host a seminar, contact me via the form at the bottom of the page.

---
Plan a Successful Krav Maga Seminar 



---
If you are making an effort to have an event, and inviting an international instructor, you should do everything possible to make it successful. 
Planning a Krav Maga Seminar; Goals and Expenses

Planning a Successful Krav Maga seminar

How to have a successful Krav Seminar
Krav Maga Seminar in a Small Town
Innovative Krav Maga Seminars - The people speak

---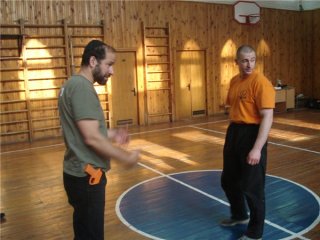 Moshe Katz teaching seminar near Kiev, Ukraine.

---
Tour and Train, Israel
---
Accelerate your progress, the fastest way to improve your Krav Maga and achieve rank or instructor status is to come to Israel. 
More details about Krav Maga Tour and Train Israel.

---
2023
November 2023, Tour and Train
June 3 - June 13, 2024  (training begins Monday morning)
Five Day Training Camp Now registering participants.  
Tour and Train sample Itinerary

---
Moshe,

I just wanted to let you know that I cannot thank you enough for your visit. It was therapeutic for me in a number of ways. It was GREAT seeing so many students in there, all learning and getting excited about Krav Maga. We love what you bring to your seminars. Your passion for teaching people to learn to to defend themselves matches ours, and I see good things coming from that! 
This world is getting scarier every day, and I feel great about myself knowing that I teach people how to defend their lives. I'm excited about continuously learning from you. You are an awesome mentor in many ways. 
Thank you so much. 
Carrie Banton, Florida, USA
---
I have been through 2 of Moshe's seminars and WILL be at this this one. Moshe is a fabulous teacher who makes everything so easy to learn.
Callie, Alabama, USA 
---
Hi Moshe, 
I would just like to take this opportunity to thank you for the training and stories you told during the training. 
All the small little tweaks have make a big difference, thank you again. 
As for the stories\truths they really touched my heart and I won't forget them. I have actually told them to a few people already and I can see them pause and think about it and understand the underlying truth behind the events. 
Thank you again for you wisdom, understanding, forgiveness and training. 
Thank you  Duncan Smith, July 2017
---
... and not only attending a seminar with you is crucial.
who knows me and sees me at seminars, will sometimes wonder why I write all the time. I can also remember that you once asked me what I write down all the time. if we have attended more than one seminar of yours, each seminar usually starts with the same or similar techniques and you should believe that after 8 years of training with you I also know the techniques. but it is important to me to look behind the technology. to understand you as you explain what you mean like ... sometimes the story about the single techniques is more helpful to me than the technique itself, because if we understood the principle the experienced trainer himself would come close to the same technique.
Stephan Schuetter, Germany

---