Train and Tour Israel Experience

Krav Maga
---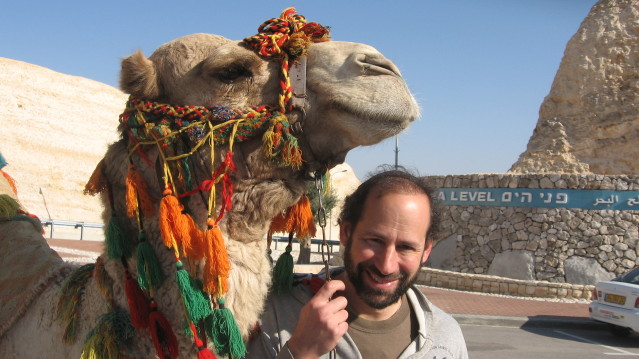 Welcome to the Judean desert
Tour and Train leader Moshe Katz with a local camel in the Judean dessert.

---
Dates of Next Sessions:
---
2020
March 15 - 19 Five Days Training only, Now registering participants
June 1- June 11, 2020 Tour and Train Now registering participants
June 14 - 18, 2020 Five Days Training only, Now registering participants
November 2 -12, 2020 Tour and Train Now registering participants
November 15 -19, 2020  Five Days Training only, Now registering participants
2021
June 7 June  17, 2021 Tour and Train   Now registering participants

---
Maximum Number of Participants: 24
---
Open to ALL levels
No previous experience required. Beginners, Instructors, and practitioners of all levels are welcome, each will advance at his own pace.
---
We Take Care of You

---
Once you register and book your flight - you are all set. We do the rest. We can arrange for you: housing, airport pickup and drop off, shopping, money changing at the best rates, restaurants, wifi, laundry and any issues that may pop up. We are your Israel connection.

---
The Training
---
At least seven hours per day (except for days when we tour, but even on those days we have training).
• Indoors and Outdoors training
• Full Padding for knife defense training
• Full impact but safe
• All Aspects of Krav Maga Training; Close quarters, Defense inside cars, stairs, Hostage situations,
• Airline situations, Profiling.
• Tour of the Old City of Jerusalem, Mount Herzl, Yad Va Shem, Masada
• Diploma for completion of course.
• Possibility for rank test,
• Possibility for instructor test (suitable candidates).
• Day 11 Optional at extra cost - Israeli Kickboxing $60 per day

• Day 11 Optional at extra cost - Counter Terror course. (cost depends on the number of participants, starting at $500)

Extra courses depend upon the number of interested participants. A minimum of 4 is required. 
---
Sample Itinerary

---
---
Certificates/Diplomas

---
All participants will receive a Certificate of Completion of the Tour and Train course.
Participants are eligible to test for rank in IKI Krav Maga.
Participants are eligible to test for rank in IKI Israeli Kickboxing

IKI Members are eligible to test for instructor rank.
To join IKI please see Membership.

---
About the Touring

---
Our Touring is not "site seeing" as in what a tourist would see. Moshe Katz leads most of the tours personally and integrates that experience with the training. The tours are "Moreshet Krav" - The Heritage of Combat", you will not be sunbathing on the Tel Aviv beach.
The tours are part of your training, just as all IDF (Israel Defense Forces)  recruits must complete these very same tours so shall you. The tours are the spirit of Krav Maga, the heritage, this is essential for understanding Krav Maga. You will be walking in the footsteps of warriors and learning their story.

---
Cost
---
10 days  (There are actually 11 days but Friday and Saturday are not as full. Friday we conclude early for the Sabbath and on Saturday we train after the Sabbath is over.)

$1,400 (IKI Members receive $100 discount)
Payment
Payment can be via Paypal, Western Union, Bank Transfer or cash.
Cash must be only US dollars or Israeli Shekels. You can exchange foreign currency in Israel.

Includes:
10 days of training,
All Krav Maga training,
All touring, all entrance fees, all travel to sites that we tour,
Two Tour and Train T shirts,
2 DVD's,
coffee and tea every morning. 
Does Not Include: This price does not include extra full day Kickboxing training, Flights, Accommodations, food, airport pickup.
Accommodations available in Maaleh Adumim at very reasonable rates, or in nearby Jerusalem.
Training Equipment:
Either bring your own or purchase here
1. Groin protection, (required).
2. Mouth guard.
3. Shin pads, arm pads
4. Plenty of T Shirts (you will sweat and need to change shirts), long pants.
All other equipment provided here.
Sticks, rubber guns and knives, pads etc all provided here.
---
Non Participating Spouses - Welcome

---
 Non participating spouses are welcome to join us for the touring segments of the trip. The fees will be only the cost of travel and touring.  $500

---
Registration - Deposit
---
Reserve your spot, Registration

$400 deposit and registration fee.  Non - Refundable.
This is a processing fee and reserves your spot. This covers us for our time, effort, and expense in the event the participant does not show up. If the participant does show this counts towards the cost of the course.
This is the cost of organizing and planning and thus is considered "spent" before the program begins. There are no refunds. 
---
Registration for all courses and airport pickup
---
---
Testimonials
---
Tour and Train testimonials from past participants

---
Housing
---
The choice of housing is up to you, but we can help you. Prices for Hotels or a bed and breakfast in Jerusalem can run from a few dollars per night to hundreds.
I feel it is best to stay in Maaleh Adumim. We do not have any hotels but there are very nice rooms an units for rent ranging from about $20 per night to about $50 a night.
Once you register for the program we contact you and arrange all the details and find accommodations that suit your needs.
Food here is rather inexpensive, unless you choose to dine in fancy touristy restaurants.
---
Smoke Free Environment:
IKI is a smoke free environment. Our hosts have made it clear that no smoking is allowed on their premises. (this includes backyard, balcony etc) If you are a smoker please refrain while you are here, or find a place far away so that it does not affect others.
No smoking during the tours or during the training.
Sometimes smokers think that if they step to the side, smoke, and return, that on one will be disturbed. This is not the case. Over and over again non-smokers have said they do not want to train or be near anyone who has smoked a cigarette, the stench stays with the person.
Leave your cigarettes at home!

---
Sabbath:
This is a Sabbath observing community. As such we ask you to respect the feelings and the guidelines of the community. Thus on Saturday there is no playing of loud music, no vehicles, no smoking etc.
Our community is a traditional Jewish one. You will feel very welcome here. Please try your best to fit in and respect the community and they will treat you the same. Those who wish may spend Saturday on their own. Some participants chose to go to Tel Aviv, the beach, or to visit friends, the choice is yours.
---
Extras: (at no extra cost)
• Meet local residents and hear about the history of Maaleh Adumim,
• History and Jewish Tradition from Moshe, includes video presentations (Optional)
• Visit synagogues during prayer, including a Yemenite Jewish service, (Optional)
• Option for spending Shabbat in Maaleh Adumim,
• Local currency exchange places available, shopping, car rental etc. (Do not change money at the airport!)
Then you have flights, and accommodations, which I can look into. of course the flight would be different for each person.
---
Abandoned tank outside Maaleh Adumim
---
Tour of Old City Jerusalem
Our tour of the Old City will cover thousands of years of history including the latest finds, digs, and research. You will feel what it was like to live in Jerusalem in Temple times and deal with the Romans. You will walk the path where the Hebrews and non-Hebrews walked to get to the Temple, step on the same stones, see the gates from which they entered to offer sacrifices. You will see the ritual baths where they emerged to purify themselves before entering the Holy Temple, Beth HaMiqdash, and you will see original stones from the destroyed Temple.
We can visit Ir David (The city of David), which is where the Hebrews lived before the Old City was built. The security guards in this area are excellent, they were trained by myself and other well know Krav Maga instructors.
You will understand the pain the Jewish people suffered at having lost the most magnificent building of its time, being sent into slavery and exile, and waiting 2,000 years. And 2,000 years later, descendants of these exiled people will return to Israel and resume the ancient fight.
Walking the streets of the Old City you will understand the development of the Krav Maga techniques, as you will see the narrow streets and stairways. Sadly, many attacks have been taken place here and from these cases we developed new techniques and approaches. Jerusalem Krav Maga emerges from these streets.
When you return home you will have more of a feel, understanding, and appreciation of Krav Maga than any local instructors. You will have also have a Tour and Train certificate and T shirt.
There is much to see in Jerusalem and it is up to you to determine what you want to see; We will certainly see ancient Hebrew historical sites but we can also see historical sights of importance to Christians, such as churches and places where it is said Jesus was.
Sites in or near Maaleh Adumim
Maaleh Adumim is a modern town in the hills of the Judean desert. The name comes from a town that existed in Biblical times.
---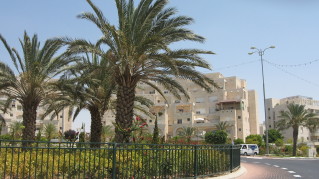 ---
Things to see:
Martyrius Monastery; built by the monk Martiyriuis during the Byzantine period.
Excavation of ancient town
Bedouin Nomads
---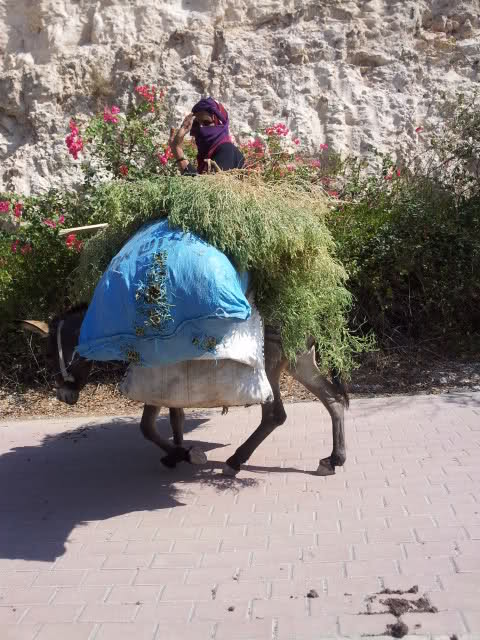 Bedouin woman on donkey, Maaleh Adumim

---
Some Highlights

---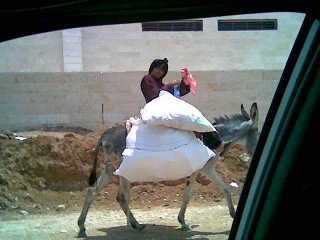 Bedouin woman on donkey, Maaleh Adumim
---
---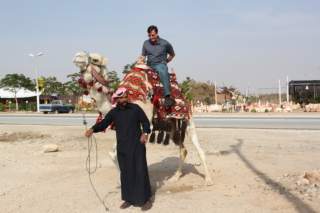 Calvin from Florida, near Maaleh Adumim, with Achmad Abu Duhac
---
Local Transportation - Getting Around
Maaleh Adumim is located in the Judean desert, a short ride from Jerusalem.
Most participants chose to stay in Maaleh Adumim although a few have opted for Jerusalem. Jerusalem offers more night life. You can take the bus from Maaleh Adumim to Jerusalem , number 174, or several people can share a cab (divided a few ways it is not bad at all), or some prefer to rent a car.
---
Krav Maga Testimonials
---
For More Photos visit our other site
Israeli Krav International.com

---
For More Information

---
---