heart of a student, heart of a teacher


BY MOSHE KATZ 
CEO
ISRAELI KRAV INTERNATIONAL
---
March 15, 2022, Four Ways, Johannesburg, South, Africa
---
One can always spot a student. A student is one who is eager to learn, now matter how learned he already is. A professor of linguistics will be as excited as a child with a new toy when he discovers a link between an ancient Egyptian word and a Biblical passage, or the Akkadian root of a modern word. A self-defense instructor will be as excited as a beginner when he discovers a simpler way to do a basic technique. A true student never gets old, a true student never stops learning. A true student is never too old to attend a lesson and learn something new. A true student is never too arrogant to admit that he was doing something wrong. 
As a wise man once said; I have been wrong before and I will certainly be wrong again. We are always learning. A true teacher is always a student.
A true teacher will always place the needs of the student before his own. The lesson revolves around the student. The true teacher will find innovative ways to engage the student. The true teacher will find ways to adapt the teachings to the needs and the limitations of the student. Recently one of our instructors in South Africa told me about showing up to meet a new student and discovering that she has an unusual physical deformity; she was missing both thumbs. He acted as if all was normal, par for the course, and proceeded with the lesson, finding ways to overcome this apparent disadvantage. 
I can picture my dear mother, may she rest in peace, as she prepared for a lesson. She took such joy and pride in each detail. I loved buying her colorful handbags from my travels around the world, and she would use these for her notes, her papers for her students. She would Xerox/copy her papers, her lessons, and carefully prepare them for her students. I can still see them, Pat, Sat, Cat, Hat; Mouse, House, what joy she took in teaching!
She was 86 years old/young and still took such joy in teaching. 
Towards the end of her life our wonderful community sent her a volunteer, a young woman of Yemenite heritage, named Yael. Little did we know that my mother had about a month to live, but still my mother taught. This young woman came as volunteer to help the elderly but my mother needed to give, to teach. So she began teaching the volunteer the Hebrew origins of some English words and the historic connection between them, how history and language are intertwined. My mother had the heart of a teacher, to the very end. 
My mother taught me that a teacher must teach, and a teacher must be very patient, but when that moment comes, when the students' eyes light up with "I got it!", the teacher has all the reward she/he needs. The heart of a teacher, it keeps beating until the very end. I was with my dear mother as her heart stop beating, as she returned her sweet soul to her maker. 
I miss my dear mother and yet I continue teaching, for this is her legacy. A teacher lives through the life of her/his students. 
---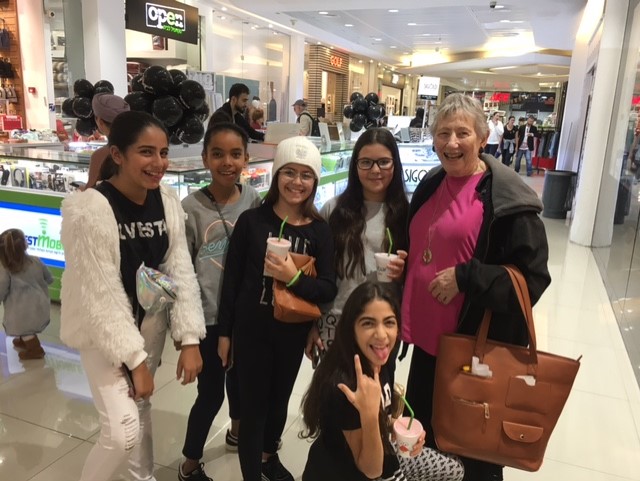 ---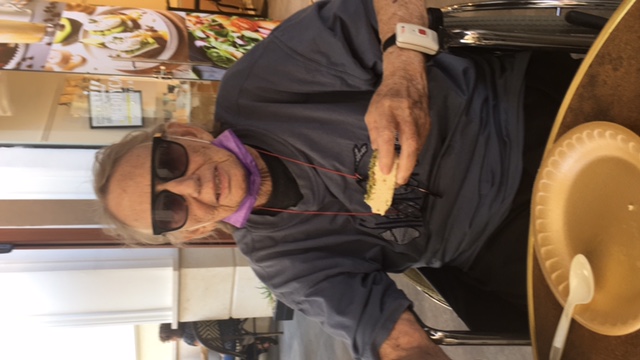 Our last outing together, October 21, 2021, Design Center, Mishor Adumim

---