Herbert Hodges - A good man


BY MOSHE KATZ

CEO
ISRAELI KRAV INTERNATIONAL
---
March, April  2021  
---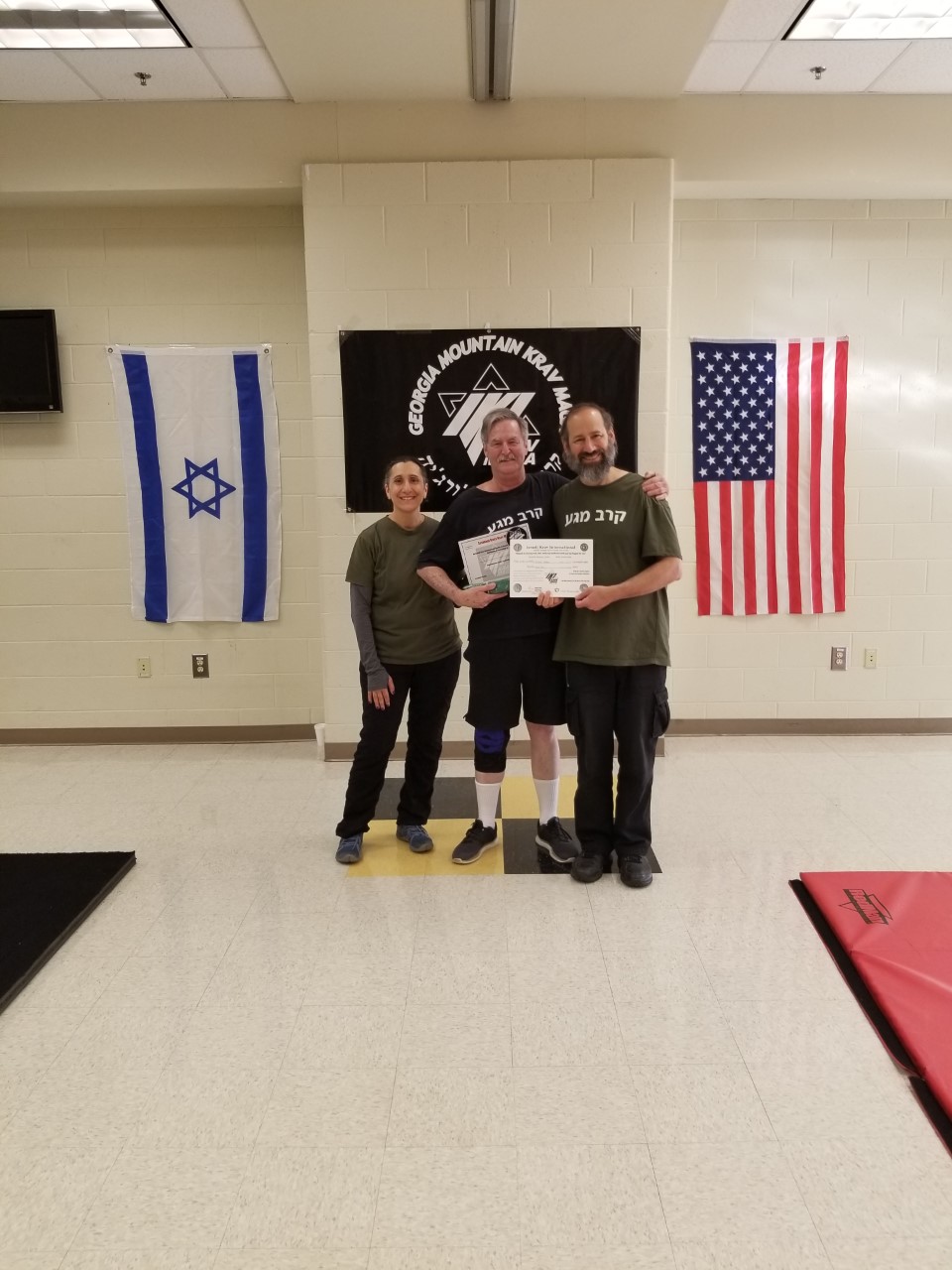 A very proud moment, Herbert Hodges earning his green belt, with instructor Lynette McDowell

---
I recall meeting Herbert, he made an immediate impression upon me. I pride myself on our system being open to everyone, not only super athletes and "Bad Ass" types. The fact that a man like Herbert felt comfortable with our system, and with his instructor Lynette McDowell, was a testament to our approach. He was not young, looked a bit shaky on his feet, and yet he was very motivated. Herbert was an inspiration. He was sweet and friendly and I enjoyed his company. He attended every seminar possible in the Georgia area, he joined IKI On Line and worked hard to learn the techniques. We were all proud of him. We were all impressed by him. He reached the level of green belt and was moving up. And yet there was so much more to him that I did not know, until recently. His humility and quiet disposition did not draw attention to him. He was not an attention seeker.
The last time I saw him was at our seminar in Dalton, Ga, hosted by IKI instructor Larry Chasteen. Herbert made the long trip, again, I was impressed. He had sent in a question regarding a knife threat while seated. The question was forwarded to me by his instructor, Lynette, I sent back a video answer. But Lynette said this was not sufficient as the question was for Herbert and the technique that I offered relied too much upon leg work, upon getting out of the seat quickly. Herbert, with his legs and his condition, was not able to do this.
Our belief is that Krav Maga is for everyone. We do not have advertisements, like the other associations, showing young fit men and women with impressive bodies. We do not believe in this image, or message. Krav Maga must be for everyone. If you have only one arm, or some damaged body parts, we will work with you. We will adapt the technique to your body. So we went back to work to adapt this knife threat situation to Herbert's needs. From that point onward I have named this technique in his honor. He will live on with us, with IKI Krav Maga, with this technique. When others learn this technique they will be reminded of, and inspired, by Herbert Hodges.
When his membership dues were not honored by his bank, I became concerned, this was not characteristic of Herbert. If there was a problem he would have contacted me. I was worried. Shortly afterwards, at the seminar in Georgia with IKI Instructor Hal Herndon, I was informed of the sad news; Herbert Hodges, such a sweet man, had passed from this life. Herbert was gone. 
I was greatly saddened with this news and it was challenging for me to teach that day. But one must continue, so we honored his memory by announcing his untimely passing, and we trained in this technique in his honor. We all share this loss. 
Herbert was very dedicated to Krav Maga, I saw this, but I really did not even come close to knowing the full story. I wish I had the opportunity to know him better. So I approached his instructor, Lynette, in an attempt to learn more about him, and to share and honor his story. 
Lynette informed me that he was being promoted to Blue belt in Krav Maga, and would I please send her a certificate for him, dated for his last lesson: This I have done. So he passes with the rank of Blue belt but really, in his spirit he is a true black belt. 
Lynette wrote, I wanted to thank you for announcing the loss of my student Herbert Hodges at the seminar. He was a fully committed student of IKI Krav Maga. My last several lessons with him he was wearing oxygen. He had been ill for some time, then was diagnosed with idiopathic pulmonary fibrosis. He went into the hospital on a Wednesday evening and was found to be Covid positive and died 4 days later (January 30th, 2021)
...He would get a ride to my house where we had our lesson, then I would take him home with the occasional errand. I will miss him, but am heartened that he is no longer suffering. 
I told Lynnette that I wanted to write about him, to share his story, to inspire others. She graciously agreed and went to secure some background information. My idea was to use this as part of the blog. What I received was so beautiful that I see no reason to add or change anything. I found it so inspiring that I want you the readers to hear it, and feel it as I did. May his memory be a blessing and shining light to us all. Herbert, we salute you and honor your memory. 
"Herbert was an exceptionally good draftsman in Augusta. In fact he drew the plans for several of the buildings that still stand. He enjoyed working with his hands and was old-school, using a pencil, square and ruler when drawing plans/blueprints. When everything became computerized he left his drafting job and worked as a pipefitter, welder and millwright. He was highly intelligent and had an excellent memory. 
He was engaged to a Canadian woman at one time. He had a beautiful house, they were preparing to marry when he was laid off from his job. At the same time he received a letter from the IRS saying he owed $130,000. His lawyer told him not to worry but within a week, the IRS wiped out all his funds, he couldn't make the house payments and his fiancé left him. He found out who his real friends were. He ended up on the streets, under Augusta's famed 15th Street bridge. One day while he was out walking over this bridge, he though someone was messing with his camp site. He leaned over the bridge to see what was going on when a black gentleman in a pickup truck saw him. They struggled and this gentleman knocked him out. He took Herbert to his home, cared for him until he woke up. When he awoke he met Jesse. Jesse told him he was sorry for knocking him out but he couldn't let him jump off the bridge and take his life. This is when Herbert told him he thought someone was messing with his campsite and he was just trying to check on it. Herbert and Jesse became the best of friends from that point onward. Herbert got back on his feet, got a job and then entered another phase of his life. 
He secured employment as a 'safety man' for a heating, and air-conditioning company. One day during their daily safety meeting he collapsed. He was in the hospital for three months. He found out he had become allergic to the seizure medication he had been taking for years. Herbert was unable to eat or drink and fed through a feeding tube while in the hospital. Jesse would visit him frequently and Herbert shared his fear of dying with him. It was then that Jesse witnessed to Herbert, and be became a believer. He started going to church and his faith continued to grow with his walk with Lord became closer. During his hospitalization Herbert at the urging of the physicians agreed to apply for disability because he could no longer secure employment due to the medications he was on and his seizure disorder. Basically, he had no means of supporting himself.
When he left the hospital after three months he was back to where he was staying but because the landlord thought he had skipped out they threw all his things out and he was homeless again and back walking the streets. Herbert had another good friend, Mitch, from years back who was looking for him while he was in the hospital, but it wasn't until he happened to stop in at a convenience store and see a police car and a gathering of people around someone that he found Herbert again. As he walked by he looked down and saw that everyone was looking at Herbert. Mitch told the officer that Herbert was a good friend of his, and they put him in Mitch's truck, hydrated him and Herbert went to stay with Mitch for two to three months. Mitch got him back on his feet and when Herbert received his disability check, they moved Herbert into his own place where he resided until he passed.

Herbert was an avid Atlanta Falcons and Augusta Greenjackets baseball fan, but he was so much more. He attended Church regularly and even brought Mitch back to his faith during a difficult time in his life. He loved trying new things and was active at the local gym (Kroc Center)  that was within walking distance from his bungalow. This is where be became involved in Tai Chi which he practiced for six or seven years.
I met Herbert when I opened my shop in 2018. He was one of my first students and by far the most committed. With his walker or cane in tow, he attended every class held dur4ing the week. At one point he became ill and was unable to attend classes for about a three month period. When he returned it was like he never left. When we closed the doors and I started teaching from home he had to find a ride each Saturday morning to get to the house. He would catch a bus at 7 a.m., meet a friend at another us stop who took him to another location, then walk another 1.5-2 miles to the house for his 11 a.m. lesson. Our lesson always went passed the allotted one hour block of time because he was my last student and he took great efforts to make it each week. I started noticing his shortness of breath during our lessons about three months before his last hospitalization. We were taking extra breaks for him to catch his breath. We would have a seat and watch your video clips of what we were going to practice next. A month later his condition was worsening and I and others encouraged him to go to the doctor. When this finally happened he was admitted to the hospital again and diagnosed with idiopathic pulmonary fibrosis. He was started on breathing treatments, and was required to be on oxygen 24/7. This didn't slow Herbert down. He continued to attend our weekly lessons and practiced with his oxygen. We would take frequent breaks for him to administer his oxygen. Herbert was never one to slow down or give up on anything. He wanted to master everything he had an interest in including IKI Krav Maga. He was truly the committed of students.  Herbert was an incredibly stubborn man as well, but I believe that's kept him going. I've never known Herbert to be negative. He was happy, always. Happy to be alive, happy to know the Lord and happy to be doing the things he loved right up to the end."
Herbert was 68 when he passed away. He will be missed by all of us. He was simply a good man, and there is no greater honor than that. May we be inspired by his life. May his memory be a blessing. 
---