iki krav maga instructors costa Rica
---
Erick Araya Hernandez, Curribadat 

---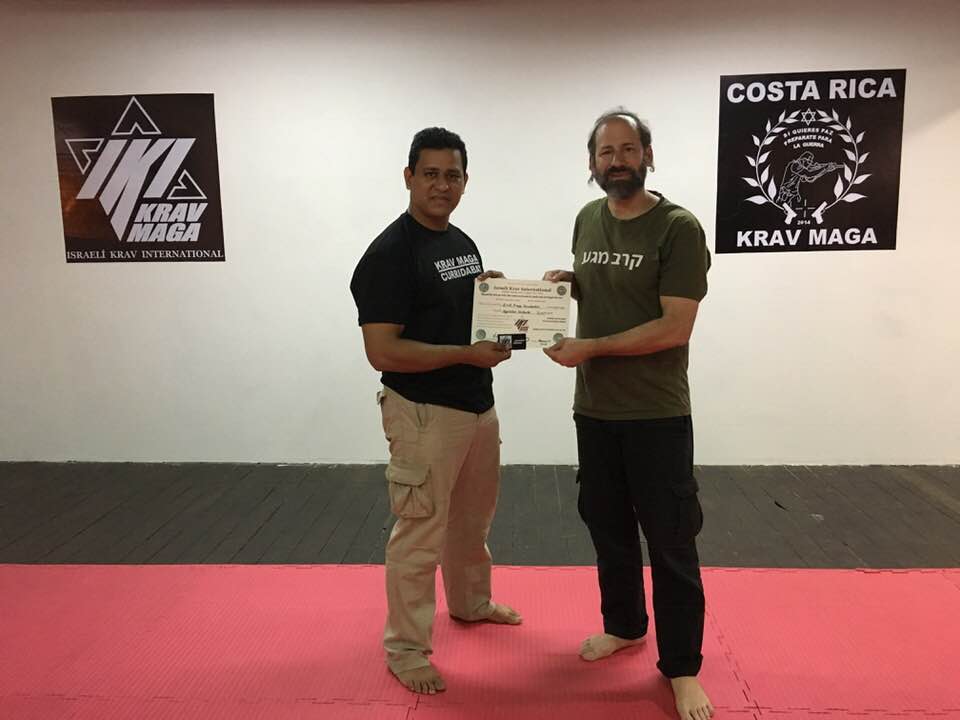 Apprentice Instructor (February 2018)
Current Rank: Assistant Instructor

Erick Araya Hernández 
Edad 45 años. 
Centurion Negro IKI dan 1
Asistente de Instructor Nivel 1 
Facebook: iki CR Krav Maga
---
Erick comes to IKI after many years of experience in other martial arts. In February 2018, after extensive observation and having proved his deep understanding of IKI Krav Maga, he was promoted by Moshe Katz to first level instructor, in 2021 he was promoted to second level instructor. He is the first official IKI instructor in Costa Rica. In December 2019 he was promoted to Black Belt first dan. 
---
yo he practicado artes marciales desde los 14 años, actualmente tengo 40 años, soy cinturón negro segundo dan en Taekwondo, 1 dan en Tang Soo Do, 1 dan en Métodos Policiales, he practicado a lo largo de mi vida otras artes marciales como Hapkido, Jiu Jitsu, Aikido, Kickboxing, Pencak Silat entre otras pero sin lograr llegar a un nivel de cinturón negro en ellas aún. En el 2008 luego de sufrir un asalto en la calle, logre entender que las artes marciales tradicionales no me funcionarían para la vida real en situaciones de alto riesgo, así comencé a investigar  el camino del Krav Maga en el 2013 conocí al maestro Sayah Benjelloul, experto en Pencat Silat quien me inicio en defensa personal lo cual me hacía sentir mucho mejor, ya en el 2014 comence a entrar en el mundo del Krav Maga y logre en el 2015 iniciar en IKI lo cuál ha sido una gran experiencia para mi, he podido lograr comprender que lo más complicado no es lo mejor al defenderse, lo mejor es comprender los movimientos naturales del cuerpo en situaciones de riesgo y aprovechar al máximo estos movimientos para lograr llegar a casa a salvo. Todo lo que he logrado hasta ahora ha sido gracias primero a Dios, luego a mi familia y a cada uno de mis maestros a lo largo de mi vida que han aportado algo de su vida para mi.
---
I have practiced martial arts since I was 14 years old, I am currently 40 years old, I am black belt second dan in Taekwondo, 1 dan in Tang Soo Do, 1 dan in Police Methods, I have practiced other martial arts like Hapkido throughout my life, Jiu Jitsu, Aikido, Kickboxing, Pencak Silat among others but without managing to reach a level of black belt in them yet. In 2008 after suffering an assault on the street, I managed to understand that traditional martial arts would not work for me in real life in high risk situations, so I started to investigate the path of Krav Maga in 2013 I met the teacher Sayah Benjelloul, Expert in Pencat Silat who started me in personal defense which made me feel much better, already in 2014 I started to enter the world of Krav Maga and in 2015 I started in IKI which has been a great experience for me, I have could achieve to understand that the most complicated is not the best to defend, it is best to understand the natural movements of the body in situations of risk and make the most of these movements to get home safely. Everything I have achieved so far has been thanks first to God, then to my family and to each of my teachers throughout my life who have contributed something of their lives to me.
---
Contact Information  - Información del Contacto 

---
Dirección: Curridabat, San José, Costa Rica.
Hoario: lunes, miércoles y viernes. 4 a 6 pm y 7 a 9 pm.  www.ikicrkravmaga.com
Teléfono 506 70529711
Facebook: iki CR Krav Maga

 www.ikicrkravmaga.com
---
Luis Diego Garro
---
Luis Diego Garro experimentado empresario costarricense amante de un estilo de vida saludable, el cual ha decidido invertir en este proyecto de IKI CR KRAV MAGA porque más que una academia se ha convertido en parte de su proyecto de vida.
Hace 4 años se interesó por aprender un método de defensa personal y en la academia IKI CR KRAV MAGA encontró la posibilidad de iniciar su aprendizaje lo que hoy en día es parte de una disciplina; encontrando además la vocación de desarrollarse como instructor nivel I vocación que sigue alimentando día a día para perfeccionar cada técnica desde la conciencia y responsabilidad.
El reto más grande es re educar la mente a aprender a elegirse a sí mismo y la necesidad de saber defenderse.
Considero "que en la vida hay decisiones que marcan un antes y un después y el aprender krav maga ha sido eso para mi, un antes y un después en mi vida donde hoy me satisfago de seguir aprendiendo y enseñar"

---
Luis Diego Garro, an experienced Costa Rican businessman who loves a healthy lifestyle, has decided to invest in this IKI CR Krav Maga project because more than an academy it has become past of his life project. Four years ago he became interested in learning a self-defense method and at the IKI CR Krav Maga academy he found the possibility of starting to learn what is now part of a discipline; he also has reached the level of a level 1 instructor and he continues to develop daily seeking to perfect each technique and learn awareness and responsibility.
The greatest challenge is to re-educate the mind to learn to choose oneself and the need to know how to defend oneself. I consider "that in life there are decisions that mark a before and after and learning Krav Maga has been that for me, a before and after in my life where I am satisfied to continue learning and teaching". 
---
Nicolás Monge Mora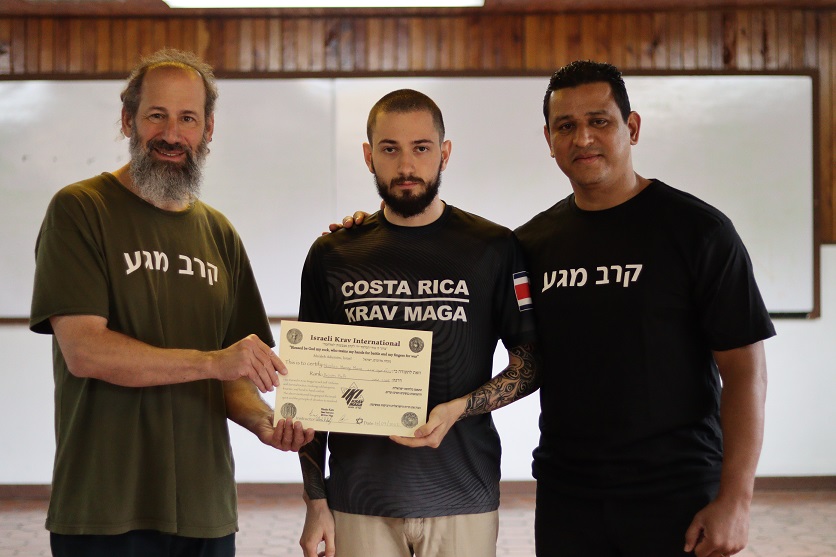 Nicolás Monge Mora, Instructor Nivel 1, cinturón Marrón IKI, edad 24 años, cuenta con más de seis años de experiencia entrenando Krav Maga IKI. Actualmente es asistente legal *(reseña Nico)* Desde que comencé a entrenar no he tomado pausas y he podido ver los resultados de ser disciplinado, tanto en mi condición física como en mi carácter y demás aspectos de mi vida. Lo más importante es mantener la constancia y bases solidas para poder desarrollarse adecuadamente, siempre siendo paciente y enfrentando los retos de frente.
---