Israel Travel Advisory


By Moshe Katz
CEO
Israeli Krav International

---
August 16, 2014, Israel

---
I recall when I was invited to teach a seminar in Kazakhstan. I had never heard of Kazakhstan before to be honest. I thought it was a fictitious country made up for the Borat movie. As such I really had no first hand knowledge of this country when I accepted an invitation to go teach there.
I looked up the American Travel Advisory and became alarmed. It advised American citizens, which I am, not to travel to Kazakhstan, that American citizens are routinely abducted over there, dangers lurk.
I contacted my host and advised him of my concerns. He told me that members of his team would greet me at the airport and that I would be safe.
I had the entire scenario in my mind. I imagined being driven in a gym through desert sands, accompanied by 5 IKI Krav Maga students with Kalashnikov rifles.
And then, I deplaned from my Aerosvit (AeroSvit — Ukrainian Airlines/АероСвіт) flight and I was there.
I was greeted by one individual, of moderate height and slightly rotund figure. The armed guards, I assumed, were waiting outside in the gym.
There were not. We entered a modern vehicle, just me and my greeter. I was confused and asked him about the team he had mentioned.
He burst into laughter.
Didn't I get it? It was a joke.
My host explained that Kazakhstan was totally safe and since he considered my concern about safety to be funny, he made a joke about bringing a team of armed men to accompany me.
Didn't I get it?

No, actually I did not. Sometimes I do not get it when people are kidding me.
Hmm.
Turns out Kazakhstan is an extremely safe place. The biggest crime was jay walking. And it is nothing like the movie Borat.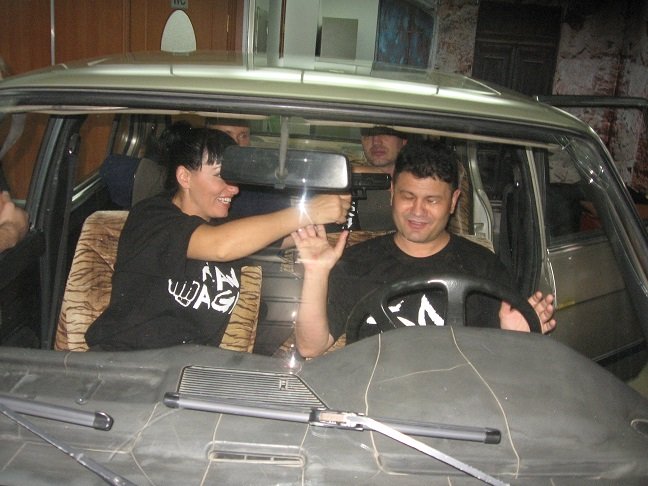 Training in Kazakhstan, Oksana and Igor

---
The same is true of Israel.
We had another blow up with our Arab neighbors ,this time from Gaza. When I arrived here in 1967 we had concluded the Six Day War, there were still dangerous mines up north. I still remember the signs. Such is life in this country. We have learned to live with it, cope with it and Thrive with it.
At one point certain foreign airlines cancelled their flight to Israel. People around the world panicked. Word on the street was that Israel is not safe.
This is not true.
I have been on several flights since this conflict began and yes, there was one problem and we had to land. But it was not a Hamas rocket that hit us, thank God no, we have nothing to fear from that motley crew.
It was on the flight home from South Africa and a large bird hit our plane, knocking out one of our engines. You see we have more to fear from African birds than from Hamas.
Israel is safe.
If you are waiting  for total peace and quiet then you must be a believer in the Messiah. If you are Jewish please wait for the first coming, if you are Christian, wait for the second coming, if you are Atheist, well, come anyway and maybe you will be our messiah.
Come join us in Israel. As I write these words there are children outside running around and having fun, with no adult supervision necessary. I wish my family in Los Angeles and New Jersey enjoyed the safe freedom that kids here enjoy.
Join us for Tour and Train. Show us that you stand with Israel.

---
Krav Maga Tour and Train Israel Experience
---
---
For veteran Krav Maga instructors, or beginners.

---
No previous experience is required. We start you from the very first steps and rapidly, but at your own pace, guide you to understand the underlying instinctive concepts of self defense.
You will be amazed by your progress.
We will cover hand to hand combat and defense vs "Street attacks" or domestic violence.
We will cover the principles and applications of defense vs Knife attacks, knife threats, stick attacks, gun threats and long weapons.
We will also deal with hostage situation based on real life situations. You will learn how to apply the same concepts and principles you have already learned in order to handle airline hijackers, bus, train, crowded theater etc.
We deal with attacks on the ground, defense vs rape, gang attacks.
While we are doing this we weave in lessons from Israel's military history. We break up the training with educational trips to sites of key importance. These sites have been chosen for their historical/religious/ and military relevance.
Your basic fee includes all of the above, all museum entrance fees, all tour guide fees. It also includes a basic introductory course to Israeli Counter - Terrorism. You will be trained by men who are currently active in counter terrorism and you will hear stories of how dangerous terrorists were caught.
You will experience Israel from the inside, not as a tourist. Many people have called this a life transforming experience.
You will have at least two instructors with you at all times and you may ask any questions you like.
We are committed to your personal success.
IKI Members receive an automatic $100 discount. Please contact me if you are interested in IKI membership. Our on line training program will give you a solid preparation for this trip so that you will progress even faster.
---
IKI Tour and Train Israel Experience, more information.
Sample Itinerary Tour and Train

Stand with Israel, Register for Tour and Train