krav maga instructors usa
---
Alabama
---
Michael Hill, Mobile
Michael is kind, patient, and thoughtful instructor. He pays attention to detail; closely observes those he is teaching and takes a genuine interest in their progress. 
Contact:
Israeli developed self-defense training used by security companies around the world. Protection strategies tailored to your ability, your purpose, and the circumstances you may find yourself in. For men women and youth ages 13 & up. Wednesday and Friday 6:30pm to 7:30pm +12517530204 Instructor Michael Hill +12516798877 Saraland YMCA 92 Saraland Loop
---
Arizona
---
Tim Hillis - AZ Elite, Flagsatff, Arizona
Mr. Tim Hillis has a rich and diverse background in martial arts. He has trained in traditional martial arts, law enforcement, and competitive martial arts. Of his thirty years in martial arts the past ten have been devoted to Israeli combat systems.
Mr. Hillis is a Law Enforcement Officer and Lead Defensive Tactics Instructor for his agency. In this capacity, he is responsible for overseeing the continuing DT education of more than 200 officers and Sergeants. He also serves as the primary DT and Physical Fitness Instructor to all cadets attending the Detention Academy for multiple agencies.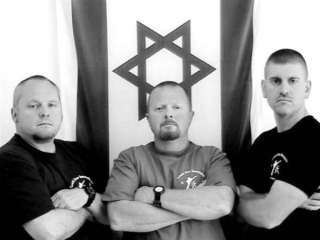 From Left to Right, Brian Driver, Brian Moffat, Chief Instructor Tim Hillis
After training with some well known instructors, Mr. Hillis decided to join our team at IKI, something we are very excited about. It is not just his five black belts and 4th dan rank, it is his passion for Krav Maga, his idealism, his honesty and integrity.
I have been to AZ Elite many times for extensive training with the staff and students. Tim Hillis is an outstanding practitioner and a patient instructor.
In Law Enforcement, we often develop a similar 'brotherhood' as those who serve in the military. In my shop I tend to promote the same type of camaraderie. The men, women and children in our classes form a sense of community which helps them to develop confidence in their skills. Not because they take it easy on each other, but because they make one another work hard enough to achieve that next level of competence. It is a challenge, but they are always successful! I am amazed at how quickly each of my students progress. I was told recently by an Officer for Arizona State Parks that he had not come to watch our class in about 30 days and he was shocked at how good each of my students had gotten in such a short period of time! It's because they are a team that cares about one another and their safety. So, yes, they do challenge one another - to bring out their very best, so when they look back in few months, they will see how valuable it is to accept no less in return. Because in each class, what's important is helping the person next to you - YOUR partner.
Tim Hillis
Owner AZ Elite
IKI Black Belt, Associate Instructor.
read more about Tim Hillis and AZ Elite

---
Brian Moffat  Cottonwood, Arizona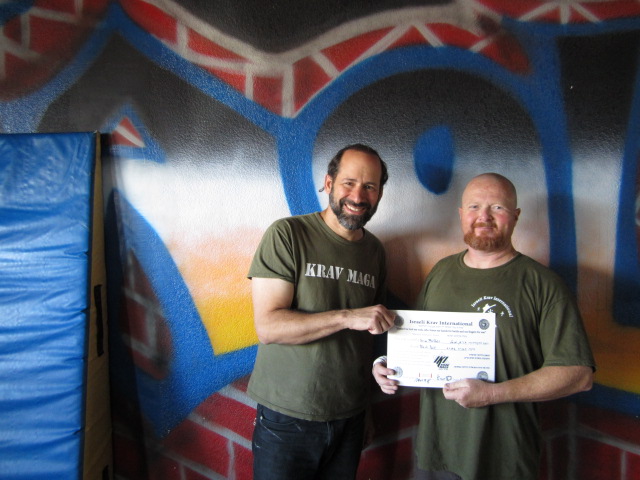 I've been involved in firearms training and competition off and on most of my life. I felt that I was more than able to defend myself regardless of the situation. About 4 years ago my wife and I were looking at an article written by a well-known firearms instructor. The highlight of the article, for me, was that the greatest percentage of defensive shootings were happening at an arms length (upwards of 80-90%). The author was pointing out that, as American instructors, we had been spending way too much time teaching our students pinpoint accuracy and not enough time on hand to hand combat skills. Wow! The light went on in our heads! Thus began our search for something that would give us and our students something worth learning. That search led us to Tim Hillis and Moshe Katz. Working with Tim Hillis the last couple of years has taught us more then there is room here to write about! The mindset we teach in Krav Maga shows people that it's not about the weapon, it's about the attitude. It's about the will to overcome and win the fight! My firearms classes are no longer just teaching people to shoot, but how to fight! I think if we all admit it, that's a big part of why we do what we do : Making a difference in the lives of people by giving them the tools to survive in extreme situations. The other part, as our senior instructor in AZ Tim Hillis says, "it's about the guy next to you, that's why we do what we do."
As I look at the group of instructors with IKI and the experience we have within this organization, I can truly say that it is an honor to be part of this fine group of people. Thanks especially to you Moshe for making it all possible! We are all students, and sometimes we are given the blessing of teaching.
Brian & Sheila Moffatt
---
Roger Hutchins, Cottonwood - Apprentice Instructor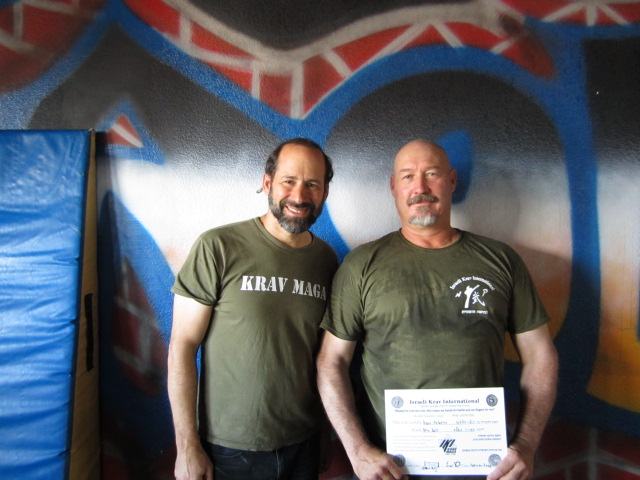 ---
Matt Guebard, Cottonwood,- Apprentice Instructor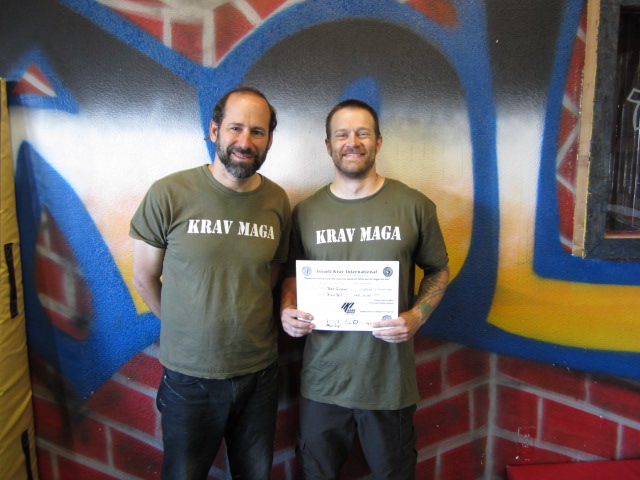 ---
Brian Driver
Brian Driver is planning on teaching the members of this church, LDS.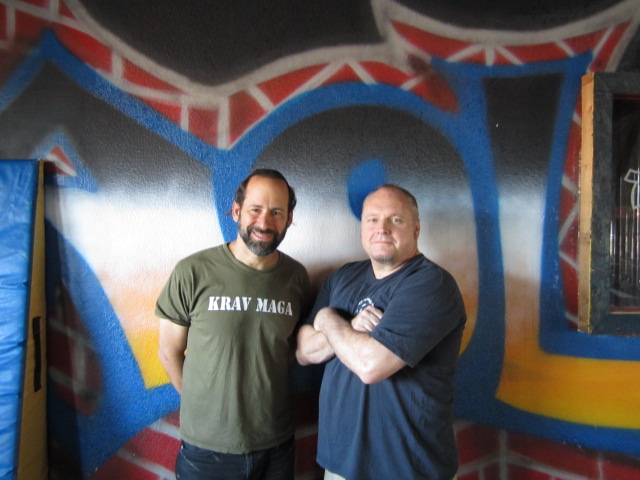 ---
california
---
Manuel Garcia, Pomona - Apprentice Instructor
Manuel came to Israel and trained intensively Krav Maga.   He is a career prison guard and a veteran of the United States armed forces. He was certified as an instructor in November 2012 in Israel.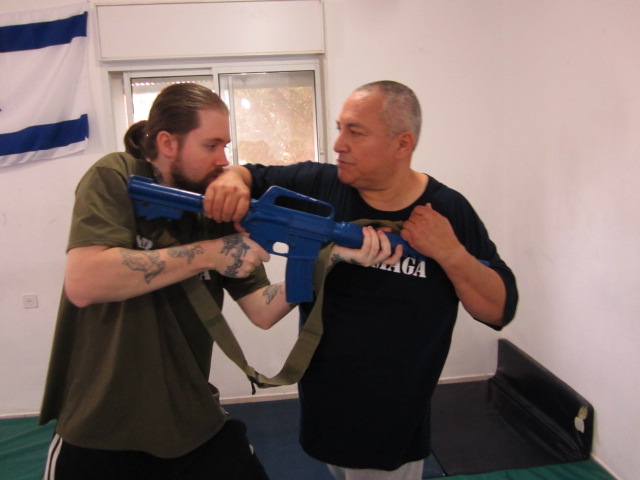 Manny Garcia, on the right, performing a rifle disarm. Israel 2012

---
Jacob Charlot
(949) 627-5775
Actor/Actor Space Command Tv Series
Military VeteranUSAF/Actor/Krav Maga Instructor LV A./Tai Chi /NASM Certified Personal Trainer/Warriors Fore Christ Power Team/Masters Deg. Forensics Psy.
Joel Demoura, Apprentice Instructor, Modesto, California

Joel comes to us with over 16 years of martial arts training and multiple certifications. As a school teacher he is a natural teacher, kind, caring, patient and compassionate.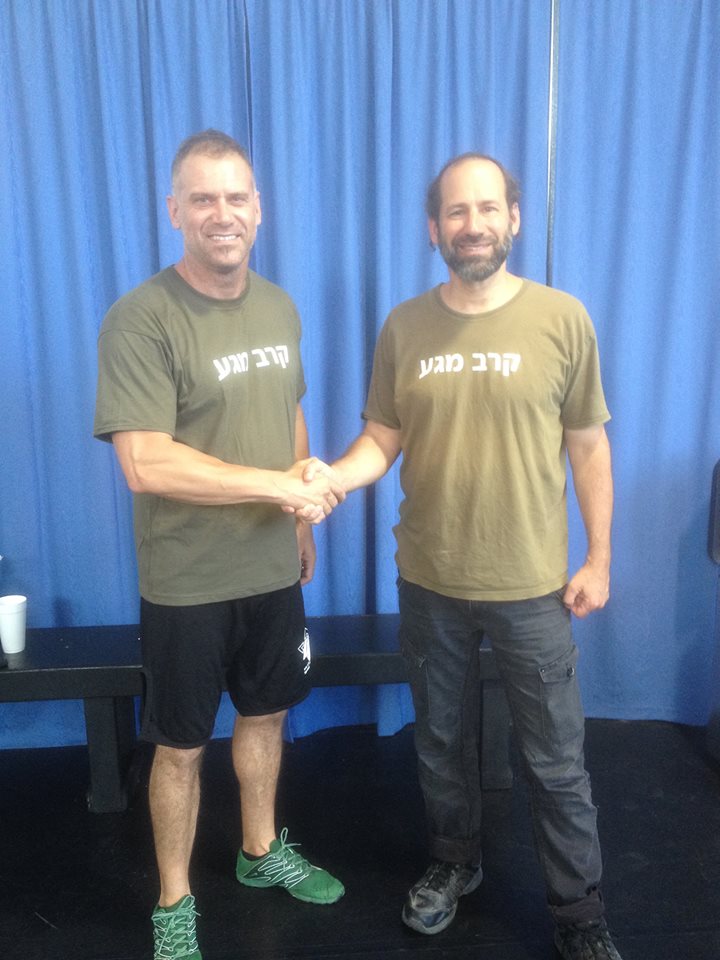 ---
colorado
---
Kessany Wall
Kessany Wall
Full Instructor, Black Belt third dan 
Champions Martial Arts can be reached at eddieriffe76@yahoo.com
---
Keziah Wall
Apprentice Instructor,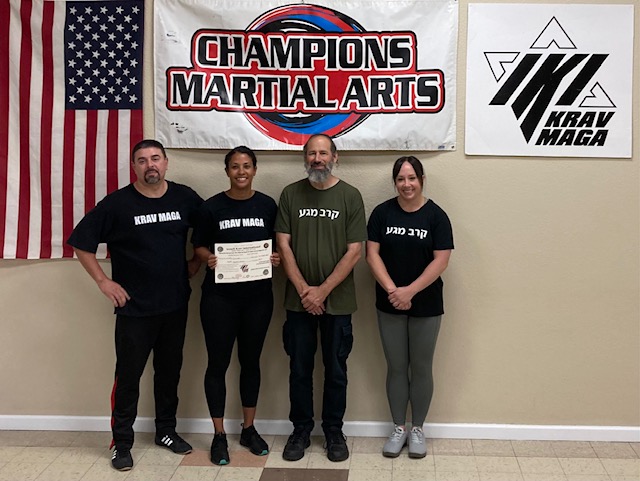 Kezia is a kind and gentle powerful individual, dedicated to her training and dedicated to her students. She is patient and knows how to explain the techniques in a way that they are fully understood. 
---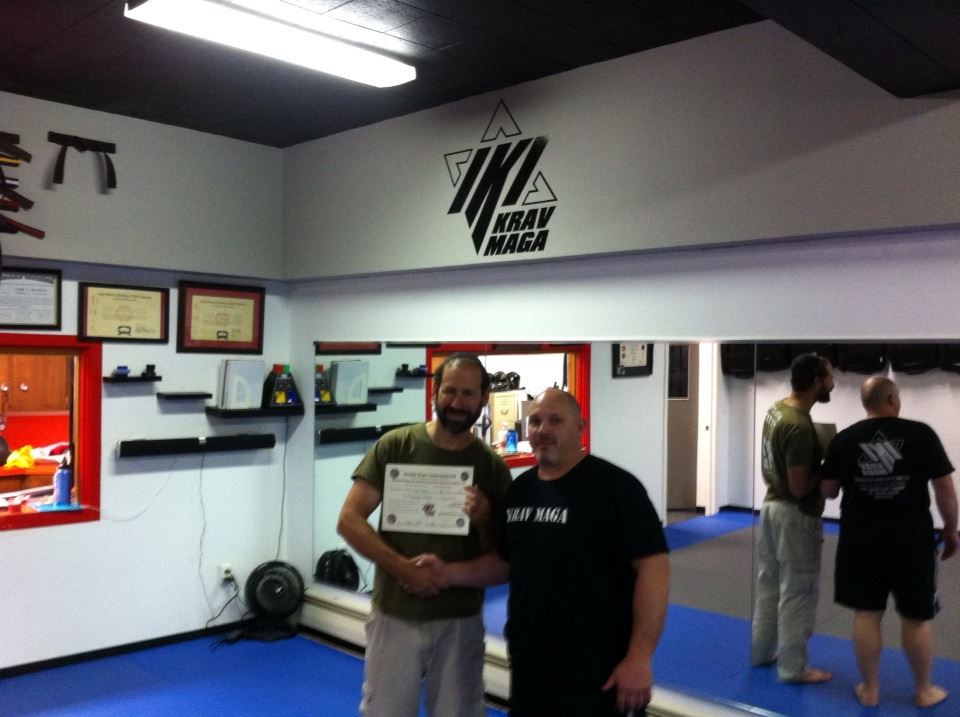 Todd Bradley being promoted to level two instructor, Colorado Springs, 2013

---
Victor Camacho, Assistant instructor and black belt. 

---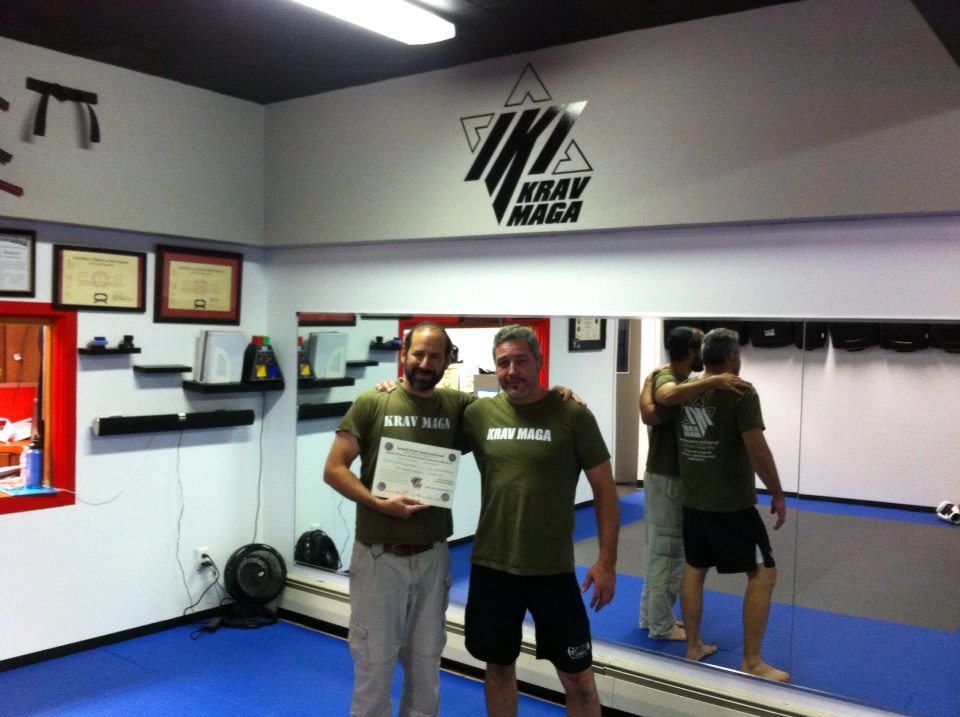 ---
---
Edward Frazer, Assistant instructor  
Champions Martial Arts can be reached at eddieriffe76@yahoo.com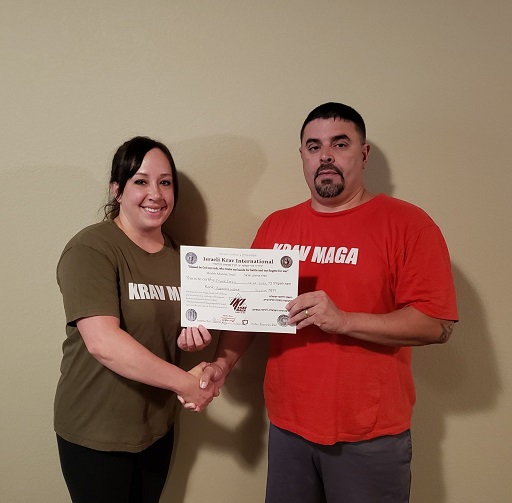 ---
Ashley Corpuz
Black Belt, Apprentice Instructor

---
Ken Boschert, Apprentice Instructor
---
Bryson Humber, Apprentice Instructor
---
Boaz Vituk, Apprentice Instructor

---
florida
---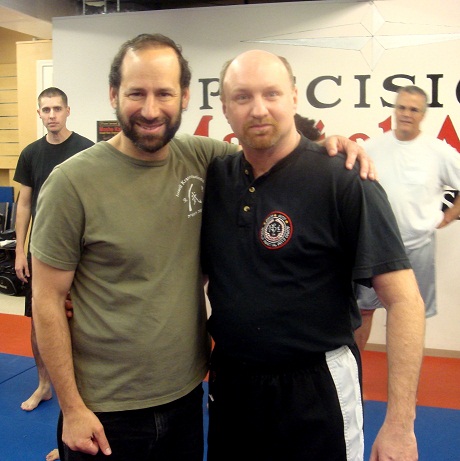 John Liptak, Santa Rosa Beach
President and Founder of The American Combat Federation
In February 2018 John was promoted by Moshe Katz to the rank of Full Instructor in Krav Maga.
Mr. Liptak began his martial arts training in 1976, and has been training and teaching ever since. He was able to practice many systems and styles of fighting, by having multipole instructors and training at the largest dojo in North West Florida. The dojo had numerous martial arts programs, including: Shotokan, Jujitsu, Boxing, Kickboxing, Full Contact Karate, and Hand to Hand Combat for the Special Operation Ranger Units and police departments in the area. Mr. Liptak rose quickly up through the ranks and became the head instructor.
Over thirty years later, he still serves as the Chief Instructor of the Red Dragon Martial Arts Academies and all affiliated schools, instructors, students, both past and present, under Grand Master Jim Rodrigues. Mr Liptak spent four years in the United States Marine Corps and continued his training in multiple arts, with a focus on Chinese styles, as well as teaching Army personnel at Fort Myers and Marines in Allington, Virginia. Mr. Liptak has served as a bodyguard in both the military and in civilian capacity. He later formed the American Combat Federation in 1987 and opened a private dojo teaching his system after leaving the service and returning to Florida.
Through the years, he has worked with military, law enforcement, and private citizens alike. Mr. Liptak currently conducts seminars, teaches self-defense course, women's self-defense clinics, private lesson, as well as his own system. Mr. Liptak continues to train and seek knowledge of the martial arts and is very active in training, as well as attending seminars. 
Mr. Liptak has learned many Krav Maga techniques through the years, but in March of 2010 he had the opportunity to train with Moshe Katz and was extremely impressed with the practically and simplicity of Moshe's Krav Maga system. He son became a member of the IKI and adopted the techniques. Mr. Liptak believes that Moshe's system is the most current and up to date Krav Maga system in existence, with the safest techniques for weapon disarms for both defender as well as bystanders.
Mr. Liptak looks forward to a long relationship with IKI. 
Current ranks and certification:
9th Degree Black Belt American Combat System 
7th Dan Black Belt Shotokan, 6th Degree Black Belt American Combat Karate, 4th Degree Black Belt Hand to hand Combat, 4th Dan Black Belt Bushido-Ryu,  3rd Dan Kajukenbo, 2nd Dan Black Belt Moo Duk Kwan/Tang So Do, 1st Degree Black Belt Kickboxing, 1st Dan Black Belt Shorin-Ryu, 3 years Training Wing Chun, Combat Shooting Specialist (Hand Gun, Combat Shotgun, Rife M-4 Style,) Chief Instructor Red Dragon Martial Arts Academies.
John Liptak holds the rank of fourth dan black belt in Krav Maga.  

---
Gary Brielmayer 
A 6th dan black belt with John Liptak and devoted lifetime martial artist. I found Gary to be an outstanding and enthusiastic martial artist.
Gary is a humble man who does not seek ranks, he seeks to grow every day as a person and a martial artist, practitioner and instructor.
Gary is known for this intensive and aggressive workouts and for always helping out others who need a hand in understanding the techniques. He is a true martial artist.
Gary has achieved national recognition with the Black Belt Hall of Fame.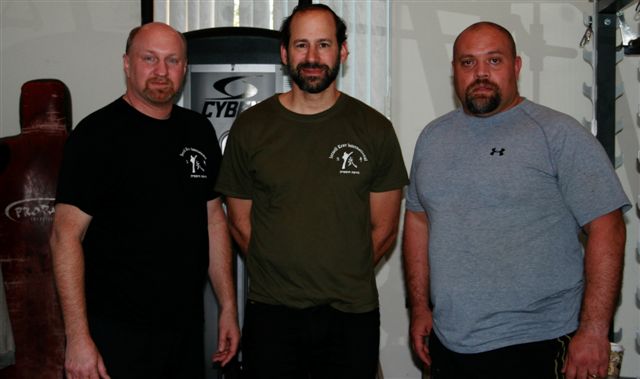 John Liptak, Moshe Katz, Gary Brielmayer

---
---
Channel Esposito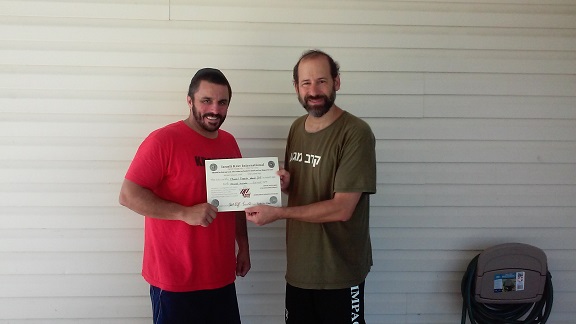 ---
Mike Thompson, Orlando,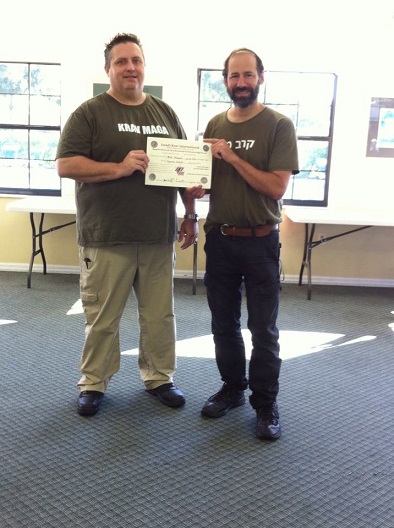 Michael Thompson is the Owner and Senior Instructor at Paladin Hall Martial Arts located in Minneola, Florida just North of Orlando. Paladin Hall Martial Arts provides instruction in the following disciplines; Isshin-Ryu Karate, Judo, Modern Arnis, and Krav Maga. Paladin Hall Martial Arts, "Train Like It's Real" philosophy merges Traditional Martial Arts and Krav Maga into a program that is built on sound Self Defense principles.
Michael is a United States Marine Corps Veteran of 10 years that served domestically and overseas to include; The Persian Gulf and Desert Storm.  Michael has a passion for Martial Arts and has devoted the last 30 years studying several different styles of Traditional Martial Arts and Self Defense Systems.
During his military service he received extensive close quarter combat training and served as an instructor in the Marine Corps LINE System, a close quarter combat system that integrates techniques from various Traditional Martial Arts. 
He is has achieved the rank of Shifan Yee Duan under Grandmaster Dr. Henry Cook (Seven Winds Wing Chun KungFu), Nidan (2nd DAN) in Ryukyu Kempo under Grandmaster Jack Hogan (Hogan Karate International), Certified Instructor in Modern Arnis under Grandmaster Bruce Chiu (Arnis International), and most recently successfully completed the necessary requirements to become a IKI Certified Apprentice Instructor in Krav Maga.
Contact information:
Mike Thompson 
Paladin Hall Martial Arts
305 North Hwy 27 Suite D
Minneola, Florida 34715
(352) 708-5600
---
Carrie Banton, Core Martial Arts, Gulf Breeze 

---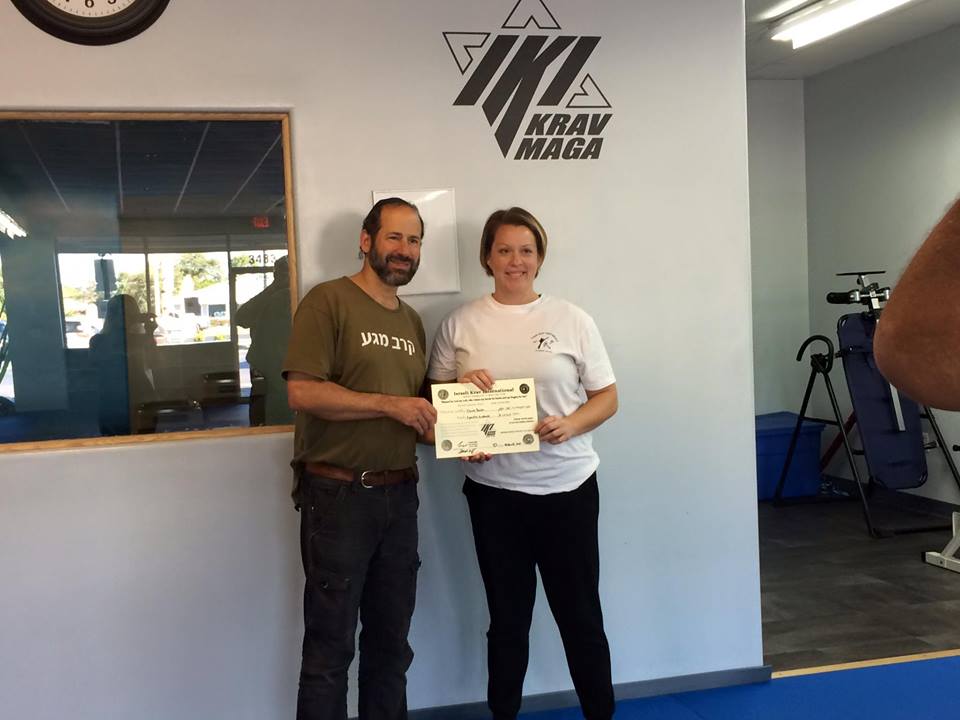 Carrie gained an interest in martial arts training through the Marine Corps Martial Arts Program in 2001. After being honorably discharge in 2003, Carrie Banton started a family and became a Licensed Practical Nurse, a certification she keeps valid. Carrie began training  Krav Maga in 2011. She earned her black belt in Krav Maga from Moshe Katz in October 2013.   In 2012, Carrie began training Hapkido and is currently a red belt. She continues to further her education in both disciplines. Carrie has been assisting her Hapkido instructor, Scott Farley, in teaching children's classes for 3 years.  Carrie was taught leadership and survival skills from a very young age from her father as well as The Young Marines Program. As a teenager Carrie took an interest in shooting and began her weapons training. Among various duties in the Marines, Carrie was in charge of training Marines. This is when she found her passion for educating groups of people.
Krav Maga Associate instructor, Third dan black belt.
---
Scott Farley, Core Martial Arts, Gulf Breeze
---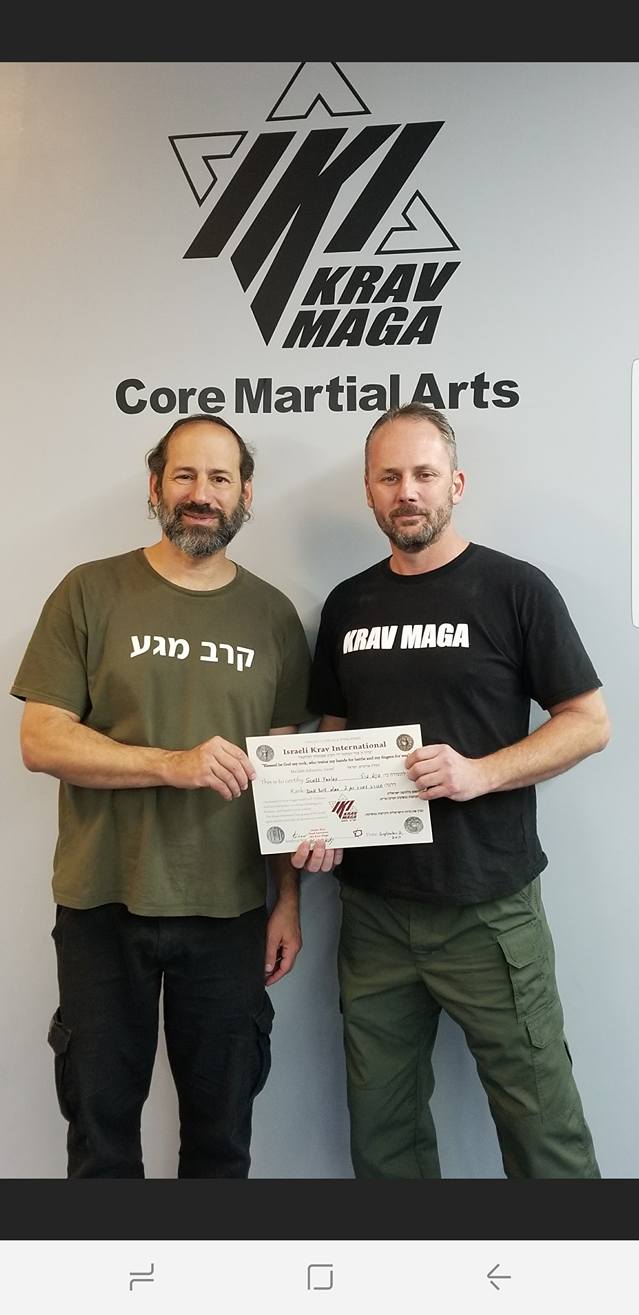 Scott Farley, Core Martial Arts Academy, Gulf Breeze 
Scott is a full time Martial Arts student and instructor.  He is the owner and Chief Instructor of Core Martial Arts Academy.  Scott has been training IKI Krav Maga under Moshe for several years and has attended dozens of seminars.  Scott is also a 2nd Dan Black Belt in Hapkido and teaches Kickboxing and MMA. He seeks every opportunity to further his training by traveling and training under experts in the field of Martial Arts. Scott often volunteers his time to ensure those in his community have the basic knowledge of awareness and self defense. 

A veteran of the US Air Force, Scott performed duties as law enforcement, criminal investigator, personal security officer for 4 star Generals, and installation ground defense.   Scott's prior experience in law enforcement, private and personal security, and controlling dangerous crowds as a bouncer has given him the knowledge to teach not only self defense techniques, but also conflict avoidance and awareness. Scott is strongly compassionate about the whole person idea of instructing. His goal is to not only teach martial arts techniques but to mentor and lead his students on the Martial Arts path.
IKI Krav Maga Full instructor (level 4) Black Belt 3rd dan
Contact Information:
Scott Farley; Core Martial Arts Academy
Chief Instructor/Owner: Tiger Plaza
3483 Gulf Breeze Pkwy, Gulf Breeze FL 32563  
850-585-0950
https://www.facebook.com/coremafl

https://www.coremartialartsflorida.com/
coremartialartsflorida@gmail.com
---
Dr. Mark Thiele

Inspired by serving as a Navy Corpsman caring for the Marines and then in Somalia for families that had no other medical resource.Dr Thiele  became a family physician after his honorable discharge after four years.  Doctor Thiele then graduated from Saint Christopher`s College of Medicine, Luton, England. Dr Thiele is a proud member of IKI for 6 years and now is proud to be a an instructor.  

Residency
Warren Hospital Family Practice Residency Program an Affiliate of the University of Medicine & Dentistry of New Jersey, Phillipsburg, N.J.
Board Certifications
American Board of Family Medicine Medical Memberships
American Medical Association (AMA)
American Academy of Family Physicians (AAFP) Scholarly Service Honors
Honorable discharge, United States Navy 
United Nations Medal, United States Navy
Operation Restore Hope Somalia, Africa
Intern of the year award, Warren Hospital, NJ
Chief Resident, Warren Hospital Family Medicine Residency Program
---
Mikayla Rosati, Gulf Breeze, Florida
Mikayla is part of the Core Martial Arts team under the direction of Scott Farley and Carrie Banton
---
David Klein, Destin, Florida

---
Shawn Hill, Destin Florida
I grew up in Memphis, TN in a rough area of town.  My Father taught me how to fight as a child, since he was taught how to box in school in California.  I never really got into many fights, maybe three or four during my school years.  Me being small stature, I always felt like I was at a disadvantage against larger and stronger men and self-conscious of my height standing just under 5'5''.

 In 1988, I joined the Air Force when I was 19 and began training as a powerlifter as a hobby.  After competing in the Air Force for 3 years, finally, my body started to fill out and my height no longer bothered me as my confidence grew as did my success in competitions and strength.  I completed my 4 year commitment in Active Duty and went into the USAF Reserves and retired with over 20 years in 2009.

In 2011, I met Dave Jullian, a security person at the church I started attending.  He asked me if I would like to volunteer to do security at the church.  I told him yes, however; I had no formal training in security.  He told me that he trained doing Krav Maga.  I asked him, "what that was and if I could try that out?"  He invited me to one of your seminars at Sandestin Hilton.  I was very nervous and wasn't sure what to expect.  You came in and started talking and putting people at ease with your calmness stature and great sense of humor.  I trained with Dave that night and was hooked on taking classes at John Liptak's school in Destin. 

I have been training with John Liptak under IKI for over 6 years and received my Black belt in February 2016.  It is so different teaching martial arts than just performing with a partner.  I asked John last year when I made Black belt that I would like to become an instructor one day with his permission.  Since then, he lets me warm up class every week and assist to train new people as they need the extra assistance.  Taking on this new responsibility has taught me how to treat each new person based on their ability and how they react.  I am taught how to praise them when they do good and how to refrain negative comments when they do a technique wrong.  I struggle with my obsessive compulsive personality always wanting/striving for perfection and expect others to do that as well.  I realize that we all make mistakes and we only grow when we realize what went wrong and how we correct them, such as performing a knife dis-arm or performing a self- defense move. 

I received my Apprentice Instructor certification in February 2017 and feel it is such an honor and privilege to have achieve this great accomplishment in my life. 

Currently, I work at Hurlburt Field Special Operations Command, as a Fire Inspector.  I have been here for over 13 years.  I am married to Jeannie my wife who also has trained in Krav Maga and is a black belt in Tae Kwon Do.  I have two sons, Ryan (14 yr old) who is a 2nd degree black belt in Tae Kwon Do, and has trained for two years in BJJ.  Roman (8 yrs old) is currently taking Tae Kwon Do just received his blue belt and has been taking class for 4 years. 
Current instructor rank: Level 2, Assistant Instructor.
---
Jerry Holmes, Sebring, 
---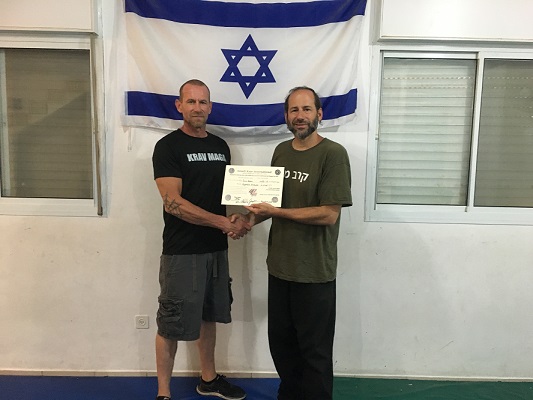 Apprentice Instructor
Jerry came to Israel for an intensive period of daily training. He trained privately for several hours each day as well as with the local Israeli team. Jerry is a dedicated instructor and student who focused on the details in executing the techniques. As a teacher he wanted to know the depth of the techniques and the root of the effectiveness. 
He Writes "I took American Krav for 3 years before switching to IKI because the blocking techniques are far superior and effective. "
Jerry is a devoted teacher with experience teaching people from all walks of life. 
---
Whitney Lee

---
Roger Ledlow, Santa Rosa Beach
Apprentice Instructor
---
Will Cuchens, Santa Rosa Beach
Apprentice Instructor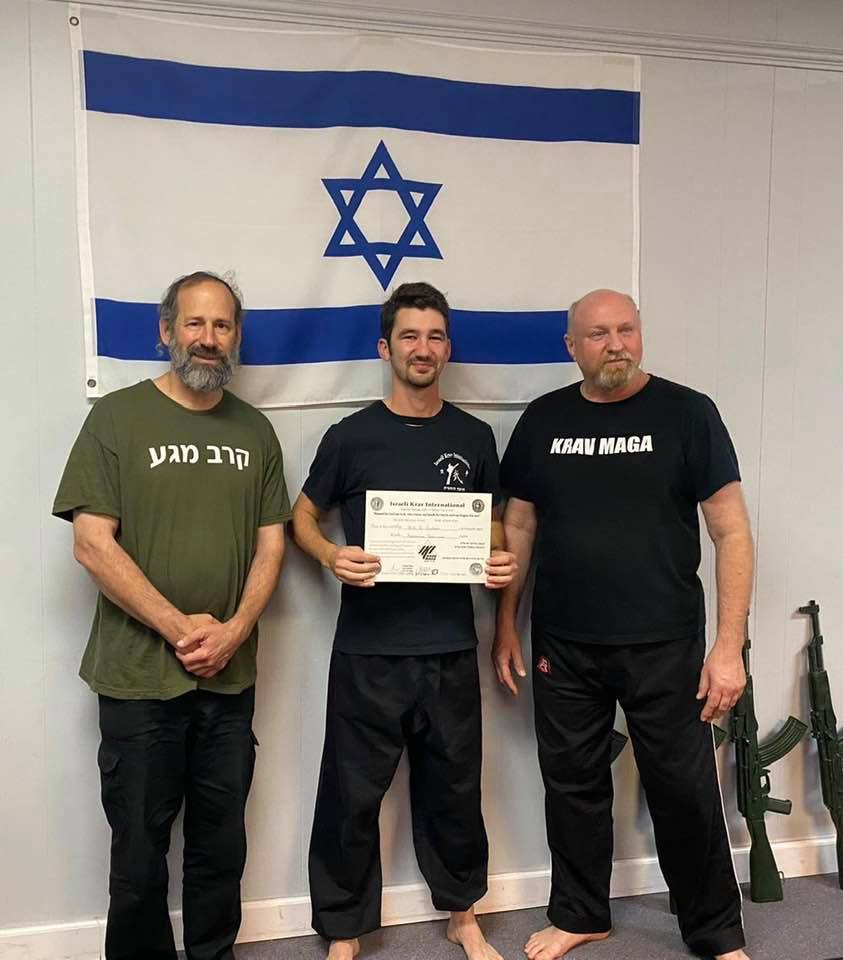 ---
Jeffrey Vinkovich, Orlando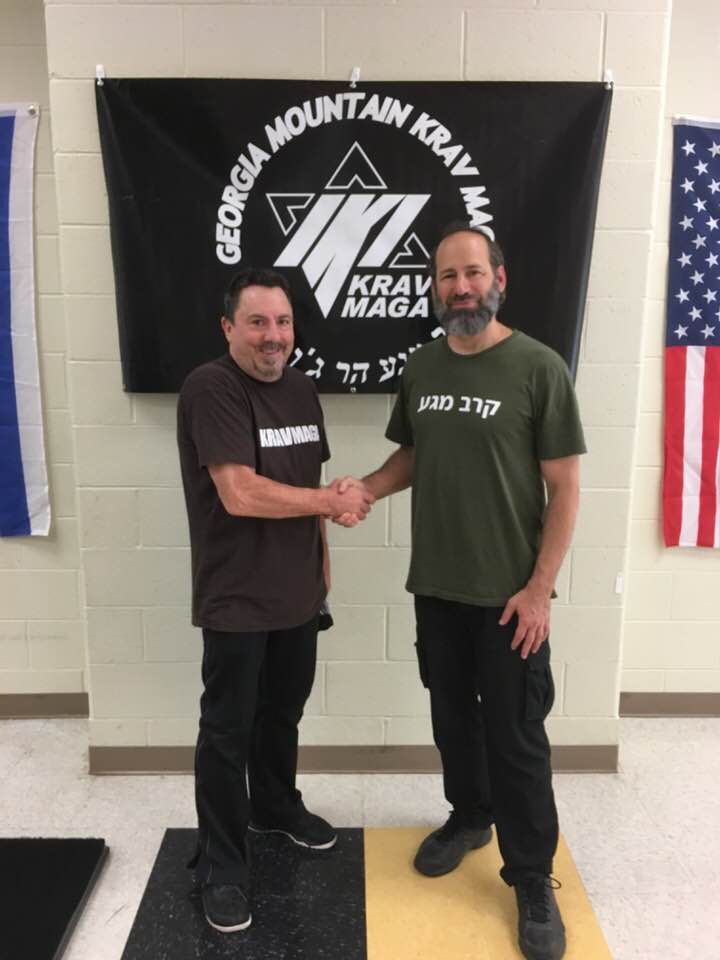 My background is Wrestling.  - Freestyle and Greco Roman,  I wrestled through College and Indiana State University and competed in Judo.  Stated training in Krav Maga almost 7 years ago with a friend of mine who is also a 4th degree black belt in Tae kwon-do. Have been with Hal & the gang - GMMK past 3 years. 

---
Bucky Starlin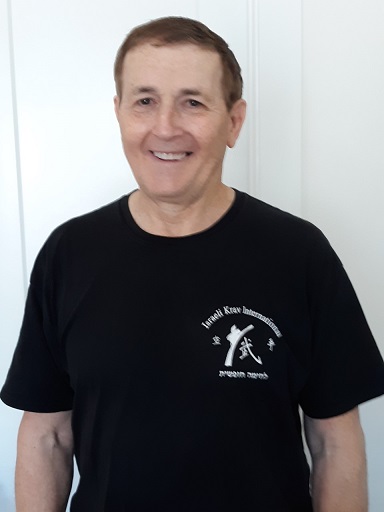 Bucky Starlin 1st Dan Feb 2018 Santa Rosa Beach, FL, USA Member IKI
I grew up in Columbus, Georgia in a very bad part of town, witnessed lots of fighting and bullying in my neighborhood on a daily basis. In college, I became aware of a Tang Soo Do dojo in town, and I trained in this dojo for 3 years. The blocks, kicks, and many other skills which were taught were amazing to me and I knew I would train in martial arts forever. Simply put, I loved it and trained with a passion. The instructor was Sensei Curtis Seale, an Army Sergeant stationed at Fort Benning, Georgia, a very demanding and supportive instructor, who helped me adapt to a practical way of self-defense. Of particular concentration during training, Sensei Seale heavily focused on kicks, resulting in my receiving a good foundation for kicks which has helped me improve in martial arts for many years. Upon finishing college, I was drafted into the Air Force and served in Southeast Asia during the last year of the Vietnam War.
Upon discharge from active duty, I went through 6 years of Doctoral study at the Univ of Alabama in Birmingham, while also serving with the Alabama National Guard, where I was fortunate to eventually become the Hospital Commander. During several years of this period, I trained with an outstanding Shotokan and Shito-Ryu dojo in Birmingham under Sensei David Pope, a magnificent instructor, and I was promoted to 3rd Dan (Sandan). Also, while serving with the Air National Guard, I was fortunate to be sent many times to active duty Air Force bases, giving me the opportunity to help teach self-defense to many active duty airmen, soldiers, marines, and auxiliary personnel. The Senseis of these military based dojos were good instructors and I learned a lot from them while visiting and helping instruct dojo members, especially the military police who were very eager to enrich their defensive skills.
Moving to Florida in 2011, I searched for over a year to find a good dojo which could help me improve my martial arts skills, especially one which focused on reality defense that could be applied in real street scenarios. Sensei John Liptak's dojo, located in Santa Rosa Beach, FL was the one which impressed me the most and it took only a couple of lessons there for me to realize I had found the best training I'd ever encountered. I worked hard to adapt to Krav Maga techniques and was promoted to 1st Dan in February, 2018. Since then, I've come to realize that a 1st Dan Black Belt in Krav Maga is only the beginning of much more practice and guidance by Sensei and his very skilled instructors. As an apprentice instructor, I am acutely aware of the effort it will take for me to continue to advance in Krav skills, and I am resolute that my determination will continue to remain very strong and focused. Being a student and member of Israeli Krav International, headed by Sensei Moshe Katz, is as good as real and effective martial arts training could ever be. I am so fortunate to have found the "gem" of real martial arts, and am very thankful for all those who have guided me in my quest for improvement.
Bucky
---
georgia
---
Hal Herndon 
Chief Instructor
chief instructor of Georgia Mountain Krav Maga

c/o 567 Deer Run Trail
Murrayville, Georgia 30564
---
Hal has an extensive and rich background in martial arts. He holds the rank of 5th dan in Hapkido. He joined IKI to enhance his Hapkido skills and make them more relevant for the street. He soon discovered that he liked Krav Maga as a discipline in itself. He has emerged as one of our top instructors worldwide.

IKI Krav Maga Master Instructor, Black Belt 4th dan

www.GeorgiaMountainKravMaga.com
http://www.georgiamountainhapkido.com/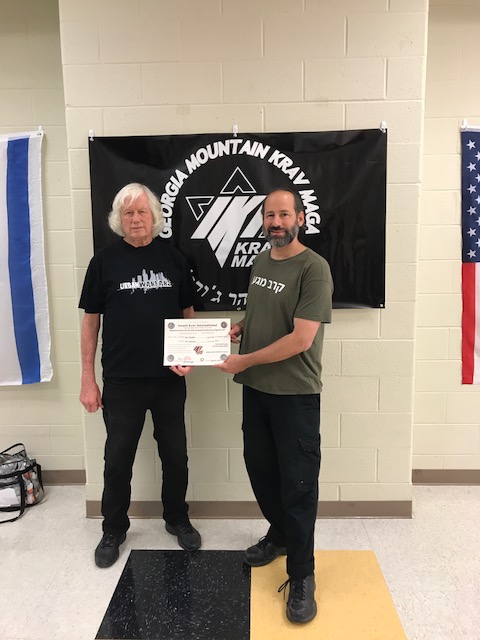 Hal being promoted to Full Instructor, September 2017

---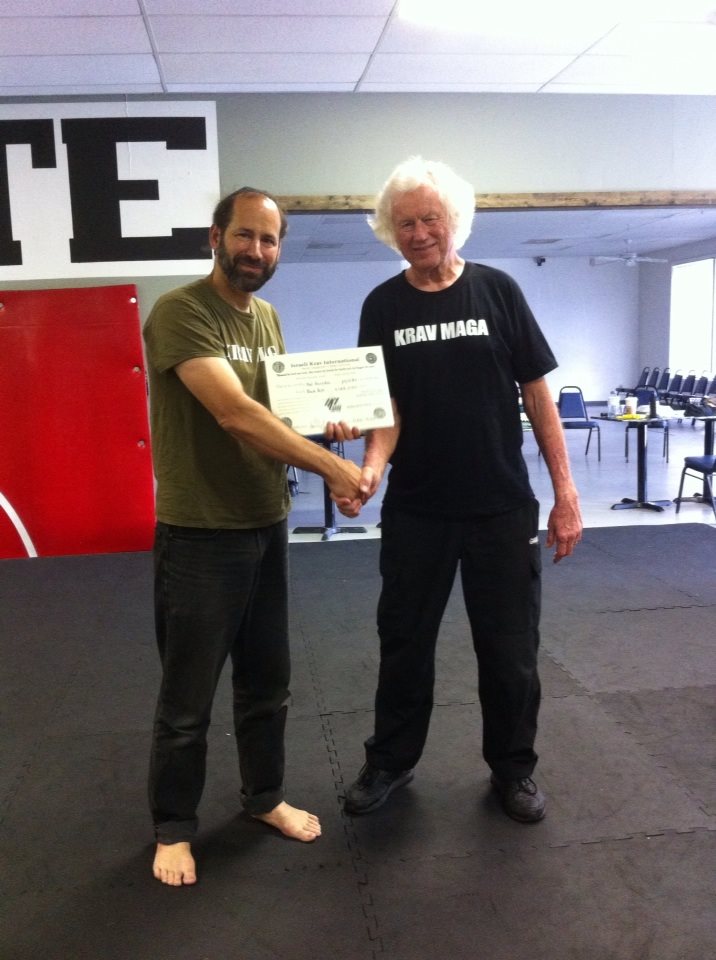 Hal Herndon promoted to IKI Krav Maga Black Belt, October 2013

---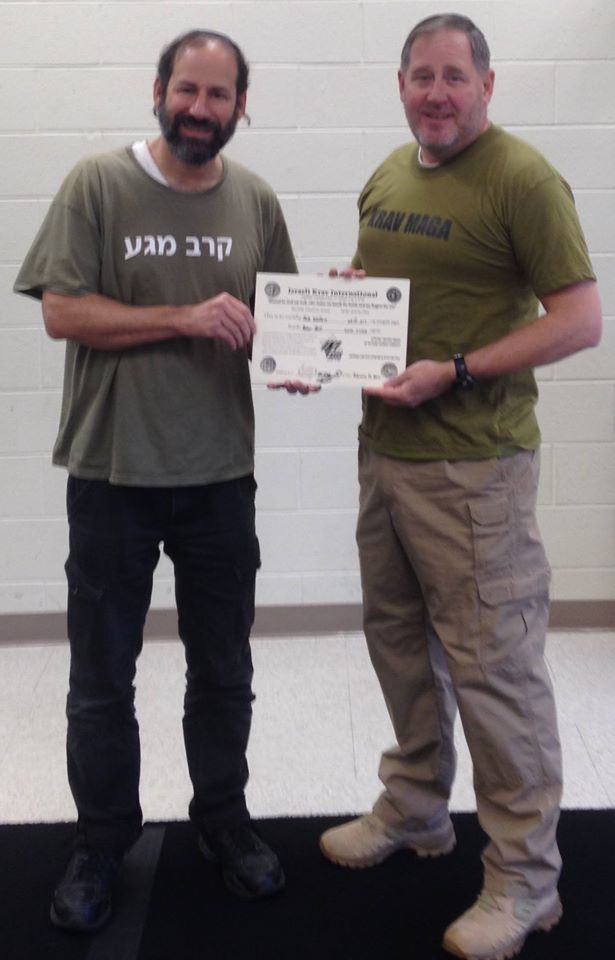 Rob Wallace, Associate Instructor. Rob is a veteran of the USAF and a veteran teacher. His military experience combined with his experience as a high school teacher and his Krav Maga trainer make him an ideal instructor.

---
Rob Wallace,  Kadima Krav Maga,

362 N Main St . Cornelia, GA 30531
- IKI Assistant Instructor
- Retired USAF 24 Years
- High School AFJROTC Teacher/Tennis Coach
- School Attacker Response Course Instructor
RobKKM@Gmail.com Kadima Krav Maga Website
---
Jamie Compton, Full Instructor 
Gainesville,
Jamie Compton is a veteran of the United States Army and currently serves as a Property Crimes Investigator with a local sheriff's office. His background includes Wrestling, Tang Soo Do and Gracie Combatives. He was promoted to Level Two Instructor and black belt by Moshe Katz. Jamie currently assists with LEO training, ground techniques and Rape Defense at Georgia Mountain Krav Maga.
---
Carlton Hicks, Full Instructor 
---
Certifications:
Certified by Moshe Katz, Level Two Instructor, black belt, by Moshe Katz
Formerly guard at New Hanover Youth Detention Center
Martial Arts & Self Defense Background: Aikido, Grappling, Wrestling, Karate
Currently Pastor at Oikos Church in Cleveland, Georgia
---
William "Bill" Nusbaum,  Assistant Instructor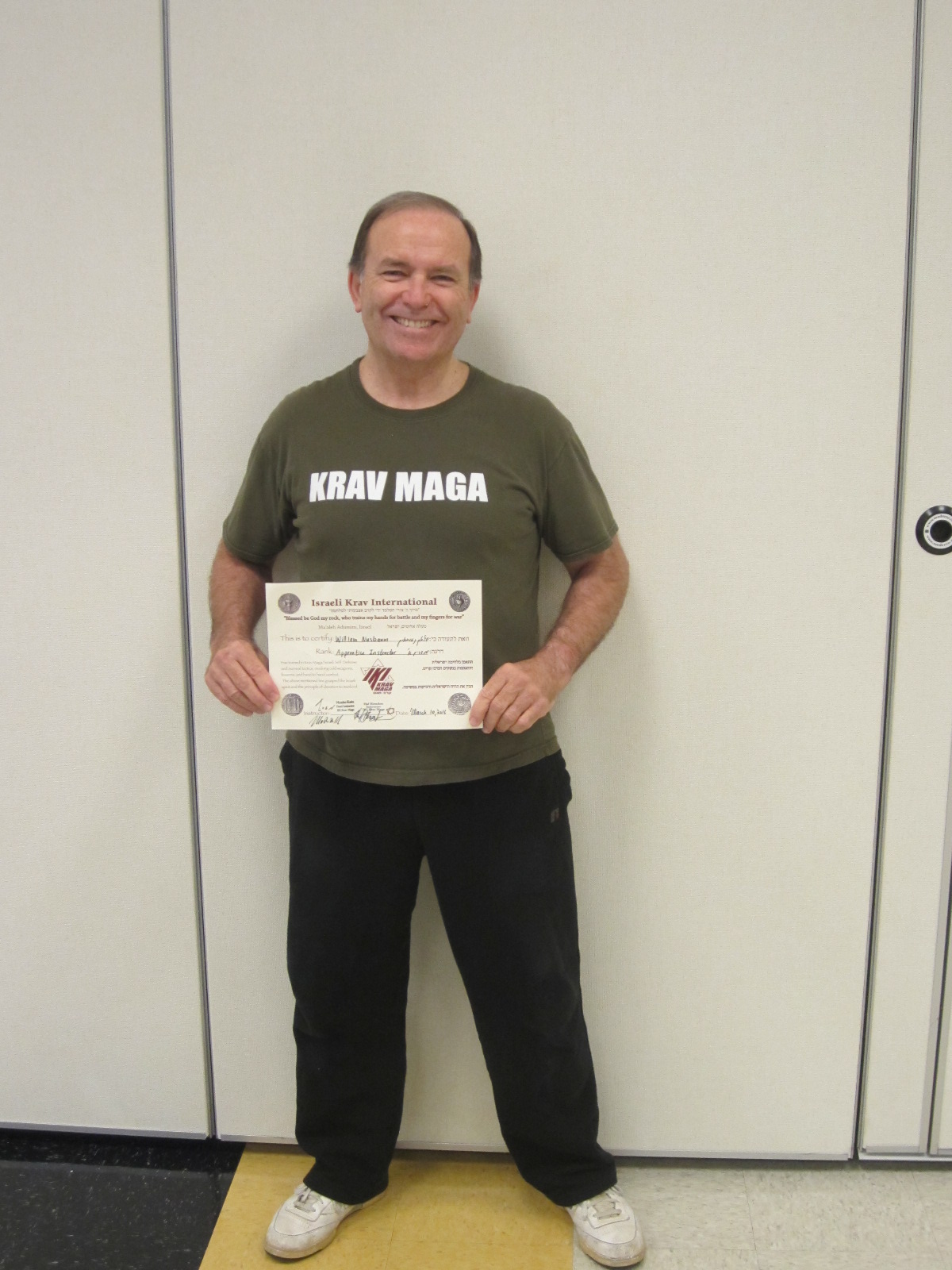 Bill is a veteran of the United States Navy and currently works for the GA Tech in the GA Manufacturing Extension Program as a process improvement consultant. His background includes wrestling and TKD. He was promoted to IKI Level I instructor in March 2016 by Moshe Katz.
Second dan black belt, February 15, 2020
---
Rachel Lynn Chisum,  Assistant Instructor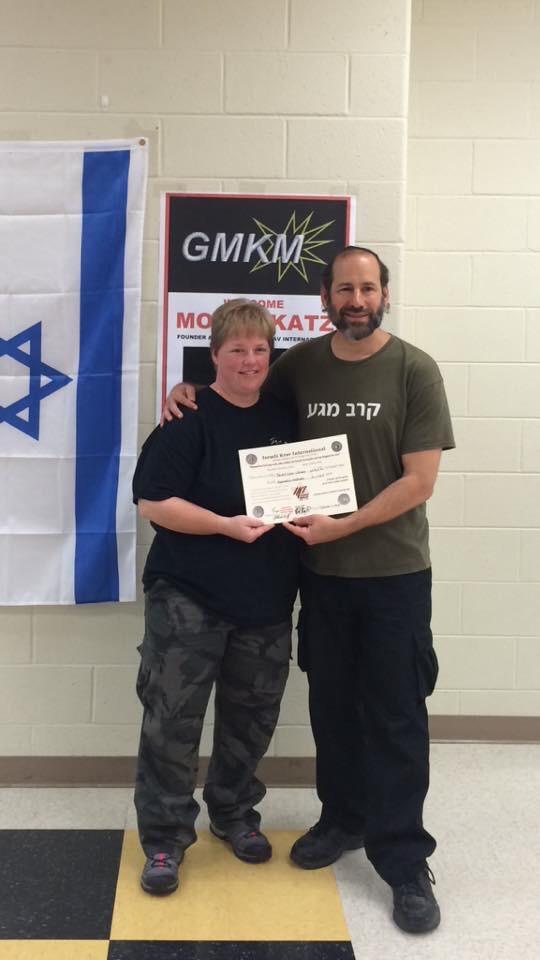 Rachel works in the financial operations department of Pharmacy Benefit Management Company. She has many years experience in both Tang Soo Do and Krav Maga. She was promoted to level one instructor in September 2016 by Moshe Katz.  She assists and trains in classes at Georgia Mountain KRAV Maga as well as teaches Tang Soo Do at the local YMCA.
Rachel is an experienced and gifted instructor.

---
Lynette McDowell, Assistant Instructor
Augusta, Georgia.
---
Lynette is a life time health care worker, i.e. a healer. She has devoted her life to helping those who need it the most; the elderly, the disabled, and the mentally ill. In addition she has managed a staff of over 100 employees.
An athlete all her life, track, field, tennis, running, swimming, cycling, she has now taken up Krav Maga with gusto and is eager to help others in this field as well.
Lynette, an Armenian by birth, is also a world traveler. She will be bringing all this experience to the matt.
First dan black belt, February 15, 2020
Savannah River Krav Maga
Contact information:  srkm@savannahriverkravmaga.com
---
Charles Shadle, Apprentice Instructor , February 2018
---
Leslie Moore, Full Instructor.
---
Larry Chasteen, Associate instructor
Coach Larry started his Martial Arts journey in 1984, and since has trained in several styles from Tae Kwon Do, Shorei Goju, Kempo, Brazilian Jiu Jitsu, Kickboxing and Combat Submission Wrestling. Currently a 4th Dan black belt under Ricky Ellington and Bill "Superfoot" Wallace in Tae Kwon Do, and a Purple belt in Brazilian Jiu Jitsu under Professor Rigan Machado and Mark Massey. He is the owner and operator of G1 Martial Arts in Dalton, Ga and still trains on a regular basis.  Recently Mr. Chasteen was appointed to Apprentice Instructor under Master Moshe Katz and is proud to serve as an IKI instructor, returning the knowledge taught to him by Master Moshe and Hal Herndon of GMKM.

G1 Martial Arts Staff
706-218-4732
g1martialarts.com

---
Austin Sweat, Assistant Instructor, , February 2020
---
Helena Wallace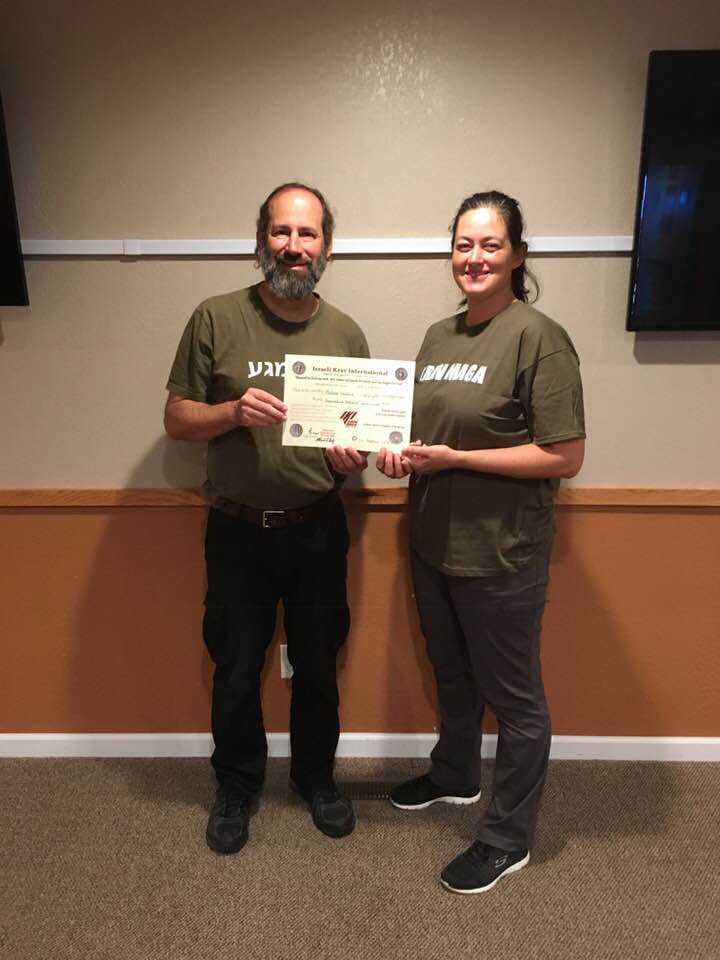 Helena Wallace, Apprentice Instructor,  September 2018
---
JW Forshee, Apprentice Instructor, October 2019
---
Illinois
---
Amy Jo Giles, Progressive Kenpo Karate, Springfield
Amy Jo Giles; Owner/Instructor
1824 Stevenson Drive, Springfield, IL 62703
217-726-0097
E Mail: amyjokenpo@msn.com.
Amy is a fine martial artist with experience in a several styles of martial arts, she is not only a teacher but a very dedicated student of the martial arts, always seeking to learn more and to better herself.
I have the honor of being hosted and conducting seminars at her school in Illinois for more than a decade.
Her experience includes many years of Kenpo, Karate and Krav Maga. Her Krav Maga moves are fluid and explosive. After extensive training she has been certified as a Phase Two Instructor in IKI Krav Maga.
January 31, 2018 - Amy has been promoted to third dan black IKI Krav Maga. The first woman in America to achieve this rank.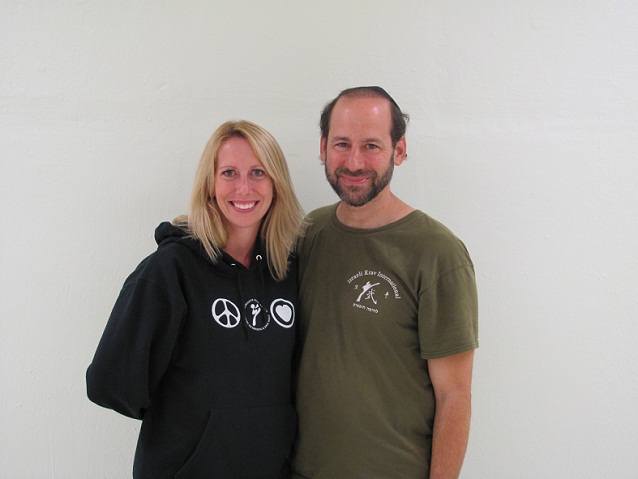 ---
Channel Esposito

---
Channel came to IKI after many years of martial arts experience, including Krav Maga, military combatives and active service in the US military. He came to Israel for the Tour and Train experience but arrived early and stayed late, to gain maximum training and experience. After several more months of training he qualified as an IKI Krav Maga Apprentice Instructor and began teaching successfully in his home town in Florida.
In September 2014, after an extensive period of training in Israel and in the USA, Channel was promoted to Associate Instructor and Brown Belt.
---
Eric W. Littrell - Level Two Instructor

Decatur Krav Maga
Location:

100 West 1st South Street
Vermont, IL
61484
Phone: 217-412-8292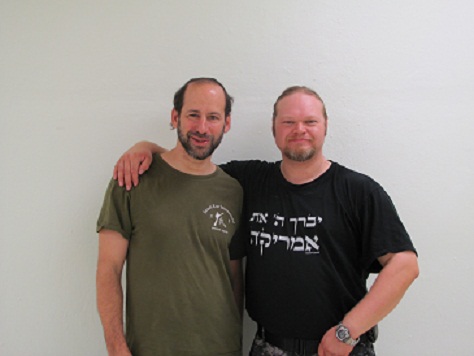 Eric has more than 30 years of martial arts experience as student and teacher.
He began training at age 12 in Tae Kwon Do and Hapkido. By his late teens he realized that traditional martial arts were limited in real life violent situations, so he began a quest for warrior knowledge that has encompassed many styles and continues today.
His experience includes Karate, Ju Jistsu, Judo, Savate, and Military Combatives.
Eric's study,
"I have been blessed with a great gift in my ability to learn and teach. I want to use that to help people protect themselves and their loved ones."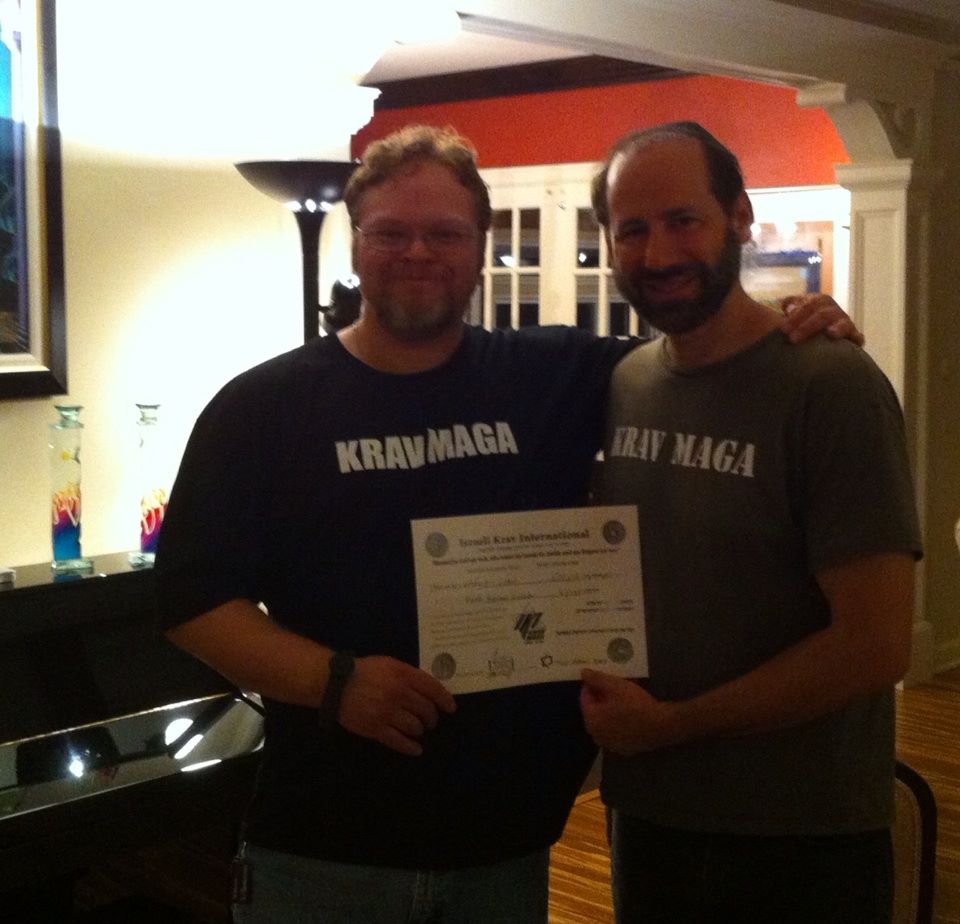 Eric Promoted to Assistant Instructor , October 2013

Greg Dillow
Greg came to Israel for an intensive course. As a professional nurse he encounters occasional violence and need to know how to handle these situations. At the end of the course in June 2013 he was certified as a first level instructor.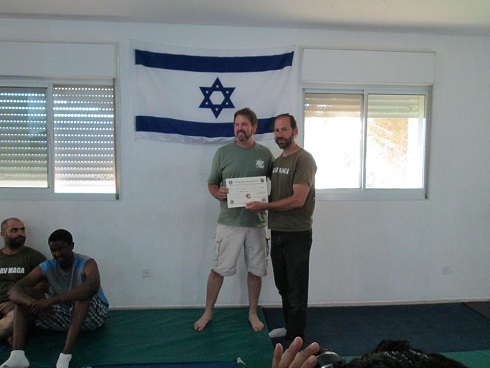 ---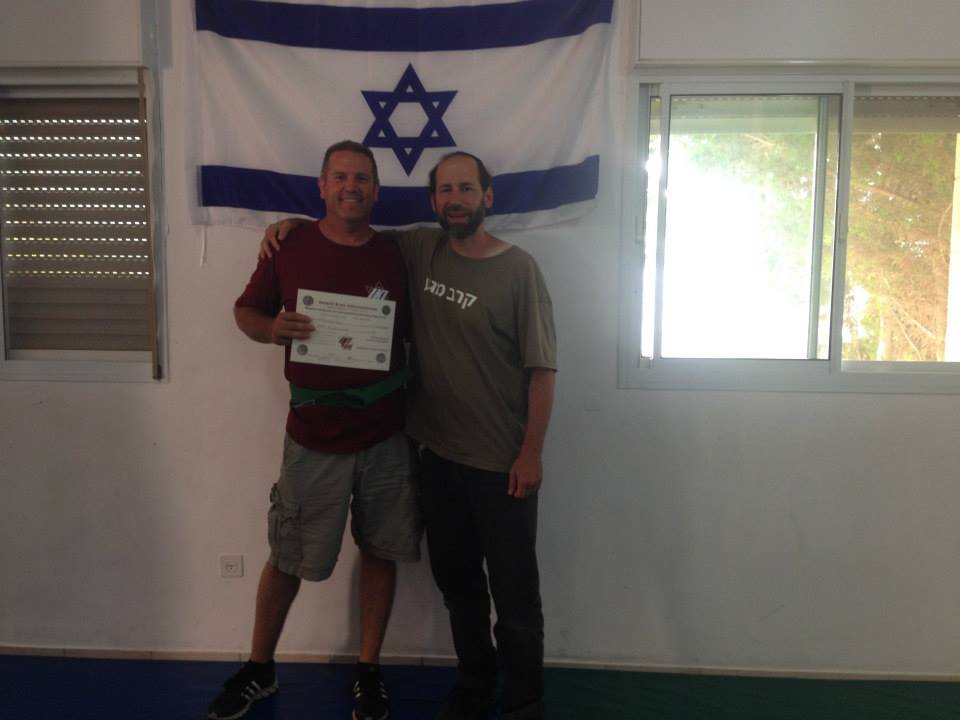 June 2014 promoted to Assistant Instructor

---
Ryan Pope,,

My desire to teach comes from a lifelong passion to help people become more self reliant, learn to protect themselves, to live free of fear while making our society safer. I have always had a deep desire for learning but did not find the right system for me until I discovered Eric Littrell's teaching that led me to Amy Jo Giles and ultimately to Moshe Katz and IKI Krav Maga. This at least was the style that I knew I wanted to learn and teach.
I have dedicated myself to formal study of Krav Maga since 2006. This has built upon a foundation of never ending self education of personal defense methods. My experience includes IKI Krav Maga, the use of firearms, fencing, military style combatives, basic grappling, and Irish stick fighting.
Ryan Pope  
Facebook: Decatur Krav Maga 
E mail: venge_76@yahoo.com 
Text (541) 595-3657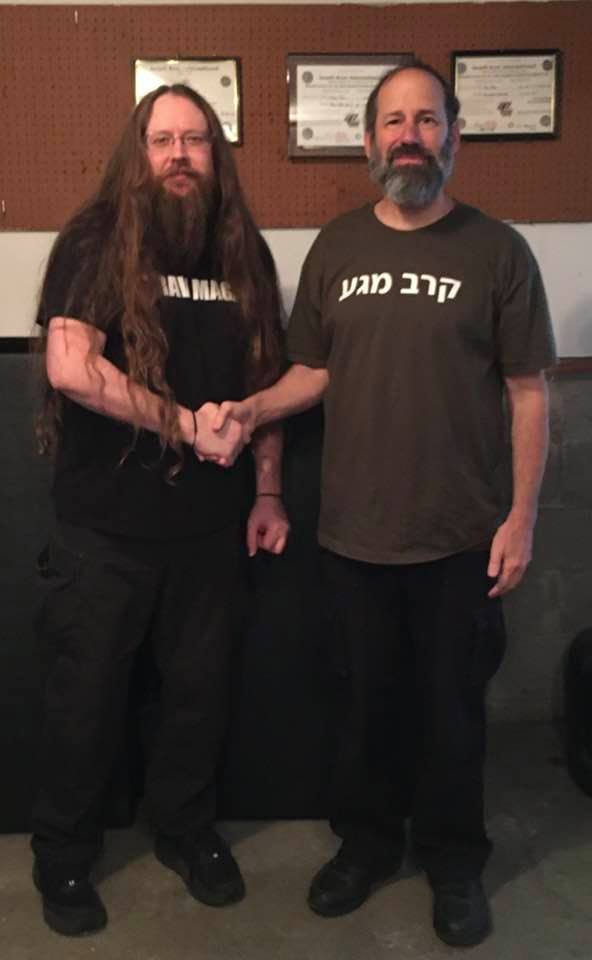 February 15, 2019 - Ryan has been promoted to IKI Belt belt and Assistant Instructor. 
---
Indiana
We currently have no IKI instructors in Indiana.

---
Kentucky
---
Major Robert Peters, Elizabethtown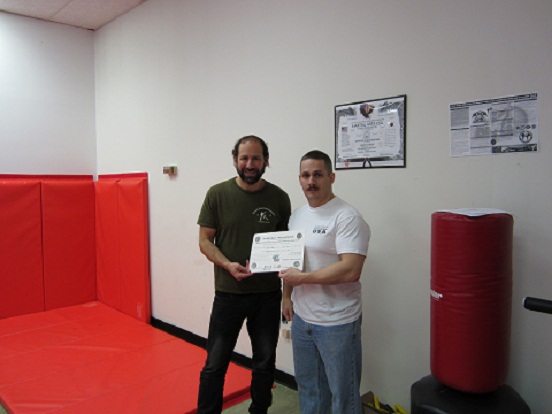 Robert Peters being awarded Second dan Black Belt, IKI Krav Maga, February 2012
I had the pleasure of training with Major Robert Peters in Kentucky and found him to be an outstanding martial artist; always questioning, training hard, and striving for the best technique.
Major Peters has over 20 years military experience and 35 years martial arts training. Holder of Black belts in Karate, Judo, Jujitsu, SAMBO and the Marine Corp Martial Arts program. Certified Jeet Kune Do instructor, Modern Army Combatives instructor and a Krav Maga Law Enforcement instructor. He is a certified Judo and Jujitsu instructor/examiner/coach through the United States Judo Association and the United States Jujitsu Federation. He has trained in submission wrestling and kickboxing. He has trained national champions in Karate, Judo, and Sport Jujitsu. He is a lifetime member of the United States Combat SAMBO Association and a member of Israeli Krav International.
---
Louisiana
---
The Louisiana group is headed by Albert Bossier, a veteran police officer with many years experience.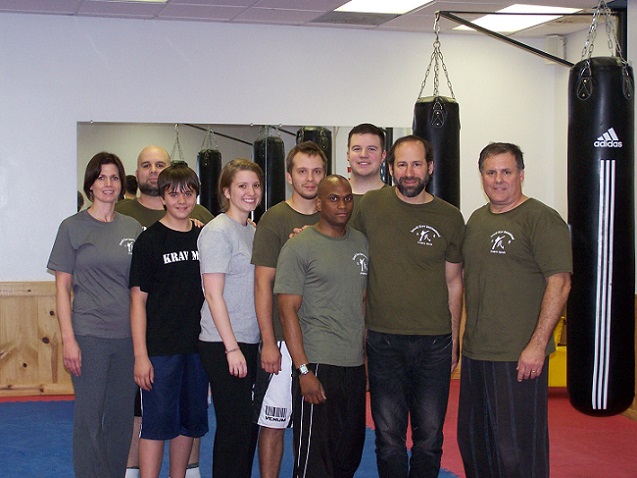 ---
Maryland
---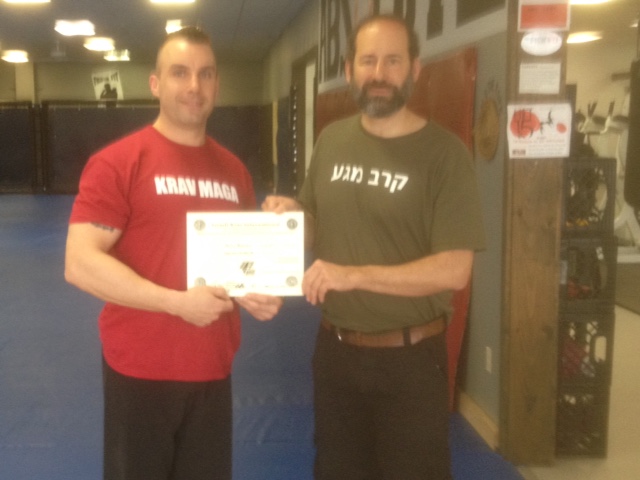 C. Taylor Bracken – North East, Maryland
Taylor has trained exclusively in Krav Maga since 2007. He trained in New York City and received an endorsement to become an instructor before ultimately joining IKI in 2015. Taylor serves as a State Trooper under the Special Operations Division of his department. Due to Taylor's competent martial arts background, he is requested and detailed to the agency's training academy approximately twice a year to help in testing the new recruits' fighting capabilities prior to graduation. Taylor is SWAT certified through the National Tactical Officers Association and is a Tactical Paramedic.  Taylor is the head instructor at DelMar X-treme  Self-Defense, Krav Maga which is located in Elkton, MD.
Address: 175 Fletchwood Rd. Suite "A" Elkton, MD 21921
Web: www.equity-sc.com/krav-maga
Facebook – DelMar X-Treme Self-Defense, Krav Maga
Instagram: #TaylorIKI
---
Massachusetts
---
We currently have no instructors in this region.
---
michigan
---
Craig Gray Associate Instructor, 4th dan Black Belt
Craig is constantly seeking to improve his skills and to stay on the cutting edge of Krav Maga. He has hosted many seminars with Moshe Katz, attended Tour and Train in Israel, and consistently drives up to ten hours each way to attend seminars with Moshe in nearby states of the US.
Craig Gray Grand Rapids, Michigan, USA
Started training in martial arts in 1976
Began training in Krav Maga in 1999
Joined IKI in January of 2009
Martial Arts Experience:
Krav Maga - 4th dan Black Belt  Associate Instructor
Tactical Martial Arts - Instructor
Budo Taijutsu - Black Belt
Silat Satria-Naga - Associate Coach
Brazilian Jiu Jitsu - Blue Belt 3 stripes - Training Association Leader & Coach
Praying Mantis Kung Fu / Tai Chi - Senior Student - Asst. Instructor (former)
Tae Kwon Do - Chung Do Kwan - 2nd Degree Black Belt - Instructor
Verbal Defense & Influence Instructor
Resolution Group International (RGI) Associate
Developed the MCOLES (Michigan Commission of Law Enforcement Standards) Approved Self Defense for Law Enforcement Program.
Private security / Executive protection 6 yrs.
Craig has hosted and attended over 8 IKI seminars and was apart of the first Tour and Train (60hrs) program in Israel
Craig has trained in IKI Krav Maga intensively and has gained my confidence as a top instructor.
---
Craig combines over 30 years of martial arts experience as instructor, competitor, and student with many real life situations. He has trained in a wide variety of traditional, sport and tactical combative systems.
Treating people with respect and as individuals he is able to help each student bring out the best in themselves and their training. He believes it is very important to keep going in training and in life as he tries to live up to and inspire others to embrace Robert Humphrey's Warrior Creed:
"Wherever I walk, everyone is a little bit safer because I am there. Wherever I am, anyone in need has a friend. Whenever I return home, everyone is happy I am there."
---
Currently Craig teaches classes at the WestSide Fitness Center and is a defensive tactics and warrior ethics instructor at the Homeland Security and Protective Services Academy within the Gerald R. Ford Job Corps in Grand Rapids, Michigan.
"My objective is to create an environment that promotes empowerment, awareness and the universal human values of respect and compassion starting with each individual and extending it into our global community! "
---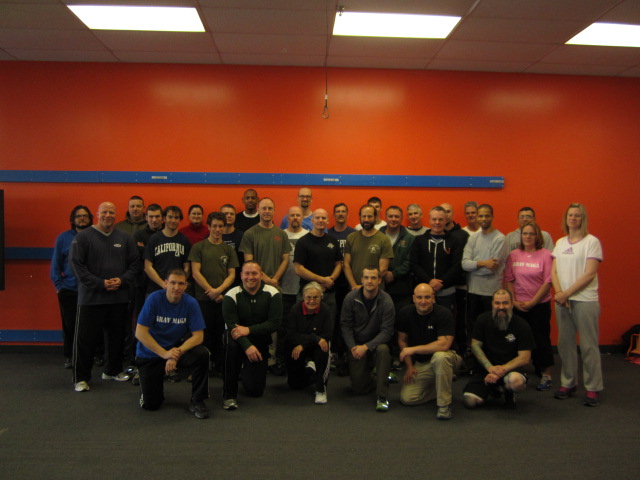 Grand Rapids Seminar, 2013
---
Michael Weingartz 3rd dan black belt
Michael Weingartz background in martial arts:
* 30 years martial arts experience
* 6th dan in Tang Soo Do
* Instructor rankings in several methods of Chinese/Japanese martial arts
* Studied and participated in several Muay Thai bouts.
* Studied several forms of grappling (Judo, Brazilian Jiu-Jitsu, Combat Submission Wrestling).
* Student of Kali
* 4 time gold medal winner and USA team member at the WKC World Championships in Portugal (2010)
* Studied martial arts in China, Mongolia, Japan, Canada, and the United States.

School name and address:
White Tiger Martial Arts
4470 Huron Street, Suite B
North Branch, MI. 48461
(810) 688-2900
www.whitetigermartialarts.webs.com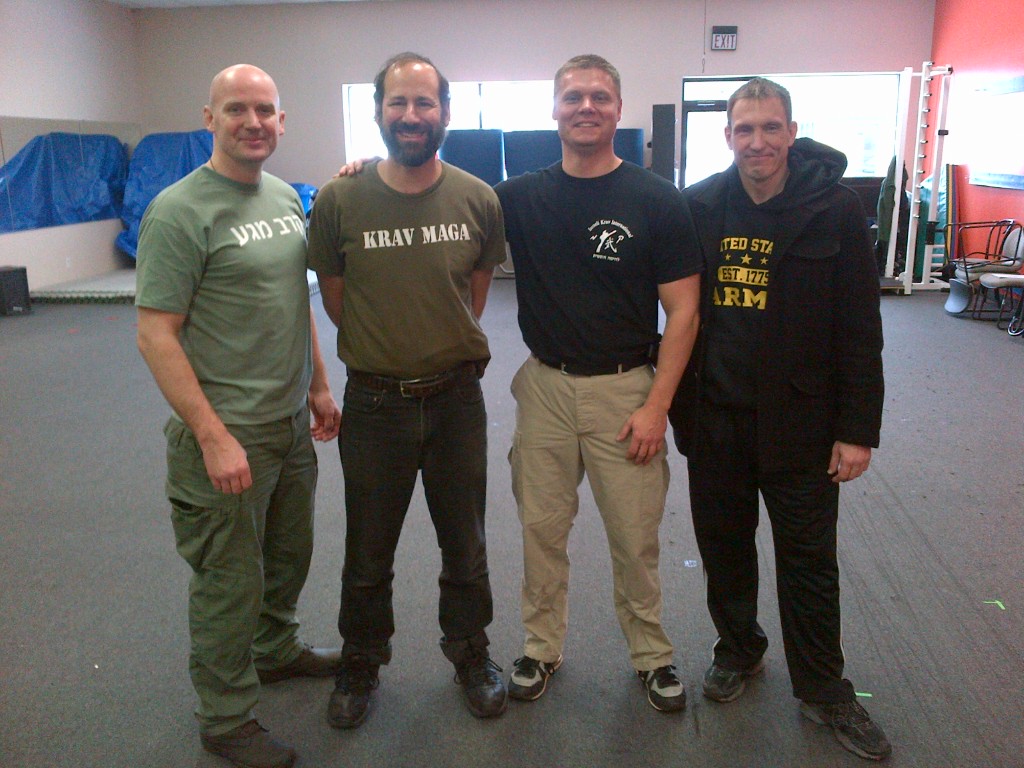 Craig Gray, Moshe Katz, Dan McGee, Michael Weingartz, Michigan 2913
---
Colby Taylor - Assistant Instructor  "Covenant Defense"
Colby Taylor
Traverse City, MI
Colby has a background in martial arts, physical fitness, and defensive firearms training.  Combining these disciplines with Krav Maga, Colby brings the concepts and skills together to equip and empower people to be protectors of themselves and others.  Colby is passionate about helping people and welcomes invitations to put on seminars for groups of any size that are interested in being better prepared.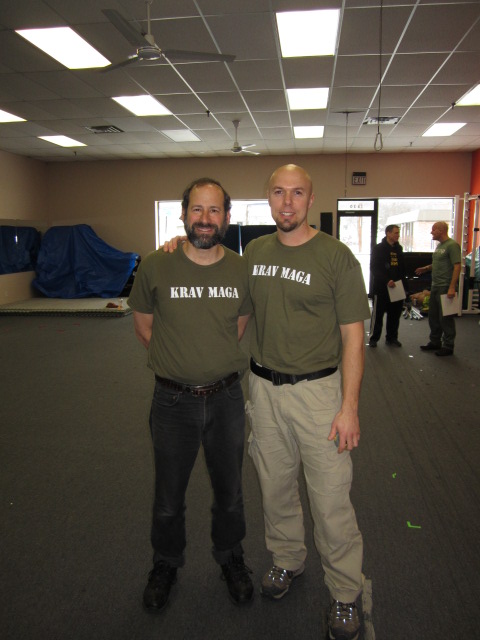 ---
Jason Dellinger, Apprentice Instructor

---
Arthur Knapp, Twin Lake, West Michigan,
Apprentice Instructor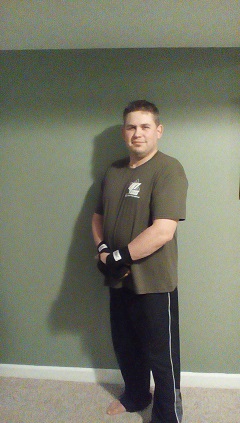 Art is the owner of Fire and Steel Krav Maga LLC. He is a black belt holder with a background in Chi Do Kwan Karate Do, boxing, Brazilian Jiu Jitsu,  weapons and IKI Krav maga. He currently teaches martial arts and self defense in the West Michigan area. He also teaches outdoor survival skills and bushcraft. Art is a sergeant with the Michigan Department of Corrections where he has worked for 14 years. He is a graduate of Grand Valley State University and has a bachelor's degree in criminal justice. 
He can be contacted at:  (231) 750-8076, on Facebook under Arthur Eli, or at fireandsteelkm@outlook.com

---
missouri
---
NEVADA
---
Catalin  "Nick" Neagu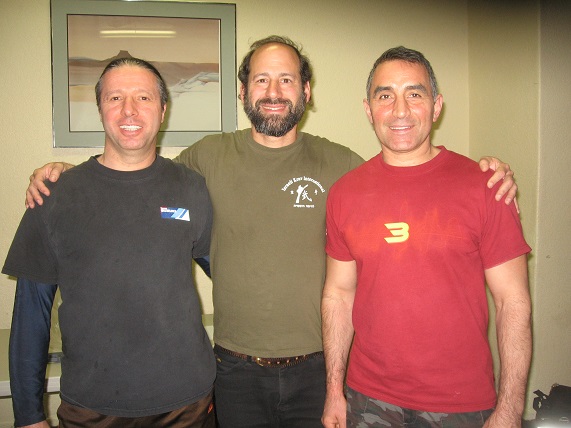 Nick was promoted to second dan black belt and associate instructor (Level 3) on February 10, 2019
---
Dr. Mark Thiele 

Assistant Instructor (October 2022)
Dr. Mark is a kind and patient instructor. He is detail oriented but yet sees the big picture and can teach each student in the way that suits him best. He is a true asset to IKI.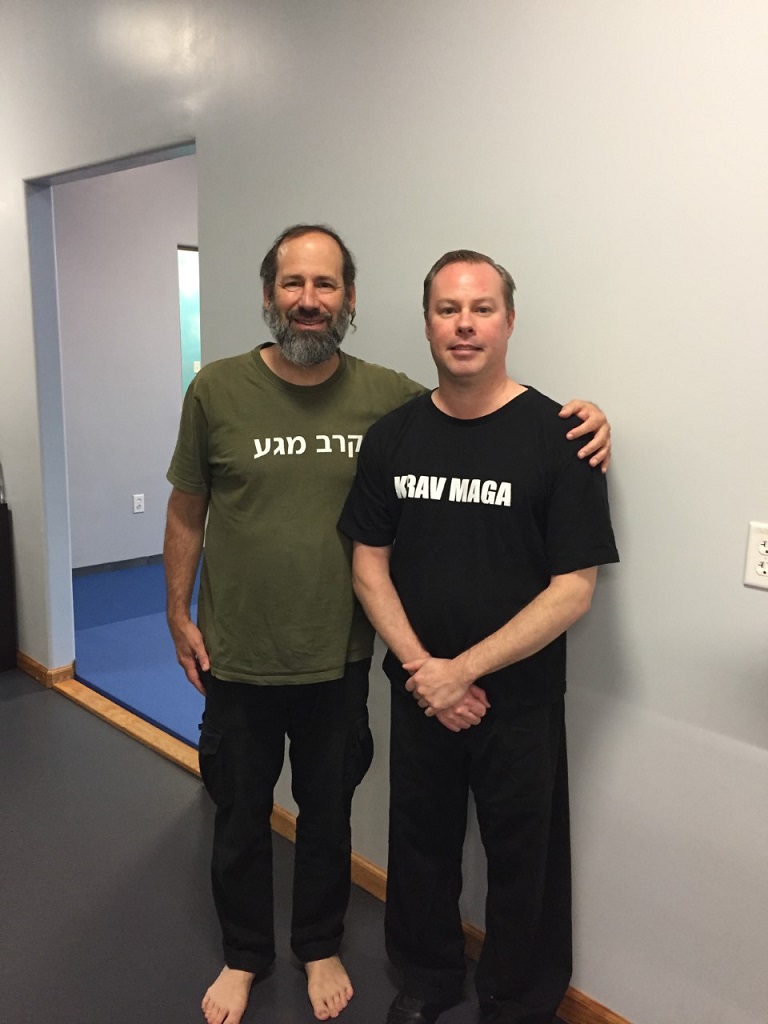 ---
NEBRASKA  
---
Todd Bradley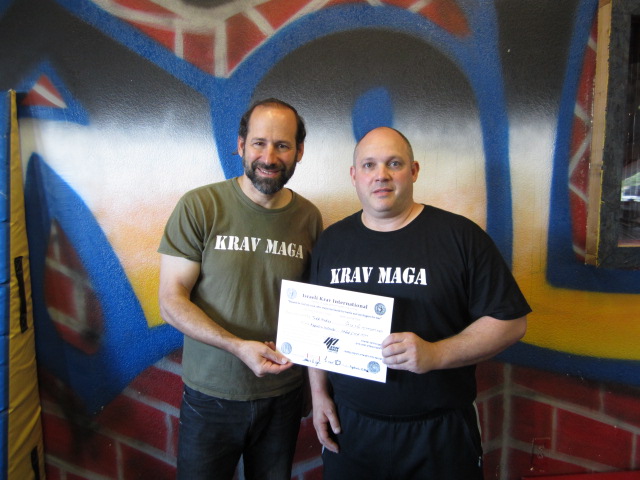 Todd being promoted to instructor, Arizona, September 2012.
Todd has over 36 years of martial arts experience. Studying over 15 martial arts including Krav Maga. Todd holds a 6th degree black belt in Kempo karate, 20 years jujitsu training and 12 years grappling experience.  Todd is s a second dan black belt in IKI Krav Maga.
new Hampshire
---
Sarah-Beth Gosselin, Associate Instructor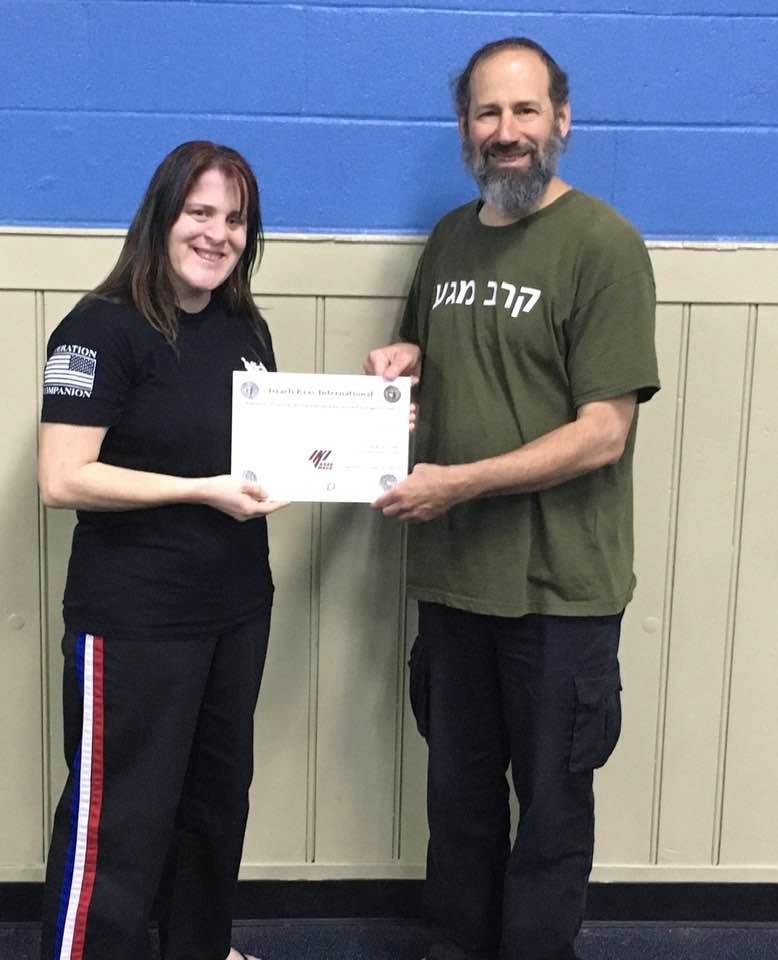 I have been training in Martial Arts for over 11 years. Along with Shotokan, 9 of those years have been Krav Maga. I spent 4 years with my first association and have been with IKI now for 5 years and I couldn't be happier with the techniques and philosophy behind them.
EnterEnter
Sarah-Beth
I hold a 3rd degree in Shotokan Karate and a First Dan in Krav Maga. I am an associate teaching certificate for IKI Krav Maga and an Instructor certificate for IKI Kickboxing.
Sarah-Beth
I have hosted 4 seminars in addition to attending 5 other seminars and participated in Tour and Train in 2019.
---
Emily Giguere,

Apprentice Instructor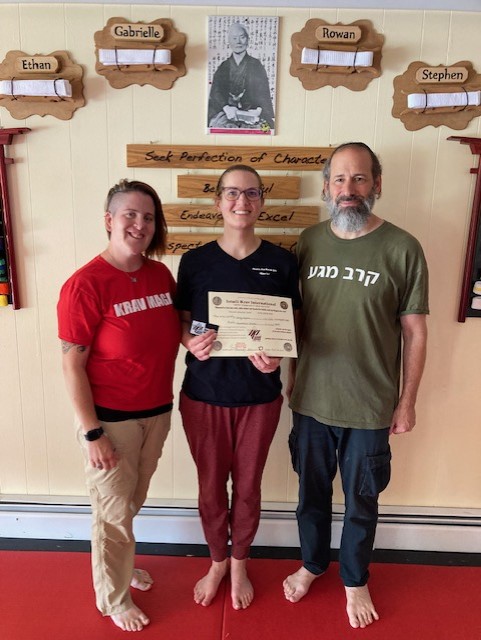 Emily has been training since 2019 IKI Krav Maga. She has been helping to teach classes as needed for about two years.
---
New Jersey

 

---
Shmuel Mischel

Shmuel Mischel- Highland Park NJ
comes originally from an MMA background  

First entered the martial arts world at age 6
Served in the Israeli Defense Force as a Paratrooper 
Participated in two operations and saw action in the 2014 war in Gaza (operation protective edge).
---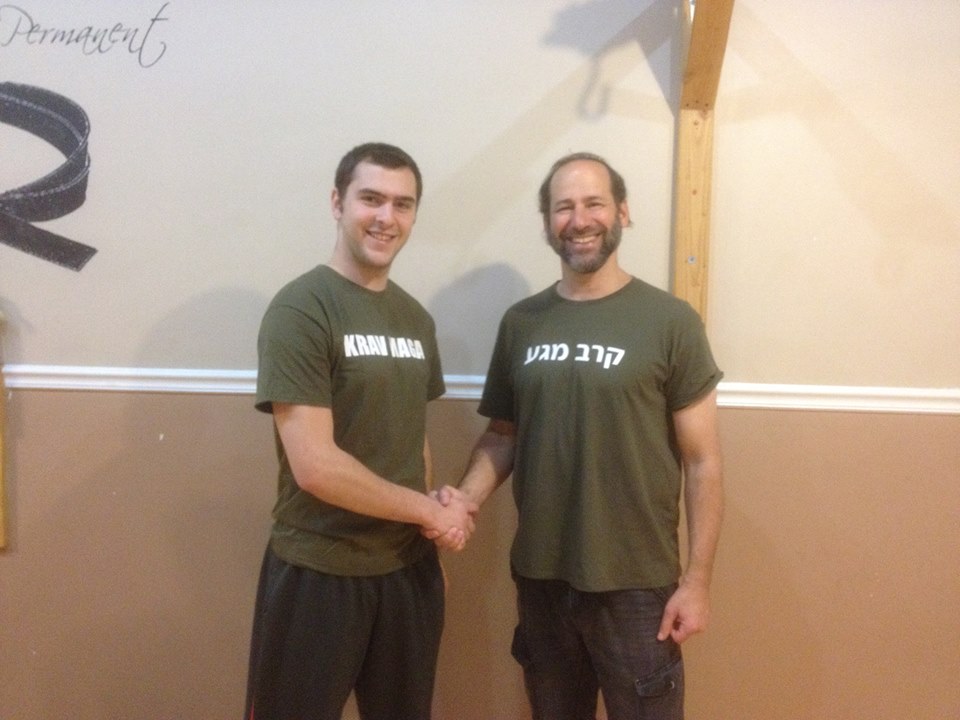 ---
new york
---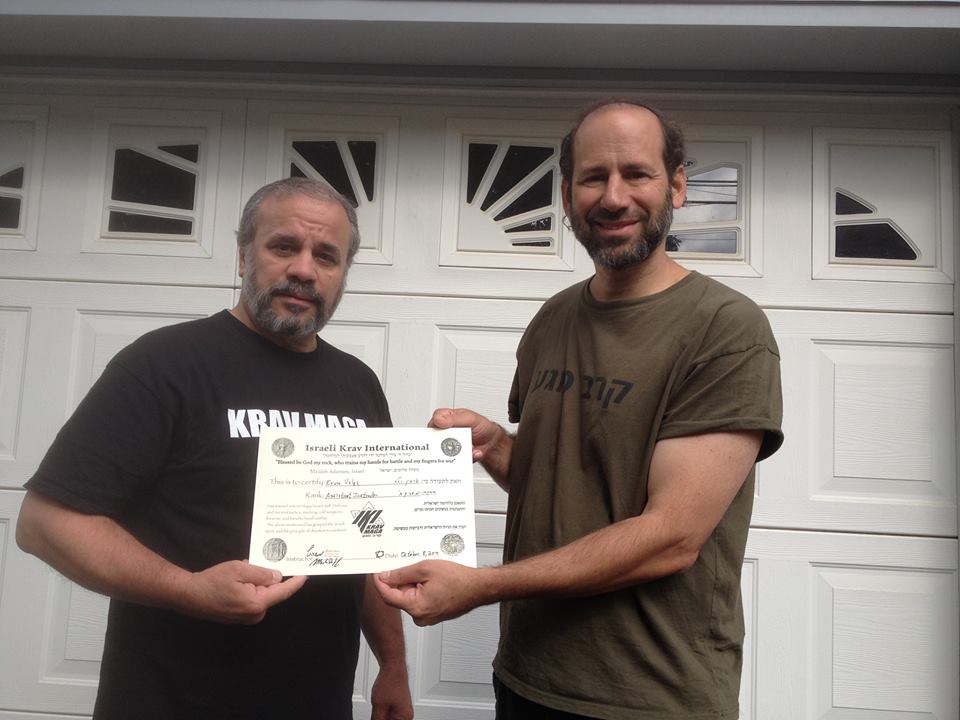 Being promoted to second level instructor, October 2015
---
Shihan Ervin Velez, Ph.D/Ma./D.Sc
IKI Krav Maga Assistant (level 2) Instructor
Martial Arts Hall of Famer
Former Full Contact Fighter
Mr. Velez began his training with boxing and martial arts in 1967. He was a Golden Glove Candidate in boxing. In 1981 he began training in Kyokushinkai Karate Mr. Velez has trained in Aikido, has Black Belts in both USA Goju and Japanese Goju, practitioner of Philipino martial arts Escrima. He holds a 7th dan black belt in Oyama Karate. 
Mr. Velez has dedicated his life to teaching and perfecting techniques.
Ervin Velez has been featured in several local Bronx newspapers and magazines such as El Batu, Bronx Times Newspaper, Bronx Press Review, T.V shows, Radio Talk Shows and News 12. In Nov 30th 2007 he was named New Yorker of the Week with NY1 News. He has taught self defense to community civilian patrol officers, senior citizens self defense and has been a serious advocate against children abused and abducted and women domestic violence. He has been invited to speak about martial arts by local community organizations and has done karate demonstrations citywide.
He also trained under world renown Great Grand Master Soshu S. Oyama at the World Oyama Karate Organization and holds rank of a 6th Degree Black Belt there and assisted Soshu S. Oyama in teaching. He is Chief Branch Instructor of the Bronx Regional Dojo. The first World Oyama Karate Dojo in the Bronx and the first to bring a full contact karate tournament to the Bronx, NY.
Shihan Velez has 54 years in the marital arts. He is also an official for the Professional Kickboxing Federation (PKF)
He is an official of the United States Muay Thai Association (USMTA) A.M.T.J.R.A. Judge/Referee
In 2000 Mr. Velez was inducted as Instructor of the Year Hall of Fame in Houston, Texas.
Kyoshi Shihan 7 Degree Black Belt, black belts in Iaido one from Japan Federation and one from The United States of Batto do Federation
WORLD OYAMA KARATE
Bronx, NY 10460
Tel. 718-710-8101
shihanvelez@aol.com
Ervin Velez joins us with a wealth of martial arts experience. He is a veteran fighter and a gifted teacher. In addition to his Karate classes he is now also offering Krav Maga Self Defense classes. We are proud to have such a fine representative in New York.

---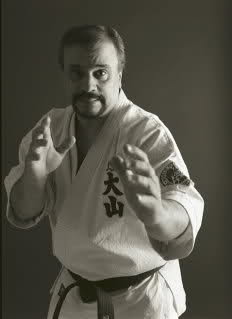 ---
---
north Carolina
---
Jon Phipps
What one notices about Jon right from the start is his passion for Krav Maga, humility in his approach to training, and his desire for constant improvement.
Jon has traveled long distances to learn with Moshe Katz, participating in seminars and private training whenever possible. One thing I can assure you - no one works harder! Jon has fully earned his Krav Maga Black Belt.
Jon is a caring and enthusiastic instructor.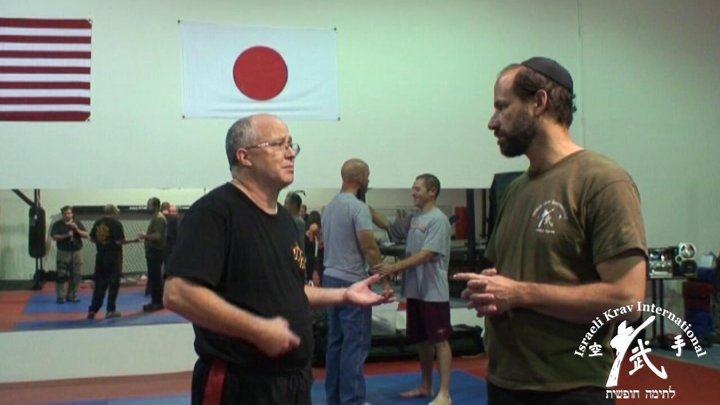 With Jon Phips discussing Krav Maga.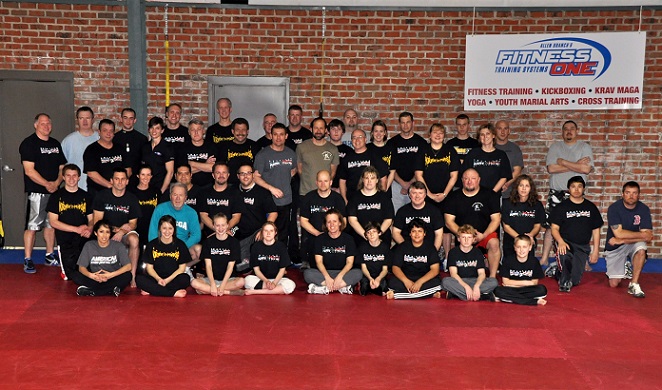 With Jon Phips and his Krav Maga class.

---
Allen Branch , Kernersville,

---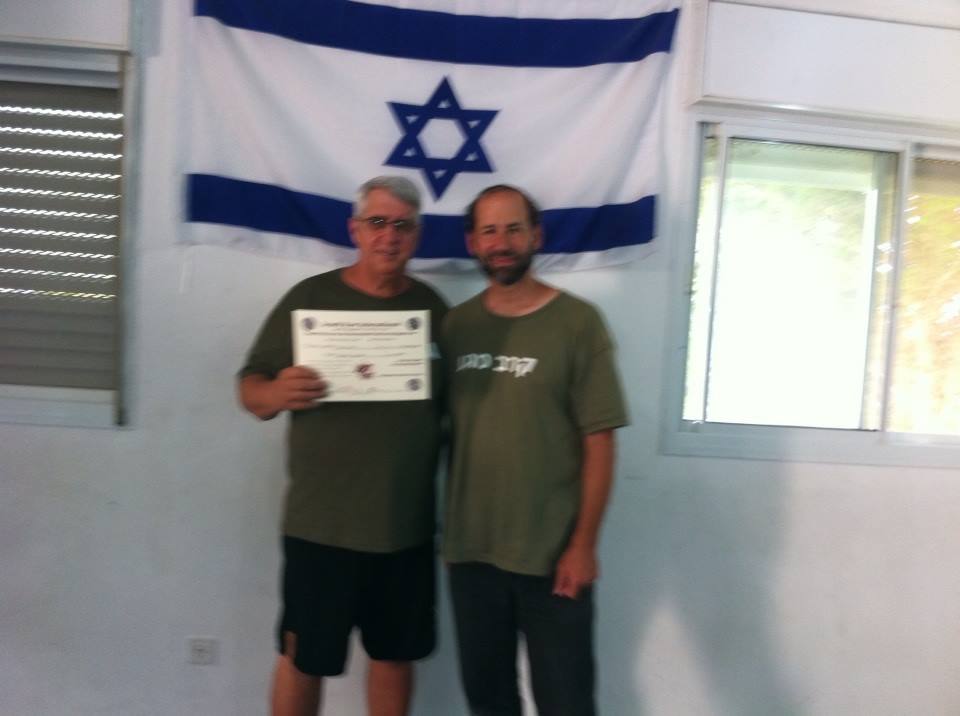 Robert Butler

---
Ohio
---
---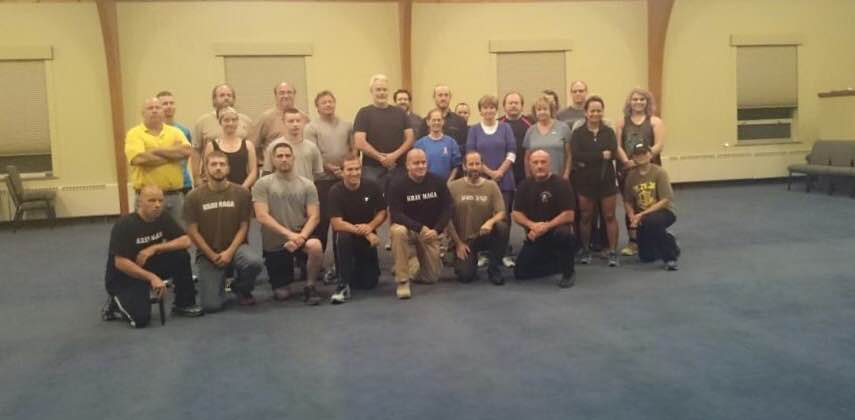 ---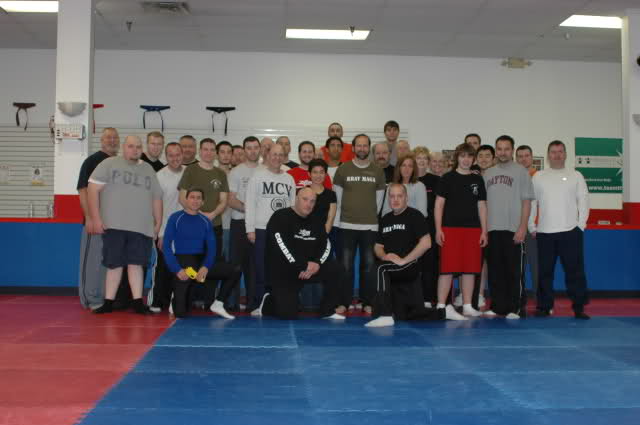 Krav Maga seminar in Ohio.
---
Joe Stronsick, Brunsick
Apprentice Instructor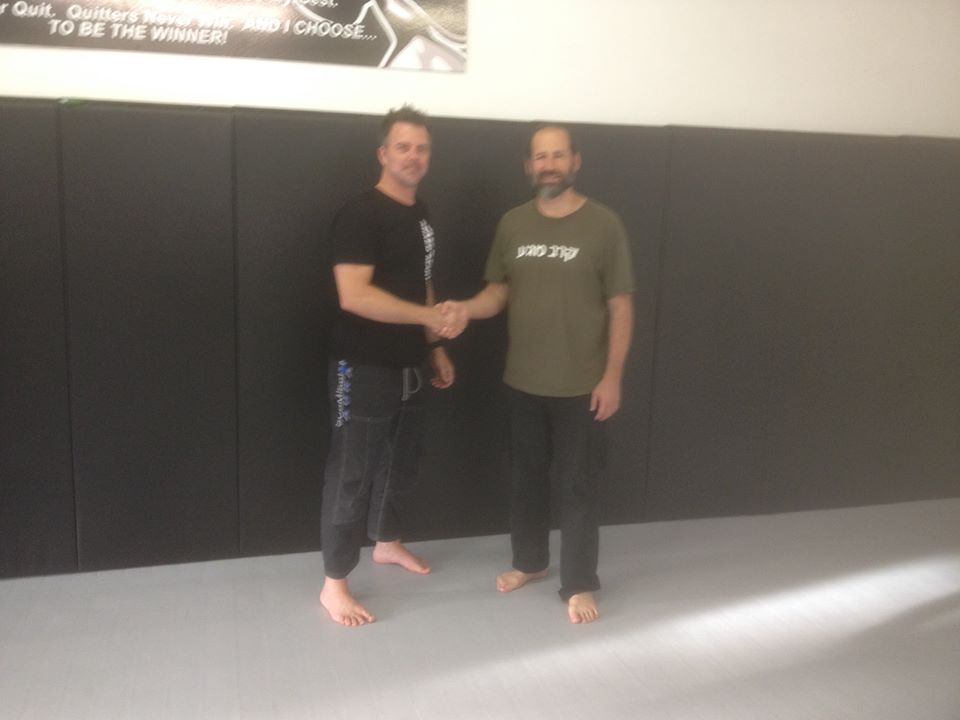 ---
Jeff Webb Full Instructor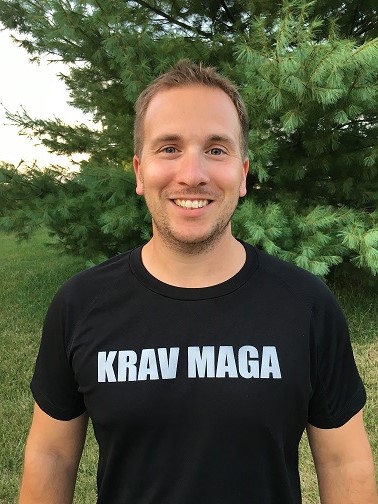 Jeff Webb lives in Troy, Ohio and is a proud father of 2.  He has devoted his life to teaching which includes Krav Maga and high school science, where he has been selected as a Master Teacher by ASM International.  He has over 25 years of Martial Arts experience including Kung-Fu, Tang Soo Do, Shaolin, and IKI Krav Maga.  Jeff has been exclusively studying IKI Krav Maga since 2011 and is the founder of IKI Troy.  Jeff has experience training Law enforcement, Air Force personnel, private security employees and civilians.   While education is his passion, other hobbies include, guns, dirt bikes, camping and spending time with friends and family.
Black belt first dan, February 7, 2017
Black Belt second dan February 2019
Black Belt third dan, February 2022
---
Brian Johnston, Apprentice instructor, Black Belt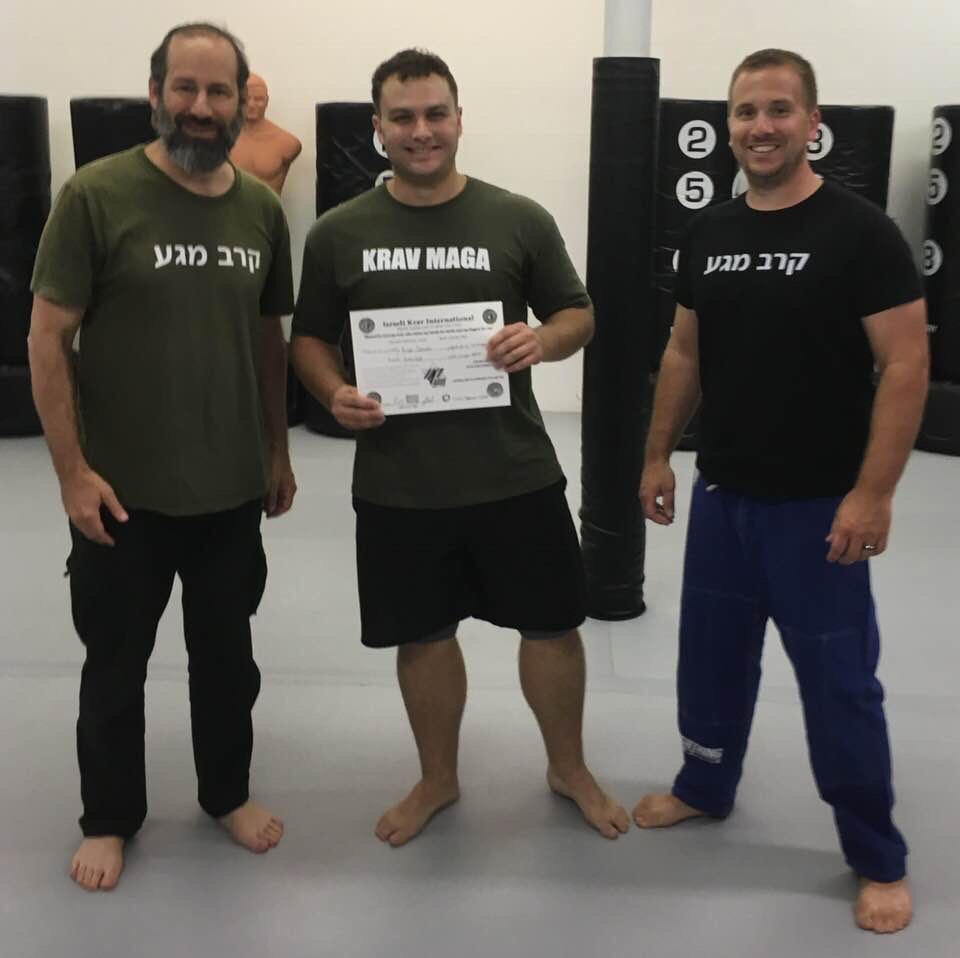 Brian Johnston lives in Greenville, Ohio. He is a Registered Nurse practicing on the Intensive Care Unit. His teaching experience includes tutoring Pathophysiology and Pharmacology. He has several years of informal boxing/grappling experience, and has been studying IKI Krav Maga since 2017 and completed his Apprentice Instructor certification under the tutelage of Jeff Webb. He loves to teach/train aside from this his hobbies include Running/Physical fitness, shooting and Table top PC games. 
IKI Krav Maga first dan Black Belt. 
---
Sonny Dubetz, Apprentice Instructor, Black Belt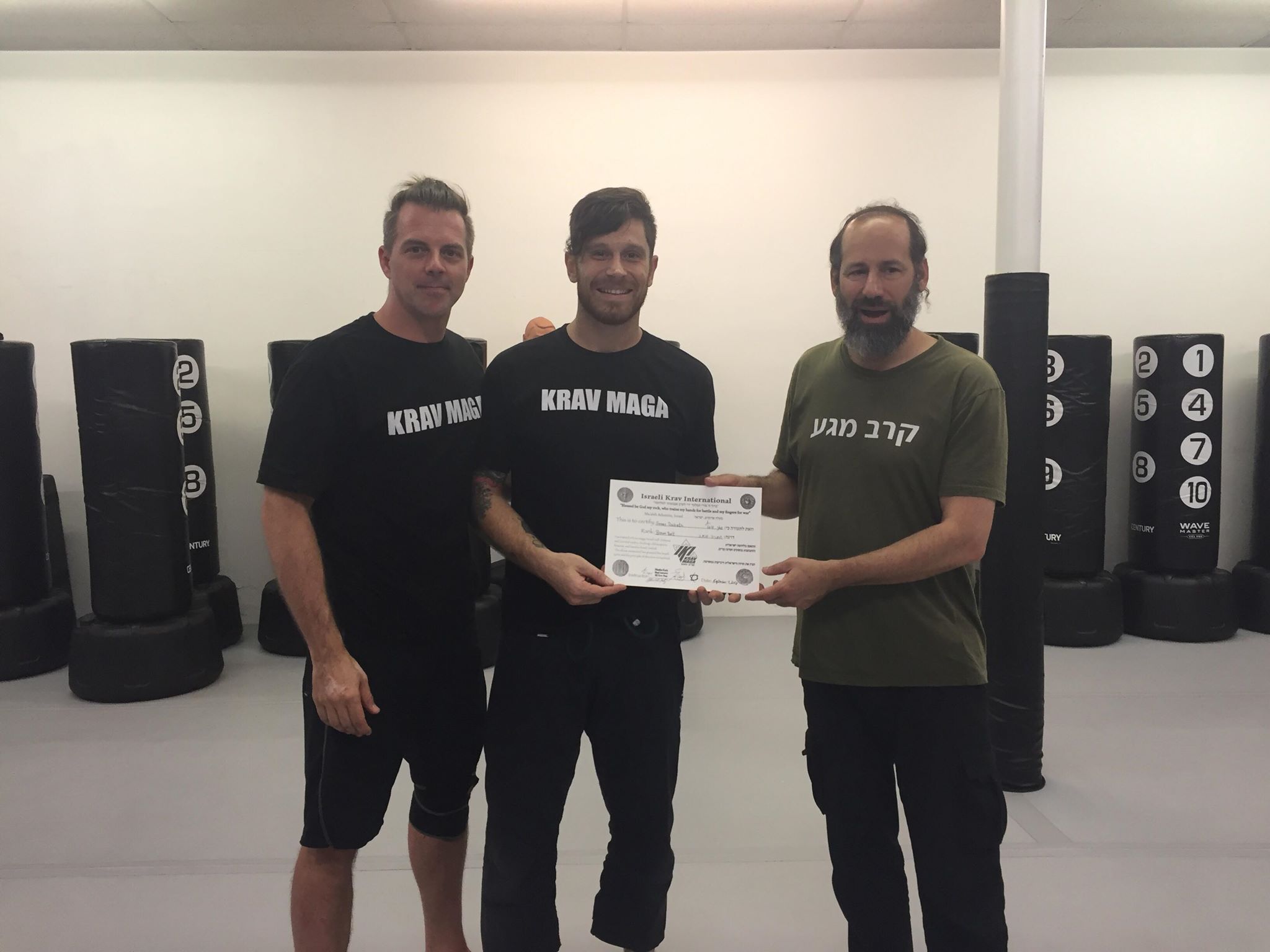 ---
Tamara Leonard, Apprentice Instructor, Brown Belt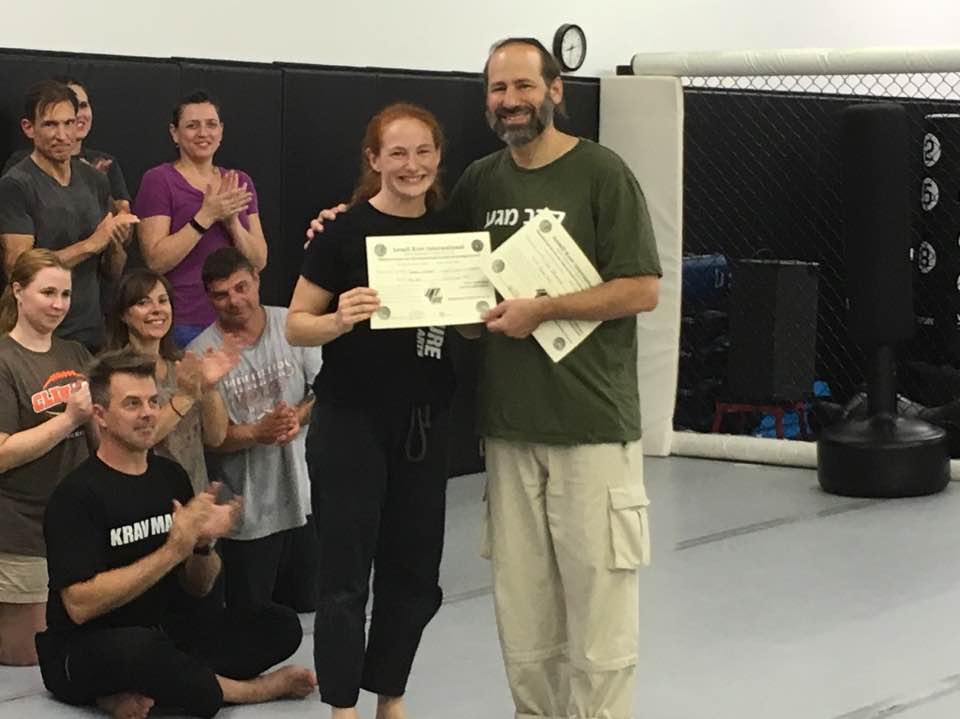 ---
Ben Turner,  Associate Instructor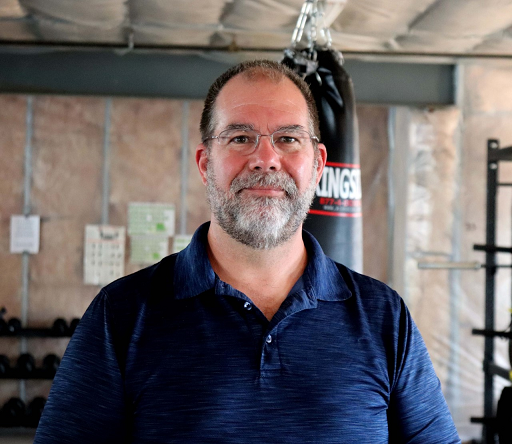 Ben Turner lives in Piqua, Ohio and is a father of four. He was a foster parent for 7 years and has had many children that he was fortunate enough to care for.  
He worked for the City of Piqua for 32 years and retired in 2017 and went back to work for the City of Piqua that same years. He has held several positions with the city such as boiler operator, a shirt engineer at our power plant and currently is the network administrator for the City of Piqua.
Some of his past training includes 15 years as a peace officer in the state of Ohio. He trained with two of the tactical team leaders and with the tactical team for our municipality. He has been certified to carry and use many different types of firearms and is a certified firearms instructor for handgun, shotgun, and long gun. He has prior experience with Tang Soo Do and Taekwondo.
He has been studying IKI Krav Maga for several years with Jeff Webb at IKI of Troy. He currently holds ranks in IKI Krav Maga and IKI Kickboxing. 
He started IKI of Piqua in 2019 and thoroughly enjoys teaching both Krav Maga and Kickboxing.
His goals at this time are to strive to become a better Krav Maga practitioner as well as learning to be a better instructor.
---
Aaron Olson, Assistant Instructor, 2nd dan black belt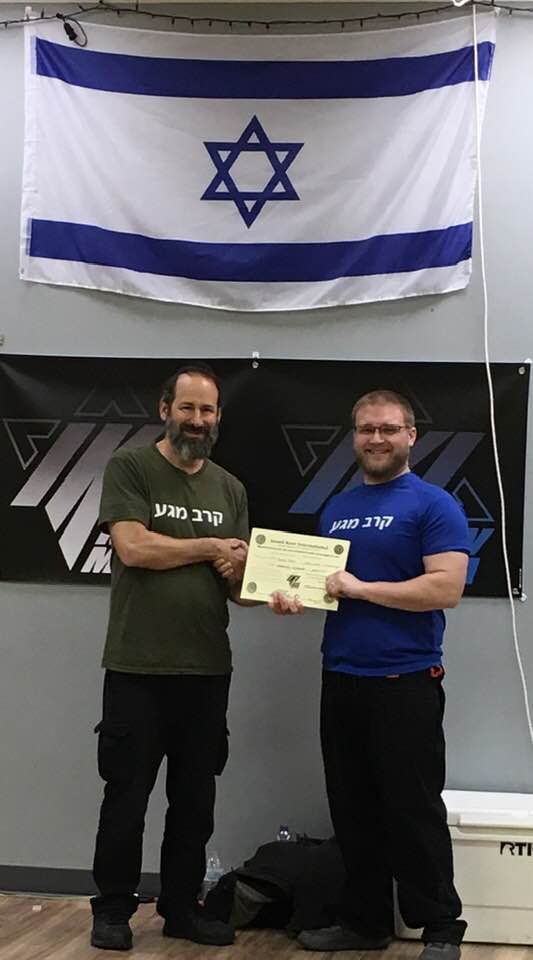 ---
Jim Roby, Apprentice Instructor

Jim has a great deal of experience in the fitness field and is a full-time teacher. He is patient and kind.
Jim Roby is from Anna, Ohio. He is a middle school intervention specialist. Over the last 17 years he has taught 7th grade inclusion, 8th grade inclusion and worked 4 years in behavioral units. He has been studying IKI Krav Maga for the last 2 years, training under Jeff Webb, Ben Turner, Brian Johnston and Steve Miller and recently completed his Apprentice Instructor certification. Outside of teaching and Krav Maga Jim loves to spend time with his family and friends, weight training and watching football. 
IKI Krav Maga Green Belt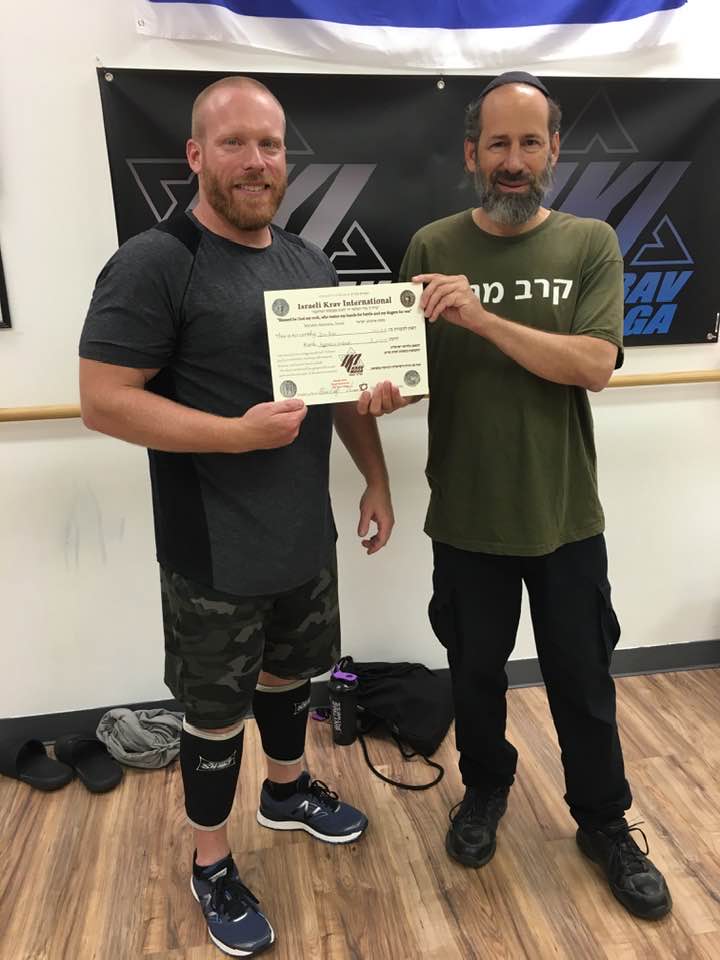 ---
Robert Forsberg, Apprentice Instructor
Robert is a kind and patient instructor who takes the time to explain to his students not only how, but why we use these techniques. He pays close attention to detail, and close attention to his students. 
---
Chris Schaeffer, Apprentice Instructor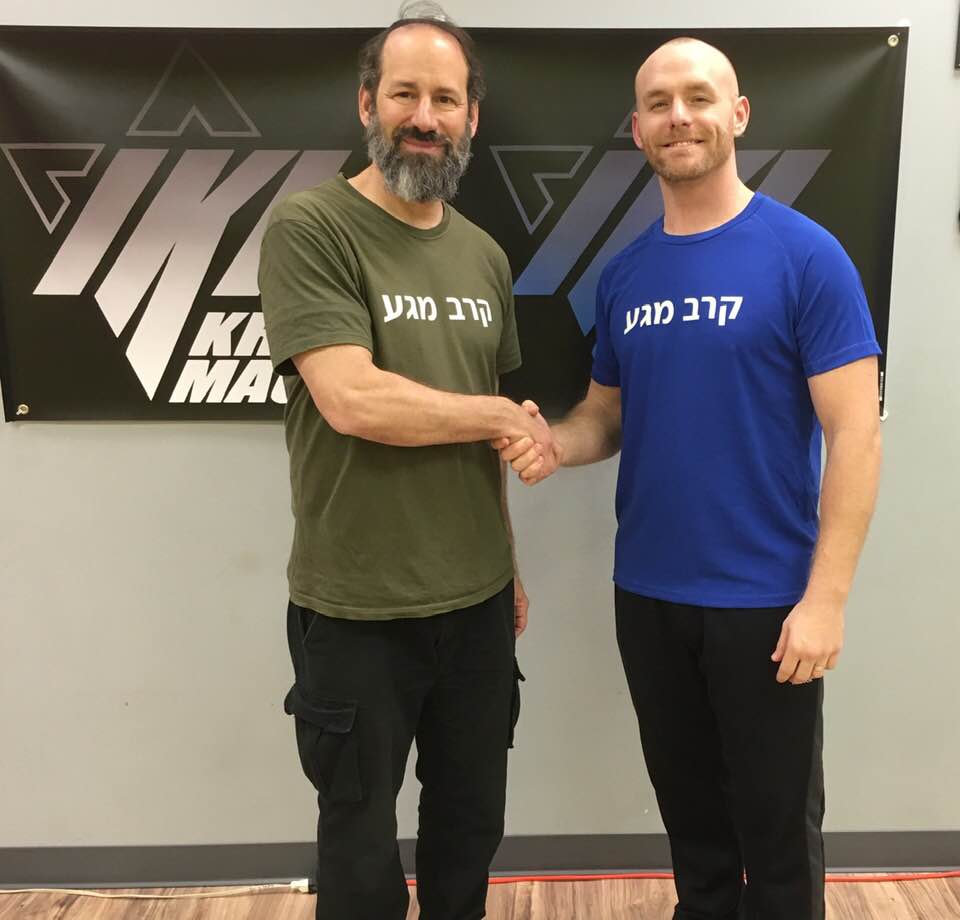 Chris Schaeffer- IKI of Springfield (Ohio)
Chris has extensive knowledge and background in a variety of fitness disciplines and sports. He has 15 years of coaching individual and small groups under his belt as well as a degree in Sport and Fitness management.

Chris' Krav Maga training began by bringing Jeff Webb (second dan black belt) into his fitness facility to teach some basic IKI techniques to his members. His passion for learning self-defense grew and soon he was attending sessions in Troy, and learning from other
instructors as well, including Moshe Katz on two separate occasions.  Over the course of a couple of years, the opportunity to become an instructor presented itself and Chris hasn't turned away from absorbing as much information as he can. He now runs and
teaches out of IKI of Springfield.
The constant development of techniques, along with, the volume of information that is made available to students and instructors alike is what Chris loves the most about IKI.

---
pennsylvania
---
Mordechai Saxon, Pittsburgh - Israel, Associate Instructor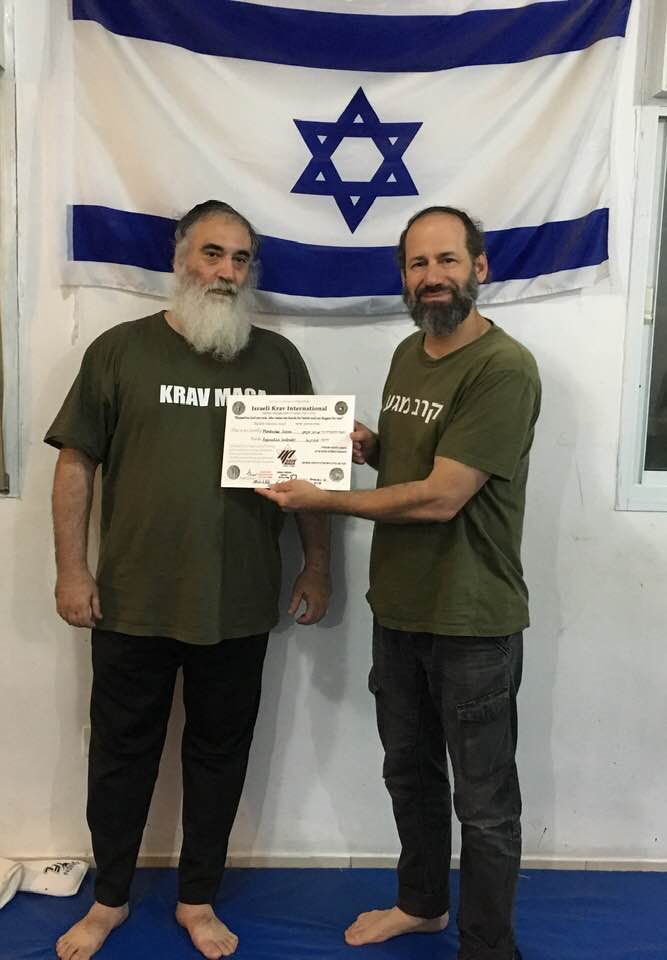 ---
Mordechai Saxon began martial arts training in 1996. Prior to Krav Maga, he studied JuJitsu, Kickboxing and Law Enforcement Tactical Training with Mr. Gary Brown, Lawrenceville, GA
Received Brown Belt in Eagle Combat JuJitsu 2003
and Shidokan Karate under Mr. Richard Trammel in Atlanta, GA 2004
Mordechai is an avid scuba diver, CPR/First Aid instructor, and ordained rabbi.

---
south carolina
---
Chris Cromer,  Greenville,
Absolute Fitness & Martial Arts
Chris is a third dan IKI Krav Maga Black Belt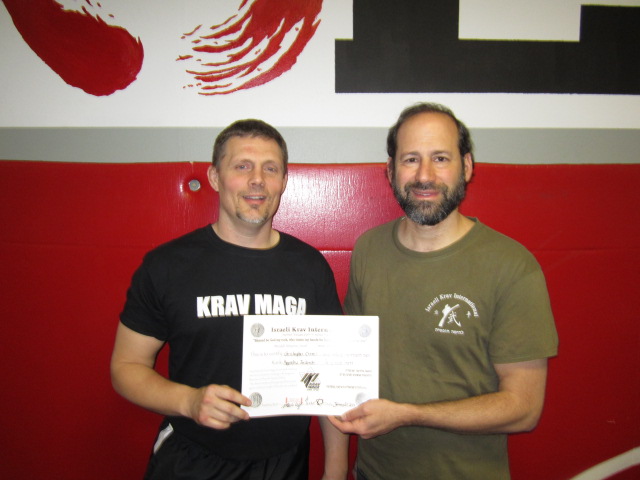 Chris Cromer being certified as IKI Krav Maga instructor, February 2013
---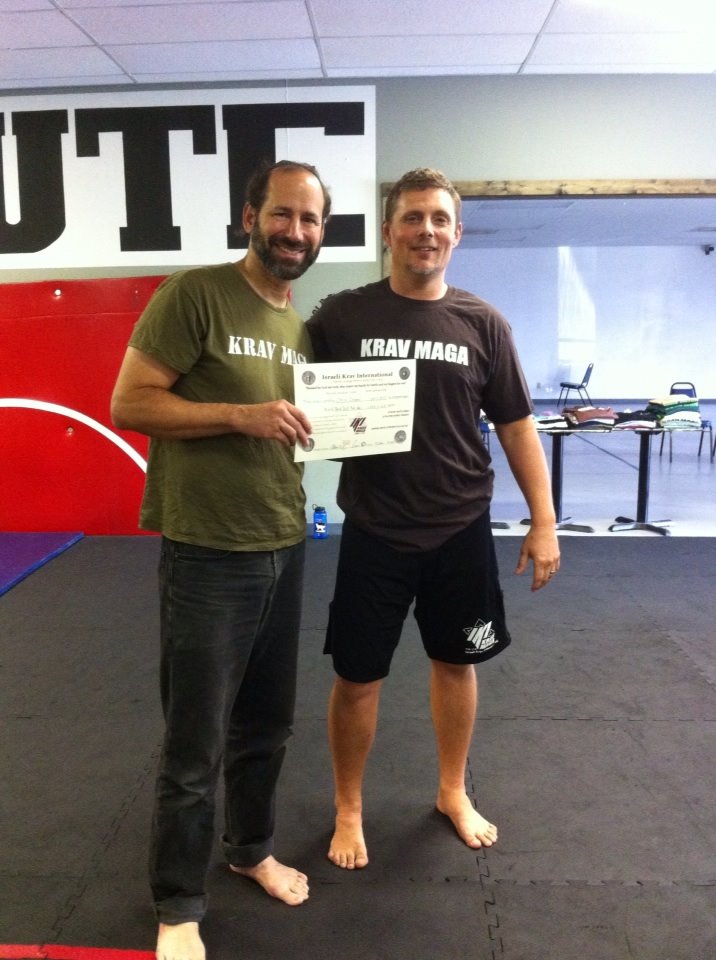 Chris Cromer, IKI Black Belt, October 2013

---
Kaleb Young, Second dan black belt.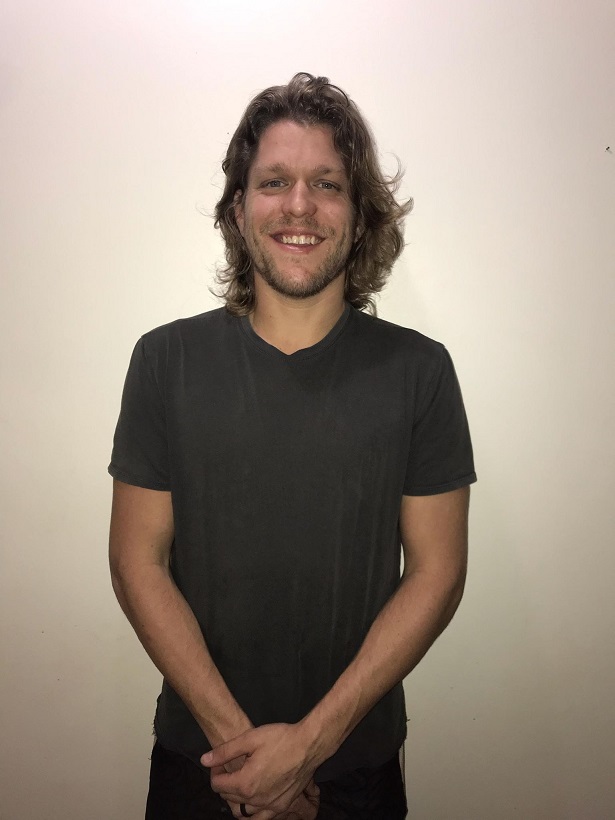 Greetings! My name is Kaleb Young, and as a lifelong practitioner of martial arts, it has been my passion to teach people from all walks of life the art of self defense. A South Carolina native, my journey as a martial artist began 25 years ago. Since that time, I have maintained a longstanding presence in the martial arts community of Upstate South Carolina, where I have had the opportunity to train under some of the most elite practitioners in our nation and compete in mixed martial arts. I am trained in several disciplines. I hold a second degree black belt in Kenpo Karate which I received under the instruction of Chris Cromer and a second degree black belt in Krav Maga from Moshe Katz. I have been privileged to partner with both law enforcement, first responders, servicemen and woman in our state, teaching them self defense and how to apply those skills in real life situations. As a coach, I am dedicated to teaching in a fun and practical way that makes learning both easy and fulfilling. I look forward to partnering with you and helping jumpstart your journey as a martial artist!
---
Phone: 864 - 999- 8788
e mail: Kravkaleb@gmail.com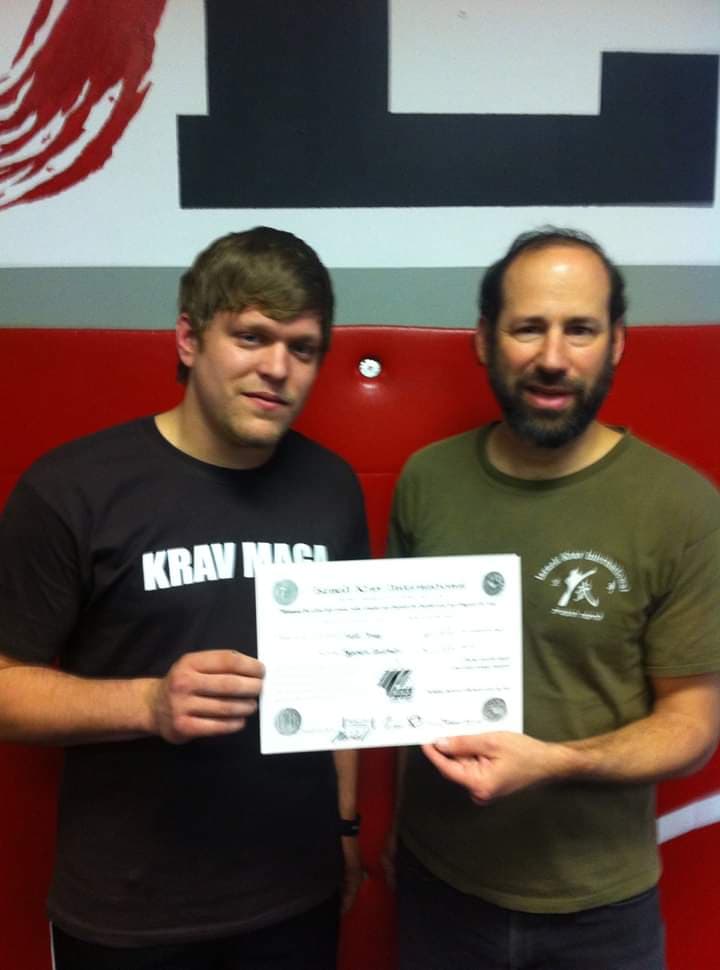 ---
Tennessee 
---
Tim Garrett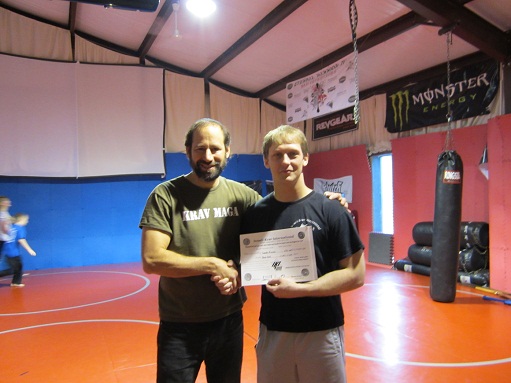 Timothy Garrett (Tim), is the head martial arts instructor, personal trainer, and joint owner of TWMA. He has been practicing & teaching martial arts since 1987. He has black belts and certifications in multiple martial arts and combat systems. He really enjoys working with children and makes learning fun.
 In his experience he has:
Competed and won multiple traditional martial arts point tournaments, full contact ISKA kickboxing matches, tough man boxing matches, and grappling tournaments.
Trained, rolled, and sparred with professional and amateur kick boxers, Jiu-Jitsu practitioners, shoot fighters, wrestlers, grapplers, MMA fighters, Krav Maga instructors, and various other martial artists and instructors from around the world.

Trained successful MMA and Jiu-Jitsu competitors.
Served in the Army National Guard for 8 years as a military policeman and signal support specialist.
Provided martial arts, combative, and self-defense training regularly to law enforcement, military personnel, Girl Scouts, Boy Scouts, Women's Self Defense Classes, Empowerment Classes, non-profit organizations and a variety of other out-reach programs.
Current Ranks, Certifications, and Education:
Black Belt Associate Level Krav Maga Instructor by Moshe Katz 5th Dan

4th Degree Black Belt in Isshinryu Karate by Masters Scott 10th Dan & Ruth Ann Shamblin 7th Dan Recognized through the OKU and IIKA

Dan Level Black Bar / Belt in Mixed Martial Arts by UFA President Bunny Hawkersmith & TN ISKA Director Anthony Maness
Blue Belt in Gracie Jiu-Jitsu (BJJ) by Grand Master Rorion Gracie
Black Belt in Kick Boxing, Jujitsu, & Judo by Moshe Katz 5th Dan
Certified Personal Trainer through the American Council on Exercise 
B.S. Degree in Information Technology & Health and Human Performance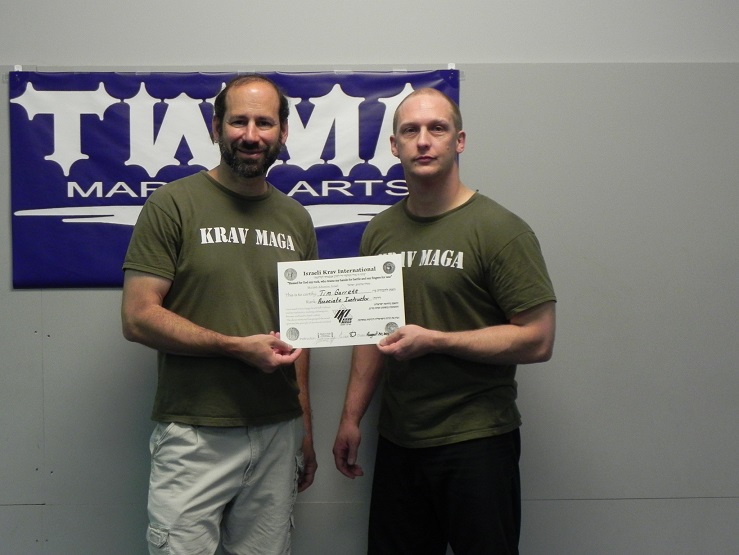 Tim being promoted to Associate Instructor

---
Misti Garrett, Apprentice Instructor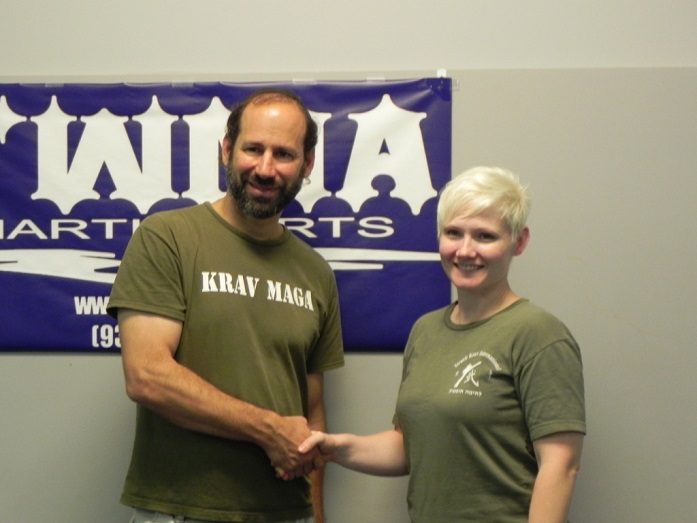 ---
Lee Nettles, Assistant Instructor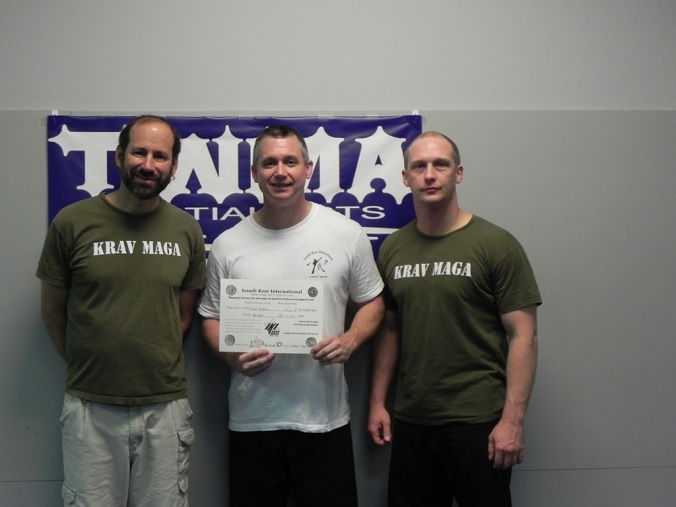 Lee Nettles surrounded by Moshe Katz and Tim Garrett

---
texas
---
Drew Arthur, Tyler, Texas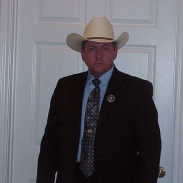 Drew Arthur, Associate Instructor

---
Drew is a black belt in Japanese Jiu-Jitsu and has a black belt awarded by Relson Gracie in Gracie Jiu-Jitsu. He also holds a black belt in Kempo and is a certified Kru/Instructor of Muay Thai Kickboxing. In addition to these credentials Drew is also a certified Jeet Kune Do / Kali/Silat , and Shoot Fighting instructor. He is a certified Israeli Krav Maga instructor, and assistant Russian Systema instructor.
Drew is a licensed private investigator, and level three security for the state. He also is a certified and licensed instructor for Texas State "Peace Officer/Police" officers continuing training. Drew continues to teach and train as a student under 9th Degree Res Belt Grand Master Relson Gracie, Guru Ray Parra, Moshe Katz, Arjan Buck Grant, Kru & Champion Enn Fairtex. Drew is a former US Marine Infantryman and Military Policeman, a former South Florida Police Officer, and has served over 20 years with the US Marshals Service in Miami, Fort Lauderdale, Honululu, Las Vegas, and Texas as a "Fugitive a Warrants Man Hunter", and Security Expert. Drew also instructs Tactical Mixed Combatives (A Synergistic/Reality Based Functional Combination of Helio/Relson Gracie Self Defense, mixed with real Israeli Krav Maga, Jeet Kune Do, and Systema). Drew instructs kids from 3-12 in MMA, Tactical Mixed Combatives, Muay Thai Kick Boxing and in Striking Combatives, and Jiu-Jitsu.
Address: Relson GRACIE Jiu-Jitsu/Lone Star MMA, 3508-B Westway Street, Tyler, Tx 75703---
(903)-509-1MMA- 1662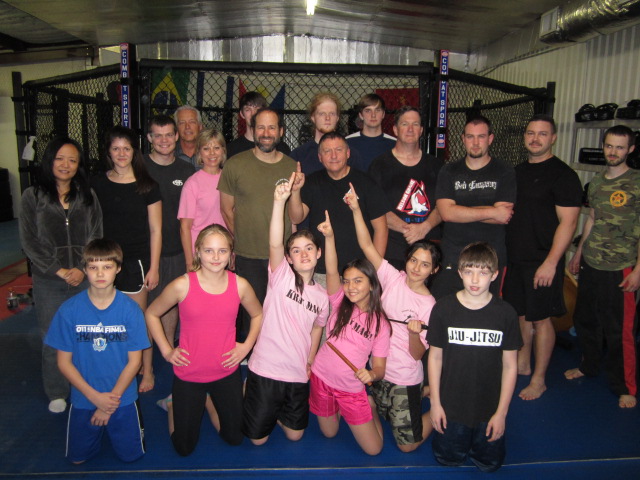 ---
---
Miklos Major
Miklos was promoted by Moshe Katz to the rank of Phase One Instructor in November 2010.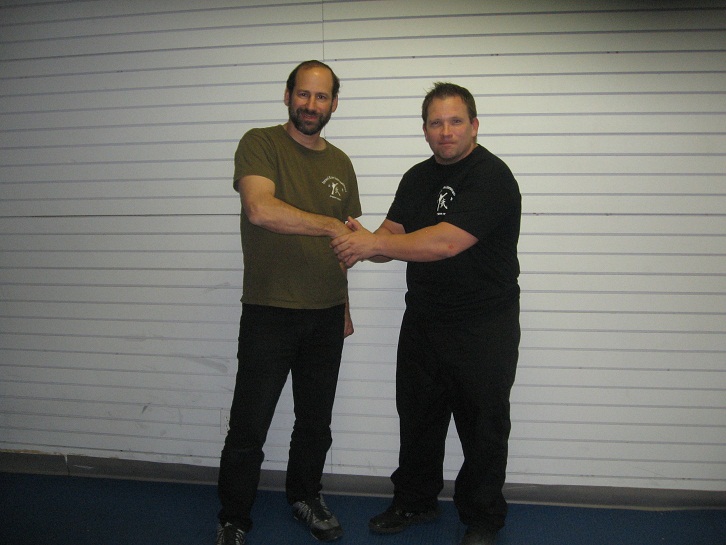 ---
UTAH
Aaron McKinney,
Eden, Utah
Aaron is a talented young man who fully grasps the content, intent and application of IKI Krav Maga. He is a caring and sincere young man who has devoted years to helping others and enriching his community.
He has the ability to break down a technique and explain how and why it works. He is a true asset to the IKI Krav Maga community and to his own community. 
---
Virginia
---
Gary Hodges Jr, Basset
Gary has a rich background in martial arts and fitness. He wrestled in High School, trained in Kempo, Submission grappling, boxing, judo and jujitsu. With the same philosophy as Krav Maga, he picked out the techniques and concepts that worked best.
When he heard about Krav Maga he did his best to train in this system but could not find a place to train until he found IKI.
We are proud and honored to have him aboard. In March 2010 Gary was promoted to first dan black belt in IKI Krav Maga, a rank well deserved. Gary continues to train hard, teach others, and try out the techniques in diverse situations. He is an innovator and a hard worker.
---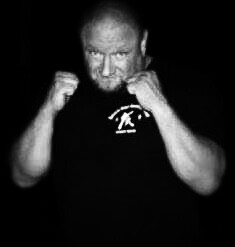 2​nd dan IKI Black Belt

Blue Belt Gracie Jiu Jitsu
Defensive tactics 4 EMS
consulted as subject matter expert..
 Self defense for SRs Instructor with 
 Va Techs Reynolds Homestead location
College for older adults.
Personal trainer and creator of 
RCT-(Radical Circuit Training & Combatives)
Crew 57.@ Bassett Va location -Lakeside Combat Club.
A new focus on surviving the worst case scenarios, to increase a persons chances
of surviving a act of violence.
IKI Member from the beginning and for life. 
Sadly Gary fulfilled his promise, too soon. His life ended suddenly on September 26, 2016 , he remained an IKI member and instructor for life. He will be missed by us all. 
He ran Lakeside Combat Club, he was an inspiration to all whose lives he touched, a great motivational speaker, coach, mentor and friend. He held a Brown belt in Brazilian Jui-Jitsu, the highest level achievable, a 2nd Degree Black belt in KRAV-MAGA, and taught self-defense in the community. Gary's passion was Linda Denise, his "Baby Boy", Leo, his brother, Barry, and family and friends, and his "2-Wheeled Therapy" on his beloved Harley, and a special place in his heart for his Special Aunt "B" , Barbara Lewis. He was also a member of the Bassett Rescue Squad.

---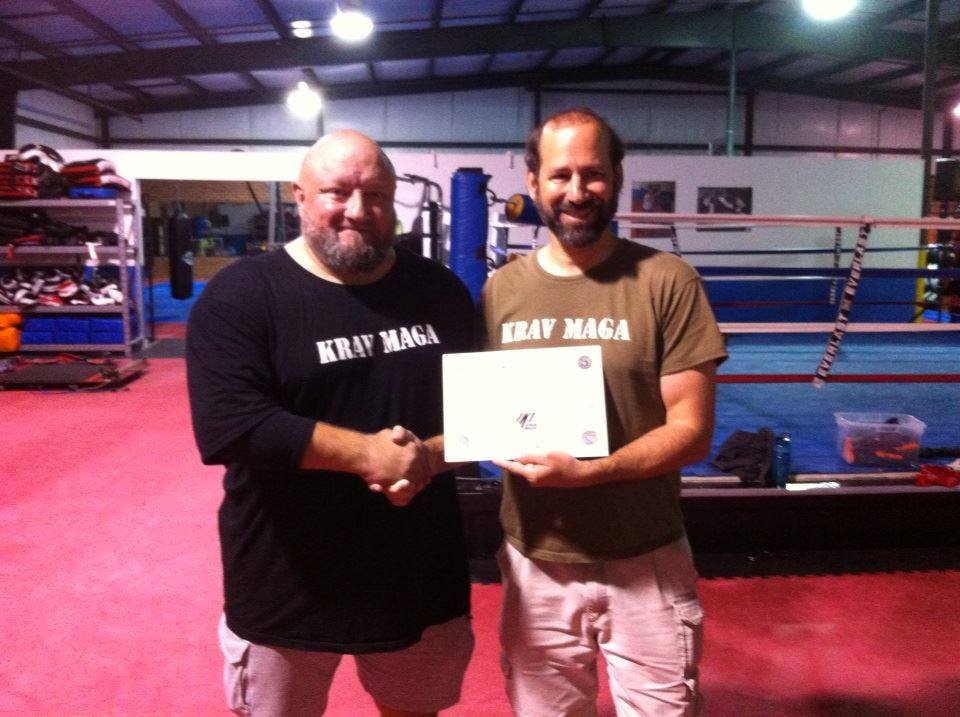 Gary Hodges Jr awarded second dan black belt, October 2013

---
Michael Fath, Fairfax
The Blue Chip Academy - Fairfax, VA
Fourth dan black belt, Full Instructor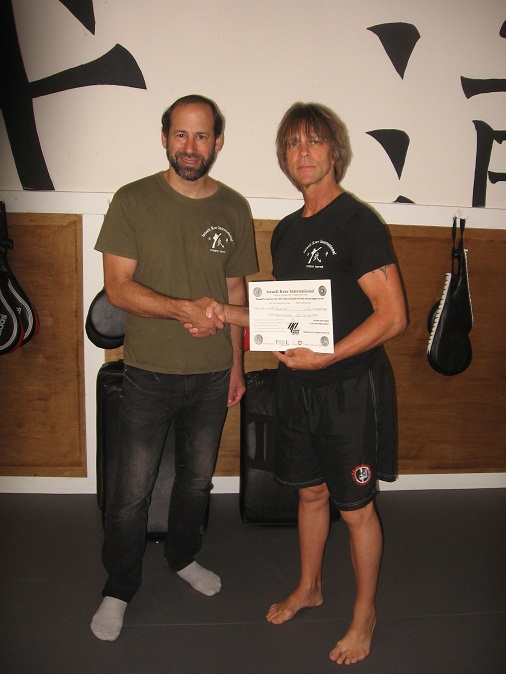 B.A. Kinesiology/Psychology/Education, Emory and Henry College, Emory, VA
Martial Arts Ranks Related Training Certifications:
• 4th degree Black Belt Master Krav Maga (IKI)
• 4th degree Black Belt Master Taekwondo (WTF)
• 4th  degree Black Belt Israeli Kick Boxing (Mountain Spirit Warrior) 
• 3rd degree Black Belt Korean sword (World Haedong Gumdo Federation)
• 2nd degree Black Belt Hapkido (Master Martial Arts)
• Brown belt Yang Ki Yin/Yabe Ryu Ju Jutsu 
• Blue Belt Brazilian JiuJitsu – RGDA 
• Muay Thai Certified (Scott Sullivan/Heavyweight world champion)
Ancillary Training:
Filipino Martial Arts
4th degree Master Korean Sword testing
Hapkido 3rd degree training
Purple belt Brazilian JiuJitsu
Background Sports History:
• One year Muay Thai/kickboxing with pro coach Otis Berry
• Amateur boxing - New York Military Academy
• Emory and Henry College varsity basketball (point guard)
• Broad Run High School: varsity basketball and football
• American Legion baseball
Teaching Experience:
• Current Krav Maga (16 years), Krav Sakeen, Muay Thai and JuJutsu senior instructor with the Blue Chip Academy

• Haedong Kumdo/Taekwondo instructor, 10 years with Highkicks Taekwondo

• Krav Maga instructor 5 years with KravWorks, Falls Church, VA

• Head Coach Women's JV basketball, Emory and Henry College
Professional Clients include:
British S.A.S, Washington, DC Police Force; United States Secret Service; Washington Metro Police; Alexandria VA Police; Arlington, VA Police; Loudoun County, VA Sheriff's Department; US State Department Special Ops unit; VA State Police, private corporate heads.

Currently:

• Krav Maga senior instructor with the Blue Chip Academy • Private/Corporate clients, east and west coasts
 Real Life Experience:

• Have survived numerous street/bar fights

• Have aided friends in altercations

• Have de-escalated several potentially violent encounters
Testimonials:
"Michael Fath is a talented and intuitive self defense instructor. During the time that I trained with Michael he assisted in identifying my strengths as well as the areas that needed improvement. His training focused on reality situations and instinctive responses to threats as they materialize. I enjoyed training with Michael and found it to be relevant and beneficial to my employment as a law enforcement officer of more than twenty-five years." Det. Irv ELLMAN (Alexandria, VA Police Department)
"Instructor Michael Fath has been a dedicated coach of mine in Krav Maga for many years. His passion for the art is responsible for the integration of Krav Maga into my Defensive Tactics lesson plan for my police department. His strong ethos, coupled with his vast experience and black belts in other martial arts, continue to inspire me and other students to go above and beyond our potential." Detective Leo Bello (Arlington County Police, VA)
"Michael has a vast knowledge of the martial arts. The variety allows him to adapt his teaching to your specific needs! I highly recommend him as an instructor!" Chris Todd (Former MPDC Sgt.)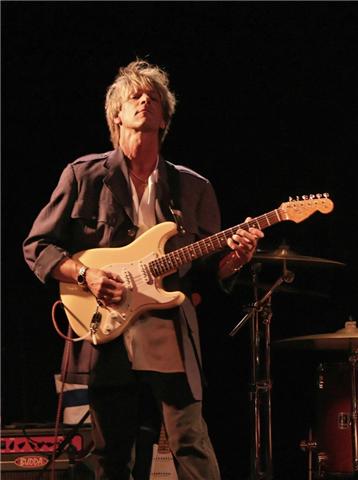 ---
wisconsin
---
Wyoming
Mike Jensen, Apprentice Instructor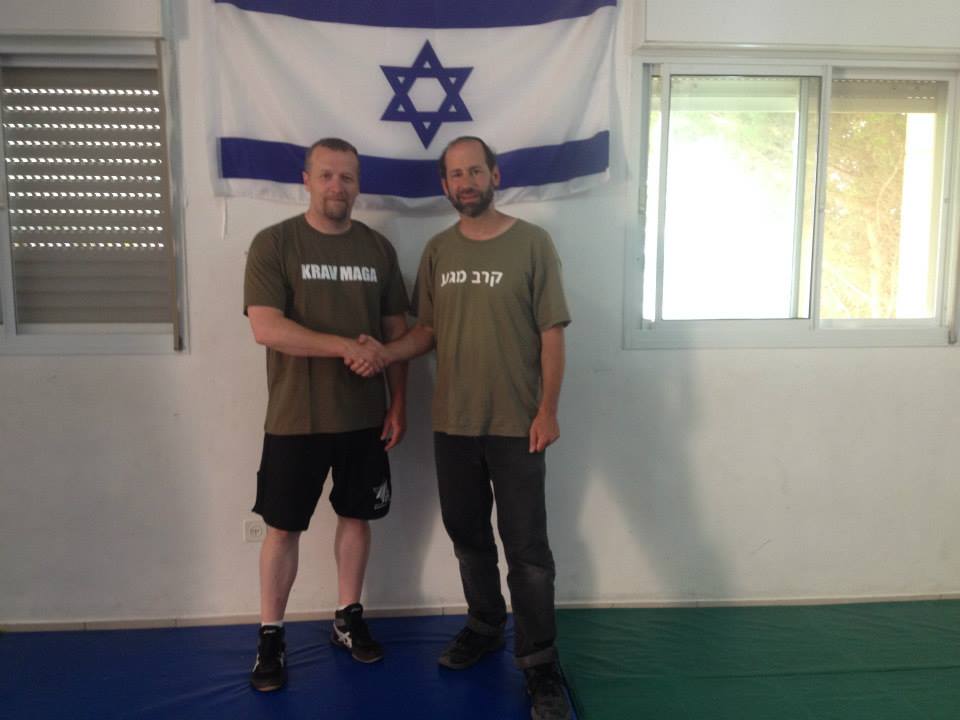 ---
Puerto rico
---
Jorge Yizre'el Castillo
Assistant Instructor, June 2013
IKI Black Belt

Mr. Jorge A. (Yizre'el) Castillo
Founder and Head Instructor of Integrated Combat System (ICS Protection)  Mr. Castillo has been in the World of Martial Arts since 1986. A former Sergeant with the US Army he spend 12 years in the military. During that time he was deployed to El Salvador, Honduras, Germany, and Afghanistan.
 Assistant Instructor /Black Belt 1st Dan in IKI Krav Maga. 
Associate Instructor in Jun Fan Jeet Kune Do under Sifu Albert Grajales. 
Black Belt 2nd Dan in Taekwon-Do. 
Black Belt in Koryo Gumdo.
Other systems experience:
Aiki-Jujutsu/Bushin Jutsu (Gary O'Neil ), Brazilian Jiu-jitsu,
Filipino Martial Arts, Catch Wrestling (Snake Pit USA )
 Military or law enforcement experience:
  Sgt. U.S. Army (Ret.)
Executive Protection and Security Specialist.
Certified Law Enforcement Self Defense/Shooting  Instructor  (Phoenix Supreme Intelligence )
EMT-PARAMEDIC 
NRA Basic Pistol Instructor 
NRA Range Safety Officer
Special Awards:
2012 Puerto Rico Martial Arts HOF Instructor of the Year. 
2015 Puerto Rico Martial Arts HOF special golden award for 30 years in Martial arts.
In June 2013 Jorge came to Israel for a month of training. This included the IKI Tour and Train program. He was tested and promoted to Level Two instructor at the completion of the course.
Contact Info Cel Phone: 1-787-464-3417 
Twitter@CASTILLOMMA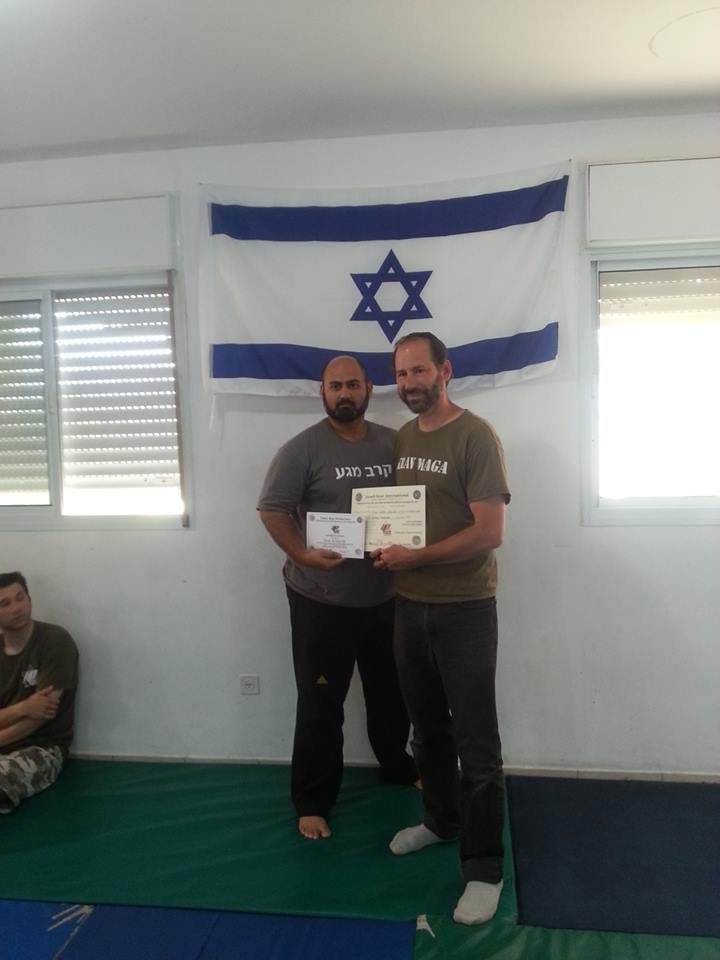 Jorge  in Israel, being awarded the rank of level two instructor. 

---
William Sanchez
---
Luis Muniz Arroyo, San Juan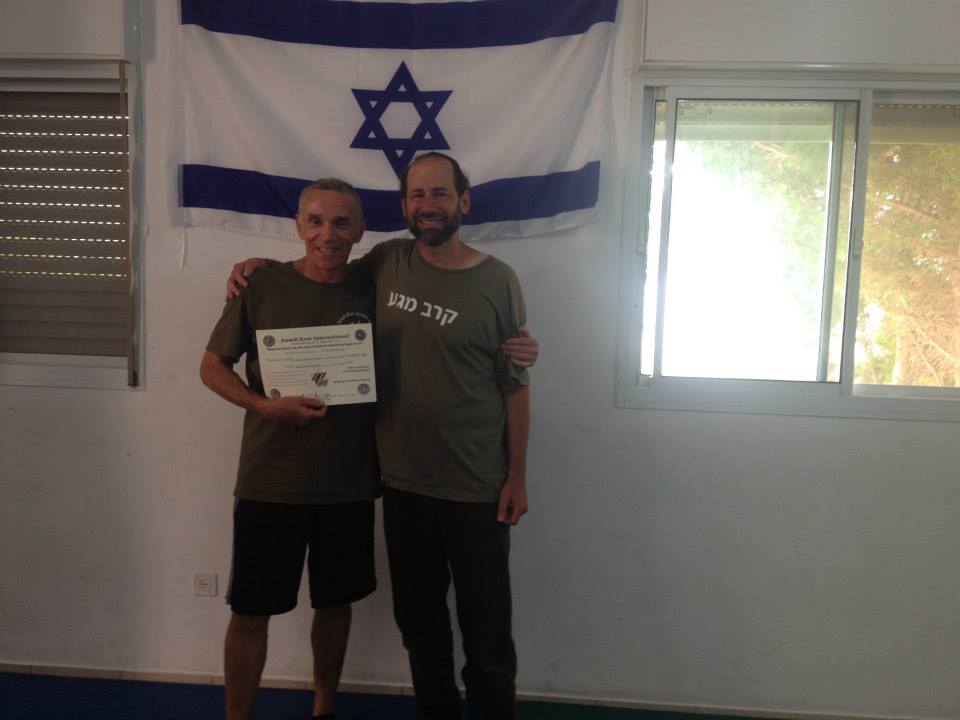 ---
Luis Cuevas, Apprentice Instructor
martial arts background: first degre black belt in Aikido , black belt in Shaolin kung fu, 2 degre black belt in hapkido . Level 1 filipino combat system and brown belt in jujitsu also I am the founder of rapid action mix martial arts system aka rammas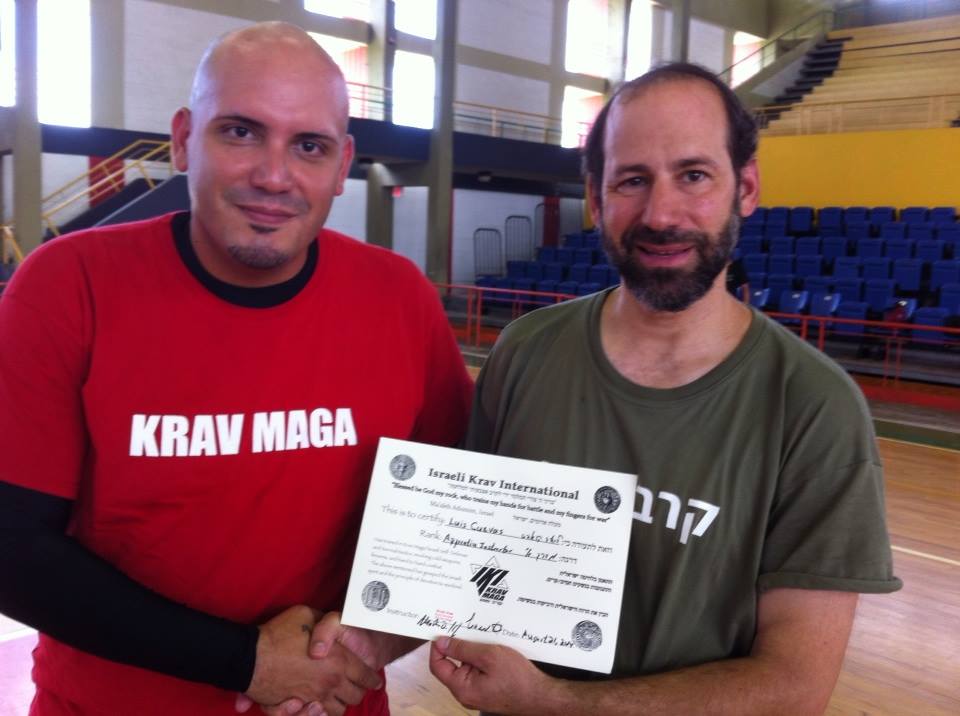 Luis Cuevas being promoted by Moshe in Puerto Rico, 2014
---
Manuel Alonso, Apprentice Instructor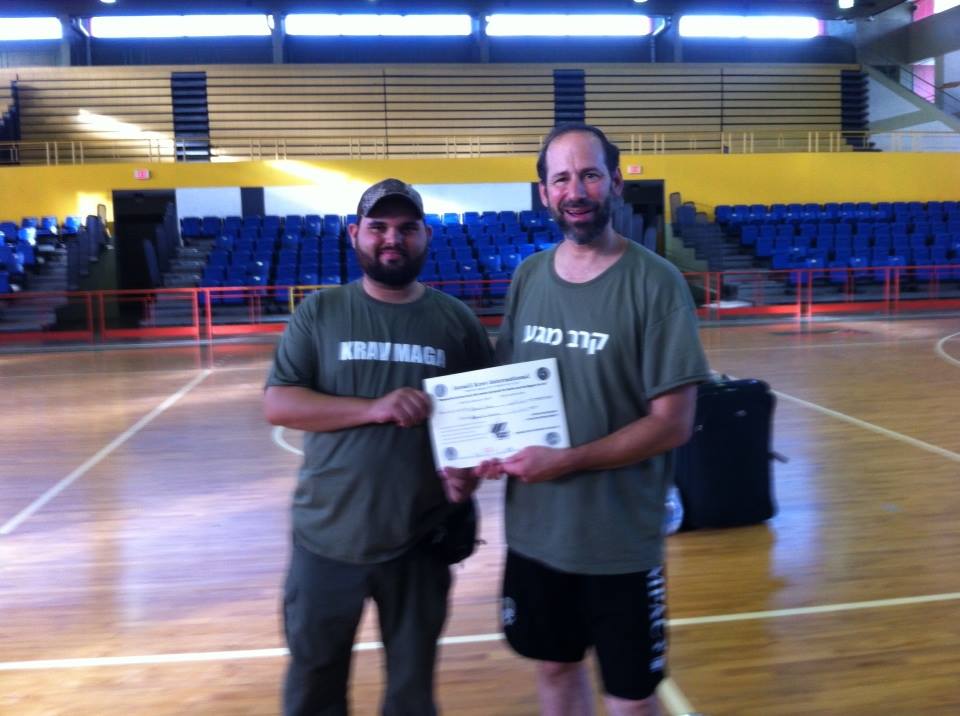 ---
Dwaine Thomas, USA Military, abroad