Krav Maga Norway Trip
By Moshe Katz

---
January 2010

---
Sitting at the airport in Paris I already began to spot some typical Nordic looking types. I tried to guess who might be on my flight to Oslo. Sure enough I was correct. I was playing "Spot the Norwegian" and all those whom I had picked were actually on my flight.
Yet, I sat next to a French girl, on the way to visit her Norwegian boy friend. Therefore my first lesson in Norwegian had to wait for landing when one fellow helped another with his luggage and I heard the words, Mange takk, thank you very much, which my friend Tracy would later refer to as "Monkey Talk". (Just due to the similarities of the sound, no reflection on the wonderful people we met in Norway).
The luggage was surprising slow in coming but the exit was quick. Shockingly there was no airport security, no passport control; I did not even get the longed for Norwegian stamp on my passport! How will anyone know I was really in Norway?
I was greeted at the airport by my friend Morten. Previously I had only met him over the e mails but I just knew we would become good friends, and so we did, instantly.
---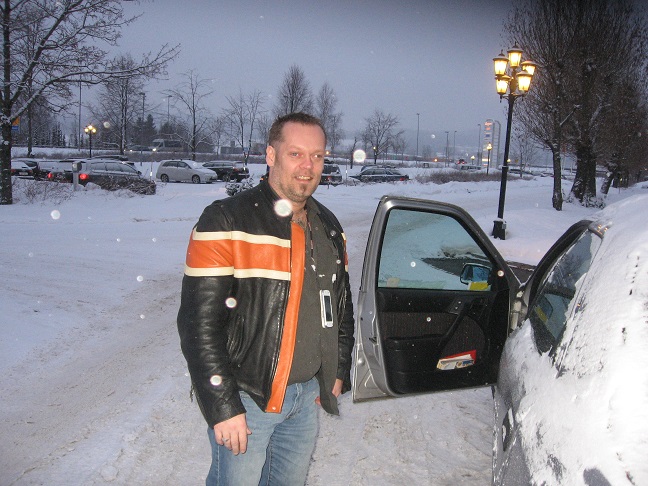 My friend Morten
---
The excitement of being in Norway, the snow, the new sounds, the exotic sounding language, the tall and blond people, was all very thrilling.
---
I checked into Olavsgaard, a beautiful hotel not far from Oslo, in the town of Lillestrom. I began studying the language with the help of the lovely front desk ladies; Ha det bra, (be well) Bra hyggelig (You are welcome), Goo Morn, Good Morning.
The next morning we picked up Tracy who was flying in from Switzerland to join in the training. She had participated in our Tour and Train in Israel program and was eager to upgrade her skills. 
We spent time seeing the sites of Oslo, the home of the king and queen and the downtown area. Morten proved to be a kind and knowledge guide.
---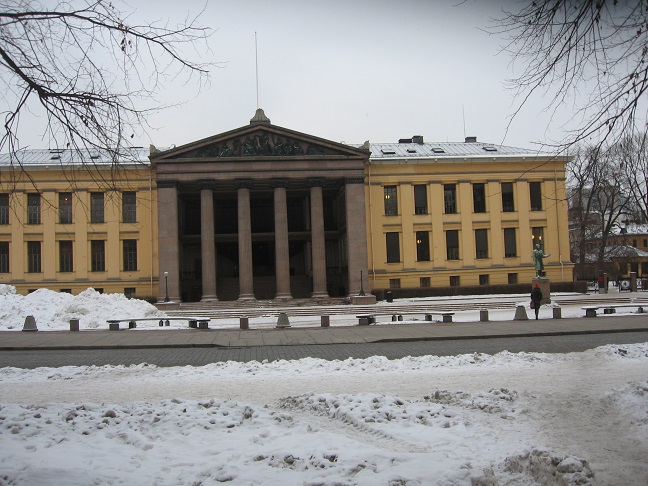 The building belongs to the faculty of law and is called Domus media
---
The town was covered with snow but we came prepared and the cold was quite manageable.
The seminars were held at a place they referred to as "the Barn", as the place was once a barn. Today it is home of the Frogner AtletKlubb. The staff and students were just so kind and welcoming. Soon it felt like family, expect that no one in my family has blond hair.
A great thrill was to see my student Hugo. Hugo had come to Israel earlier in the year and trained with me daily for five weeks. Now he flew in from the West Coast of Norway to join us for two days of training.

---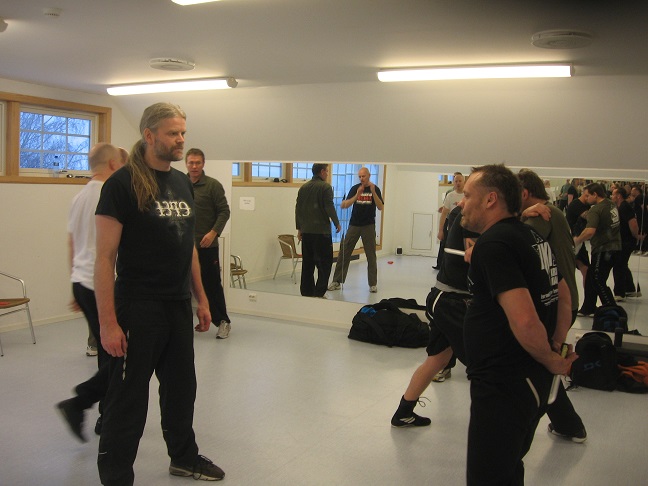 Trond, Morten, Jørgen
---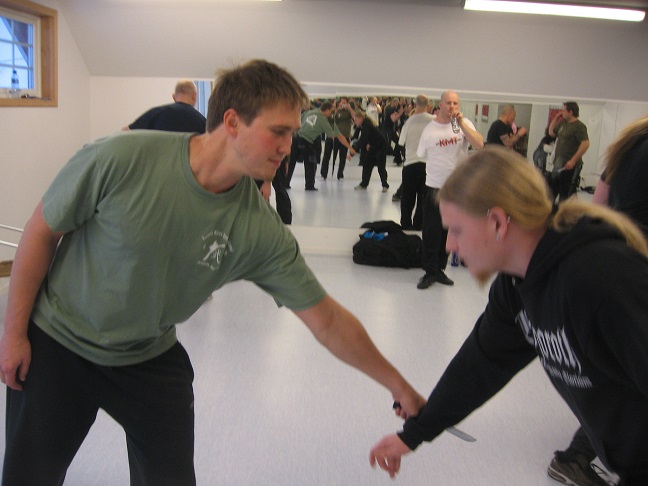 Hugo training in Krav Maga
---
Our first ever Krav Maga seminar in Norway brought a small number of students but high quality and highly motivated. Some had been training in martial arts for thirty years. Some were very experienced in other styles. With a small group I was able to observe every one closely.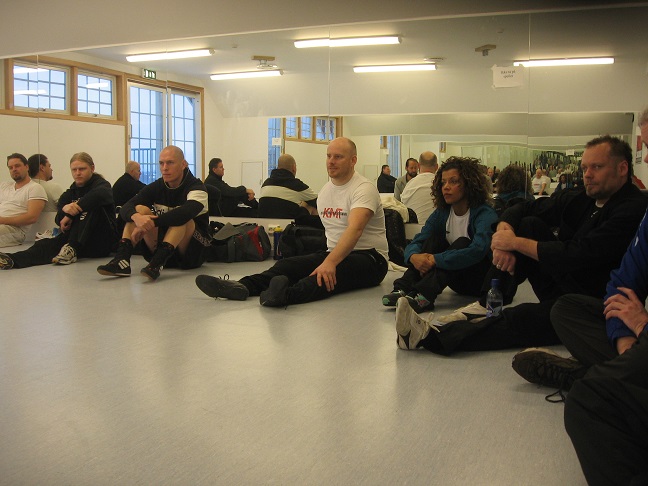 Jan and the group

---
An additional challenge and opportunity was a wonderful one armed man. He had lost an arm and part of one leg in a motorcycle accident. He was given only a slim chance to survive. He not only survived but he lives life to the fullest; a true inspiration to all of us present.
I firmly believe that Krav Maga can be taught and used effectively by anyone; man, woman, any age or size. In Israel, due to Islamic terrorism and war, we have many people who are missing limps or have replaced limps. As such I have some experience in this area. I have trained with people with prosthetic legs and hands, but I had never trained anyone with only one arm.
We went to work trying to adapt the techniques to our one armed student, who had driven 500 kilometers to be with us for the two days. Not surprisingly our Krav Maga approach adapted well to this situation. Of course, the two are better than the one, but with some small modifications the techniques were quite effective. As they say in America, these are not "handicapped' people, they are 'differently abled people.
Then clever and thoughtful Tracy had a great idea. She said, "Moshe, why don't we have everyone try the one handed techniques." And so we did! Understanding how to do the one handed technique made it even more effective when doing it with two hands, for those fortunate enough to have full use of both their hands.
We trained in defense vs. Gun threats, knife threats, knife attacks, grabs, chokes, hand to hand combat, and as much Krav Maga as we could squeeze in during our two days, 10 – 5, training.
---
---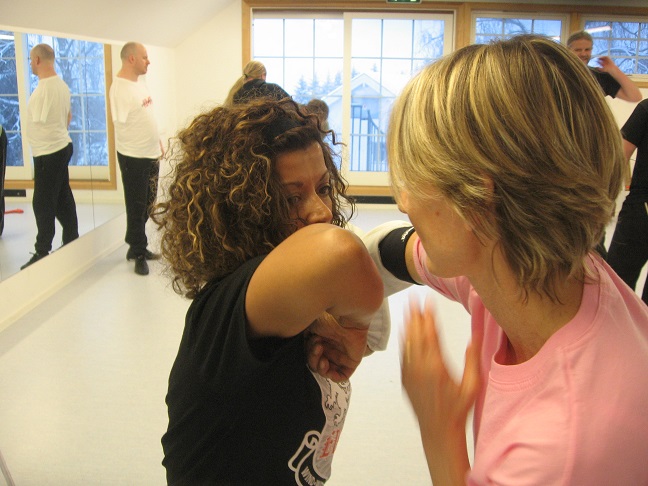 Tracy and Maria training hard
---
I had the honor of promoting Morten Wang to Phase One Instructor, a rank he truly deserves. I promoted Maria, a terrific student, full of life, to yellow belt. We also welcome Bjorn as a new member of IKI. He is a very capable martial artist.
In the evening we bonded over beers and Irish coffee at the club of our hotel. We discussed martial arts, philosophy and life.
The next day Morten took us on a walking tour of his town. We saw kids coming out of school with their skis! They were getting ready to ski home. This is certainly something I have never seen in Israel.
Visiting Norway, meeting the people, and visiting in their homes was a magnificent experience. I look forward to return, soon I hope.
---
Hugo, Moshe, Tracy, Morten
---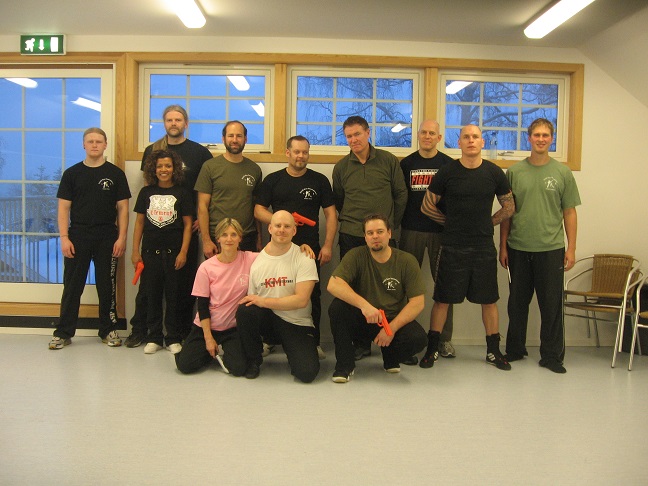 ---