Norwegian - Austrian Story
By Moshe Katz
---
October 26, 2018, Vienna, Austria
---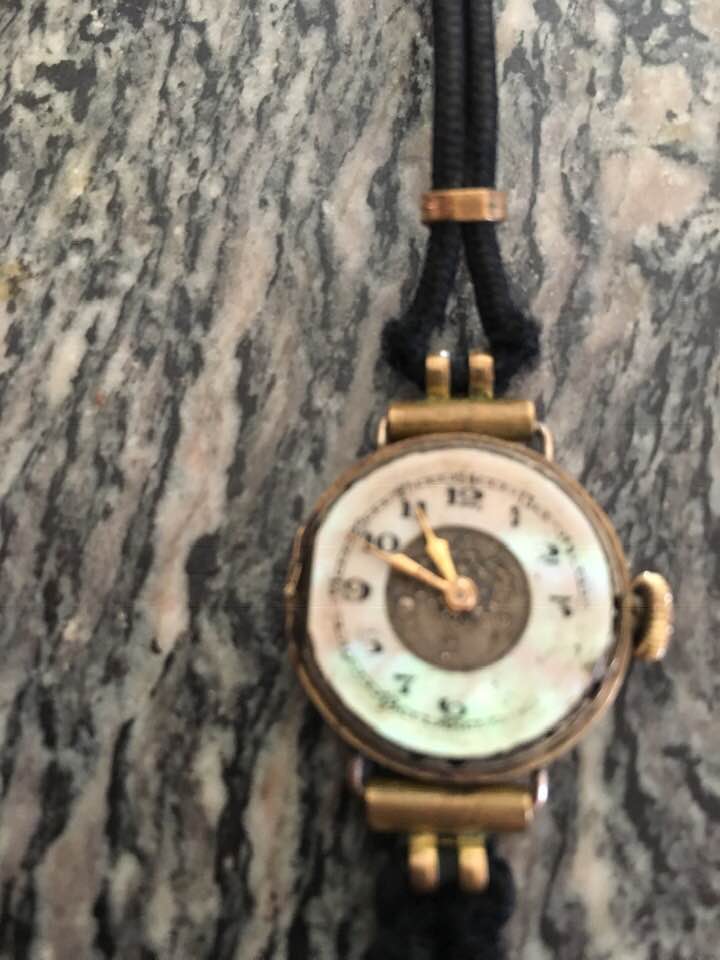 This watch once belonged to a Jewish woman from Norway, taken away and murdered in Auschwitz, Poland. One travels a long way to die. 
---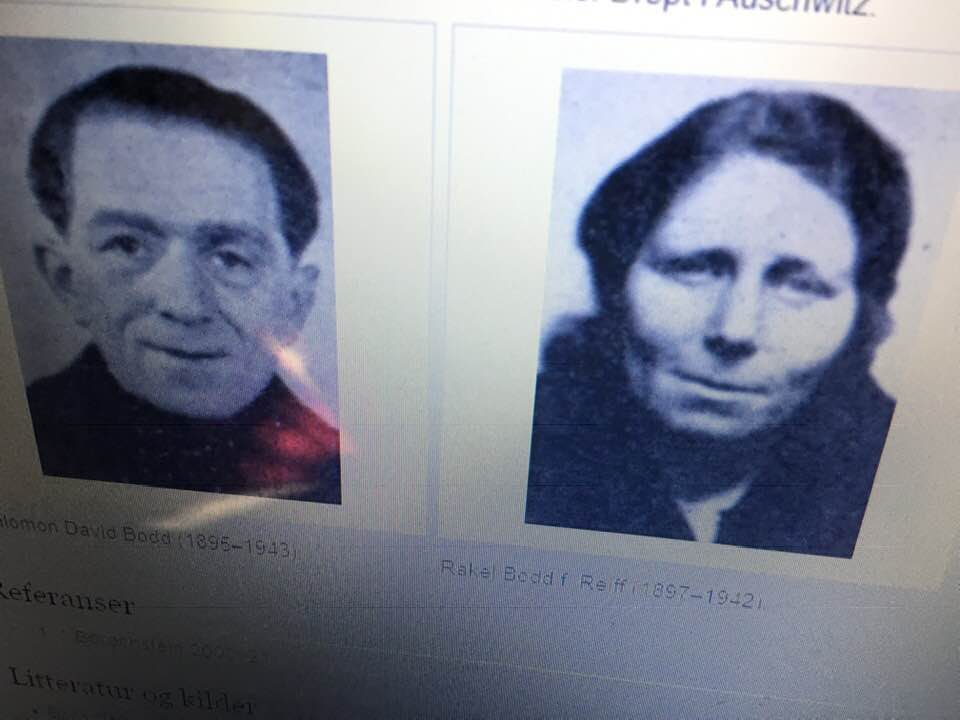 Solomon David and Rakel Bodd, of blessed memory. 
---
I am here in Vienna, the capital of Austria, all is well, quiet, enjoying my morning coffee in the lobby. But not for a moment do I forget, not for a second.
The past lives in every breath I take and every view I see. It was here that it all began, the Dark Years that descended upon humanity and brought mankind to its lowest point in history.
I arrived here from Norway where I heard a fascinating story. Holocaust stories are nothing knew to me. But a Norwegian Holocaust story, from the source, this is something to be treasured. 
It is the 1940's, a Jewish Norwegian family lives peacefully in a peaceful country, in harmony with their neighbors and friends. they are Solomon David and Rakel Bodd. But the Evil Ones arrive from another land, and life changes. Opportunists and collaborators help round up the Jews that the Germans themselves could never hope to find. Rachel sits at home with her lovely daughters.
A man enters, politely, in plain clothes. He puts his hand on the couch and begins to speak. He is here to take away the family.
Norway, such a beautiful idyllic land; taken from here and shoved in a cattle car, doors locked shut, no food, crowded, taken to Auschwitz to be gassed. One travels a long way to die. 
Mother Rakel "accidentally" sits on the man hat and crushes. She looks at him with fake sympathy and says, "this must be very hard on your". 
To lose a hat, to lose a life. 
Rakel's daughter Mary had a very dear friend. She gave her personal watch to this dear friend, to hold on to it until it can be safely returned. But the family never returned and never was heard from again. 
There were two daughters, the older was Mary, and the younger bore a child at the young age of 16. When the Nazis came she gave this child to a friend, for safe keeping. 
To the Nazis even a Jewish baby was a terrible threat, and no Jew had a right to live in the new world order. So they sought out the children that were hiding. They came to the orphanage where this child was being kept. A kind woman took the child home to raise it as her own, she saved this child. When he grew up he learned the true story of his life. 
He is now a man of 75 and has publicized advertisements seeking anyone who knows more about his family. 
As I am being told this story I am sitting and enjoying coffee in Frogner, Norway with my dear friend, IKI Instructor Morten Wang and his father, my dear friend Mr. Terje Wang. 
Marys' dear friend was non other than Morten's grandmother, Terje's mother. They grew up with this story. And now the story reaches an exciting point. 
The Wangs saw heard about this man, Mr. Bodd, and have contacted him. They wish to return this holy sacred relic of the family to its rightful heir. This historic meeting will take place sometimes this week and we are excitedly waiting to hear about it. 
I am sitting here in Austria where not so long ago Hitler, a native of this land, preached that we, the Jewish nation, are Untermenschen, lower creatures, subhumans. It is very easy to lose faith in mankind, such a lowly opportunistic selfish creature. and yet, a story like this, the Bodd-Wang story, gives one a glimmer of hope, that there are some good people after all. There is some hope for mankind and humanity. 
God destroyed the generation of flood, the generation of evil doers, and still had faith that mankind can correct his ways. It is up to us to prove that God is right.
---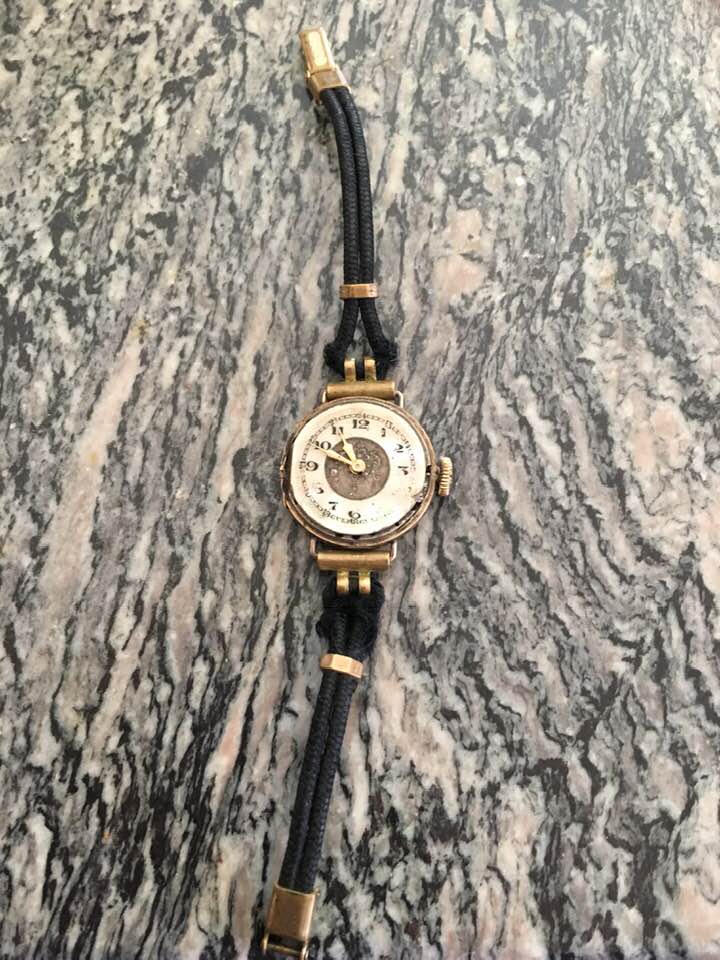 ---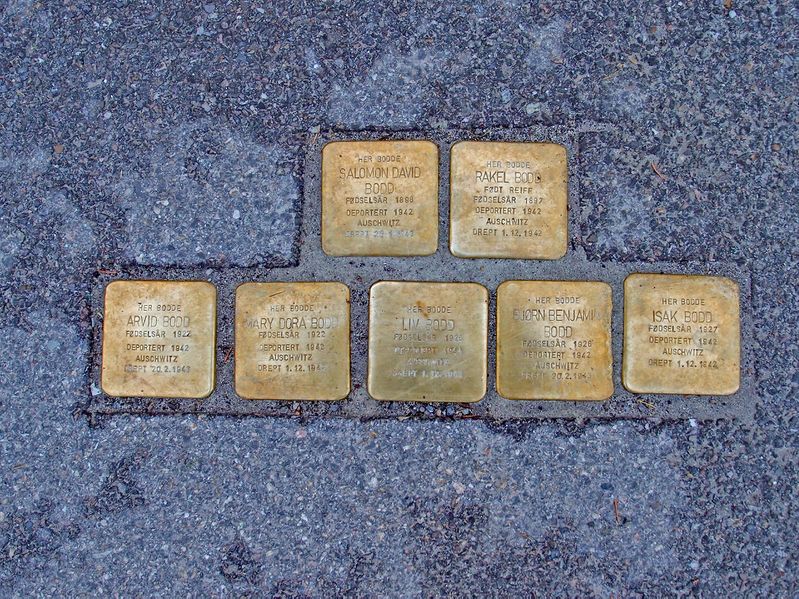 Stolperstein, the stones used to commemorate Holocaust victims by marking the last place of residence before deportations. These stones in Norway mark the last place the Bodd family lived. As you can see from the stones they were killed in Auschwitz. 
The Bodd family came to Norway from Lithuania around the year 1900 to seek a better life. 
Josef Bodd  (1890–1957) kom til Norge i 1903, og det virker ikke som om han kom sammen med foreldrene. For å kunne virke som skreppehandler måtte man være femten år gammel, og han oppga derfor 1888 som fødselsår.
Josef Bodd (1890-1957) came to Norway in 1903,
Isak Perez Bodd kom til Norge omkring 1900, og fikk et par år senere sin familie hit.
Isak Perez Bodd came to Norway around 1900, and brought his family a few years later.
Jacob Bodd (f. 1894, d. 1942/1943), rabbiner og kantor i Oslo. Gift med Kaja Pauline Klein (1906–1942). Begge drept i Auschwitz.
Jacob Bodd (born 1894, d. 1942/1943), rabbis and offices in Oslo. Married to Kaja Pauline Klein (1906-1942). Both killed in Auschwitz.
Salomon David Bodd (1895–1943), skredder på Lørenskog. Gift med Rakel Reiff (1897–1942). Begge drept i Auschwitz.
Salomon David Bodd (1895-1943), tailor at Lørenskog. Married to Rakel Reiff (1897-1942). Both killed in Auschwitz.
Mary Dora Bodd (1922–1942), sydame på Lørenskog. Drept i Auschwitz.
Mary Dora Bodd (1922-1942), south of Lørenskog. Killed in Auschwitz.
---