On The Job
Guest blog by Pat Honan
Intro by Moshe Katz

---
November 26, 2017, Israel and Australia

---
I am always learning. IKI is always evolving. We develop our techniques here in Israel, teach them to our members at seminars, at Tour and Train, and via DVDs and our On Line program. And then we wait for feedback.
Our instructors and members include people from all walks of life; top level security experts, police officers, security guards, government agents, military, bounty hunters, prison guards, school guards, and "ordinary" people. We learn from their feedback. They are our eyes and ears in the field.
Our man in the outback of Australia is Pat Honan. He joined IKI, came to Israel twice on Tour and Train and in fact met his wife here and then he invited Esther and myself for a multi day seminar in Australia.
Night after after, into the small hours of the morning, Pat and his team protect the establishments of his area, and they put our techniques to the test. Let's hear some testimony in Pat's own words.

---
Hi Everyone.
Today started like most; phone rings after going to bed at 2.30 am. At 9 am and the sun was shining; all good.
I play with my two German Sheppard's Wolf and Coco for a few minutes, shower and get ready to go to work. My day job can be easy and some days not so easy; abuses, threats of violence or just been sworn at. But that's OK as long as they don't try and touch me in a bad way.
With all this going on I think of life how good or tough it may be for me. And I believe anyone who owns and operates a security company as I do must feel the same. So I was told by some locals how they hit police two days before with iron bars and rocks, opening up their heads. And I ask why as its 11am and they are still drunk from the day before. It's our country and they think they can tell us what to do. 'Go figure that one out and I've had the same things happen to me and my men over the years, these types of attacks.
But we only have our left and right and our wits or if we are lucky a stick they dropped comes in handy. (Pat and his men are unarmed) My night time job in a normal European establishment started great until I refused entry to  a large man from overseas, South Pacific race, has a good job and no excuses to look for trouble. He is educated with a good profession.
Is he a person of fame? I know the answer is NO. I try to be nice, get a glass of water for him and he attacks me, puts me up against a steel fences and says I am going to Fk you up. Next second, bang he hits the deck I help him up and he start again then my security team are there in forces police take him away.
But what aim saying is attack has no trade mark and a simple strike I was shown in Israel worked well. But he just did not look like the type to do this but with alcohol, drugs and whatever, these things happen.
One thing I did say after was thank God I train regularly and it came without thinking. Krav Maga in our style of IKI is simple and fast and works well in the work place. The sad thing is attacks will never stop and no matter what they may look like we must always be aware and stay alert.
Even after a long shift and little sleep but for Joe Blow who knows nothing the day it comes will change their lives forever. So do something, be prepared you don't have to work in security to be attacked, we are the harder targets. We must all be ready.

Pat Honan
IKI Krav Maga Instructor

Out Back Security
Central Australia

---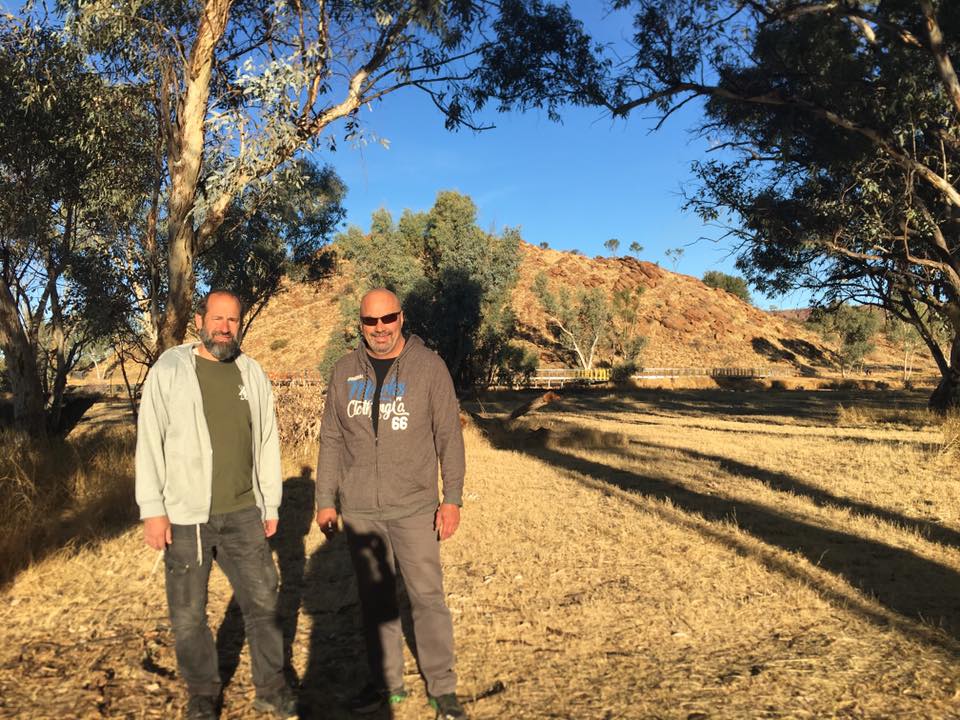 Moshe and Pat in Alice Springs, Australia.

---