Pain connects  


BY MOSHE KATZ 
CEO
ISRAELI KRAV INTERNATIONAL

---
March 20, 2022, Israel
---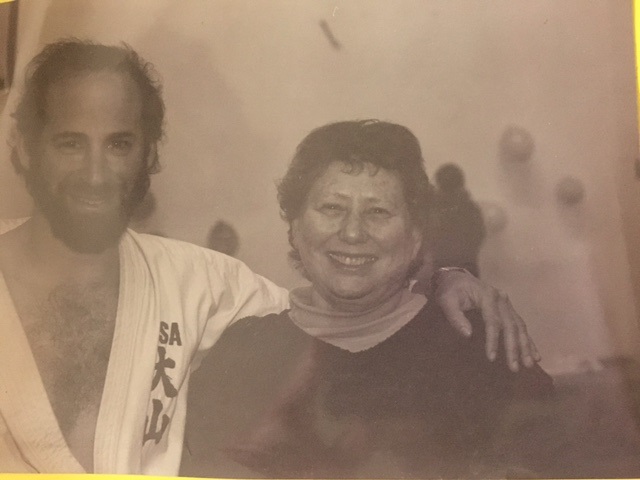 ---
about 61 years ago my dear mother, may she rest in peace, gave birth to a son. I am sure she was thrilled. I can just picture her beautiful smile. Oh what I would give to see that smile again! What I would do to see her smile. As Al Jolson sang, I'd walk a million miles for one of your smiles, my mame.
True words, so true.
My world has come crashing down, my house has collapsed and no bricks are still standing, like an Israeli house hit by a rocket from Gaza and I am standing in the ruins wondering how to continue. 
And people, well meaning people offer useless advice. They try to soften the pain. But I do not want the pain to be softened, I want the pain to guide me. More than anything I know that the pain connects me. 
When my father passed away in 2004 I was left in a state of utter confusion. At first I felt him very close and could hear his voice. As time passed the pain was numbed, and I was saddened. With the lessening of pain came the lessening of the immediate connection. My father's image, his lessons, are daily with me. He is a huge part of who I am, he is a huge part of IKI. It is his upbringing that defines IKI today. "Prove it to me! Where is it written? What do YOU think? Don't just repeat what others have told you."
My father was different, he would say we should not limit ourselves, he always said, "Labels are for bottles, not for people." With IKI I pass on the legacy of my dear father, Rabbi Paul M. Katz of blessed memory.
My mother's passing is still very recent. The kind words of...things will heal in time, are no comfort for me, not at all. I do not want to hear that ...things will get better. She is not coming back, so how can things get better? She is gone from this earth for ever, what comfort can anyone offer? How empty and hollow those words of comfort sound.
But the pain is a great treasure. The pain is feeling her near, seeing her as if it were just a few minutes ago. I do not want the pain to diminish. It would be like getting used to poverty when one is used to being rich, getting used to flying coach instead of First Class. No, do not get used to it, for that would mean complacency. We want to fight to get back to the top. But of course death is so final. I recall her saying that during the Shiva, the period of mourning for her father, she or one of her sisters said, can you believe we will never hear Abba's (father's) voice again. It was at this point, my dear mother said, that she realized how final death is.
and now that moment has reached her, and me. I will never hear her speak again. I will never again, say, "Hey Mom, Good morning".  I will never again be able to say, "What can I get for you Mom?"
my world has crumpled.
And what can I do?
I can carry her legacy. During the Shiva/mourning period volunteers spoke of her big heart, how she not only volunteered, for decades, but how deeply she felt the pain of others. Each child who needed help, each immigrant who needed aid, she knew them by them, she knew them by heart. Their pain became her pain.
What makes one a great Krav Maga instructor? There are many factors, but the key one I have always said is love, you must love your students as your own children, protect them as you would your own children. When it becomes a matter of "technique" it becomes static and dies. But with love comes pain. When you love someone you feel their pain intensely. Your pain connects you with this person. I share in your loss, I share your pain; these words connect people. When you do not feel the pain of the other, you are disconnected from them. 
As a Krav Maga instructor I feel the pain of others and try to find the best solutions, in each and every country, for each and every individual. The pain connects us. 
I feel the pain deeply now for my dear mother, and she is close to me. I yearn to take care of her, to push her wheelchair, to bring her to the hospital, to buy her Zero Coke, or her protein drink, Ensure Plus. My house is filled with tissues, toilet paper and all sorts of things I over-bought for her, that she should never lack for anything. If she would say, Moshie, I need more tissues, I could calmly say, Don't worry, Mom, we got plenty. We have everything you need. We are always overstocked. 
The attempts of others to comfort, when they have not experienced this type of loss, are appreciated but of little help. Getting over the pain and returning to "normal" are not options. Feeling the pain, living with the pain, growing from the pain and remaining connected through this pain, are the only desirable options. 
There is more to life than happiness. My life has meaning, beyond personal happiness. My life is about giving, as was my mother's, although she was a happy and grateful person. The pain keeps me close to her. The pain keeps my life real. 
Start at 0:32
---
Start Your Real Training Today 
Or is someone coming to save you? 

IKI Krav Maga on line Distance training -  Leading to ranks and certification.
Tour and Train Israel Experience
Personal Training - If you are interested in personal Krav Maga training please contact us on the form below.
---
---