Patience Teaching
By Moshe Katz
CEO
Israeli Krav International

---
June 22, 2018, Israel
---
He (Hillel) used to say: ... A shy person does not learn, and an [overly] strict person is not one who can teach. (Talmud, Ethics of the Fathers, Chapter 2)
Teaching involves patience, more than we can imagine when we first start out. Oh my...patience, remain calm, be patient. 
A rabbi told me, wait seven years to see results. Seven years! that long?
Turns out he was actually being conservative in his estimate. Many times I have had to wait 20 or 30 years before seeing the results.
Another rabbi told me, Teaching is like planting, you plant a seed, you water it, and you hope that the right amount of sunshine and rain come along at the right time. 
True wisdom. 
If there is one word that describes the art of teaching it is patience. And tolerance and trying to understand another person.
We often think that patience refers to the slow learner, or to the one who is not talented, the one who finds it difficult to learn new material. But the truth is sometimes our greatest test is with the opposite. 
Unless you are teaching one on one, most teaching involves a group. The group dynamics are among the most difficult to handle. This is because the more advanced students often are impatient with the slower learners. We the teachers must not only be patient with the slower learners but also with the impatient faster picker uppers, the talented and gifted students. 
These gifted or experienced students will often show the greatest intolerance towards others. They will not train with them, they will complain that the "weak" students are holding back the class. It is here that we must show the greatest patience, towards the advanced or gifted students. 
A teacher must be tolerant, not overly strict. If he is too strict with the student who needs more time, he will lose that student. But the stronger student might complain that you did not "handle" that student correctly. The advanced student wants to see you showing no mercy, no tolerance, no forgiveness towards those who need a little more time.
A true teacher must find the balance, with a smile. 
I think of my teachers throughout the years, of the times they showed patience and tolerance, of the times they let certain things slide, of the times they pretended to ignore certain "offences", and I know how I must be. 
Balance, Patience, Tolerance, Understanding. If you do not possess these, you are not a teacher. 
---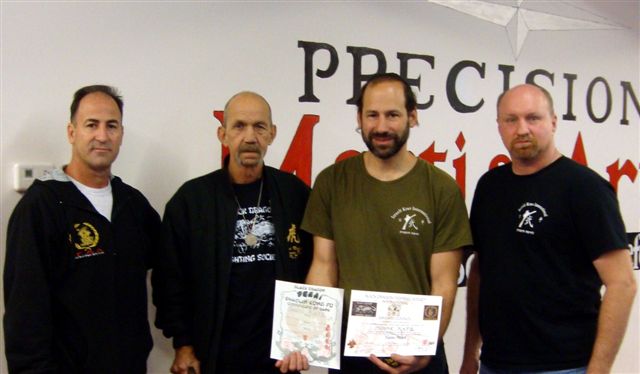 Moshe with other true teachers, Joe Cayer, Dr. Day, and John Liptak, to be a teacher. 
---
Visit our other site

Israeli Krav International.com

---
Start Your Training Today

Tour and Train Israel Experience
Personal Training  - If you are interested in personal Krav Maga training please contact us on the form below. We can send an instructor to you.

---
---