Royce Gracie in Jerusalem
By Moshe Katz

---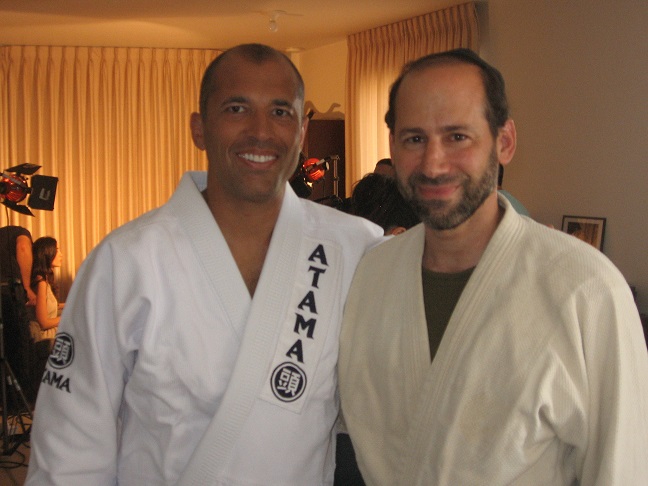 Royce Gracie, Moshe Katz, Jerusalem, Israel

---
When my friend at the American consulate contacted me to let me know that none other than Royce Gracie would be in Jerusalem, I immediately made room for it on my calendar, this was an opportunity not to be missed.
For those who do not remember, back in 1993 an unknown Royce Gracie from Brazil took the martial arts world by storm with his family's unique style of jujitsu, eventually known as BJJ; Brazilian jiu-jitsu.
A new competition was arranged, called the UFC, the Ultimate Fighting Championship, in which fighters from many different arts would compete against each other. There would be no weight classes, no rules and no time limits. Royce defeated fighter after fighter, often men much larger and more muscular than himself. He became the ultimate champion.
I told Royce that I remember watching him when he received his $60,000 championship prize and was asked what he would do with the money. He had said, "I am going to Disney land". "Yes", Royce told me with a big smile, "I promised my mother I would take her." That is a good son. 
Before long fighters from all over the world were signing up to learn "Gracie Jiu-jitsu" or BJJ. What emerged was a new sport, a new form of martial arts. It became known as "Mixed Martial Arts" or simply "MMA".
And now the man himself was coming to Jerusalem.
Our seminar started late, but it was a blessing as Royce would say. The local martial arts channel came to interview Royce and film highlights of our seminar. The interview was a treat.
Royce came across as a very happy, modest and strong man. "I notice you are always laughing" said the interviewer, "Well, that is because life is good. It is all good. If a flight is cancelled people at the airport are shouting at the airline employees, 'Why did you cancel my flight'. I am happy. I would rather they find out about an engine problem while I am here on the ground rather than in the middle of the flight, 'ladies and gentleman we are experiencing engine trouble', I don't want to hear that while in the air."
Even his losses were positive experiences for Royce. "Everybody losses eventually." He said he fought Kazushi Sakuraba for an hour and a half and lost, "but it was the second longest bout in history, second only to my father, how could I be sad?" Later he was declared the winner in a rematch vs. Sakuraba.
Diet
Renzo leads a clean life style; he never drinks or smokes and eats mostly fruits and vegetables.
Family
Royce's family played prominently in the interview, clearly his four children are his pride and joy and he referred to his four year daughter as the only person in the world who can get what she wants out of him.
"How did you meet your wife?" "I was teaching a seminar at a gym, she was an aerobics instructor at the time, working her way through medical school. We hit it off right away and began dating that very first day."
Although Royce has been to Israel many times and loves it here, he has a fondness for the food as well, his wife has never been here. He told me she is nervous because of what is shown on television. Clearly our "friends" in the international media do a great disservice to Israel and discourage many from visiting here.
Helio
Again and again during the interview Royce referred to his father Helio with the greatest of respect. Helio is "the man", the ideal father and the ideal fighter. "Who would win if you fought your father?" My father would win, and easily" said Royce.
Royce stated that his goal is to be to be more like his father, a well rounded, calm man. He said that his father had an incredible understanding of fight strategy. "Before every fight I would call him up and describe everything about my opponent. He would then give me an accurate strategy for the fight; he was always right on, very exact and precise."
But, "my father would say, 'don't' hurt your opponent if you don't have to, submit him'". Royce said his mother was the tough one. She would take the phone from her legendary husband and say, "Now you forget everything your father just told you and you listen to me, hurt your opponent and hurt him bad, send him to the hospital."
Childhood
Helio was 30 years older than his wife. They have seven boys and two girls. All the boys learned to fight, as did all their male cousins. "When did you began your Jiu jitsu training"
Royce: "We start our training as soon as we can walk. But it was not thought of as training, we did not realize we were training. It was presented to us as fun, as a game, we start grappling as soon as we can.
All of us trained in Jiu jitsu and we are competed, but never against each other. Over the years I have been offered a great deal of money to fight my brothers but I never did."
UFC
Royce feels the UFC has changed a great deal over the years, with many new rules and regulations. He said he is considering fighting again.
Q: Who is the best fighter in the UFC today?
Royce: I cannot answer, there are so many great fighters today. There are so many great athletes.
Women vs. Men
Royce feels that women Jiu-jitsu fighters are much more aggressive than the male fighters. "Men are thinking, 'if I hit him hard he will hit me hard.' But women do not think of the consequences, they just go all out."
When it come to real life self defense Royce feels men and women should take different approaches. "I teach women to get out and escape, do not fight the man, he will overcome you with his greater strength and size. With men I teach if you can fight the man then fight him."
Life
Royce comes across as a very happy fellow. Life is always good. There is no bad. "If I want to do something, so I do it today not tomorrow.
Challenge
"I love a challenge; I am always looking to challenge myself."
The Secret to Success
"What is the secret to your success?"
Royce - He points to his head and says, "I know what I am doing."
---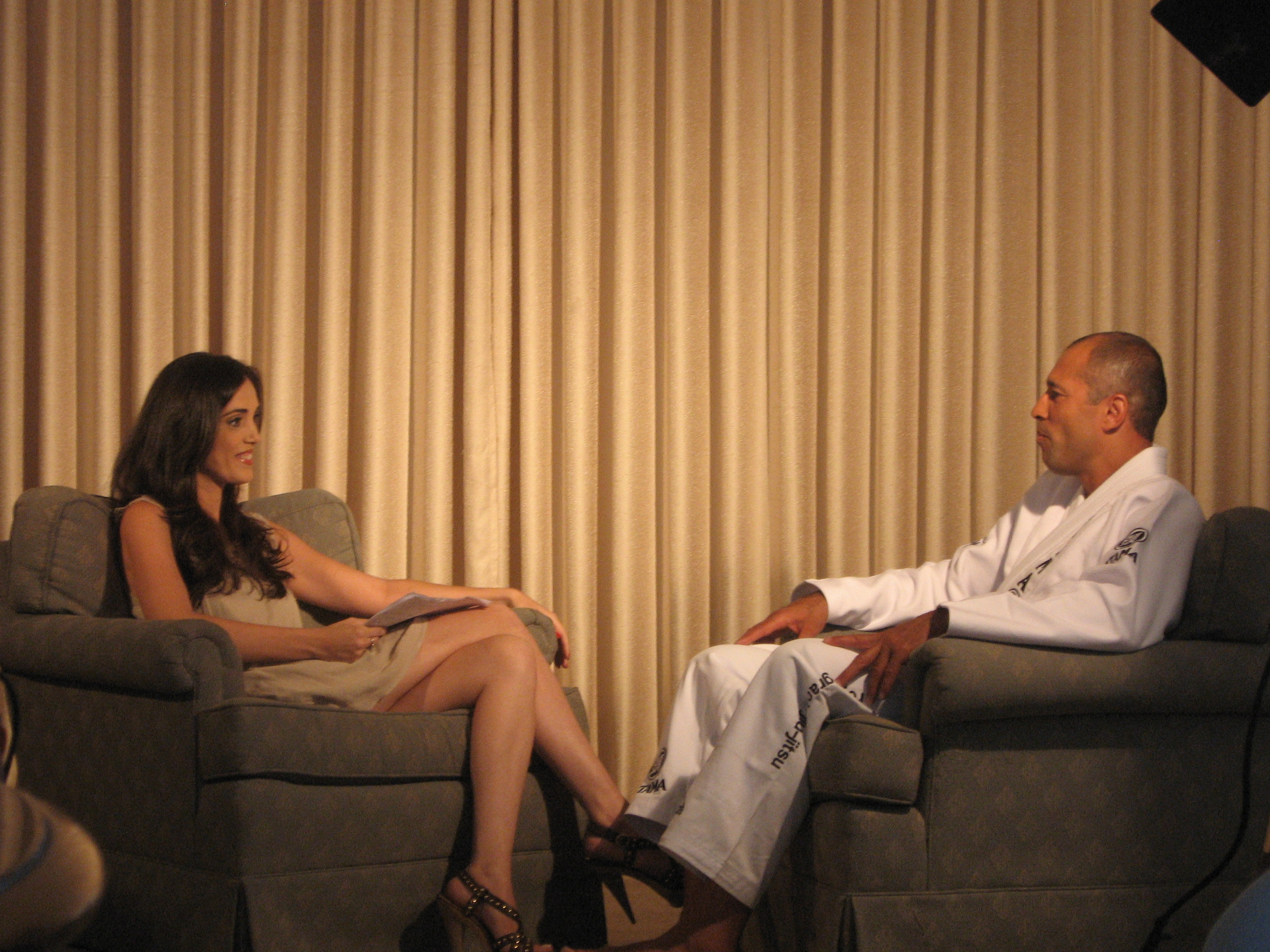 Royce Gracie being interviewed by Israeli TV
---
Royce teaching in Jerusalem, Israel, July 2010.
---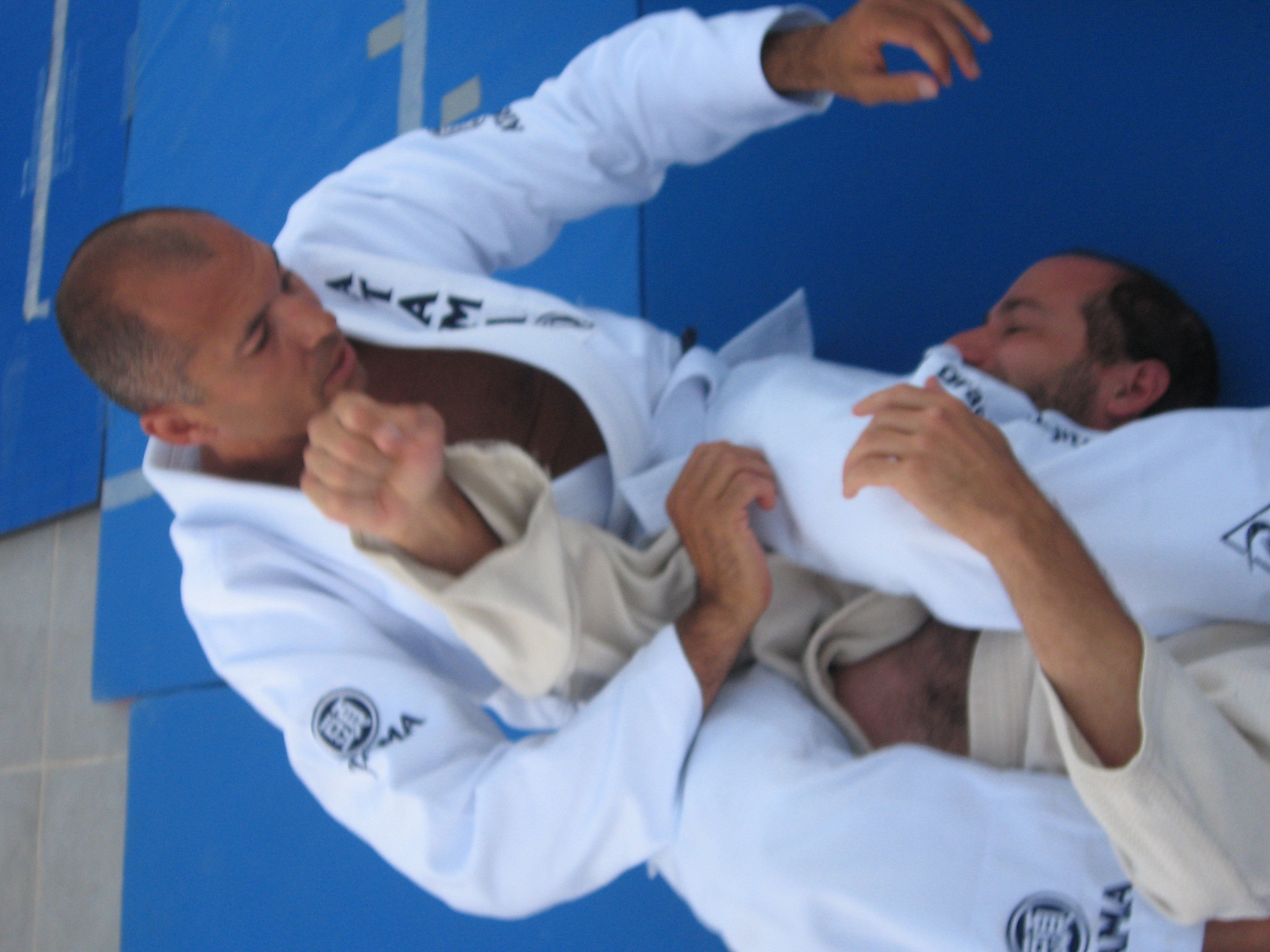 Royce and Moshe discussing arm-bar technique.
During the seminar Royce proved himself a caring and thoughtful teacher with an eye for details. At one point when he felt people were not following his detailed instructions, he said, "Will you understand it better if I say in Portuguese? He then continued with a long explanation in very colorful sounding Portuguese, none of us understood a word but we didn't need to, the sound effects and the visual were enough; we got it.
The seminar was followed by a buffet dinner hosted by my friends from the American consulate; they had a "Kosher table" and a non-kosher table. They were very strict about providing totally kosher food.
At the end of the seminar Royce had a "fight" with our host's ten year old daughter. She "submitted" Royce with an arm bar and was promoted in rank. It was a happy ending for all.
Our multicultural group after the seminar, Jews, Christians and Muslims training in BJJ in Jerusalem. 
---
As a Krav Maga instructor it is always interesting for me to train in another style. One can only gain from having an open mind.

---
For Krav Maga merchandise, T shirts, DVD's