Terror Attack
By Moshe Katz
CEO
Israeli Krav International

---
September 26, 2017, Israel

---
The Day of Atonement is upon us: Who shall live and who shall die? Who by fire and who by stone?
Three young men will not be present at the synagogue this Day of Atonement, their young lives ended tragically this morning. Many more will miss services because they must stand guard, "The Guardian of Israel shall neither rest nor slumber". (Psalm 121)


 Early this morning Arab workers approached an Israeli town, as they do every morning. Every precaution was taken. One worker who was known to the guards approached. He was a regular worker, had no issues, was fully licensed and approved. He was not a trouble maker. Many thousands of such workers enter Israeli towns every single morning. The vast majority just want to make a decent living doing very hard work.
And yet our security forces, always alert, noticed something about him today.
He "aroused the suspicion" of officers on the scene, who called for him to stop. The terrorist then took a pistol out of his shirt and shot at the Israelis, before being gunned down, police said.
All reports indicate the security guards acted correctly and followed procedure. They prevented the terrorist from entering the town and inflicting worse damage. But the guards paid with their lives. Three are dead, one injured.
He killed a Border Police officer and two private security guards, all in their 20s. Their identities were being kept under military censorship in order to allow their families to be contacted. They all sustained gunshot wounds to the upper body. (The Times of Israel)
The terrorist was shot and killed on the spot.
Israel Police Commissioner Roni Alsheich praised the response of security personnel at the scene, saying a border policeman and a policewoman in a nearby jeep opened fire on the attacker, "otherwise he could have entered the town and carried on with his murderous errand."
It seems there were no mistakes. The head of the local council said,
"Our workers and security coordinator worked as needed,"
As always I ask, what can we do? What can we learn from this? And the sad truth is that sometimes despite all our efforts we will not manage to completely eliminate all threats. They did manage to prevent a greater attack. They did save lives but it came at the cost of their own lives. Sometimes all our training will not be enough to save our own lives.
Years ago my teacher said that our goal is to minimize damage. Even he never claimed to have a full solution to every problem. Who shall live and who shall die is not determined by us. We make our greatest effort but sometimes the decision is against us. Sometimes we are just out of luck.
We mourn the terrible loss and we vow to train harder but the ultimate verdict of who shall live and who shall die is not ours.

---
Comments
---
and these wonderful young people
which have prevented so much more suffering
by their attentive action will not be on this earth
while Jom Kippur, they will be near Adonai
Stefanie Braun, Germany

---
Train with us in Israel
---
Join us in Israel, experience real Krav Maga training and life in Israel first hand. Visit sites of religious and historic importance. Experience a trip of a lifetime, a trip that will change your life. Two weeks of training and touring. Meet local Israelis. Meet soldiers and security experts. Train in all aspects of Krav Maga. Walk in the footsteps of King David.

Tour and Train Israel Experience
The trip is open to all; veterans and beginners, we guide each student according to his own way as it is written in the book of Proverbs, "Guide the young one according to his own way, even as he grows old he shall not depart from the way"  (Proverbs 22)

---
Visit our other site

Israeli Krav International.com
---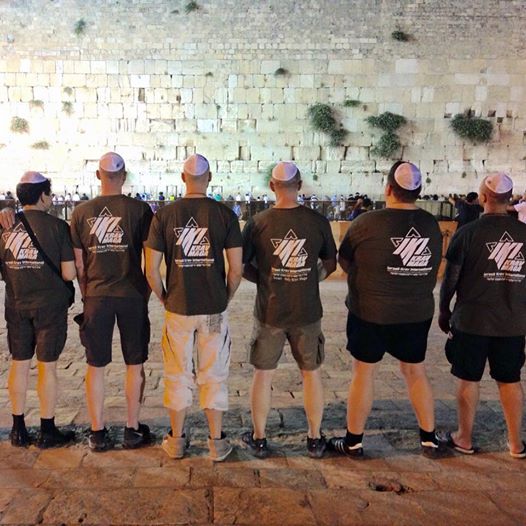 Members of IKI Germany stand with Israel, Western Wall, Jerusalem

---
---