they will come


BY MOSHE KATZ
CEO
ISRAELI KRAV INTERNATIONAL 
---
August 5, 2021, Israel
---
There is a scene in one of the episodes of Cobra Kai. Daniel San is now an adult, a married man, successful in life and in business. And then life takes a sudden, unexpected, turn for the worse. He is feeling lost one day as his life seems to be unraveling. He is walking along the beach and from a distance he sees a Japanese man, fishing. His teacher, his mentor, Mr. Miyagi, has long since passed away. But somehow it seems that there he is, there is Mr. Miyagi, alive again, relaxing and fishing. Can it be? Can our dreams, our wishes, our fantasies come true? Can our past come back to life when we need it most? How often do we dream; if I can only see him/her one more time, if we can have just one more conversation, Ahh...what I would give!
Daniel hurriedly, cautiously, walks up to him as the Japanese man calmly focuses on fishing, on being in the moment, Zen, serenity, no worries. As Daniel approaches him, the man turns to look at him. Of course it is not Mr. Miyagi, the past remains buried, the man looks at Daniel. Daniel makes a comment that this fisherman reminds him of an old friend.
And then Daniel looks at the fisherman's bucket, pretty empty. Just to make conversation he says, "Slim pickings today", or something along those lines. (I can't exactly remember). The fish are not biting today.
And then the young but wise Japanese man calmly responds, "They will come. If you have something worthwhile, they will come. You just need to be patient."
Daniel remarks that this young man is more similar to his old friend that he realized. Daniel walks away.
In my mind Mr. Miyagi has indeed appeared to his student, his disciple, Daniel San, and offered him one more lesson, one more conversation that we all yearn for, one more piece of advice. If you have something worthwhile, something of value, you need not worry, they will come, the fish will come, the students will come, if you have something worth offering, something of true value. 
A few years ago I was at Caliber 3 training camp with our group of Tour and Train. We made a regular habit of including some counter-terror training in our program for visiting students. We came a few times per year with 15-20, sometimes 25 students. One day the leader of Caliber 3 complimented me on the "high quality of people" that I bring to their training center. 
I did not understand. 
But eventually I did. 
I did not understand at first because I had not recruited these participants. I had not chosen them. They simply signed up on-line, paid, and came to the Tour and Train Krav Maga program. What did I do? Why did I deserve the credit?
And, In what ways where these "quality people"? 
At first I did not understand, but it was explained to me; "Moshe, you bring real gentleman and women, you bring doctors, lawyers, pilots and martial arts masters from all walks of life. You bring retired military personal and special agents, you bring good moral people, you bring a high level of intellect."
But still, why do I deserve credit for the random people that found my website and signed up?
Because it was not random. 
It was not random that they found me. Our Representative in India, did not randomly find me. Our lead instructor in Australia, did not randomly find me. These men, very successful in their business life, researched me, for years!
After years of reading my blogs, my website, without even viewing any videos, they chose to take the plunge and buy very expensive tickets to come half way across the world to train with me. This is very significant for understanding who we are. These leaders, just like the "quality people" mentioned at Caliber 3, chose us, they chose IKI because they are discerning people. 
Side track now...
a young group from Miami comes for Tour and Train. They remark to me, "Moshe, you are sitting on a gold mine but you don't even know it.", that is true, I have no clue what they are speaking about. They explain that our Krav Maga is the gold mine, it is the best they have ever seen, but my marketing belongs to an era that has passed.
I took this to heart. I went to see a website specialist. She analyzed my website (your krav maga expert) as well as the 75 leading Krav Maga websites. Her conclusions were unforgiving and harsh. "Your voice comes through loud and clear on every page, that much is true. You clearly express who you are and what IKI is all about. But your site is for professors. Look at the other sites: the images change every few seconds, attractive young women, muscular men, beach training, bikinis, instructor training. It is exciting and catchy. Now look at your site, content, content, content. Not enough photos or videos. You have to understand that the average modern person has a five second attention span and the average American has a 5th grade reading level. You are not going to reach the masses with your site. You are a dinosaur."
Wow, I had never been called a dinosaur before, somehow I did not think it was a compliment. I finally understood what she was saying. 
I consulted with friends, including other Krav Maga instructors. One dear friend (technically a competitor), said, "Moshe, if you take this persons' advice and change, you will no longer be the Moshe we know, love, and respect, you will become like all the others."
I kept my old website. Eventually we did add a new, more commercial website, as business seems to demand, but I kept my dinosaur website. And that is me. It will bring to me the people who are right for me. As the fisherman said, if you have something of value, they will come. They will seek you. They will find you.
I was walking the streets of Jerusalem. I had recently returned home after spending 4.5 years in Brooklyn, NY, studying and trying to save some money. A man hands me a flyer, it is for a karate school. This reawakened my interest. I had trained very seriously in New York in the Oyama system with Saiko Shihan Shigeru Oyama, but when I arrived in Israel I had to focus on find a job, a place to live, adjusting to life here again. Karate would have to wait. But this flyer got me and I was ready to return.
I visited this school a few times but it was never open. Next door was a gym operated by my friend Alon. When he understood my karate background he said, "This place is not for you, I know a better place." and he slipped me a flyer under the table. It was Itay Gil Free Style Survival, Karate Full Contact. Thus began my new path.
I found my way to Itay, not via advertisement but from a world class athlete (world champion weight lifter) who said...if you want value, this is the place to go. The old way, word of mouth, quality talks.
And the rest is Krav Maga history.
If you have something of value, they will come...
---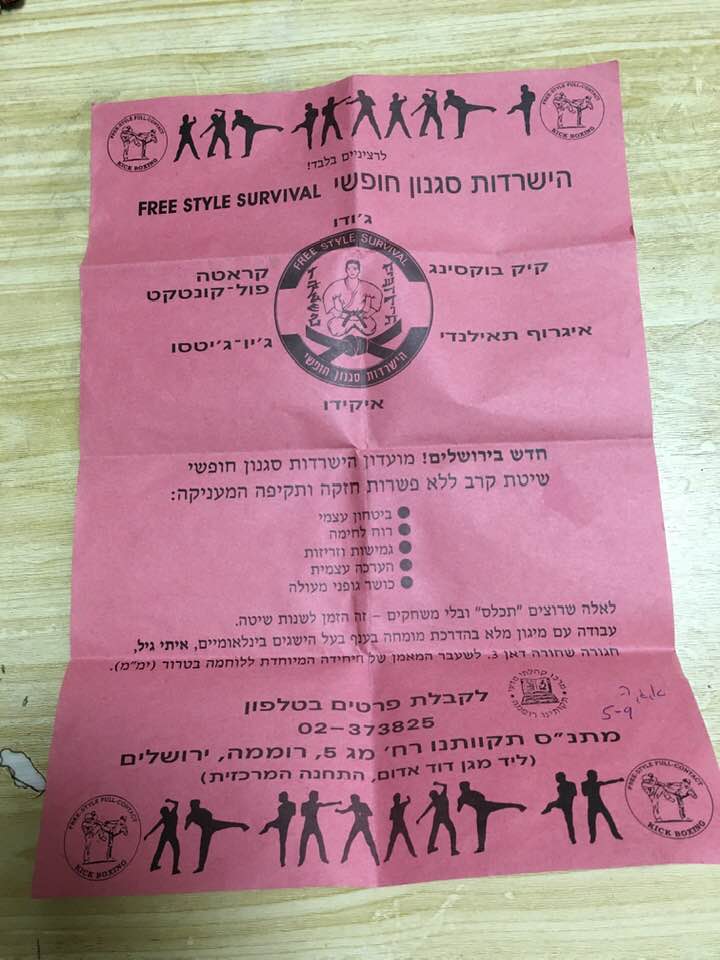 the flyer that changed my life....

---
IKI Tour and Train counter-terror training

---
Start Your REAL Training TODAY
Or is someone coming to save you?  

IKI Krav Maga on line distance training - Leading to ranks and certification. 
Tour and Train Israel Experience
Personal Training - If are interested in personal Krav Maga training please contact us on the form below. 
---
---
---