Tour and Train June 2012
They came from all over the world; USA, UK, Switzerland, Germany, Australia, Israel, South Africa, and even Croatia, Japan and Iceland.
For up to 14 hours a day we train, talked self-defense philosophy, tour the land and learned the real history of Israel and Krav Maga.
We trained in Street Combatives, escapes from impossible holds, chokes and grabs, defense vs handguns, rifles, sticks and knives. We trained indoors and outdoors, in and around cars, hostage situations and airline takeovers.
We trained with members of Israeli Special Forces and learned the mentality and techniques of Israeli counter terrorism.
A special bonus on this Tour and Train was the arrival of my teacher from long ago and long term friend "Shidoshi" Frank W. Dux.
Shidoshi, as I call him, (His instructor title in Japanese) was one of my first martial arts instructors back in California in the 1980's, long before "Blood Sport" came out. The film "Blood Sport" a martial arts classic, tells the story of Frank Dux's fights and tournaments. For many of the members of Tour and Train, and those we encountered at the Caliber 3 Fighting school, it was a dream come true to meet their childhood hero, Frank Dux.
I must admit I got a bit of a thrill going up to some of the Krav Maga and shooting instructors and saying, Do you know whom Frank Dux is?
Sure, of course, Blood Sport, why?

Moshe: Would you like to meet him?
What you talking about?

Moshe: He is right here, would you like to meet him?
What kind of stories are you making up Moshe?
and sure enough all the combat instructors had their photo taken with Frank, and then one of them went up to the administrative office and said that now that he has shaken the hand of Frank Dux he believes he is entitled to a salary increase. (He did not get it)

All members of Tour and Train went home new people, with a deeper understanding of Israel, and themselves. Several tested for belt ranks and even instructor ranks. Many plan to return, ..until next trip...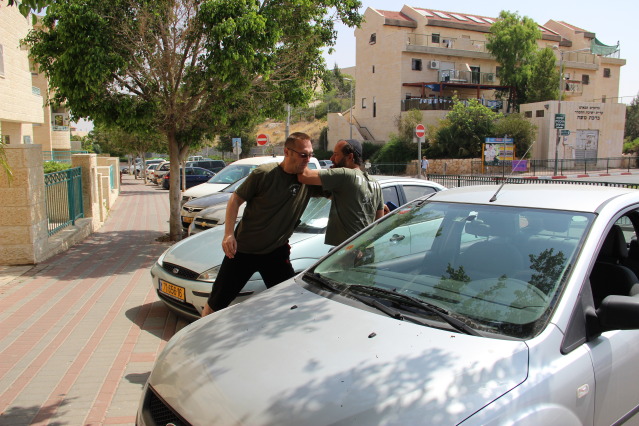 Self Defense in and around a car. Here Srdjan from Croatia is playing the part of a would car thief attempting to attack me as I was unlocking my car.

---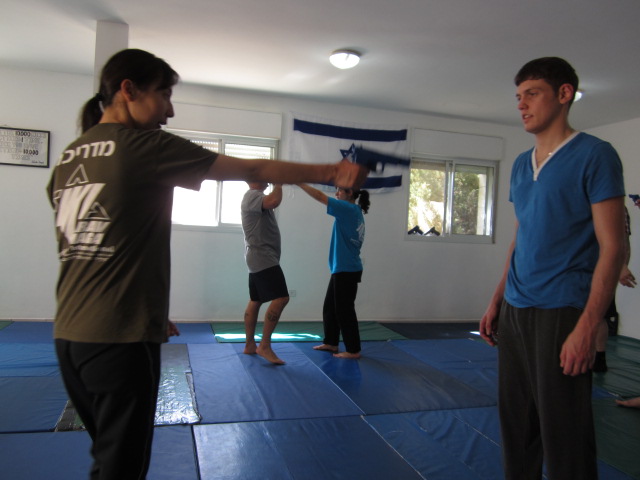 Shiori from Japan and Rob from United Kingdom, IKI Gun defense.

---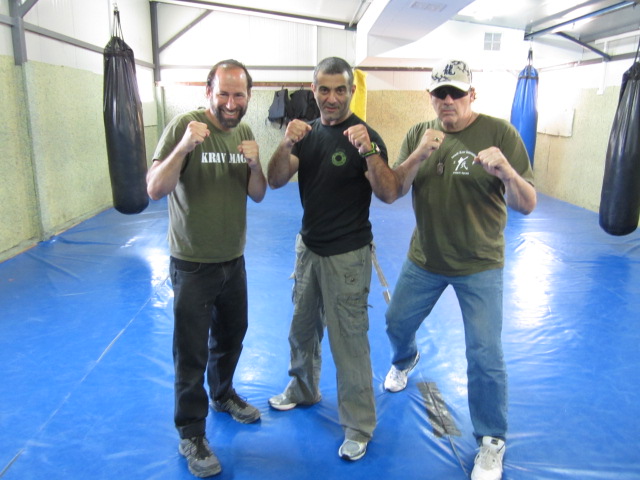 Moshe Katz, Mordi Glam, Frank Dux

---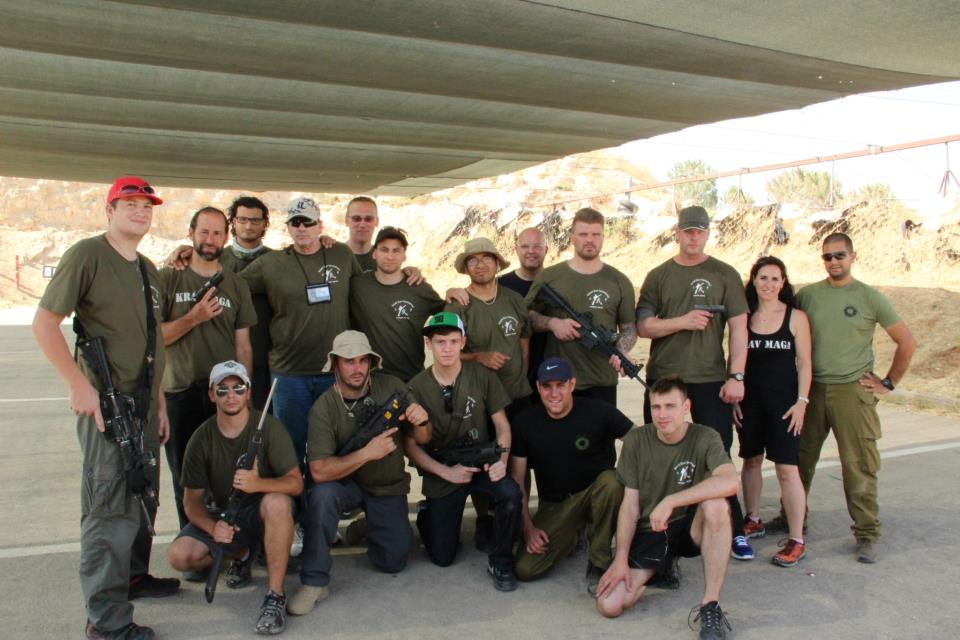 The gang at Caliber 3 with Special Forces Instructors.

---
Frank Dux teaching IKI gun disarm techniques to our guys from Iceland; Steini and Oskar.

---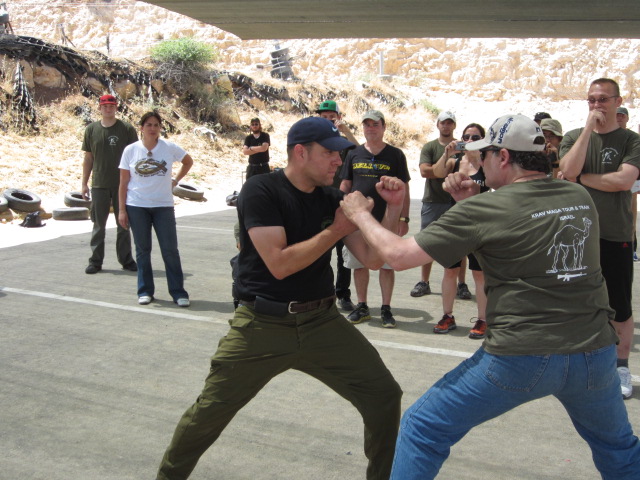 Frank Dux squares off with Israeli Counter-Terrorism expert Steve Garr.

---
Frank Dux takes aim.

---
Frank Dux had an amazing week with us; training, shooting, touring and meeting combative Israelis from all walks of life. At the Yad Va Shem Holocaust memorial he also met some long forgotten family members. Yad Va Shem keeps the memories of our people alive and has archives with the names of those murdered by the Nazis. Dux found exact records of many family members who perished in the ghettos back in Poland in 1942. He made a generous donation to the institution.

---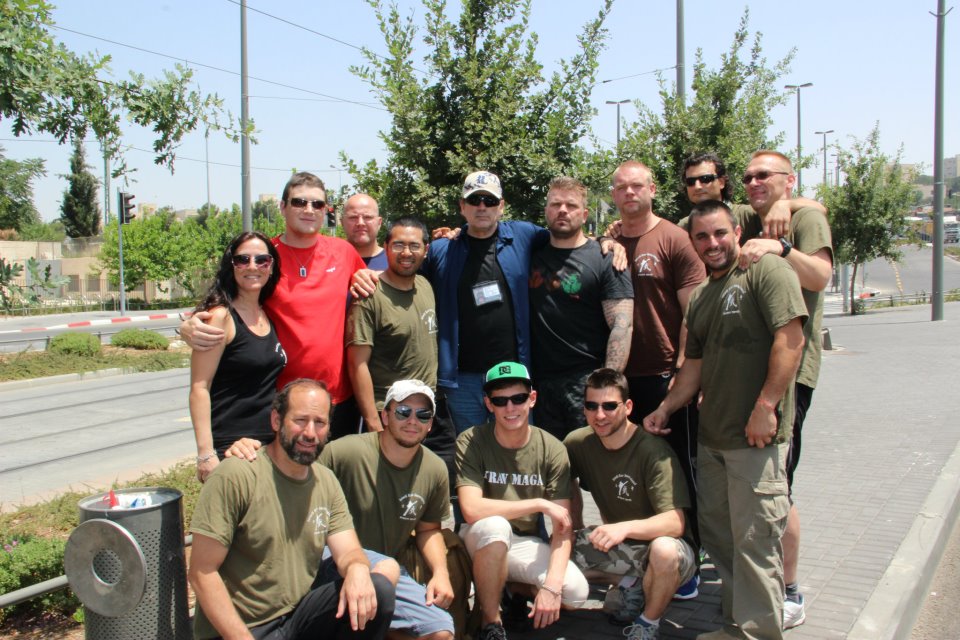 Saying goodbye to Frank Dux, Jerusalem,

---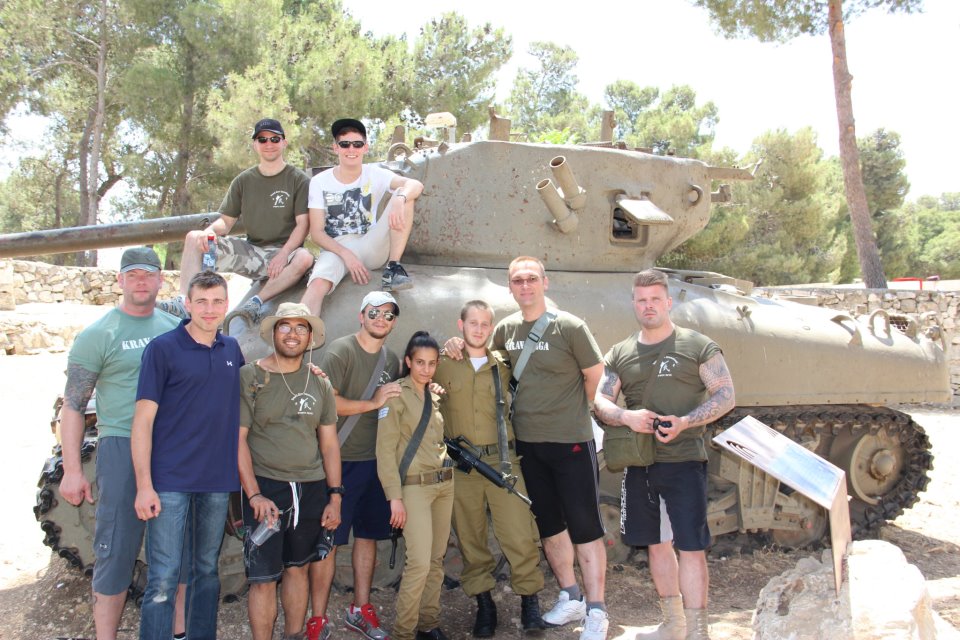 Members of Tour and Train at Ammunition Hill in Jerusalem, site of one of the key battles for the liberation of Jerusalem in 1967, We are joined here by members of the Israel Defense Forces.
We saw a detailed film and explanation about the 1967 Six Day War, toured the original battleground and met Israeli soldiers who come here themselves to learn "Battle Heritage". It is here that my nephew Arie was sworn in as a paratrooper. He saw action in the Second Lebanon War.

---
For more information about the Tour and Train program see
Upcoming Tour and Train dates
September 19, 2012 - October 1, 2012
November 11 - November 22, 2012
June 10- June 20, 2013