Traverse City First Krav Maga Seminar
By Moshe Katz, Krav Maga instructor, Israel

---
DTW, Detroit airport, Delta Gate,
Nearly five hour drive to the airport, rain, traffic but I made it on time, picked up my Starbucks coffee and souvenir mugs, at the gate with plenty of time. Now it is time to relax and think.
My first seminar in Traverse City, Michigan, a place I had not heard of until recently, who would have thought! Northern Michigan, stayed in a cabin in the woods, forests, raccons, chipmunks, deer and a dog named Hannah.
For my host, IKI Instructor Colby Taylor, this was the first Moshe Katz IKI seminar he was hosting, I believe the first of many. Others in his place might have hesitated; small town,  seminar held in a small church, economy less than booming, but Colby took a leap of faith, along with good planning and hard work, and succeeded.
He carefully screened the participants, hand picked whom he invited or allowed to attend. We ended up with 27 participants including the pastors, two very dedicated Zionists and supporters of Israel. When I walked in I immediately noticed the Star of David, the Menorah Candlesticks and the flag of Israel prominently displayed. Adam Munzing asked; "You guys did all this for Moshe?" but they did not, these are permanent parts of their devotion and support of Israel.
IKI Instructor Michael Weingratz picked me up at the airport and drove me 4.5 hours to the cabin. Craig Gray and Barbara drove over 2 hours from Grand Rapids, and Adam drove 5 hours from Detroit. All four Michigan IKI instructors were present in a show of support for Colby's first hosting of a seminar; What a team! What spirit!

What a model of support and cooperation, helping each other out, could I feel anything but Pride! They came and participated and partnered up with beginners and helped plant Krav Maga in this community.
No jealousy, no competition, only brotherhood and cooperation. We must be doing something right.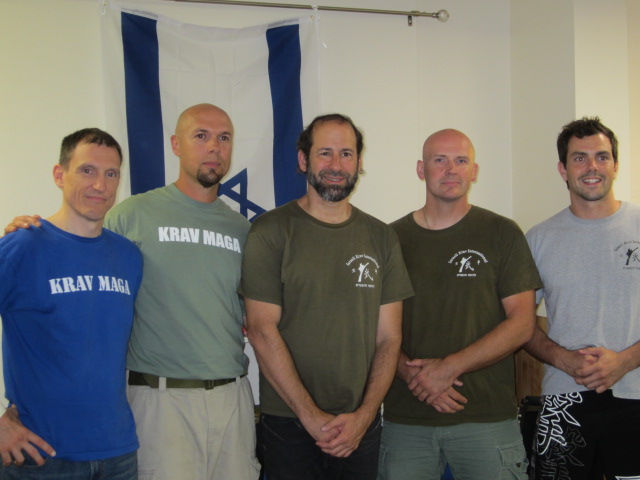 Michigan IKI Instructors; Michael Weingratz, Colby Taylor, IKI Head Instructor Moshe Katz, IKI Michigan Chief Instructor Craig Gray, Adam Munzing

---
But our training began before the seminar. We began with "Situational Training" in Colby's house. We dealt with attacks in the study while sitting and working, around the kitchen and in the living room.
But all the training would not have been possible without great will power. The location is remote, the flights challenging and expensive, the area not highly populated and Krav Maga is largely unknown

But there there is a will and determination - you succeed.
Our group, impressive turnout, impressive people.

---
Krav Maga Seminars
---
Moshe Katz offers Krav Maga seminars all over the world. At least twice per year he is in North America.
for more details and to book a seminar: Krav Maga Seminars

---