Krav Maga defense style taught at Hillel
---
By Missy Smith
---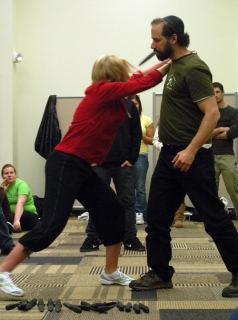 Media Credit: Ally Schlumpf
Group instructor Moshe Katz demonstrates a move Wednesday night at the Hillel Foundation with the help of Amy Giles , 30 of Illiopolis, Ill. Katz works as an instructor of Krav Maga for Israeli Krav International.
In a recent survey, 38 percent of college women have reported being victims of sexual assault, but only 4 percent reported it to the police.
The same statistics state that one in every four women will be assaulted in their lives at least once.
The statistics on the Web site, StepUpSelfDefense.com, paint a grim picture for women on this campus. It predicts that over 7,000 women will be assaulted while on campus.
Organizations have been rallying together, encouraging all students to learn some type of self-defense.
Hillel and the Zionist Organization of America collaborated to bring world-renowned Krav Maga instructor Moshe D. Katz to the Champaign-Urbana community on Feb. 20.
Katz explained the basics of Krav Maga to those who attended the workshop. He said Krav Maga is a self-defense technique that originated in Israel, which was born out of the need to defend themselves against their enemies.
Katz said Krav Maga is not limited to people of Jewish descent. Recently, it has grown in popularity and is now being used by law enforcement departments around the world, including parts of the United States and Australia.
"Krav Maga is eclectic," Katz said. "It borrows from many different styles, whatever is useful and practical at the time. It is always evolving."
Jason Yale, sophomore in LAS, said he was interested in learning more about Krav Maga because it is something that allows for more flexibility than other forms of martial arts.
"It sounds more like a martial arts for me," Yale said, "It is less structured than a karate class. I am interested in it because it has to do with Israel, but also because I would like to know how to defend myself if I ever needed to."
Katz stresses the idea that not all moves have to be done and executed exactly as he shows. While demonstrating the moves, Katz gave several options for people to use, varying in violence levels.
Katz said there was no right way to do Krav Maga, and the most important thing is to stay loyal to personal preferences.
"In real life, we are not all Rambo's," he said. "We have to improvise."
Improvisation starts with a mind set, Katz said. It starts with not allowing yourself to become a victim. The state of mind has an effect on the spirit of a person and can affect their physical ability because they already decided that they "can't."
Despite showing several different ways to defend oneself, Katz quotes the "Karate Kid" as his best advice.
"As Mr. Miagi says, 'the best defense is not to not be there,'" Katz said. "Be careful where you go, make sure you know who you are with, don't walk anywhere alone, know what kind of bar you are going to, avoid dangerous situations. The best defense is not to be there, that is the most important tip I could give you."
Sunny Hertz, sophomore in ACES, said she believes self-defense is something every woman should know.
"I think it's necessary for women on and off campus to learn some sort of self-defense because we are very vulnerable and a common target," she said. "Krav Maga is very easy to learn and there are simple things that anyone can do. I would like to bring an instructor to my sorority house."
Yonatan Lapid, Israel program coordinator for Hillel, said the Israeli army learns this as part of their basic training.
"It is pro-life," Lapid said. "The idea behind it is to defend yourself. It's not about aggression, it is about knowing how to not get hurt."
Lapid served in the army, as all citizens must when they turn 18, but luckily, he said he was never put in a situation where he had to use it. Still, he thinks it is very practical to know how to defend oneself and one's country.
Katz said he is happy to share his knowledge with anyone who wishes to learn about the martial arts because he feels knowing how to defend oneself at the minimal level is integral to every person, regardless of race, gender, or religion.
"I am happy to teach it to any law-abiding, good person," Katz said. "That is my only criteria."
For more information on Katz or Krav Maga, please visit the Israeli Krav International Web site, www.your-krav-maga-expert.com. Take the time to check out the self-defense tips page where Katz and other experts list hundreds of tips to help protect yourself.
---