Dreams Come True


By Moshe Katz
CEO
Israeli Krav International


October 9,2014, Israel
---
This afternoon I was walking around our town, on the way to the festive lunch for Sukkoth, the Feast of Tabernacles, when I heard the familiar sound of Russian language.
I looked and saw a very large sukkah, (hut that we build this time of year, for our holiday). It was filled with Jews speaking Russian, wearing kipot (head coverings, yarmulkes...) and enjoying the Biblical holiday.
And I thought....
I thought back to my days in New York, as a teenager. Every year we had "Solidarity Sunday" in which many thousands of Jews came out to stand in solidarity with our brothers and sisters locked behind the Iron Curtain in the Soviet Union.
I remember the many protests and rallies I attended. One, Two, Three, Four, open up the Iron Door, Five, six, seven, eight, let our people emigrate.
The Jews of the USSR were locked in. They could not practice our ancient religion and way of life, they could not emigrate to Israel. They were being forced into assimilation.
Rabbis could not reach, Hebrew could not be learned. Our traditional ways were being rapidly lost. For most Jews their only knowledge of being Jewish was the one aspect that remained: Antisemitism, they learned they were Jews because the Gentiles reminded them.
The first time I appeared in the newspaper I was 14 years old. We were protesting the Bolshoi ballet at the Nassau Coliseum in Long Island, New York. My dear Uncle Seymour was so proud of me.
When the great major protest took place in Washington DC my Uncle Seymour called me. He did not ask if I was going but how I was going.  Would I be going by plane, by train, by bus or by car ...
It was not If but how. That is our approach.
It is not, what can we do, but what will we do.
---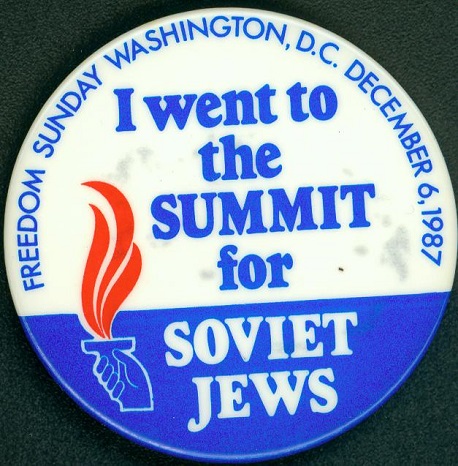 How time flies, and in those days is was just a dream

---
Our people were locked behind the Iron Curtain and many were locked in Soviet prisons for the crime of teaching Judaism.
My late aunt and uncle, Rose and Seymour Katz of blessed memory, made several trips to the Soviet Union. They found hidden cells of Jews learning Hebrew. They smuggled in books and religious articles. they met with the "Refuseniks", Jews denied the right to emigrate to Israel.
But the thought of seeing these Jews in Israel...was like a dream, a fantasy. How could it ever happen? How could anyone break the power of the USSR!
How dare we dream!

But yet, we dreamed and we believed. And we protested.

---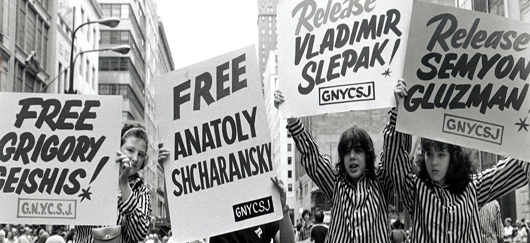 Protest for Soviet Jews, today they are in Israel, Anatoly Shcharasky, now Natan Shcharansky, has served in many Israeli governments.

---
I am sitting in the bank. My job: opening accounts for new immigrants. A woman who barely speaks Hebrew, a recent immigrant from the Soviet Union, apologizes for taking so long, for creating a long line. She is truly sorry. She is frustrated by her lack of ability to communicate in Hebrew.

I put down my pen, indicating that I am in no rush. I stop thinking like a bank employee and begin to think as a Jew. I say to her, "dear friend, there is no hurry. You see we have been waiting for you our entire lives. We have been dreaming of being reunited for so long. We protested in New York, in Washington, everywhere and demanded your freedom.
Seeing you is a dream come true. We have waited so very long. So please take your time and do not worry."

---
Again at the bank. A well dressed man wants to open an account, his Hebrew is limited to a few words. My Russian is not much better. He shows me his documents but he wants to tell me something.
He wants his name on the account to be different than the way it spelled on his official Israeli document. I cannot do that, it is against bank regulations.
He shows me a photo, a gravestone in Russia. I take a look. He says...Mein Zeide. Yiddish for "my grandfather". He wants his family name to be written as his grandfather had it written. Clearly some Soviet bureaucrat changed the spelling of his name.
The hell with bank regulations, I open the account with the name as it was written by his grandfather. No wonder I no longer work in the bank.
He waited so long to come home to Israel, to be free. The least I could do was give him back the name they took away from him, the name of his grandfather.
---
And today, so causally, I hear the sound of Russian speakers, of course their children converse in Hebrew. They are home.
"And as God returns us to Zion we shall be as dreamers" (Psalms)
It seems so natural today. We hear Russian all over Israel. But think back just a few years and this was in the realm of an impossible dream, but it came true, in our lifetime, a miracle, the ingathering of the exiles.
Perhaps there will be a time when we will tell our grandchildren about terrorism but they will not be able to understand it, because it will sound so strange to them.
All over the world there is crime, rape, home invasions. And we are doing something about it. We are training and teaching IKI Krav Maga, a system that anyone can use.
We have a dream, it seems impossible now but I have seen stranger dreams come true, in my lifetime.
Keep dreaming, the impossible dream may yet come true.
My uncle asks...how are you getting to the protest?
My answer cannot be, Oh, uncle, this is a waste of time, stop dreaming, the gates of the Soviet Union will never open, the USSR cannot be beaten, it is nothing but a fantasy. No, we take one step at a time. And we continue to believe the impossible dream, even if it does not come true in our lifetime.
In my lifetime I have seen planeloads of Jews coming home from the former USSR, from Yemen, from Ethiopia, and from the USA. I have seen Biblical prophecies come true.
And just a generation ago we saw the Dry Bones of Ezekiel come back to left, as prophesied, and become the greatest army in the world.
"Give us our share" and our share is Krav Maga, IKI Krav Maga, a system for all. And daily we work towards our dream, to empower people with real skills, and to "take a bite out of the crime", to allow young women to attend university and not become the 25% who report being raped.
In the early 1960's a small group of American college students had a dream, to break the Iron Door open and "Let my people go".
They must have seemed insane to the bystanders. But they started the ball rolling. Who knows what effect they had. But today that dream is a reality. Any Jew from the former USSR who wants to come home can do so.
As I was walking to lunch, and hearing the sounds of Russian spoken, I was reminded. I was reminded that "no matter how distant, no matter how far" we should never give up our dream. Never, even if it is an "impossible dream".

---