Krav Maga Instructors Canada
---
Mario Schiopu, Vancouver

---
Mario Schiopu with Moshe Katz
---
Mario spares no effort in his goal to become the best Krav Maga practitioner and teacher possible. On numerous occasions he has flown to attend seminars with IKI Head Instructor Moshe Katz in Arizona, California and of course in Canada. Trained in Romania as a top athlete and competitor Mario continues to be a leader in the fitness and self defense field.

---
· Mario (Marian) Schiopu is certified Israeli Krav International (IKI) Black Belt Phase 2 Instructor in Vancouver British Columbia, and a 3 dan Karate Black Belt, recognized by the World Karate Federation (WKF) and International Olympic Committee.
· Mario is authorized Full Force Padded Instructor with Kid Power International, certified High School Strength Conditioning Coach, and certified Youth Fitness and Nutrition Specialist.
· In addition, Mario is a Registered Holistic & Sport Nutrition Consultant and an assistant coach Athletic Conditioning for Karate BC competition team, and a nutritionist adviser for International Martial Arts Association and Las Vegas Karate Do.
· In his qualities, Mario designed specific self defense programs for kids, youth and adults, to fit the need for all ages and genders. But his focus is not only on personal safety, but also on a healthy lifestyle approach, including Fitness and Nutrition that should start at an early age.
· For more information about Mario's lifestyle, visit his website: http://mariofit.ca/
· For Krav Maga private lessons, or any inquiries in regards to his Boot Camps, nutritional counseling and other programs, please contact:
· Phone: 604 725-9002
· e-mail: info@kravmagaselfdefense.org ·
website: http://kravmagaselfdefense.org
· For available locations and a free introductory offer, send a text: 604.757.0799
---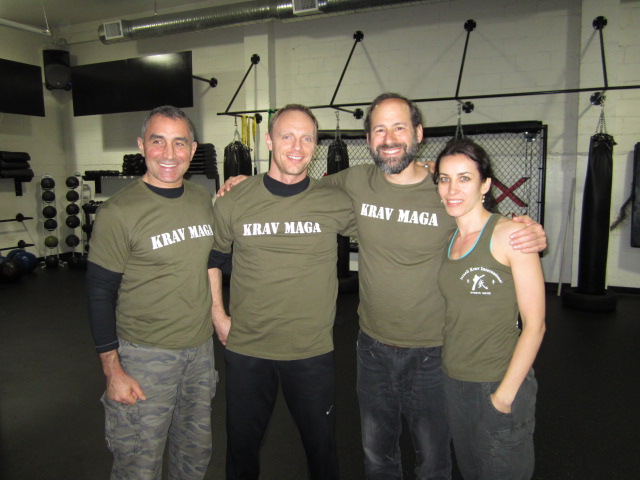 Mario Schiopu, Laurian Lapadatu, Moshe Katz, Daniella Schiopu.

January 1, 2015
With great pride and honor I would like to announce the promotion of my friend and student Mario-Marian Schiopu to second dan black belt in IKI Krav Maga.
I have known Mario for many years, we have shared many thoughts about Krav Maga, life and a common Romanian heritage, and I have found him to be a most extraordinary human being; kind, intelligent, honest and loyal.
He was one of the top elite Romanian Karate men and athletes in his home country before moving to Canada. Today he is a teacher of Krav Maga and Karate as well as a top fitness trainer and expert on nutrition. Most of all he is a gentleman.
I am proud to promote him to second dan, but I am even more proud to all him my friend and a friend of Israel.
---
Hit and Run Self Defense
---
James Chartier and Louisa Weizmann
---
---
Louisa and James are Israeli Krav International (IKI) black belts and certified instructors. They are both veteran martial artists, gold medalists and long time self-defense teachers with over 25 years experience. With multiple black belts in Karate, Jujitsu and Krav Maga, they have trained with some of the best and are proud representatives of the IKI.
They both possess a deep commitment to providing their students and clients with the best self defense tools possible. They are excellent instructors because they care deeply about their students and because they themselves are excellent students. They train with a rare level of dedication and enthusiasm. In January 2014 they were both promoted to IKI Krav Maga Black Belt second dan after demonstrating an outstanding grasp of the material.
---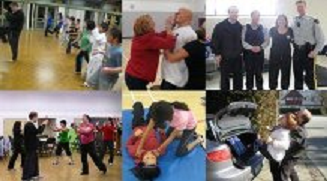 Louisa and James have developed many specialty programs designed for kids, women, men, seniors, law enforcement and security staff that have received great recognition and awards. As a smaller female self defense teacher, Louisa brings a unique knowledge and perspective to street safety, preventative measures, de-escalation, anti-bullying and assault prevention.
Having been featured on TV and in newspapers, James & Louisa are committed to providing students with the very best self-defense tools possible. True martial artists and truly concerned with helping others, they are driven to constantly improve. With true humility they remain students even as they guide and empower others.
In January 2016 they were both promoted to IKI Krav Maga Black Belt third dan after demonstrating an outstanding grasp of the material.
---
Join any workshops or ongoing classes throughout the year ("drop-in" trial available).
James Chartier and Louisa Weizmann
Hit and Run Self Defense Ltd.
Office: 604-447-4357
Web: www.hitandrunselfdefense.com
Email: info@hitandrunselfdefense.com
---
Jonathan Fader, Vancouver
---
Jonathan is a multifaceted martial artist as well as an IDF veteran.
---
Though young, Jonathan Fader has already had a diverse and rich life that has ultimately led him to dedicating his life to teaching people Krav Maga, Firearms Safety and Tactical Shooting.
Jonathan has experience in the field as a Occupational Health and Safety Consultant and holds a Certificate in this from BCIT. In 2008 Jonathan began training Krav Maga with now business partner Borhan Jiang. In 2009 he joined the Israeli Defense force where he was in the 84th Infantry Brigade Givati, 424th Battalion Shaked. There he was trained as a light machine gunner and Infantry Sniper. He spent much of his time in the west bank protecting both the settlers and the Palestinians. He has experience with riots and police work such as arrests and patrols. After his service he returned to Canada where he started to train Krav Maga again with Borhan and Marcus Torgerson. He also began to train Brazilian Jiu Jitsu with team Megaton under Trevor Clarkson but later moved to train with Canadian 2 time world champion Scott Boudreau at Budo Mixed martial arts. In 2012 Jonathan and Borhan Decided to start Urban Tactics Krav Maga Inc. in order to combine their martial arts, firearms and tactical knowledge in order to offer the best possible education to those who wish to defend themselves. They now have two schools in Burnaby and Richmond in the Metro Vancouver area. Jonathan has also recently started to learn Kyokushin Karate in order to further develop his skills as a fighter and is currently going Kwantlen Polytechnic University to attain his BA in psychology. He also holds instructor certifications in other organizations but is happy to join IKI as an apprentice instructor.
For more credentials: http://www.urbantacticscanada.com/#!additional-instructor-qualifications/c2335
Website: http://www.urbantacticscanada.com
Blog: http://www.urbantacticskravmaga.com
Email: jfader@urbantacticscanada.com
---
George Hutchings,
Toronto region, Ontario

---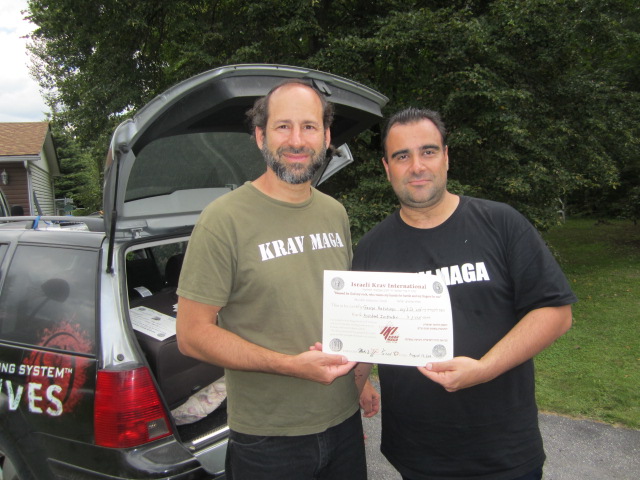 ---
George Hutchings has been training in Martial Arts and Self Defense Systems for over 16 years. He has trained military, law enforcement and security professionals as well as civilians. George holds instructor certifications in other Krav Maga Federations as well as in close quarter combat. He is a certified phase 2/Assistant instructor in IKI Krav Maga. George Hutchings also holds numerous black belts.
In August 2013 George flew in IKI Head Instructor Moshe Katz for a week of intensive personal training. This demonstrated clearly his dedication to becoming the best instructor he can be. During this time he proved himself as a very capable instructor with a deep understanding of self defense and Krav Maga. on August 13, 2013 he was promoted to Brown Belt and Assistant (Level Two) Instructor in IKI Krav Maga.

About their training:

"Other areas of focus in our classes/training include: Situational awareness, Verbal De escalation, Proper use of force, use of non lethal technologies, creating a command presence, alertness and mindset, anti rape, anti bullying, personal protection, and dealing with all levels of conflict (pre, during and post)."
school and class info,
Hutchings Combatives Classes and private lessons are available for children, teens, men and women. We have programs suitable for civilians, security and law enforcement professionals and even military. Ask about our law enforcement/military discount.
Contact us for a FREE Private Session
contact information,
Hutchings Combatives 705.770.3564 Call or Text

www.learnisraelikravmaga.com
---
Tactix GYM, Vancouver

---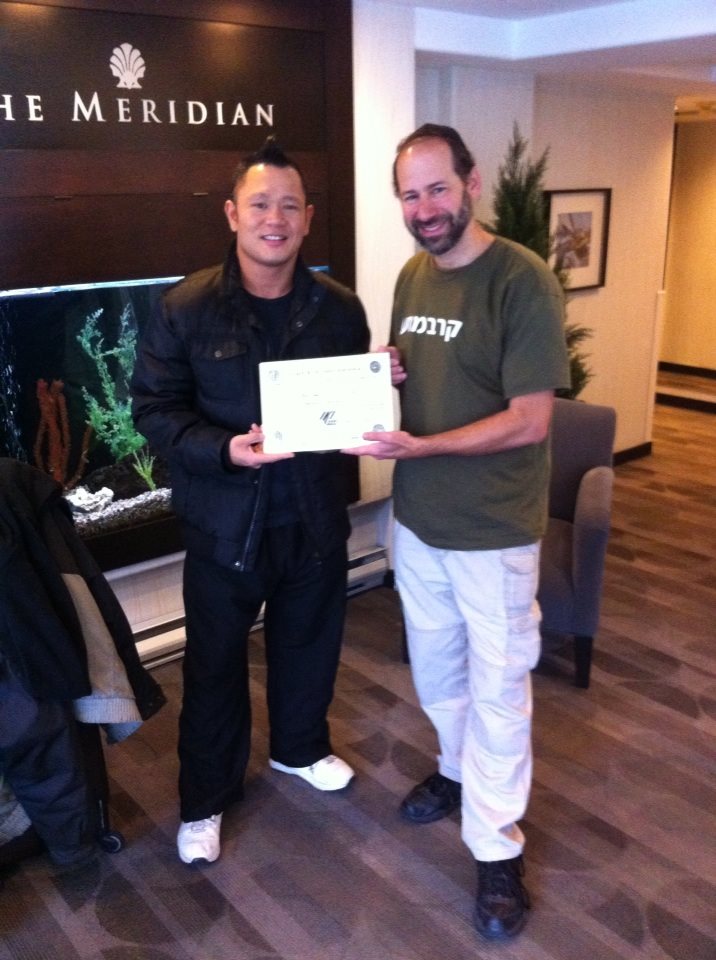 Allan Galang promoted to Apprentice Instructor, January 27, 2014. Allan is teaching at Tactix gym.
Address of the gym
TACTIX GYM
1449 Hornby Street
Vancouver BC
V6Z 1W8. Canada
---
Gary Bishop, Newfoundland
---
Promoted to second dan, February 2, 2017
Gary comes to IKI with life experience in martial arts and combatives. His rich background includes Thai boxing, western boxing and various other martial arts including other forms of Krav Maga and self defense. We are honored that he choose IKI as his path.

In this own words
"Training in real world self defense. Study on the physiological  effects of violence. Black belt in IKI Krav Maga. Apprentice instructor in IKI Krav Maga. Studied Krav Maga under Nir Maman. Study in the use of force, weapon retention and use of improvised weapons and use of the environment.
Highest ranking student with the self defence company level 10. Study without ranking in Silat /Kali Filipino martial arts. Member of the international society of close quarter combatants. Studying under Luke Holloway Raw combat. Studying in Iwama Ryu Akido
Level 2 instructor in cobra combat fighting systems."
---
Jose De Los Rios, Montreal
---
Apprentice instructor, June 2018
---
Jose joins us with 26 years of active service in the police force, extensive training and real life experience. He joined us in Israel for the two weeks of Tour and Train and stayed on for additional training. We are proud to have him represent us in Montreal. 
---