krav maga investment - invest in yourself  

BY 
MOSHE KATZ
CEO
ISRAELI KRAV INTERNATIONAL
---
May 7, 2014   

---
Krav Maga Investment
There are many kinds of investments in life. When we hear the word "investment" we usually think of the financial world; stocks, bonds, certificates of deposit. But there are other kinds of investments, such as investing in yourself. This, in fact is probably your best and safest investment.
---
 It has been ten years since my fathers' sudden passing. But he is with me, his lessons are with me, his wisdom and advice are with me.
He taught me to pay on time, be on time, respect other peoples 'time, respond to people's e mails and phone calls in a prompt manner and prepare for the unexpected financial crises. When others do not pay me on time, or answer my e mails in a timely manner, I wonder, what on earth is wrong with them? 
And then I realize, I cannot blame them, they did not have my father as a father. They were no privileged to be raised with his kind of sound advice. They did not have the role model that I had.  
But then, my father also taught me to forgive, and let go.

---
 Martial Arts Investment 
For years I gave up work and financial opportunities in order to invest in my martial arts/Krav Maga training. When I was preparing for my brown belt test I was offered a job in the mortgage department of the AACI (Association of Americans and Canadians in Israel). I was two weeks away from my brown belt test with Itay Gil. I accepted the position on the condition that I can wait two weeks before beginning the job.   Friends thought I was crazy. "Why risk a steady job for your Krav Maga hobby? They might find someone else in the meantime! Grab the job when you can!"
Win  If it is just a "hobby", if you are going to pursue it as a "fun" activity, don't even bother. 
I wanted no distractions in my pursuit of my brown belt; I was training hours a day to be ready for this test. I was doing all my techniques daily, running, jump-roping, running up stairs, lifting weights, pretty much like the Rocky movies, only for real. The very next day after my test I showed up for the first day of work at my new job, I was black and blue (and brown!), badly bruised and shaken, but happy and proud. 
In the short term it may have looked like a foolish decision, but in the long run it has proven to be a wise decision. A few years later the AACI had major cutbacks and eliminated my department, my job was no more. My Krav Maga, on the other hand, has lead me to trips around the world, financial security, and most important of all, the opportunity to have a positive impact on countless people all over the world and form wonderful relationships. My Krav Maga training has brought me untold blessings, beyond anything I could have dreamed of. 
Father's Advice 

Back in 2014, April 21 to be exact, I had a wonderful conversation with my dear father of blessed memory. I was considering going back to Karate College in Radford, Virginia. The cost was an issue.
I was not earning that much. The trip to the USA, for training at Karate College as well as training with Prof. Arthur Cohen and Rodrigo Gracie, was costly. The total cost came to the equivalent of one month's salary. i.e. 1/12 of my total income for the years.
I such situations I always consulted with my dad.
My father strongly advised me to go, he spoke to my about investing in myself.  
I asked about the cost of accommodations, there were several options: Private room with air-condition, shared rooms,...down to a hostel room with 4 participants and bring your own fan. My dad said, "You will be training all day, you will need your rest, you will need a comfortable night's sleep. Don't worry about the money, I will help you.  You must go and train." 
Sadly, this was the last conversation we ever had as he passed away to the net life early the following morning. I took his advice and continued to train at Karate College. I invested in myself. I traveled to seminars, I bought DVDs, I bought training equipment.  

---
Today (2014) I hold the rank of 6th dan in Krav Maga. Of course the rank is a symbol; the real rewards has been the training, the contacts, and the brotherhood of martial arts. 
Had I not invested in my continued training, I would still be teaching neighborhood children and kids' birthday parties. I would be bitterly complaining about my situation and wondering why I never got a "lucky break".
Skeptics may say, "Look at the expense, look at the time you are investing." They are thinking short-term and missing the real opportunity.
Not everyone will become a Krav Maga instructor, or grandmaster. This does not matter as sometimes the great reward is the change in one's personal life. I received the following words from IKI instructor Gary Hodges Jr. Basset, Va, USA, he wrote this after reading my blog, "Krav Maga Empowerment". 
---
Moshe, I think that blog sums up the character of IKI- We tend to help the ones who need it most and give them life saving skills and a new confidence that, it lets them follow their dreams. Not to mention the training improves the physical fitness level appearance and gives them skills that will work in real life situations. I want to thank you for all you have done for all of us in the group IKI. I am proud to have a Black Belt under you and I hope to always make you proud. They blog hit home with me so hard-Brit my friend that may as well be the daughter I never had has overcame so much and is now a fantastic athlete and great assistant instructor -IKI Krav Maga that I learn from you has helped her and many others who had all but lost hope-It is rewarding to see a smile and confidence in some ones eyes who once was timid,-You are doing great Things Moshe and I am proud to be a part of the IKI.
Gary Hodges JR
IKI Instructor, Second dan black belt

Lakeside Combat Club
---
With Gary Hodges Jr, November 2010, Christiansburg, Va
---
So often in life we are afraid; not just of attackers and assailants, but of ourselves. We are afraid to make decisions, we are afraid of life changes. We are afraid to take a chance on life. We are afraid to believe in ourselves. We gamble in the market, we gamble with our money, but we are too timid to gamble on ourselves.
You are worthy of investment, so invest in yourself. We all know how unstable the market is, so invest your time and money in something solid, something precious, something you can trust; yourself.
---
tour
and train israel experience 
---
Invest in yourself, come to Israel for two weeks and immerse yourself in authentic Israeli Krav Maga. You will come home a changed person. 

For more details
Tour and Train participants at Masada, ancient Jewish fortress.
---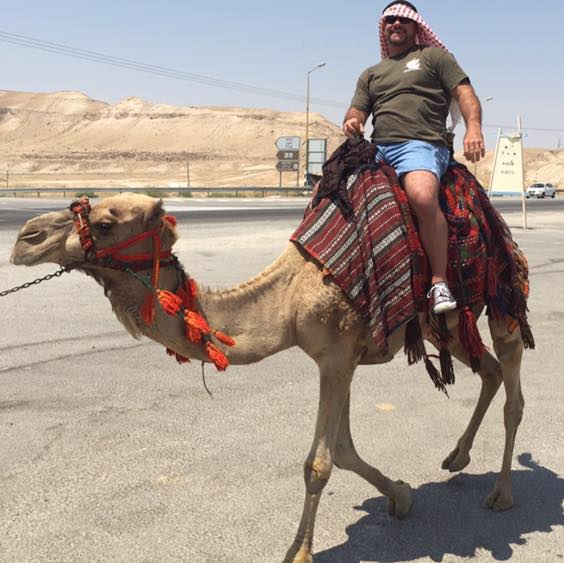 ---