Rape Prevention


By Arthur Cohen

---
We originally published this blog on August 12, 2011. I believe it is still relevant, both in terms of its content and to see the mindset of a self defense instructor who truly cares.  

---
The following is a guest blog by my friend, teacher and mentor, martial arts legend Professor Arthur Cohen. This was originally sent as a letter to the editor of the Jewish Week.

---
I want to compliment the Jewish Week on its coverage of the Rabbi Lanner, OU, NCSY child abuse incident. All too often "dirty laundry" is shoved away and we fail to learn from our mistakes. It takes courage to face your problems. As an advocate for personal safety training for the young and particularly young women, I have been particularly concerned with the events of this case.
The '90's was supposed to be the "Decade of the Child." I am sorry to say society and the Jewish Community have failed our young miserably. Let me get specific. In 1980, a former high school student of mine was murdered during her freshman year at college. I began an exhaustive search concerning crimes against women. I found the problem was extensive and universal. Several recent studies and reports only reconfirmed my greatest fear. The U.S. Department of Justice concluded in their 1994 Issues and Practices Report, "Rape prevention education may be the most crucial element in confronting rape as a society." The American Psychological Association recently reported that girls between the ages of 15 and 24 years old will have a 15-25% chance of being the victim of a rape or sexual assault. At about the same time, the National Institute of Justice and The Centers for Disease Control and Prevention released their study and the results were equally disturbing. With well over 1 million rapes a year estimated, they suggested that, "It is imperative that violence against women be treated as … a major public health concern." Also, that "Rape should be viewed as a crime committed primarily against youth."
---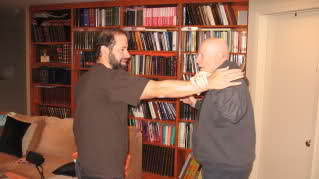 Moshe training with Prof. Cohen in Woodmere, NY, USA
---
Can anything be clearer than that? Not to me. So I began contacting the public schools about offering personal safety programs for women. I was met with apathy, ignorance and denial. I contacted many women's organizations i.e. girl scouts, the American Association of University Women and others, and met the same reluctance to do anything. I contacted many Jewish women's groups at over a dozen temples, Hadassah etc. and again no interest. So apathy and denial is not "just a male thing." A few school districts elected to offer a program but the vast majority didn't think they needed it. And finally, I contacted the Board of Jewish Education with similar results, not interested. What I found most interesting was the article in the Long Island Update of your recent issue. Child Abuse Prevention Training Program sponsored by the Board of Jewish Education because it "helps fulfill state requirements for early childhood educators." The Board of Jewish Education had to wait until NYS required them to do this. This should have been done on their own years ago. Maybe we have to look at who is making the decisions at the Board of Jewish Education as we have at OU? Maybe the people who are in charge of the education of our young don't recognize what is important.
What is wrong with this world? What is the matter with the Jewish Community? Are we without leadership and common sense? Do we place no value on our young daughters? I have three daughters of my own. I have taught in public schools for over 33 years and I have fond memories of the thousands of young women I taught. I can not let this matter go without challenging society and the Jewish community to "do the right thing."
I am available to discuss with any organization ways to get a program going.
Sincerely,
Professor Arthur Cohen BA., MA.
---
Prof. Cohen's devotion to the cause of personal safety has been an inspiration  to me. His teachings go far beyond the physical elements of Self Defense. He opened my eyes to the important of taking everting possible into account: the environment, the climate, psychology, etc. His teachings have become an integral part of IKI Krav Maga. I would strongly advise everyone to purchase his books. You will thank me. 
Prof. Cohen passed away on May 22, 2017, leaving a void in the hearts of all who knew him. 

---