Tired or Tired
By Moshe Katz
CEO
Israeli Krav International

---
September 16, 2018, Israel
---
Again I am going to write unpopular words. And I am prepared for the barrage of personal attacks: I am exploiting a tragedy for my own personal financial gain, I am arrogant in assuming that I have the solution, I have no sympathy for the victims, the time is not right to cast blame etc.
Spare me, heard it all before. No longer bothers me. 
A man was murdered today in Efrat, a Jew was murdered today in Israel, a good man whose reputation is well known was stabbed to death by an Arab. 
First I heard from a friend who is part of a Counter Terrorist team nearby. I heard the name of the victim while in the Maaleh Adumim mall. I spotted many Arab Muslim women enjoying their day; shopping, having coffee, with not a care or a fear in the world. That is how it should be but we should enjoy the same privileges as our Muslim minority. 
I chatted with my friend Levi, and I said, I am doing all I can, all are welcome to my classes, payment is totally optional. But my friend responded, "People are tired". 
Now that phrase can be used two ways, people are simply tired, and are too tired to train, or conversely, people are tired of being killed. The choice is ours; train or be killed. Prepare to fight back or prepare to die. 
I know the feeling, I remember my days as a student training with my teachers. In New York I fought back the tiredness on a daily basis. Around 2 pm I could hardly function and struggled to stay awake at work. And yet I was up every morning at 5 am in order to finish my prayers and arrive at the Oyama dojo in Manhattan for the 6:15 am training. 
In Israel I continued. I was up early every morning, put in a very full day at work in the loans and mortgage department and then came the decision, go to Itay to train or not?
Every day I struggled, every day I felt the intense tiredness but every day I drove to the dojo. I would arrive a few minutes early, sit on the dirty mat and put my head back to sleep for a few precious minutes. Yes I was tired but I never missed a session. Itay Gil used to say, as much as I know the sun will shine tomorrow I know Moshe will be on the mat. 
---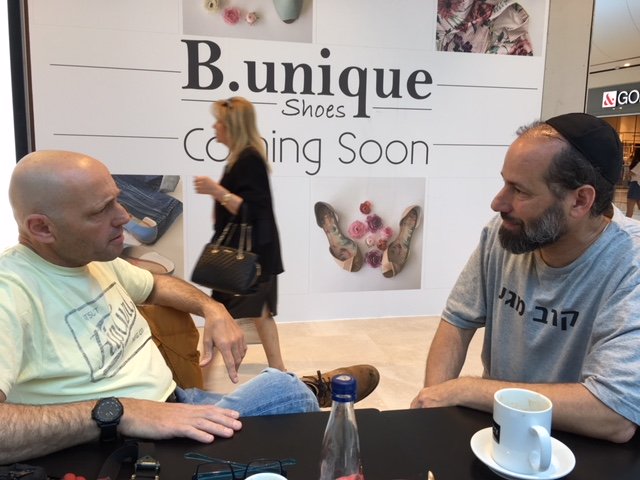 Chatting with my teacher, mentor and friend Itay Gil, reminiscing about the good old days. 
---
I recall my brown belt test with Itay. It was brutal, at the end he explained, I was not testing your skill, this I am already familiar with. I was testing your will to live, to survive. 
And now I ask all of you the same; how strong is your will to survive? Are you tired of people being killed, or are you just tired.
As always, the choice is yours. If you decide to train we are hear waiting for you, on the mat. 
---
Sign up for FREE Weekly E mail
Krav Maga Tips, Clips and Snips

This e mail is free, includes occasional training tips, news about upcoming events all over the world. New instructors, new class.
Instructors: You will be asked to contribute some Tips, and information about events that you want to promote in your area, Let's reach as many people as possible and grow together. 
Sign up  below and state "e mail list"

---
---