watch your back
BY MOSHE KATZ 
CEO
ISRAELI KRAV INTERNATIONAL

---
May 4, 2022, Israel
---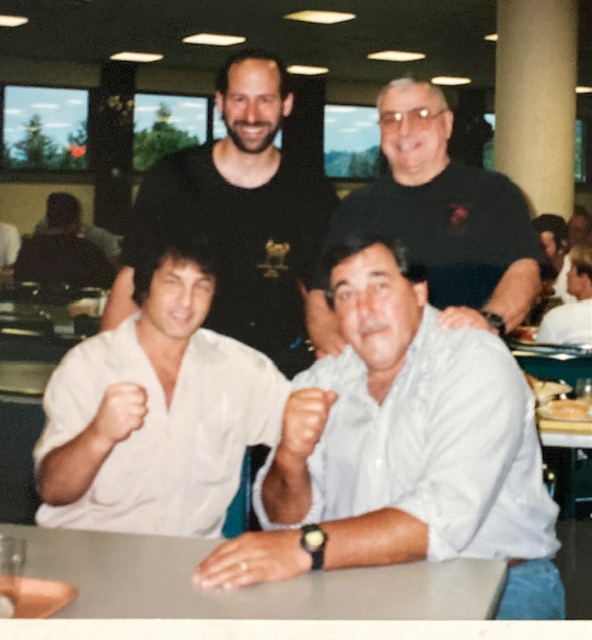 Karate College, way back when, with my Italian gang, Bill D'Urso, Michael DePasquale Jr, Joe Hess

---
It was 2004, I believe, the end of an amazing training session at Karate College in Radford, Virginia, USA. As people were saying their goodbyes I was chatting with my dear friend Professor Arthur Cohen, of blessed memory, when we noticed Joe Hess walking down the stairs with his hand luggage. Joe Hess was one of our instructors, 6 foot 2, a 10th dan black belt, full-contact champion, military veteran, and former Police officer. He knew I would be returning to Israel, and this kind gentle giant said, "Hey Moshe, Watch your back!"
Now that may seem simple, obvious, and casual, just a kind comment, but now that I think back I see the brilliance. 
Today is Memorial Day in Israel, where we honor those soldiers who fell in combat but also those who were killed by terrorists, for this is also part of the war. I was thinking of some very good fighters, very brave men and women were killed by being attacked from the back.
Hey, Moshe, watch your back.
Thank you Joe. 
Now in Talmudic fashion, I will expand on Joe's short statement. 
Many years have passed, I have lived a long time and seen and experienced a great deal. Krav Maga has taken me around the world, from the Northern Territory of Australia's back country to South Africa and to some of the worst cities in America. Life is filled with violent crime. I am an acknowledged internationally recognized self defense expert. and what do I say about attacks from behind? I say you can't do anything about them other than, Watch Your Back. i.e. I teach constant awareness, studying people, body language, alertness. I do not teach fantastic backwards movements. Life does not work backwards, think about that. 
I see many "krav maga instructors", well known and respected, who seem not to know this simple wisdom. They teach "defenses" against attacks from the back, as if they have some radar that detects the knife attack before it reaches them. In their choreographed videos we see them, they turn, they look, they grab the knife attackers wrist (yikes, can anyone still believe this Hollywood stunt!), they high kick, they flip the bad guy. Oh my my!
and I think back to Joe Hess, Watch your back. Yes, that is correct, that is the only defense for attacks from the back, watch your back so that it is no longer an attack from the back, now it is your front. 
Yes, we are all great fighters, we do not fear the attacker who faces us one on one, Mano a Mano. Come on', bring it on! And when we read about someone who was stabbed in the back and killed, what do the papers write?  It was a cowardly attack.
Why was it a cowardly attack? It was a cleverly planned out attack and it succeeded. Who said terrorists and criminals must operate by a certain code of conduct?
The truth is in this simple statement, watch your back, for there is No Other Defense for a surprise attack from the back, you must simply eliminate the surprise. If a 10th dan champion police officer has no defense for an attack from the back what can you say?
There is no "technique" for handling an attack from the back, no such thing can exist. We do teach the best approach to being grabbed from behind because the grab is the prelude to the attack, so you do have that little warning sign which we can teach you how to use to your best advantage. But once an attack has begun, like a stabbing, that first stab cannot be undone, and often that is all it takes. 
The bottom line is that self-defense is more than techniques, katas, drills, it is a way of life, a way of living with increased awareness, and this is a great part of what we teach. We teach an approach to life. Your mind is your best weapon.
---
Start Your REAL Training TODAY

Or is someone coming to save you?
IKI Krav Maga on line distance training - Leading to ranks and certification 
Tour and Train Israel Experience
Personal Training - If you are interested in personal Krav Maga training please contact us on the form below. 
---