Aging Rocker Krav Maga
By Moshe Katz

Growing up in Israel my favorite Israeli band was of course "Caveret" (Beehive), known affectionately as "Poogy" based on the character Poogy who appears in their songs (and the nickname of drummer Meir (Poogy) Fenigstein) . There is a phrase in one of their hits, "mi siporei Poogy efshar lilmod, From Poogy tales one can learn". And indeed this is true.
Danny Sanderson, the leader of the band and the main composer (words and music), lived in our community. His parents, Hayim and Reena of blessed memory, were friends of my parents and fellow immigrants from the USA. When Danny was in his teens, the family returned to the USA for a few years. It was during this time that his guitar playing and music was influence by American rock and roll as well as of course that of the Beatles. He returned to Israel and changed Israeli rock forever.
---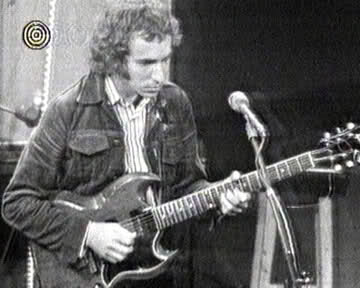 Danny Sanderson, 1970's
---
I still recall seeing his dad, Hayim, in our local synagogue, and his mom at the supermarket or at the doctor's office. His mom always felt that a university education would get him further than his music dreams. Danny and the entire band have become icons of Israeli music.
The years have passed, the long hair has been replaced with thinning short hair, his wife has passed away from cancer and his dear parents recently passed away as well. But the aging rocker is still a boy. As one of his songs tells, "Yeled mizdaken…" – A boy growing old.
On a recent El Al flight I was filliping through the usually not terribly exciting in-flight magazine, when I found an interview with my old neighbor. Turns out he recently turned 61, and I still recall when he just finished the army and was jamming in the basement with his friends, dreaming his dreams.
He says he has now reached his "Minimalism stage", and here we begin our connection and lesson for our Krav Maga students. "From Poogy tales one can learn…"
"This had not been an easy year for the eternal child of the Israeli rock scene…, he has decided to stop accumulating success and start erasing backwards."
"My parents passed away recently", he tells, "My sister and I emptied out their apartment and found a huge quantity of unclear objects, matchboxes from long gone restaurants, hundreds of pens that no longer write, gas bills from 1958 and in general, a stack of 'essential' assets. This made me think; we accumulate and become attached to excess, unnecessary property, during our lives. And then this thought popped into my head that especially now the most important key in our lives is not 'Enter' but 'Delete'."
Sanderson, the aging boy rocker, points out that "travel is easier with light baggage." "So I empty closets and throw things out. It is not always simple, the separation is difficult: a little caress - and into the trash can. I emptied out a huge recording studio in my house, gave stuff away, and left myself with a basic recording device, pen and notebook, a guitar – the four basic food groups."
Danny was asked if his priorities have changed? "Without a doubt".
His quick hierarchy is – his family, after that "my guitar…by the way in every room in the house I have a guitar and reading glasses, it saves me a lot of time.", and food. (he likes to dine out).
What popped into my mind as I was sitting on the plane, enjoying the El Al service, my mind wandering between the past the present and the future, were the implications for IKI Krav Maga and the direction we are taking. We have gone off on our own, sometimes into uncharted territory, we have taken old techniques, which had become like old friends, given them "a little caress and thrown them in the trash can."
We have become Krav Maga minimalists; reducing everything down to the most basic, most instinctive moves. We are not hung up on the past. We are looking to the future and trying to "travel light". As Danny points out the travel is easier with lighter luggage. I guess that is why El Al just started charging extra fees for a second bag. By the way, Danny's father used to work for El Al, for years I carried around his business card, my dad said to show this card if I ever needed some help.
Danny Sanderson, more recently
---
Yeled mizdaken, a child growing old. I still recall standing outside our home, early 1970's, and Danny's first hit was playing on the radio, "Baruch's Boots", my dear mom was hanging up the laundry and commented, "How nice, they are playing the Sanderson's boy's song."
How fast the years pass…