Can Women Really Do Krav Maga Effectively?
Can Women Really Do Krav Maga Effectively?
I received the following question recently.
"Question, during my military service in the IDF I was stationed in Wingate Institute for a few weeks as part of my sergeants' infantry course. This was a few years ago. We were trained by young girls in Krav Maga, they were quite charming, really, but did not leave a real impression in terms of their fighting abilities, they were rather slow, and in general really lacking in power, they did not project 'empowerment'.
Can a girl really reach a high level of individual fighting prowess? …with regard to the impact of the blow, speed, and quickness of reaction?Or perhaps…they can demonstrate the techniques very nicely but without actually being powerful fighters?I am of the opinion that girls are suited only for demonstrating the Krav Maga combat techniques but totally not for really fighting.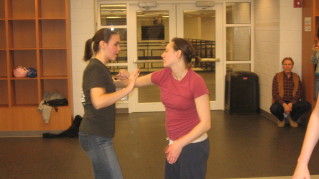 Rachel F. blocks an attack, traps the attackers' arm and prepares for a palm strike to the opponents vulnerable face. (Krav Maga seminar, Champaign, Illinois.)
My Answer;This is why in most elite Israeli combat units they do not take women as Krav Maga instructors. I have heard my female students say that as Krav Maga instructors they know they will not get to train the best units, despite their knowledge, because, simply put, the men will not respect them. Therefore some of them chose to pursue other interests in the army and forgo the idea of being a Krav Maga instructor.
I think anyone who has seen Avivit Cohen on the "Fight Quest" program would no longer ask this question. Clealy women can develop fighting spirit and Krav Maga skills. Yet clearly most women will be physically less powerful than men, but, we must remember the nature and purpose of our Krav Maga training.
This is not about winning a tournament fight. Our training is geared towards self defense. Can a woman, even a small women, knee a man in the groin? Will this hurt enough to create a window of opportunity for her to escape? Can a woman put a man in the eye, smash him in the face with an elbow strike? Yes, indeed, and that is all we aim to do.
Perhaps these women he is referring to only had some limited training as part of their army service, I don't know. I do know that my female students, such as Amy Jo Giles in Illinois, can pack a serious blow. I would not want to be hit by such women, especialy if they were angry.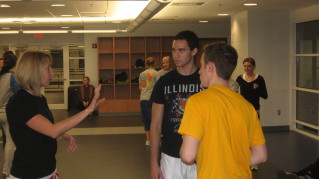 Krav Maga instructor Amy Jo Giles of Springfield, Illinois
Women can succeed in Krav Maga, they can learn to defend themselves, and they should.