Moshe Katz Collection
---
Who is Moshe Katz?
Writer. Musician. Teacher. Soldier. Composer. Researcher. Fighter.

---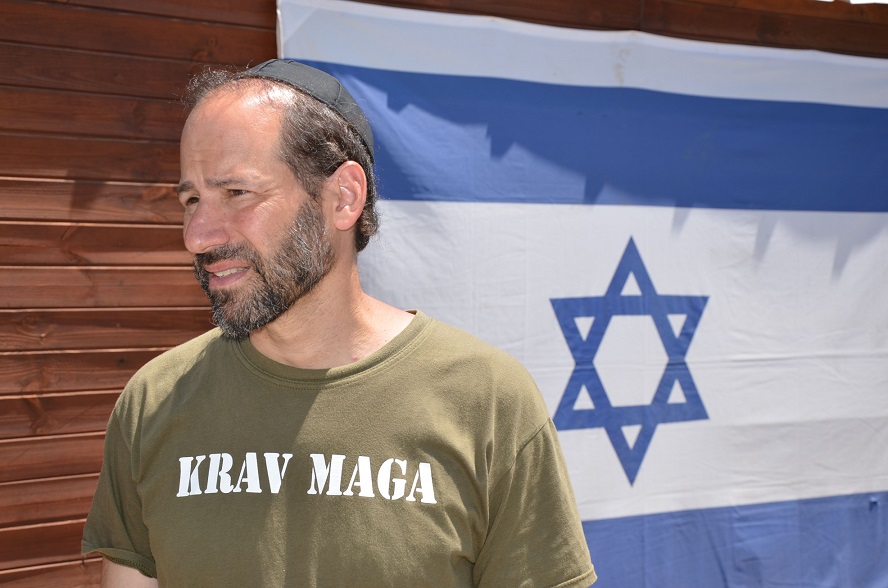 Moshe Katz, still the dreamer...still seeing the path clearly..

---
The Dreamer and the Dream
---
"I looked down at my feet and imagined for a moment the feet of the partisans, their mud-covered boots trekking through the forests, never knowing if today would in fact be their last day, if this walk would be their last journey in this lifetime, or who among their friends will not be with them tomorrow. In a way I am continuing their walk; in a way I am living their dream…" – Moshe Katz, from Israel: A Nation of Warriors

Moshe Katz is descended from a long line of dreamers. His great ancestor was Aharon HaCohen, Aaron the High Priest. On his mother's side he is descended from Don Isaac Abarbanel of Spain, who was a descendant of King David. His maternal grandfather was Rabbi Isaac Klein, author of more than ten books on Judaism.
His paternal grandfather, Moshe "Moe" Katz, for whom he was named, was a Zionist dreamer at a time before many American Jews supported this idea. Moshe's father, Rabbi Paul Katz, was a dreamer, preacher, soldier, and builder. Rabbi Katz fulfilled his father's dream and moved – ascended – with his family to Israel, fulfilling the 2,000-year-old dream of his people. After two thousand years the family was home!

Moshe was born into this dream, into this passion, yearning, and striving for a better future for the Jewish people, and for all people. It was his father's dream for Moshe to carry on with his family's legacy . . . and make their dream a reality.
---
The Early years.
Moving to Israel at the age of six, Moshe was exposed to a people still deeply traumatized by the Holocaust, and still very much fighting for their survival. Soldiers were everywhere. Constant alertness. Terrorism was part of the peoples' lives. The prevailing feeling in Israel was, "The world is all against us, but we don't mind." We learn to live with being the hated nation.

Everywhere in his new home of Israel, Moshe was surrounded by the images and living reminders of the Holocaust. Black and white newsreels, the gas chambers, the skeletons, the barracks at Auschwitz. As a boy, Moshe was fascinated by the TV show, "The Time Tunnel," and imagined going back in time to help the victims of the Holocaust with food, medicine, weapons, and ammunition.
He lived across the street from Bluma, whose sleeveless dress revealed the numbers tattooed on her arm, a daily reminder of what the Jewish people had endured and survived before the emergence of the State of Israel. Bluma's son, Eitan, dressed in his uniform, served his country during the Yom Kippur War, when the enemies of Israel attacked while her people prayed in the synagogue.
---
Trauma
---
All of the trauma, the pain, the memories – the dreams - are reflected and honored in Moshe Katz's writings and teachings. His passion for the State of Israel, her people, and her history, pour out onto the pages of his blogs and books, including his current release, Israel, A Nation of Warriors.
Moshe's Krav Maga is an authentic expression of his years of growing up in Israel, witnessing wars and terrorism, seeing bombed out houses and crippled warriors.
He watched his father and brothers leave home to defend the same land that his nephews defend today. His aunt, uncle, and young cousin were taken hostage on a plane at the very dawn of international terrorism. Still another cousin was killed by an Arab sniper's bullet. Moshe has lost over 30 friends and loved ones to acts of terrorism.
---
Student and Leader
---
Moshe returned to the United States to pursue his university studies, earning degrees from UCLA and Bernard Baruch College of Business. In fulfillment of his MBA degree, he wrote his graduate thesis, "Hedging Portfolios with Stock Index Futures". Moshe went on to work in the financial sector while still in the U.S.
During this period, he also volunteered full-time with Zionist organizations. He ran the Tagar Activist Zionist Youth Organization, managing chapters on 35 American college campuses and also served as a national delegate for American Zionist Youth Federation, speaking in Washington, D.C. and on campuses around the U.S.
---
Israel
---
After completing his studies in International Finance, Moshe returned to Israel, where he continued his volunteer work with the Betar-Tagar Zionist movement, leading groups around Israel and being chosen as a national delegate. However, when he began to find that the youth movements had become too "political," Moshe retired to private work in the financial sector, until being drafted into the IDF.
---
IKI Krav Maga
---
Upon being honorably discharged from the IDF, Moshe decided to continue with his martial arts training, which had begun years earlier in the U.S. This was his first exposure to the system that would become known as Krav Maga.
Moshe trained with Itay Gil from 1993 to 2011, becoming the only student to earn the rank of 4th dan black belt. When Gil discontinued using the belt ranking system, Moshe was awarded his 5th, 6th and 7th dan ranks by several highly respected international organizations. Moshe earned his official martial arts instructor certification at Israels' national sports institute, Wingate Institue, under the guidance of Kancho Roni Kluger. Moshe is a fully certified Krav Maga instructor, has taught for the Israeli Bureau of Education, and trained elite security guards. He is the Founder and CEO of Israeli Krav International (IKI).
For a complete list of ranks, accreditation and awards please see Moshe Katz Ranks. Each and every rank and award can be authenticated by original documents and by contacting the source. 
---
The Moshe Katz Collection
Moshe's journey is fully reflected in his blog series and book, Israel, A Nation of Warriors.
His website, www.your-krav-maga-expert.com, is a diverse and substantial online collection of training materials and historical information. The collection is completely free and is the largest of its kind in the world.
---
---
Blogs
---
Moshe has written over a thousand blogs, focusing on life, Krav Maga, Israel and the connection between them.

---
Books
---
Moshe has written several books, currently available to the public:
"Israel, A Nation of Warriors".
Footsteps from Judea vol 1, vol 2. Krav Maga Blogs 2009 - 2020

Biblical Lessons for Warriors
---
Israel: A Nation of Warriors
---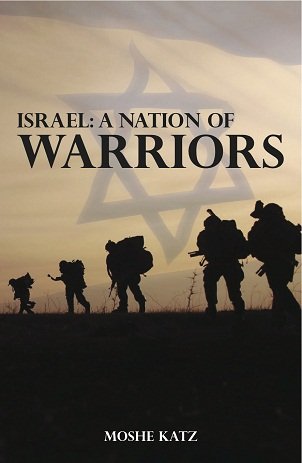 ---
Topics:
What makes Krav Maga unique?
What makes Israeli security unique?
Airport security, the best record in the world.
History of Biblical warfare
The mindset of a nation of Warriors
Everyday heroes,
and much more.
(cover by Arie Katz)

$9.99 on Kindle
$16.99 paperback

Israel, A Nation of Warriors
---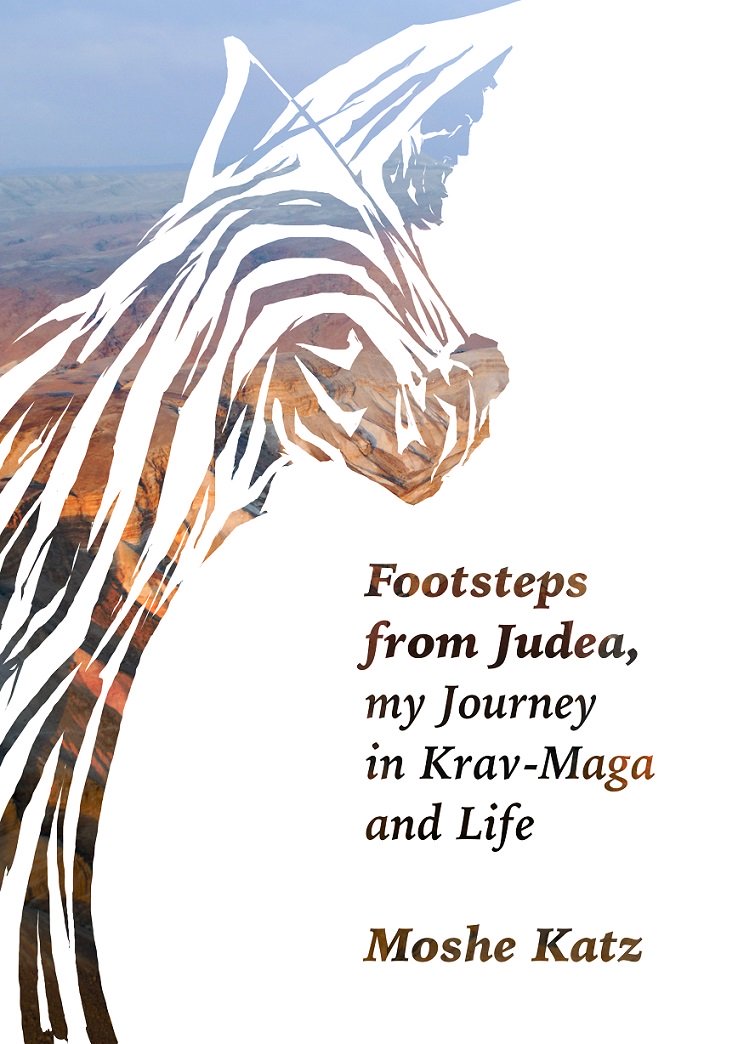 ---
Original Music by Moshe Katz
---
---
---
---
Krav Maga DVDs by Moshe Katz
---
Moshe Live, Seminar in Cottonwood, Arizona, USA
---
Historical footage from the early days of IKI

A 3 DVD set, filmed, edited, and arranged by IKI Instructor Tim Hillis. Added slow motion and detailed explanations by Tim Hillis. Covers many basic techniques, gun and knife disarms.
$28 plus shipping and handling.
---
Defense vs Unarmed Street Attacks
Defense vs. Unarmed Attackers
---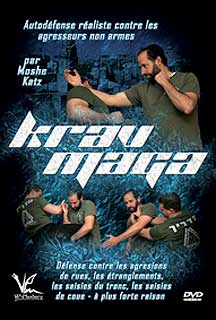 Professionally produced in Europe by Mario Masberg, Three languages: English, French, German.
"Realistic self defense against unarmed attackers" by Moshe Katz, Defenses against street fighters, Choking, grabs, headlocks and many more. $30
---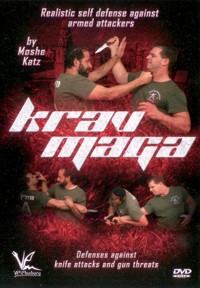 ---
Krav Combatives Up to Date
Filmed May 2015
---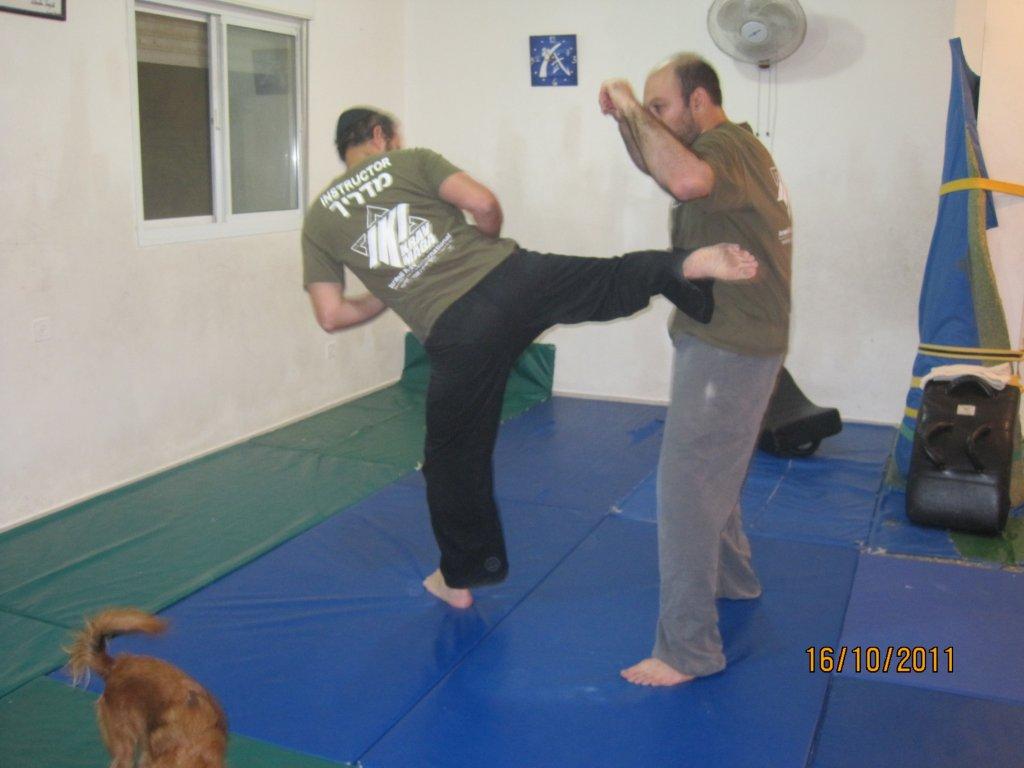 Defense vs striking; punching, kicking, surprise attacks.
Krav Maga kicking, punching, striking. Use arms, legs, hands, forearms in the most effective way.
Filmed in Israel.
---
$29 plus shipping and handling
PAL Format (Europe, Great Britain, Brazil, Israel, New Zealand, Australia, South Africa, Argentina, China, Eritrea, Greenland, Hong Kong, Macedonia, India )
NTSC Format
$29 plus shipping and handling
(USA, Canada, Chile, Costa Rica, Dominican Republic,
Ecuador, El Salvador, Mexico, Japan, Puerto Rico, Venezuela, Hawaii,Costa Rica, Dominican Republic, El Salvador, Jamaica, Taiwan)
---
Hand Gun Defense 2013
---
First volume has just been completed. (May 2013) Ready now!

This covers gun threats from a standing position. (Head, stomach, back, ribs, etc) from close distance, with a push etc. About one hour running time.
This DVD is only available to IKI members and students of IKI instructors.
$20 plus $4 for shipping and packaging (and PayPal fee)
For information on joining IKI please see Certification or On Line Training

IKI Krav Maga Gun Defense Volume One. $20
---
Volume Two Hand Gun Defense
Filmed 2014

Available in PAL and NTSC , plays on Macintosh as well

Topics: Hand gun held close to body.
Grab plus gun threats,
against the wall,
analysis of gun defense plus many unusual but important situations.
These are the answers to questions asked by IKI members from around the world over the past several years of touring.
$20 plus shipping and packaging
---
NTSC format
---
PAL Format
---
 Knife Threat Defense
filmed December 2014
---
The latest from Israel, an hour long, defense against knife threats from all angles, with grabs, while being choked, standing, against a wall, sitting, on the ground, third part defense, etc.
If an attacker grabs you and pushes a knife against your throat you will need the information on this DVD.

Filmed in Israel.

$29 plus shipping and handling
PAL Format (Europe, Great Britain, Brazil, Israel, New Zealand, Australia, South Africa, Argentina, China, Eritrea, Greenland, Hong Kong, Macedonia, India )
---
NTSC Format
$29 plus shipping and handling
(USA, Canada, Chile, Costa Rica, Dominican Republic,
Ecuador, El Salvador, Mexico, Japan, Puerto Rico, Venezuela, Hawaii,Costa Rica, Dominican Republic, El Salvador, Jamaica, Taiwan)
---
Kobutan Key Chain: Krav Weapon of Self Defense
---
Many simple and high effective techniques to use the Kobutan key chain in self defense situations. Easy to learn and apply. Make your key chain the "great equalizer" on the street.
Learn to use the Kobutan to protect yourself and others. $25 plus shipping
---
Defeat Hamas -
Defense vs. Knife, Ax, Stick, gun attacks.
Filmed January 2015
---
All new, live action plus detailed explanations. Based on current attacks on Israelis and Jews all over the world. We take their attacks and offer you simple defenses: easy to follow and explained in detail.
Watch students, just like yourself, perform these techniques for the first time.
All these scenarios are drawn from recent real life cases. We can beat them!

Do not be a victim, do not submit to "fate", Learn to fight back NOW.
---
PAL Format $30 plus shipping and packaging
---
NTSC Format $30 plus shipping and packaging
---
Defense in and Around a Car
Filmed November 2014
Learn to protect yourself in the parking lot and in the car.
Defense vs physical attacks, knife threats and gun threats, being taken hostage.

40 minutes. filmed live during a seminar in Germany November 2014

$20
plus shipping and packaging
---
IKI Patches


design by Arie Katz
---
IKI Krav Maga Patch, set of two, $13 plus shipping