Goal Setting Next Level
By Moshe Katz
CEO
Israeli Krav International

---
September 20, 2017

---
We all have goals but let's face it, few of us ever achieve our goals. This applies to aspects all of life but I will address this in respect to martial arts/Krav Maga training as I have been observing this for more than three decades.
I do not know any other field where the drop out rate is so high. One of the major burnout points and sources of frustration for teachers is the high turn over rate. After a while many instructors give up and just turn their school into a day care center or diploma factory. (i.e. selling diplomas that are not backed up by actual skill).
What is going on here?
First lets' ask, why do people sign up for martial arts classes? Specifically Krav Maga?
The usual answer is they want to be able to protect themselves. They have become aware of the dangers lurking around them, they have been watching the news, or perhaps they or a loved one were victims of a violent crime. For some it is a career choice; they work in security, police, military or want to become Krav Maga instructors.
With goals so lofty why do so many drop out before achieving anything at all?
Goals tend to be vague, like clouds in the sky, and just like clouds they disperse and lose form as soon as winds come along.
Even in our own organization I see many people who have been members for years but yet never seem to make much progress, their skill level and ranks remain stagnant. And yet there are those that join and quickly become successful; their skills improve rapidly, they move up the ranks and attract many students.

What needs to be done? What are the habits of those who have succeeded?

Clear Vision - Among those who are most successful I have seen clear goal setting: a vision.  They start with a very clear goal of what they want.

I want to open a school and teach people to protect themselves.
I want to honor a loved one who was murdered.

I want to provide a service for women, so they will be safe.

I want to provide training for children so they shall not be bullied.
I want to take a bite out of crime so that every person may walk in peace.
Clear goal setting, a clear vision and purpose, makes a huge difference. 
Risk Taking - Some people spend months, even years, writing to me but they never actually join IKI. They are waiting. They are waiting until they have enough students lined up etc. Some members want to host a seminar but are afraid. They want to make sure they have all the money upfront, students signed up. They wait until it is too late.
At some point we have to accept that everything in life involves some risk. We do not want to be foolhardy but yet some risk must be involved. A person who is afraid of risk will never be able to open a business.
There is always risk.

Invest in Yourself - You are your most important asset. Make yourself the best you can be. Commit to be the best, invest in your training, buy DVDs, training manuals, books. Not only martial arts books but also books on how to be successful in business. Attend seminars and workshops. Invest in your own ability. Learn public speaking to become a better teacher. Study time management. Do whatever it takes. Commit to be the best. Invest your time and money in something you can trust; yourself!

Continue Learning - No matter how much you know, or think you know, never stop learning. I see some students losing momentum, whereas at first they would travel for hours to attend a seminar, after a few years they  slow down, why bother? I already know so much. This is a mistake, never stop learning. Never lose that original drive.

Keep setting goals - Set goals, in one year from now I want to earn my brown belt. And then, in a year from now I want to earn my black belt.
Ask the instructor; What will it take for me to earn this rank? What do you want to see?
It is perfectly OK to be proactive.
I have seen people join IKI without asking too many questions. Within a short period of time they have opened a school. Soon they are moving up the ranks with the skills to back them up. While this is happening others are muddled in doubt and lack of clear vision. They look at this new upstart and wonder, how did they move up the ladder so fast? Why did they surpass me?
I have noticed something interesting; people have time and money for what they really want. They have money to pay for their black belt test. They have money to go out for dinner. We just need to know what we really want out of life.
Hang out with positive people - Do not let others take you down or depress you. Go out with people who believe in themselves, who do not take no for an answer. You have a right to a great life!

Keep the Fire Burning - Successful Krav Maga instructors keep their motivation high. How?
How do I do it after all these years? I think back to my original goals. I become the student again, I become the prophet with a clear vision. I see the faces of the victims and I say I must come up with better techniques, I must never be content, I must never be satisfied. I must find better ways to reach people. I look at the faces of my students at the seminars and I think, what can I do to make sure everyone of them gets home safely?
Never lose the passion,  never lose your vision.
Motivational Reading - There is a great deal of great motivational reading out there. I have personally published about 8 volumes of blogs. Pick up the book, read a blog before you go teach, or train. Get the sparks flying again.

---
The Fastest Way to Progress!

---
The fastest way to improve your skills and move up the ranks is to join us in Israel for two weeks of training and touring, two weeks that will change your life.  You will come home a new you.
You will live Krav Maga and Israel every day, all day. You will train in Israeli hand to hand combat, knife defense, gun defense, long rifle defense, hostage situations, defense in and around a car. You will get a taste of counter terrorism training and meet current leaders in the field. You will walk where King David walked. You will stand with me on Masada and look down at the Roman camps. You will live Krav Maga.

Sample itinerary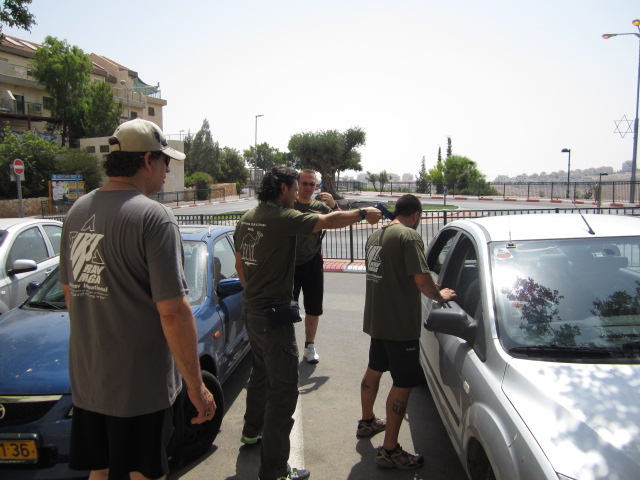 Tour and Train; Training in and around a car. Do you feel safe in a parking lot?

---
Host a Krav Maga seminar with Moshe Katz

---
There is nothing like training in person. Join us at a seminar, I teach all over the world. Or host a seminar. It is not as complicated as you may think.

---
Join IKI On Line - Become a member
---
Books by Moshe Katz
---
---
Own the Blogs!
Volume One - Footsteps from Judea volume one,
signed by the author with personal dedication.  $20 Plus Shipping
---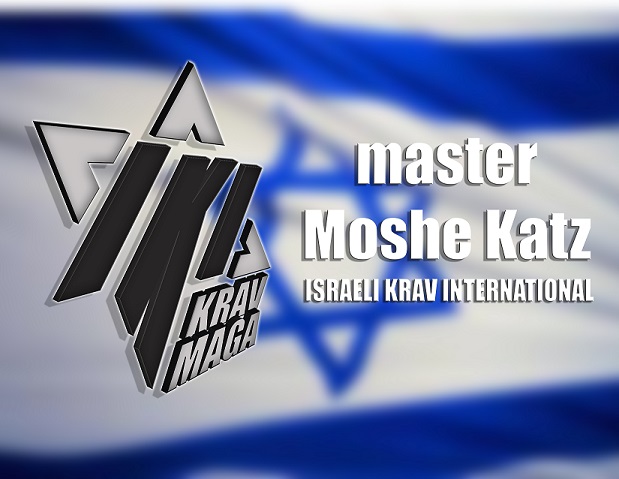 ---
---