How to Organize Krav Maga Seminar in Small Town


By Jürgen Köhler, IKI Germany

---
October 2014

---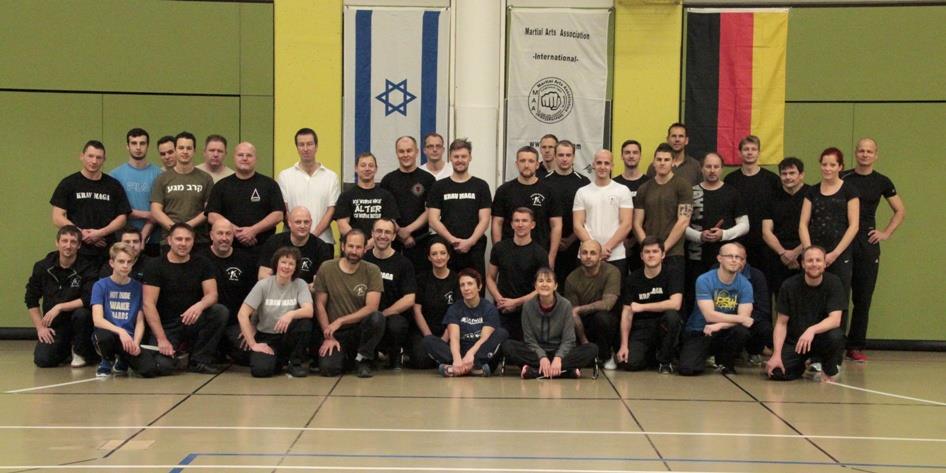 First IKI Krav Maga seminar in Königsbach, December 2013.

---
How to organize a Krav Maga Seminar in a small  village.
Moshe wrote a blog, how to organize a Seminar … well there are fantastic thought, but in a small village "the clocks turn slower".
So, last December I organized my first IKI Seminar – and it was also successful.- in a small village. (note: There were 60 participants from all over Europe)

I live in a village with around about 5,000 People … So I would like to share my way of organizing:
At first  I made a mind map … so I wrote all things on this mind map … of course if you do not like mind maps … you can write all things on a other way.
Important is – What is YOUR aim at this Seminar.
Should it be successful ? – but what is success ?
Is it to earn more? Or is it to learn new techniques ? Or would you use the Seminar to get more Students in your Dojo / daily classes ?
My aim was – To show my Sensei my Students, and also to offer my students the possibility to train with Moshe.
So, how to organize:
You need a Gym or a Dojo which is big enough to accommodate all the participants. You do not want to people to be crowded or uncomfortable.

You need to arrange a place where you can have a lunch break

You need a place with a changing room.
You need a place for the Krav Maga Shop, so students can buy the T shirts, pants, DVDs etc that Moshe brings from Israel.

See
Krav Maga Shop
---
Directions: Please tell your students where they will find the Dojo. Great will be Banners on the streets around the village and Dojo.
PROBLEM: In my village there are some stupid guys maybe from other Dojos .. they will put the banners away or break them
---
Seminar Topics - IKI Krav Maga covers knife attacks, street fighting,guns, sticks, hostage situations, parking lot and in around a car, there is too much to cover at any one time unless you are holding a two week seminar.

If you wish to cover specific topics, or use a certain format for the seminar, please inform Moshe of this ahead of time.
---
Certificates.

Prepare IKI attendance certificates for all the participants. Ask Moshe to sign these before the seminar.
Moshe loves coffee, also during the seminar, have coffee ready for him.

Shabbat - Remember and respect Shabbat. Understand that Moshe will not sign certificates on Shabbat or be involved in selling merchandise or any financial transactions.
---
Advertisement 
In a small village – like mine … you need a lot of                            advertisement. So use the local Newspaper, make flyers and send them to other Martial Arts Dojos
Post it on your homepage
Send e mails to other dojos, also in other countries (in this way a very good friendship is born between a dojo in Netherlands and Germany)
Use social media networks like Facebook. Start your advertisement long before the date of the seminar.
I start to offer the seminar around 7-8 months before.

Every week, than twice a week , use different pictures. You need "eye catchers'
"Offer your students "early bird specials"/Pre order prices.
---
Seminar Students
Your students should feel good. So look for a good hotel, maybe the same as where Moshe is staying.


Offer the shuttle service from the train station to the hotel. 

Look in your area where they can go for lunch/dinner.
I think it is great for all to offer a dinner with all participants .
Reserve a restaurant or make a BBQ, you will see new friendships formed.
---
Important: to join the Seminar is at its own risk
During the seminar the students will be thirsty and hungry - so pleas offer them some snacks and mineral water at a reasonable price.

Other things
Offer sight seeing. Moshe is a very interesting man. Go with him and take a look.
Weapons: IKI trains for many situations and attacks, so make sure you have enough guns, knives and sticks for all the participants.
---
Co Workers
Organizing a seminar with international guests is too much work for one person. You need some co-workers for preparing the gym, for writing flyers and many other tasks.

·                                                             
 All right now, this List is not written to tell you "this is the only way" … this is my way ! I wrote it to help other IKI Dojos to organize a Seminar.
I will tell you right now: My success is not earning money, my success is to invite people from inside and outside my country … and to see: they feel good and have a pleasant time . It is great to meet other IKI members.
Of course – no one will lose money, me to .. I guess you will not loose money. If say at the end of the Seminar:
Ok, I did not loose money, and I did not earn much money – BUT I found new friends and learned new techniques … this is success – I think
Hope to see you soon
Stay alert and safe
Shalom
Juergen / IKI Germany
---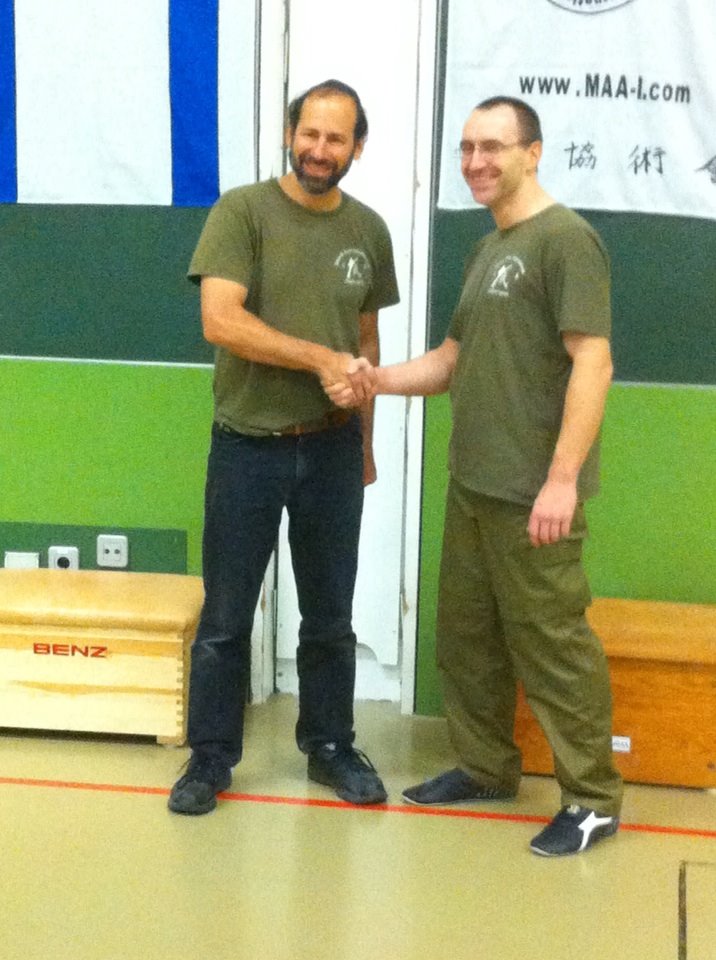 Moshe Katz and Jürgen Köhler in Germany

---
Moshe's first visit to Konigsbach
Konigsbach visit, Hotel and town.

---
Next Seminar

in Germany

---
will take place October 17 - 19, 2014 Contact us for details