Catch Phrase Krav Maga
By Moshe Katz, Krav Maga Instructor, Israel

November 7, 2013

---
Another slogan I noticed while walking the halls of Kaiser Sunset, was, something along the lines of ...Good service is not just a catch phrase with us, it is a way of treating people.
I like it, and it caught my attention.
I recall reading one of the greatest post-Biblical works ever; Dale Carnegie's book, How to Win Friends and Influence People". It is a small book, back in the day cost little more than a dollar, but it changed my life, and the lives of many.
In this great book Mr. Carnegie makes the point that this book is not going to teach us "gimmicks", or tricks to control people, to get them to do what we want of them, he made it clear; this book was about changing us, about changing how we think and behave. This book was about making us better people, much better people.
He made himself clear; this will not work unless you are sincere about changing your attitude about life, otherwise put it down, it is not for you.
Back in my younger days I had a friend in the Jewish Self Defense organization, his name was Mordechai. He was a great PR guy, (public relations, not Puerto Rican). He loved coming up with slogan after slogan. However, little real progress was ever achieved. Finally I said, "Hey Mordi, I got a new one, how about, 'Action, not Slogans!'"
He liked it, but did not get my point at all.
My point of course, and the point of Dale Carnegie's wonderful book, is that real positive change can only come about by serious hard work. It is not enough to come up with a catchy slogan, or catch phrase, you really need to work on it.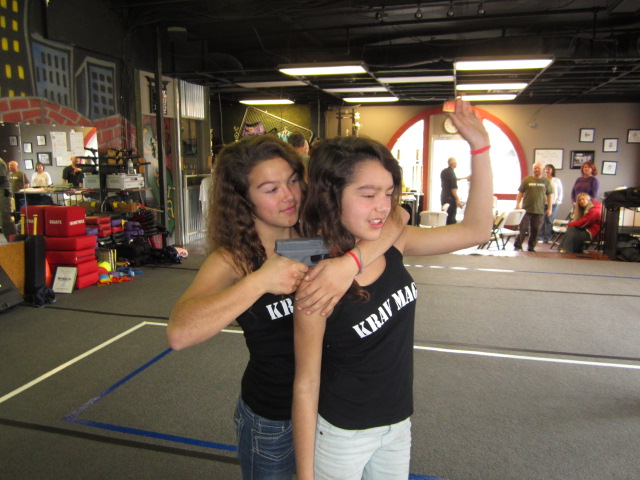 Sofia and Sole, Cottonwood, Arizona; real situations, real training, preparing for whatever may come our way.

---
The Krav Maga world today has become very much an industry propelled by slogans, and not much else. The reputation of the Israeli army is used around the world to "sell" Krav Maga to the world.  Of course no wars have ever been won with Krav Maga, and as I have written in at least eight blogs most of the "IDF Military Krav Maga" is nothing more than a myth.
Please see..
Military Krav Maga Secrets part Two
Military Krav Maga Secrets Part Three
Military Krav Maga Secrets Part Four
Military Krav Maga Secrets Part Five
Military Krav Maga Secrets Part Six
Most Krav Maga schools have as much to do with the Israeli army as I have to do with the Vatican. (I am not currently associated with the Vatican in any way but I once had a student who insisted on receiving an instructors rank, without ever meeting me, because he had received a letter from the pope.)
Our Krav Maga is real, we work hard, we find solotions; we also have some great slogans, but that is not what we are all about.

Enough talk, come train with us.

---
Train in Israel
The Krav Maga Israel Experience

The best way, for beginners and advanced instructors, to see your Krav Maga skills rapidly improve, is to come to Israel and train with us directly. Experience Krav Maga in Israel, where it was born and has developed. Visit the country and soak in hour history.

Join our Tour and Train Israel Experience, there is nothing else like it.

for details, Tour and Train Israel.