Moshe Katz – Head Instructor
---
So where does the "Moshe Katz Krav Maga" story begin?

---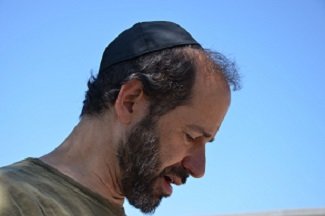 I began my martial arts training sometime in the 1980's when I was a yeshiva student (Rabbinical college) in Jerusalem. Rabbi Meir Kahane, of blessed memory, tried to encourage us to learn martial arts but, I needed a little push. That push came from my sister-in-law Michelle who had just seen the film "The Karate Kid ", she told me I must see it.
That did it. I was hooked on Mr. Miyagi and Karate. I signed up for lessons in Shurin ryu Karate with an instructor named Chaim Jaffe. I still remember my first day; the sweat filled gym brought back found memories of high school. I was "sold" right away but had no idea this would become my life long pursuit. I wrote an aerogram to my parents that I thought "Karate would be good for me."
When I returned to New York I trained for two years in the full contact style of Kyokushin Karate with Saiko Shihan Shigeru Oyama. Those were great times. After three months I had my first visit to the hospital, St. Vincent's. The occasion was a round house kick to my nose. Then it was a visit to St. Luke's after my knuckles got hurt breaking boards, good memories. More hospital visits would follow.

I returned to Israel after being graduated from Bernard Baruch business school (New York City) and began looking for a place to train. After spending some time in Shotokan Karate, a friend suggested I check out Itay Gil's full contact school. It was love at first kick. At the time Itay was not known outside our local circles and the training was tough, very tough and unforgiving. I worked my way up. I paid my dues. I put in eighteen years of hard training. Itay would say "Just as I know the sun will rise in the morning, I know that Moshe will be on the mat."

---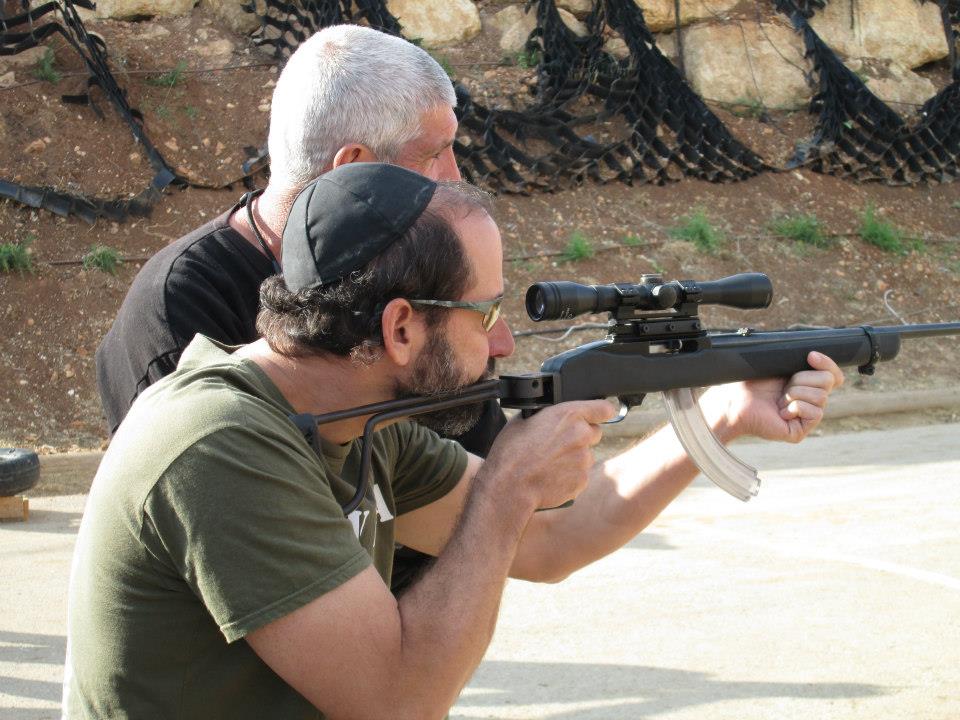 Counter Terrorism training with Shai Ish Shalom
---
Starting again at White Belt
The hard-hitting style of Itay's Krav Maga gym was what I was used to back at the Oyama dojo in New York. I suffered my share of injuries and loved every minute. I began once again at white belt and worked my way up the ranks. Itay's school had the hard-hitting full contact sparring I was used to but it had more. It had the Israeli self-defense approach known as Krav Maga.
At the time Itay did not refer to it as "Krav Maga", in fact we never used any names, we never discussed lineage, we just trained. Only years later he told me that in fact the self-defense portion of our training was Krav Maga as he was taught in the military and as he had further developed it. That is why I hold ranks from Itay both in Free Style Kickboxing and Krav Maga. After many years of training, I earned the rank of 4th dan black belt in Krav Maga, the only such rank ever awarded by Itay Gil.
My current rank in Krav Maga is seventh dan black belt with the title of "Master". These ranks were awarded to me after decades of training by international organizations in recognition of my ability and my contribution to Krav Maga and self-defense. Although I did not seek any of these ranks I am honored by them. As IKI has developed into it's own interpretation of Krav Maga I do not seek any new ranks.
My ranks and diplomas can be viewed at - Moshe Katz Ranks
I made yearly visits back to the USA to train in and explore various different styles of martial arts. I trained with my old pals at the Oyama dojo, the name being changed to World Oyama Karate.
I trained in Wing Chun kung fu with Sifu Chun Kwok Chow. I also did some brief but enjoyable training with other great instructors such as Benny the Jet Urquidez, David James of Vee Arnis Jujitsu, Alex Sternberg of Shotokan Karate, Sifu Maurice Llewellyn, (Wing Chun), Renzo, Royce and Rodrigo Gracie. They have all added to the depth and understanding of my Krav Maga.
When walking around New York City, I spotted some members of the Guardian Angels, a group I have always admired. We got to talking about martial arts, before I knew it I was training with them at their center. I was even awarded my own Guardian Angels nickname, Papa Smurf. Years later I was awarded a special members pin by the Edmonton branch of the Guardian Angels.
In 2002 I fulfilled a dream by finally attending Karate College training camp. I did so for four summers and hope to return again. There I trained with some of the greatest instructors of our times. I wrote about them in my "Martial Arts Leaders" page. One instructor who I have continued to train with is Professor Arthur Cohen. (Until his unfortunate passing).
Professor Cohen has taken me to a new level beyond technique. Besides his outstanding applications of techniques for street situations, he has opened my mind to psychological aspects of self defense, environmental factors and the sociology of crime. He certified me as a Control Points instructor.
Today IKI has evolved into its own style of Krav Maga. Drawing on my many years of training with some of the world's best instructors and fighters our style is a distilled from of self-defense, simple, direct and effective.
---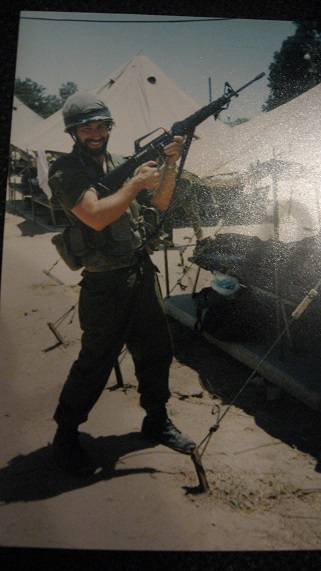 ---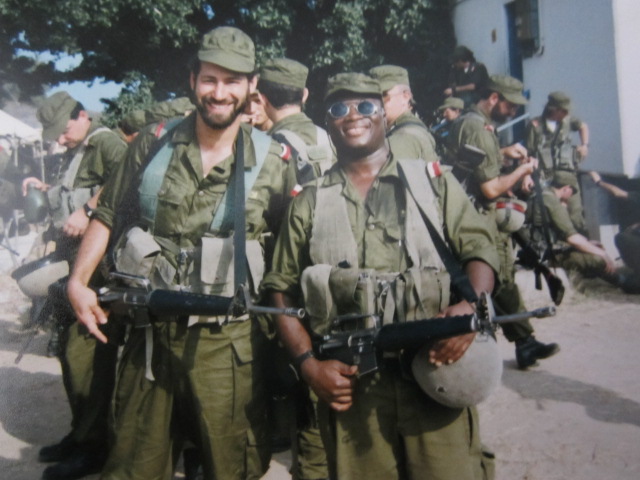 ---
Moshe Katz, IDF
---
Teaching Experience
---
Moshe has been touring the world teaching Krav Maga seminars since 2004/5
Moshe has taught:
Airline staff, pilots and flight attendants
Airline Security
Australian Security Guards
British Security Guards.
German Naval Commandoes
Ukrainian presidential guards
Jerusalem Elite Security Guards
Members of the FBI (USA)
SWAT teams (USA)
U.S. Special Forces, Green Berets
US Army Fort Dix
Sheriff's Departments (USA)
State Police, Highway patrol (USA)
Maximum security Prison guards
Bounty Hunters (USA)
Israeli and American soldiers
ROTC - Reserve Officers' Training Corps (USA)
Canadian Royal Mounted police and Path Finders
Ukrainian Elite Guards
Ukrainian Presidential guards.
German Navy Commandos
German police
Dutch Security professionals
Israeli Elite Guards
Israeli police
Italian Police
South African police
Puerto Rican police
Vancouver Police
Netherlands police
Norwegian police, and cadets. 
Slovakian police
Singapore police
The Guardian Angels, New York, Edmonton, Canada.
Woman's self-defense groups, Fight like a Girl
Civilians and school children of all ages.
"From all my students I have learned"
---
Ranks and Certification
---
The following are some of the ranks I have been awarded.
7th dan Black belt Krav Maga, MAA i, August 2018

Master - August 29, 2014, Black Belt Hall of Fame, USA
6th dan Black belt Krav Maga, MAA i, December 2013

5th dan Black belt, Godan Goshinjutsu - Satokan honbu dojo, Japan. May 2011
5th dan Black Belt, "Martial Arts Israel", World Martial Arts Group - Academy of Black Belts, November 10, 2010
5th dan Shaolin Kung Fu, Black Dragon Sekai, November 2010,
5th dan Black Belt, Jujitsu, United Black Belt Federation, November 11, 2008.
4th dan Black Belt, Krav Maga, Sensei Itay Gil, September 25, 2005
4th dan Black Belt, Free Style kickboxing, Mixed martial arts, Sensei Itay Gil, September 25, 2005
4th dan Black Belt, Israeli Martial Arts, World Martial Arts Masters, Academy of Black Belts, October 24, 2007
4th dan Black Belt, United States Fighting Arts Institute, January 8, 2005
Teacher Certification, ISC Control Points, Professor Arthur Cohen, Dr. Les Knight, July 13, 2004
3rd dan Black Belt, Jujitsu, World Black Belt Bureau, June 24, 2002
3rd dan black belt, Krav Maga, Itay Gil, Jerusalem, March 12, 2002
2nd dan black belt, Krav Maga, Sensei Itay Gil, Jerusalem, March 16, 1999.
Teacher Certification, Wingate Institute of Sports and Martial Arts, Israel, Kancho Roni Kluger 8th dan, September 1998
1st dan black belt, Krav Maga, Itay Gil, Jerusalem. November 4, 1997
1st dan black belt, Kickboxing, Itay Gil, Jerusalem. November 4, 1997

Certification License Combat Shooting/Handgun, Krav Israel Shooting Club, 1993,
Israel Defense Forces,(IDF) Discharged August, 1993
3rd kyu, Oyama Kyokushin Karate, 1989.

---
Academic Achievements
---
Moshe Katz is a university graduate
BA - UCLA; Los Angeles, California. Political Science, Economics, June,1983
MBA - Bernard Baruch, College, New York, International Finance, December 1989
Rabbinical College - Mercaz Ha Rav Kook Jerusalem, Bet El, and other institutions, Israel and the USA.
Moshe Katz has published over a dozen books on martials, Jewish history and Biblical studies.
---